Florists and floral designers have different strengths and specialisations. Not all of them deal with flower delivery in New York. Some specialise in events, while others are best for bespoke arrangements. This is why this list includes beloved New York flower shops and florists, each with their own strengths and unique selling points. 
BEST LOCAL NYC FLORIST
Nelly's Flower Shop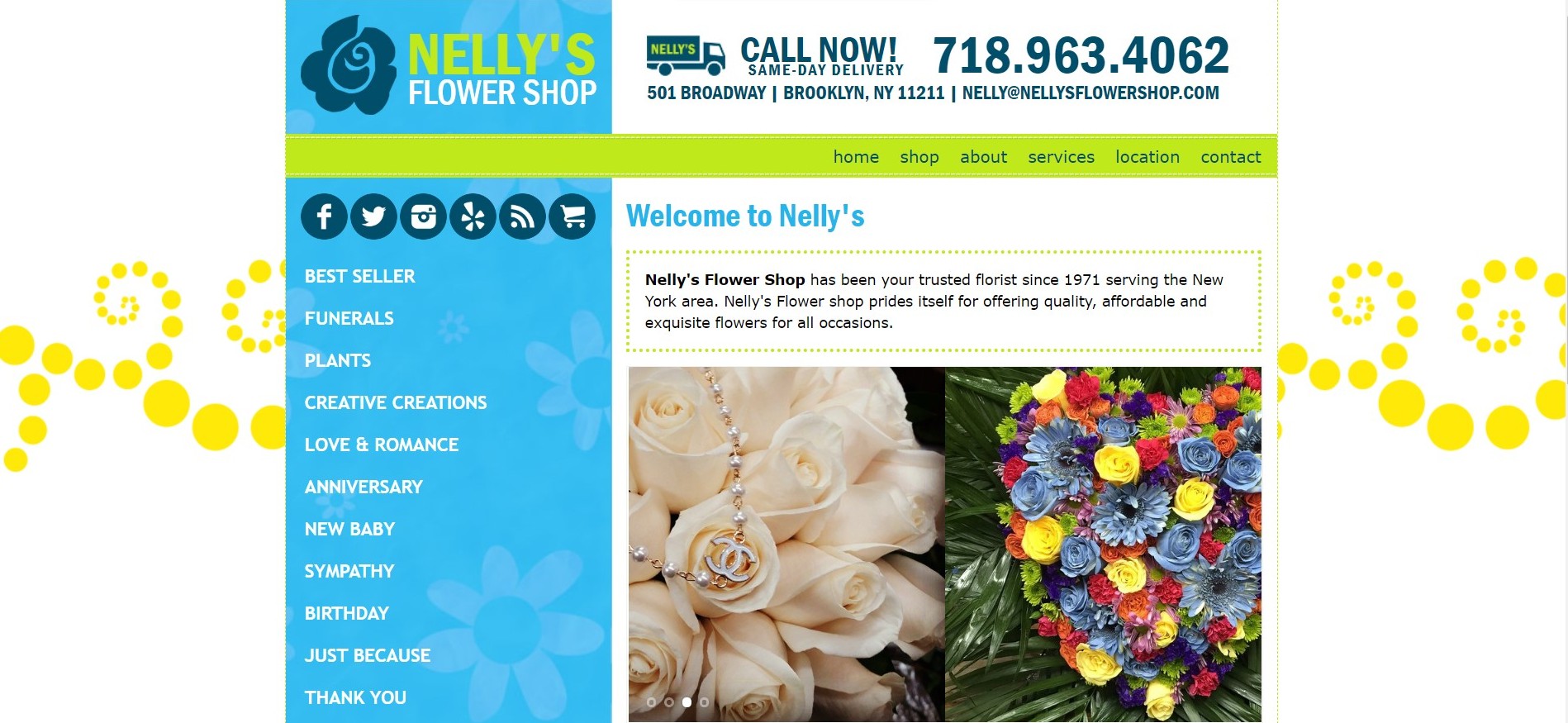 Nelly's Flower Shop has a long history in New York, after being established in the 1970s. They have been providing fresh flowers at affordable prices from their location in 501 Broadway. They have also embraced modern technology to accommodate busy shoppers with their convenient online shop. It showcases their wide range of floral arrangements, from classic and traditional designs to modern and trendy creations. They offer same day delivery as well.
Products & Services

Bouquets, flower arrangements, hampers, plants, corporate

Delivery Fee

$10

Same Day Delivery

Order before 5pm

Express Delivery

–

Price Range

(Bouquets)

From $35

Website

http://nellysflowershop.com/

Contact Details

(718) 963-4062 | nelly@nellysflowershop.com

Facebook

https://www.facebook.com/nellysflowershop

Twitter

https://twitter.com/nellysflowers

Instagram

http://instagram.com/nellysflowershop
Pricing, Products & Service

Affordable products
New York residents love Nelly's Flower Shop, choosing to support this homegrown florist rather than global affiliates. The great thing is that their prices are reasonable, even their plants. Melissa Newkirk (via Google Reviews) shared that "They've got such reasonable prices for the neighborhood and their plant selection is great!" Meanwhile, Millie Khemiri on the same site wrote: "Skip 1-800 flowers and support a local flower shop that has been I'm business for a long time. Their website is user friendly but I rather call and place the order with Peter." 
Amazing selection
Their nursery maintains a wide selection not just of flowers, but house plants as well. Jon Chang's Google review described their shop as "Well stocked," while Andrea Keeble noted that it's a "No frills plant shop with large selection of plants and containers at great prices." Gabriel Correa likewise wrote, "A great store with a wide variety."
Friendly, accommodating and knowledgeable staff
The main reason why their customers are loyal is that their staff goes above and beyond in terms of customer service. This personal touch and connection with customers make them a go-to place for plants and flowers in New York. Sarah Fitzgerald, in a Google review, shared that she "came in with so many questions as a new plant owner" and the staff member "answered all of them and helped me pick out plants that work perfectly in all the rooms of my apartment!!" Another customer, on the same site, was impressed by their accommodating service:
"Their last delivery went out 20 minutes ago, but Katina said she'll deliver it herself because they are the best! Ps 2 near by stores both turned me down before Nelly's agreed to do it for me! Thank you guys!"
Marlene Handler's Google review recalled an experience when she "called very last minute for a balloon + flower bouquet and the guy who answered (Peter) was so incredibly helpful and delivered a very special surprise to a family member in need within 2 hours!" For Oded R. Cruz-Haker, he was impressed by the big and "really nice variety of house plants," plus "the staff knows their job, and has a really extensive knowledge about plants and how to take care of them." Finally, Alyssa Chan wrote an effusive Google review about working with Nelly's Flower Shop on her wedding:
"Nelly's Floral Shop was the greatest! Working with Katyna was easy and she took my vision and brought it to life. I met with her a couple of times prior to the wedding so that they can get an idea of what exactly you want and to make any last minute changes. Katyna gave me her personal opinion on some of the flowers which helped me choose the overall flowers for the feel of my wedding. She did everything that we asked for. She has experience with rustic/Brooklyn vibe weddings and knew exactly what I wanted. She absolutely killed the floral decor at my wedding and every little thing that the shop did for my wedding did not go unnoticed! Would definitely recommend in the future."
BEST ONLINE FLORISTS
Flowers by Blooming Affairs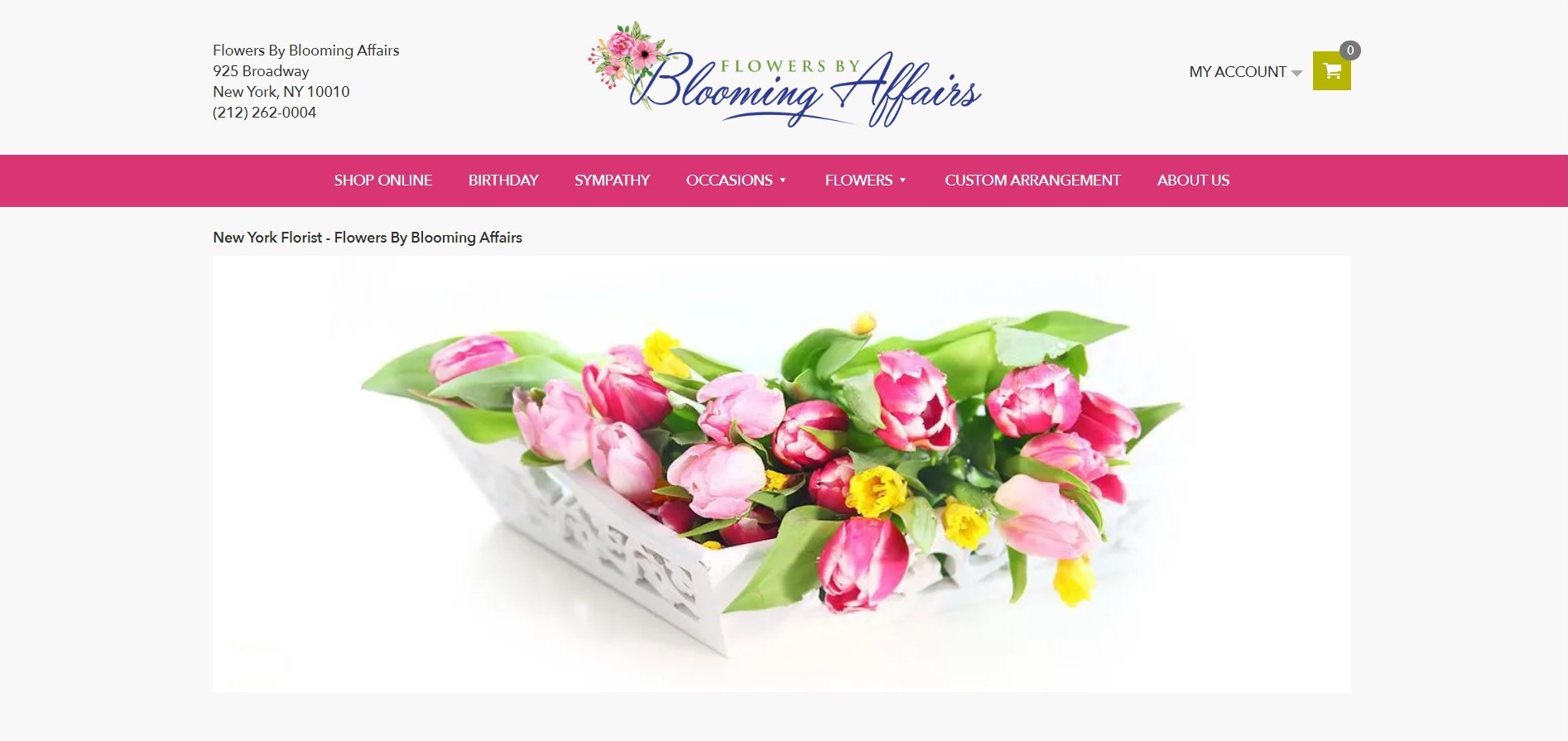 While it's nice to connect with homegrown florists for special occasions, sometimes we're simply too busy to walk into a flower shop in order to purchase fresh flowers. For days when we require convenience over connections, online florists like Blooming Affairs provide an easy to use platform for online ordering. Blooming Affairs has actually been operating for more than a decade, so customers can be assured of unparalleled quality and professionalism.
Products & Services

Flower arrangements and floral accessories

Delivery Fee

Calculated at checkout

Same Day Delivery

Available (Enquire for cut-off times)

Express Delivery

–

Price Range

(Bouquets)

From $45

Website

https://bloomingaffairs.com/

Contact Details

(212) 262-0004 | bloomingaffairs@gmail.com

Facebook

https://www.facebook.com/bloomingaffairs.flatiron

Twitter

–

Instagram

https://instagram.com/bloomingaffairs/?hl=en
Pricing, Products & Service

Fair prices
For convenience and quality, prices can sometimes skyrocket with online florists. Fortunately, this is not the case with Blooming Affairs. Harold Yeates (via Google) wrote, "Gorgeous arrangements at a fair price, friendly and professional staff too." Meanwhile, Emily W. (via Google) said their products are "Slightly more affordable than other companies." Juanita S. (via Yelp) found Blooming Affairs online and hoped for the best with excellent results:
"I found this place with an online search and chose them because I thought it located was fairly close to the recipients home.  I chose everything online with fingers crossed it could make it in time. Turns out the place was downtown but everything went well! Ordering was easy. The arrangement was as expected. Prices were fair. Flowers were delivered within a 3hr time frame, maybe less. Perfect for me and what I needed. I will definitely use them again and recommend."
Beautiful products
Online or in-store, Blooming Affairs keeps consistently churning out beautiful floral designs. According to Jeannie E. (via Yelp), she got a "Beautiful Mother's Day bouquet! Gorgeous hat box design for the base." Sopio. A. (via Google) said "They knocked it out of the park." Finally, Katie S. (via Google) left this review:
"Amazing experience and great flowers. The flower arrangement looked amazing and did the job at a reasonable price. I will definitely use them again."
Efficient and friendly customer service
To keep transactions stress-free and retain the services of their customers, they make it a point to maintain a friendly and efficient customer service. So, wherever you are, you will get the same kind of treatment from teh staf. For instance, MT ordered online (via Google) and she shared "They patiently answered my questions, put together a brilliant custom bouquet, and delivered it on time with updates throughout. Recipient was happy too 🙂"
Josephine E. (via Yelp) praised their customer service, "After I got the delivery, Rory from the shop phoned to confirmed that I got them and asked if I was happy – incredible customer service!" Salome C. (via Yelp) also gave props to their "amazing" service, adding, "very personable owner Maria shes amazing." Finally, Seema G. (via Yelp) wrote: "Good delivery and Impressive customer service Florist kindly refunded my money after I complained that the floral arrangements delivered were not exactly per my directions."
Marine Florists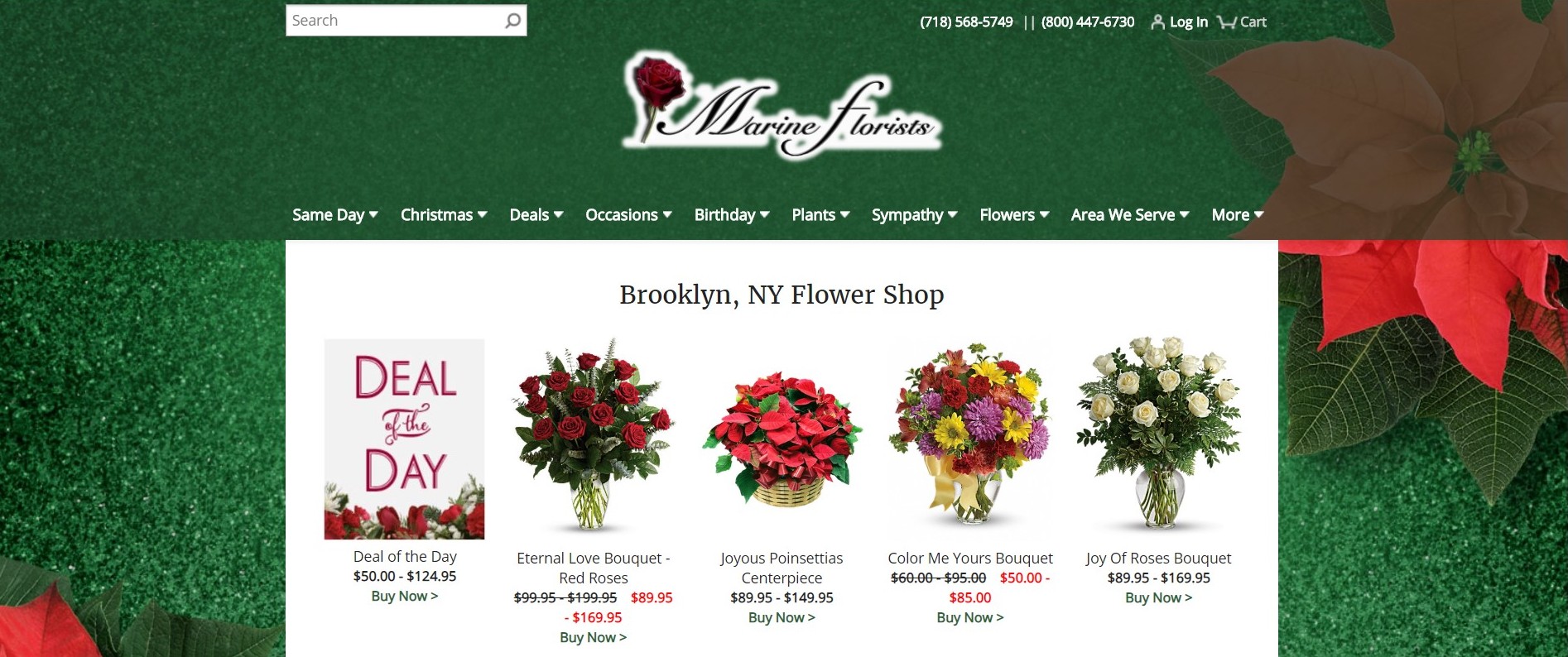 Marine Florists is a well-reviewed florist servicing Brooklyn and its surrounding areas. This family-owned was established in 1898 and has grown into the largest flower shop in Brooklyn. They're open 7 days a week, so you won't have to worry about ordering for weekend events. So, customers won't have to wonder about the results, they send a photo of the product upon delivery.
Products & Services

Flowers, orchids, plants, balloons, gifts

Delivery Fee

$12.50, $25 (Outside Brooklyn), $35 (International)

Same Day Delivery

Order before 12pm

Express Delivery

–

Price Range

(Bouquets)

From 49.95

Website

https://www.marineflorists.com/

Contact Details

(718) 568-5749 | noreply@marineflorists.com

Facebook

https://www.facebook.com/MarineFlorists

Twitter

https://twitter.com/marineflorists

Instagram

https://instagram.com/marineflorists/
Pricing, Products & Service

Skilled florists
Worried about whether the actual product will live up to the photos online? Don't fret, Marine Florists' track record speaks for itself. Abdoula Obas (via Google) received rave reviews from his recipient who said the Dreams from the Heart Bouquet was "Gorgeous, Stunning, Beautiful." He added, " thank you John for bringing a smile to her face during this difficult time. Marine florist is an amazing place to do business with, aside from the flowers,  the owners are Respectful, thoughtful, patient and they know what they're doing quite well. I appreciate you."
The personal touch
Whether you buy your flowers at their flower shop or prefer transacting online, they manage to add their personal touch. Maggie Hurlburt (via Google) shared that she "Received personal care and suggestions on making my order even more beautiful." After hearing "wonderful things" about them, she finally got to experience their superb service and products and recommended "Marine Park residents to use this florist for all occasions." 
Reliable delivery, no hidden fees
Honesty and transparent pricing is another thing people like about Marine Florists. One customer via Yelp wrote, "George promised the flowers would be delivered that afternoon and (no pun intended), they delivered." Adding, "I want to call out that the price quoted was the price charged. Unlike other florists, there were no *gotcha* fees after the order was placed. I appreciate this honest practice." Meanwhile, Michele Yedin (via Google) shared this glowing review:
"Gabe is fantastic to work with. He truly listens to all of my requests and goes above and beyond each time he creates arrangements for my affairs. I used him twice so far; once for my mom's surprise party with 8 beautiful, fresh table arrangements and a second time for my bridal shower with 5 5×5 arrangements and 2 large bouquets. There were even beautiful pearl pins placed in the centers of the roses. The flowers made the room pop and smell amazing. Plus they were delivered earlier than expected, which was perfect. The delivery man was also super sweet and carefully placed the arrangements on each table. Nothing but good things to say about Marine Florists. Highly recommend!!"
Excellent after-sales service
Service does not end after the product has been paid for. Marine Florists keep customers informed about the delivery status and even sends them a photo of the actual product. Denise W. (via Yelp) described her purchase as "the best experience I have ever received from a florist before." She elaborated the reason as:
"Mainly because you have an option to have a photo of the flowers that you ordered sent to you via text.  This is a big deal for myself because when I send flowers to my clients or loved ones I'm clueless of the results.  And of course, a person will always tell you how beautiful their flowers looked when arrived BUT you want to know did they look the same as was on the website.
They also call you after your order is received (I placed my order online to go over it and give advice, tips, or other suggestions). I was informed that the flowers I ordered was for front view presentation only.
I certainly will place my next order with Marine Florists."
BEST FLOWER DELIVERY SERVICES IN NYC
UrbanStems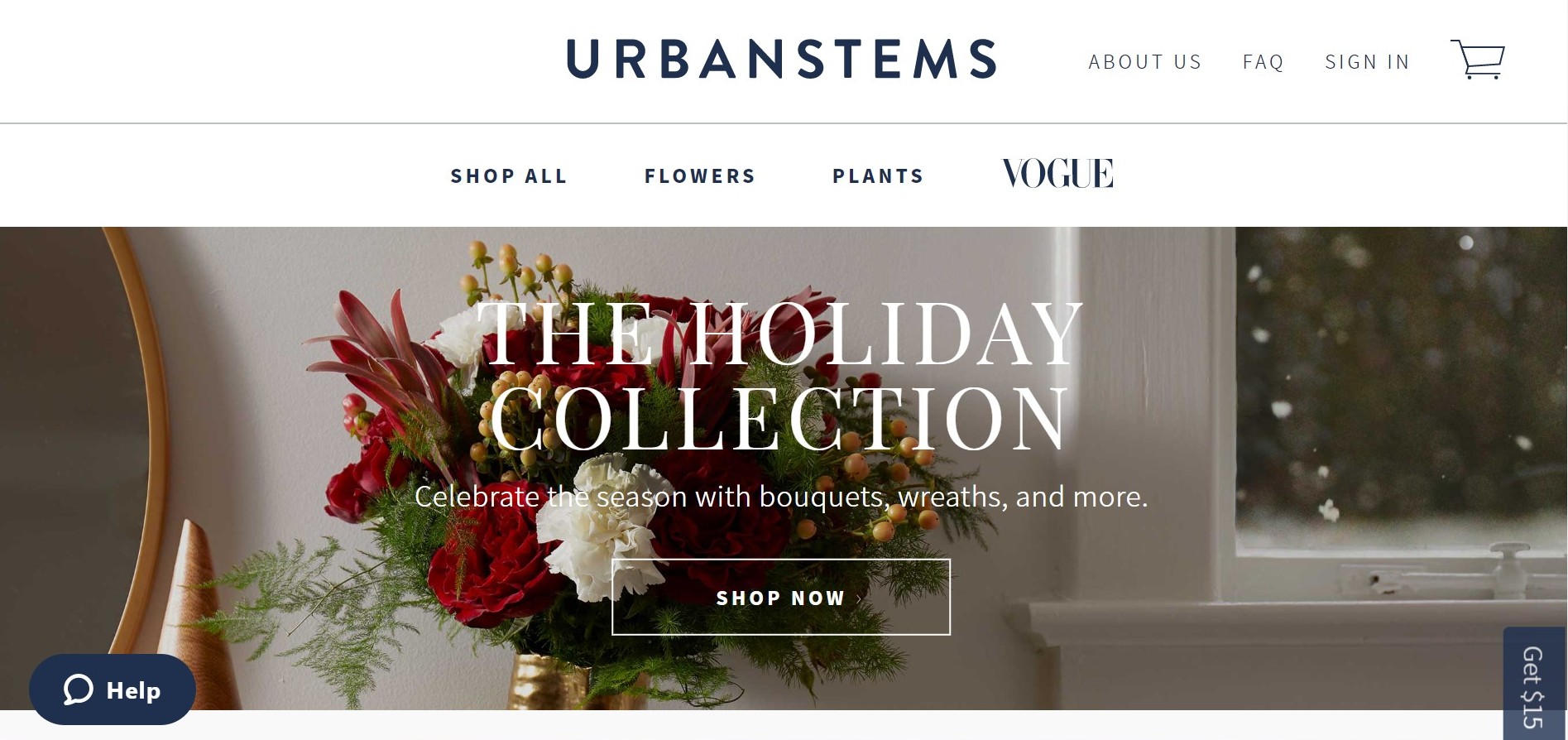 If fast delivery is what you're looking for, UrbanStems has one of the fastest flower delivery service in New York. Within 2-4 hours from completing your order, your recipient can expect their fresh flowers in their doorstep. That's no time at all! Especially considering how delicate flowers can be, so transport needs to be fast yet careful. 
Products & Services

Plants, flowers, floral subscription

Delivery Fee

Free

Same Day Delivery

Available (Enquire for cut-off times)

Express Delivery

2 or 4 hour delivery

Price Range

(Bouquets)

From $55

Website

https://urbanstems.com/

Contact Details

care@urbanstems.com | (855)-61-HAPPY

Facebook

https://facebook.com/sendurbanstems/

Twitter

https://twitter.com/urbanstems

Instagram

https://instagram.com/urbanstems/
Pricing, Products & Service

Beautiful, budget-friendly flowers
UrbanStems delivers not just in speed, but also in quality. Best of all, the prices are reasonable. Giorgio Prittie (via Google) praised their "high quality flowers at an affordable price." Meanwhile, Joanne G. (via Yelp) said, "The prices are extremely competitive, especially given the quality of the designs and flowers." Salomone Laudick (via Google) liked the "Creative and lovely bouquet" he got for his wife. He gave props for the "High quality, reasonable price, florists always friendly and helpful."
Fast flower delivery
Delivery is one of their main selling points, especially since fresh flowers are time-sensitive. Carce Vasey (via Google) thanked them for "the swift delivery!" Norman H. (via Yelp) said that after ordering, "They got there early, they sent me a photo of what they delivered (Real nice touch folks:  10 points to Gryffindor there), and my partner is over the moon about them. If he's happy, I'm happy."
Julie Borland (via Google) wrote: "Nice service, a bit hesitant to individual requests but reliable delivery." While there were some issues with delivery on peak seasons as reported by some customers, their customer service is very proactive with rectifying issues to prevent future concerns. Here's a review from Denise L. (via Yelp):
"I ordered flowers for my girlfriend for Valentine's, and the order mostly went off without many hitches. They delivered it to her office and sent me a picture of the flowers beforehand confirming that it was delivered. However, the original flowers I ordered for Valentine's seemed a bit wilted and not quite as fresh as had been advertised (this may be because of the immense demand around that time), though they promised to make it right by offering additional flowers at another time a couple weeks later. Overall, ok initial experience, though customer service was great."
Prompt customer service
A great customer service should always be part and parcel of any business selling products. So, when problem arises, buyers can get a hold of the staff to find a resolution. Ciara Poalillo (via Google) encountered issues with the order, but thankfully UrbanStems was prompt in assisting. She wrote:
"Gorgeous bouquets! Great quality, delivery, and price point. Have used them twice thus far. I ran into a slight issue due to my mistake, customer service couldn't have been more prompt and helpful! Glad I stumbled upon your ad online! Love UrbanStems!"
Scotts Flowers NYC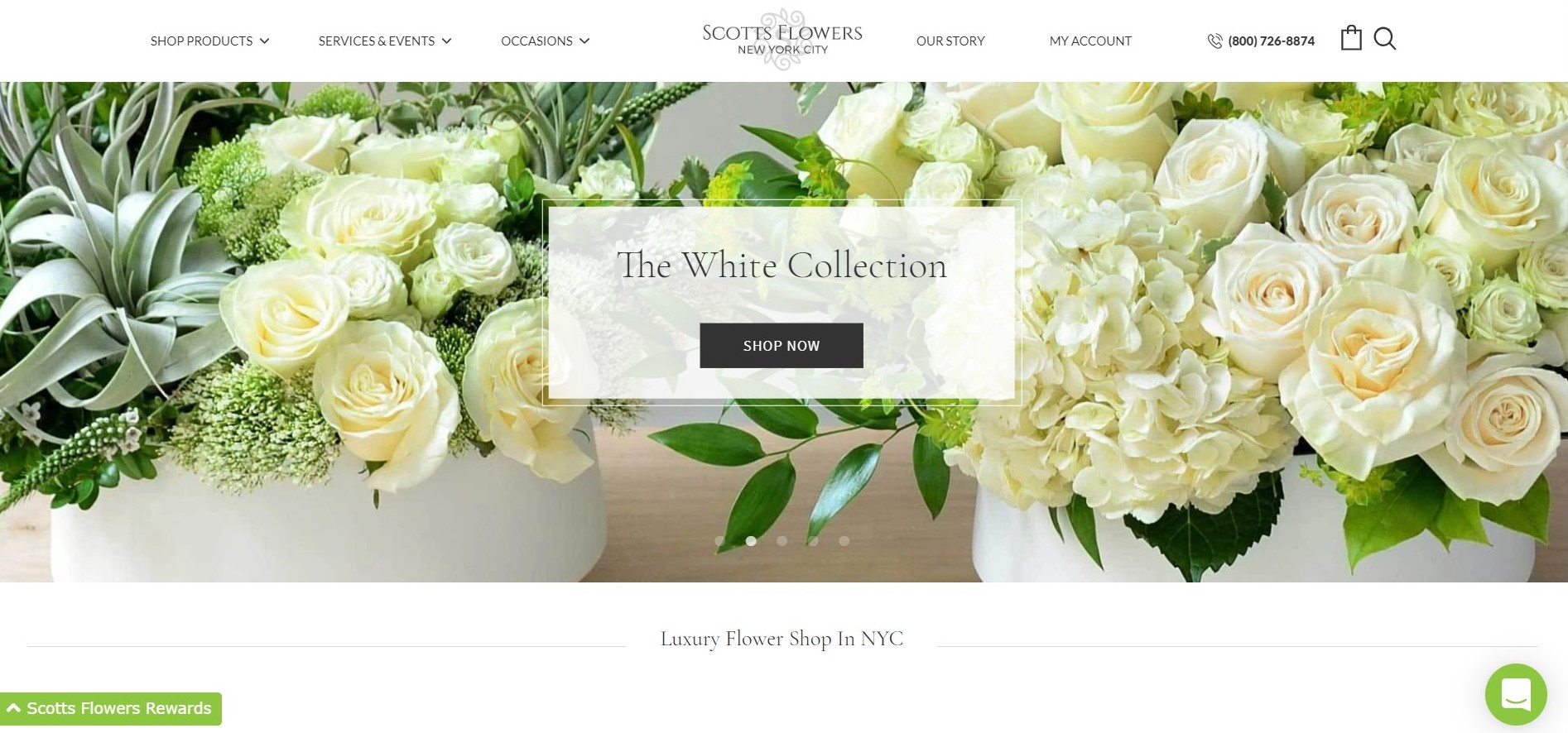 This family business has been passed down through the current generation ever since it was acquired by Robert Palliser, Sr. who bought the company in 1982. At the moment, they call themselves the "multi-dimensional, full-service florist offering artistically crafted floral designs and top-notch client care." Unlike other flower delivery services in New York City, their products are specially designed for the brand instead of using generic designs or stock photos. Better of all, they can deliver flowers within two hours from the order confirmation.
Products & Services

Flowers, plants, orchids, gifts, subscription, succulents

Delivery Fee

From $19.95

Same Day Delivery

Order before 2pm

Express Delivery

Within 2 hours

Price Range

(Bouquets)

From $75

Website

https://www.scottsflowersnyc.com/

Contact Details

1-800-726-8874 | support@scottsflowersnyc.com

Facebook

https://www.facebook.com/scottsflowersnyc

Twitter

https://twitter.com/scottsflowernyc

Instagram

https://www.instagram.com/scottsflowersnyc/
Pricing, Products & Service

Loyal customers
It's the returning customers or loyal clientele which solidify their reputation. They're also a good barometer of the consistency and quality of their service. Here's a testimonial from Jonathan Funke (via Google):
"For several years now, they have never failed to deliver fresh, lasting, thoughtfully arranged and stylishly presented arrangements. Cheerful and responsive to all requests, with flawless delivery to businesses and residences. Highly recommend."
Fast delivery
Scotts Flowers NYC is one of New York's best flower delivery services because they're able to handle urgent orders and delivering these flowers within just a few hours. Amber-Lynne B. (via Yelp) called them "very prompt and professional when it came to taking a last minute phone order for me and then delivering it within just a few hours." Given the time constraint, "the arrangement wasn't quite like I expected," she wrote. She concluded, "It was ok, but not nearly as pretty as the picture."
On the other hand, Laurie Headrick (via Google) "called late in the day for delivery the next morning." She wrote: "They sent a photo before delivery, delivered earlier than promised, and produced a beautiful arrangement – exactly as I described I wanted!"
Responsive customer service
Conditions and situations are not always perfect, so when things don't go as smoothly as it should, customer service should be available to get it right. Gabrielle L. (via Yelp) "was lucky enough to speak to Robert, one of the owners, over the phone when placing a rush delivery order." Fortunately, their products more than lived up to expectations, he noted, "Their eternal rose collection is beautiful and will definitely be my moms favorite birthday gift this year."
Cassandra N. (via Yelp) is not new to Scotts' service, she shared,  "My boyfriend has used Scotts 7 times since we started dating and the arrangements are beautiful but they do not last. I'm lucky if I get a solid week." She gave them three stats and ended the review with, "the arrangements are breathtaking… But I just cannot justify that for the amount of time I actually get to enjoy them." Their staff saw this review and promptly responded, encouraging them to call the shop, so they can discuss the longevity of the flowers.
Finally, when it matters, Scotts really pulls through, thus making an occasion much more meaningful. Shawna Frank (via Google) shared that "John has always created the perfect bouquet for any occasion." For the review, she mentioned that their "93 year old mom had to put her 16 year old dog to sleep yesterday." Her granddaughter called their shop and explained the situation and they promised to create "something beautiful" and have it waiting when they returned to their home. Not only did they deliver, she wrote, "They are stunning and brought a smile to her sad face."
BEST NYC ARTISAN FLORISTS
Julia Testa

Julia Testa and her team of experts designs flowers for retail, interiors, and events tailored to each customer's needs because they understand that different people have different tastes and needs. They have pre-designed floral products on their online shop which are specially designed and curated for the brand. Each design is drawn from the master florist's own experiences and inspiration, hence you'll find truly creative and unique styles here. Plus, if you want to learn the art of floristry, they hold workshops for that.
Products & Services

Flowers, plants, subscriptions, events, workshops

Delivery Fee

Free for orders $150 and above

Same Day Delivery

Order by 2pm

Express Delivery

–

Price Range

(Bouquets)

From $65

Website

https://juliatesta.com/

Contact Details

718.684.9009 | 347.573.1728

Facebook

https://www.facebook.com/JuliaTesta.Designs/

Twitter

–

Instagram

https://www.instagram.com/jtesta_designs/
Pricing, Products & Service

Safe, secure and stress-free online ordering
Some online shops can be unwieldy and glitchy, but Julia Testa's is user-friendly and secure. Plus, they have a streamlined system to attend to each confirmed order as quickly and efficiently as possible. Mark Olsen (via Google) shared a "terrific experience from start to finish." According to him:
"The website was easy to navigate. I easily found a bouquet that matched my needs of price and beauty.  I swiftly received confirmation of my order. The day before delivery I received a phone message to explain that one component of the grouping was not available, however at no additional cost they were substituting it with more valuable flowers and reassured me that it would be gorgeous. They were not kidding!  It was amazing! This was a a special anniversary gift and upon arrival my wife sent me a photograph of the extraordinary bouquet! Kudos to Julia Testa!"
Proactive and creative team
A testament to the skills and creativity of the Julia Testa team is their ability to take a client's brief and execute their ideas, or even parts of an idea, into a fully realized design. Among their many happy customers os Sarah Sheikh  (via Google) who has availed their service numerous times. She shared:
"Julia and her team have done floral arrangements for several of our company parties over the last few years and they always do a beautiful job! I usually just send them a pic of the venue and I can trust they will create the perfect arrangements for that space. Not only that but they are a genuine pleasure to plan and work with."
Manvi Mittal (via Google) said that she has nothing but "AMAZING things to say about Julia and her team." Apart from sticking to their budget, she brought their event to life "in the most beautiful way possible." She described the team as "very creative, very responsive and super hands-on." She added, "They were quick to understand our brand aesthetic which resulted in exceptional, high-quality decor and florals. I highly recommend!" Clementine Z. (via Yelp) also bought beautiful flowers from them. According to her:
"Julia worked with me step by step to get the flowers picked and style decided. For someone who really cares about flowers and color hues like me, Julia really understood my taste in flowers and worked with me within my budget. Our ceremony was at conservatory garden in Central Park and i wanted to be a free-spirited and garden style themed wedding. The flowers are amazing and it just felt sooo me! The delivery was perfectly on time too. Thank you so much for your efforts!"
Efficient flower delivery
Finally, to make it a fully functional and high-rated florist, their flower delivery must be fast and efficient. Lynn Drake (via Google) not only found their bouquets spectacular and beyond expectations, they also "made it easy to pick the right one" and gave her "a choice of two-hour windows for delivery" as well as letting her "know it arrived on time." Plus, she also received "personal, one-on-one help." Meanwhile, David K. (via Yelp) who has ordered from them a number of times continually receives rave reviews from his recipients "on quality, arrangement, type of flower as well as delivery and service. They are excellent all around."
Ode à la Rose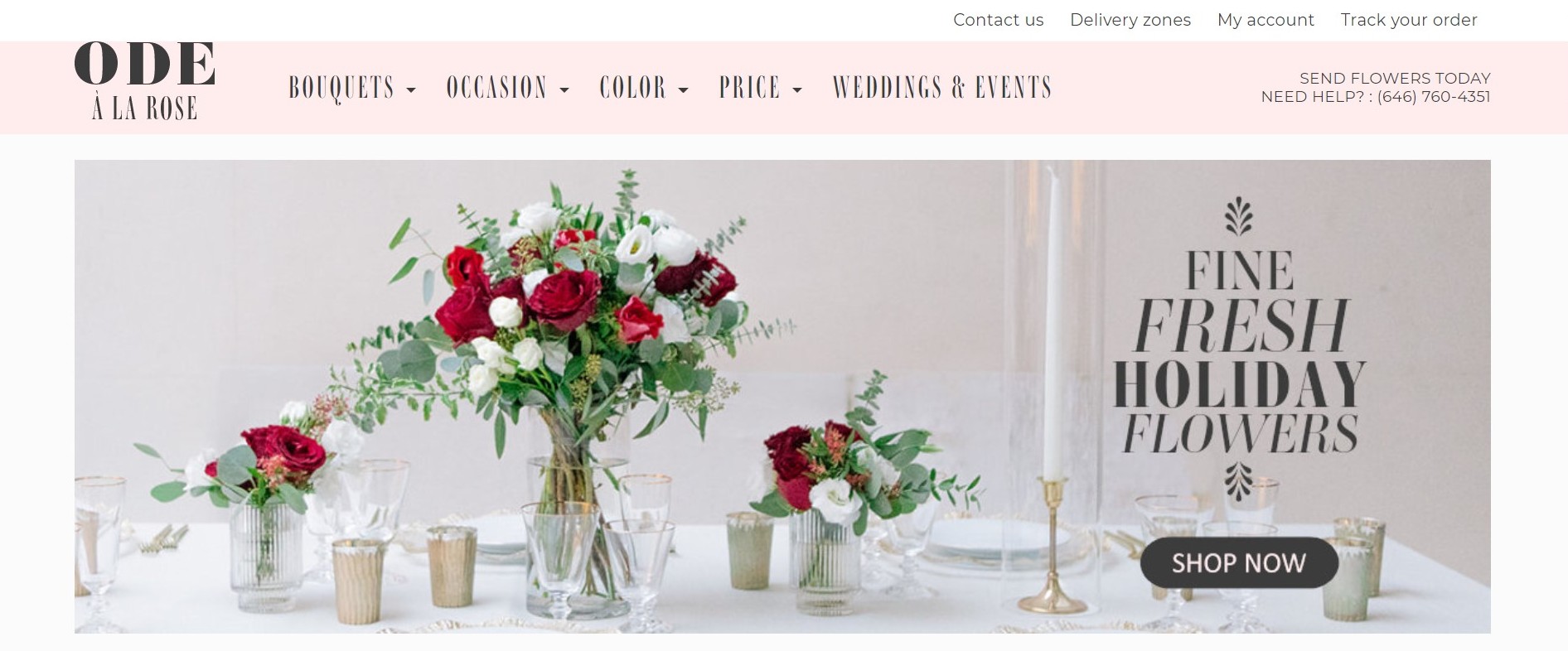 Louis and Olivier launched Ode à la Rose in 2012. From their experiences with flowers in their native France, they wanted their designs to tell a story with special attention to details like number of stems, colour, and composition. They are known for their roses of the highest quality, sourced from the most reputable farms in Ecuador and Colombia.
Products & Services

Fresh flower bouquets, orchids, forever roses, weddings & events

Delivery Fee

From $9.99

Same Day Delivery

Order by 5pm (M-F) ad by 12pm (Sat)

Express Delivery

–

Price Range

(Bouquets)

From $44

Website

https://www.odealarose.com/

Contact Details

(646) 660-5281 | info@odealarose.com

Facebook

https://www.facebook.com/OdealaRose

Twitter

https://twitter.com/OdeAlaROSE

Instagram

http://instagram.com/odealarose
Pricing, Products & Service

Creative & unique floral designs at reasonable prices
Ode boasts beautiful bouquets and arrangements to exceed customer expectations. Armin Palic (via Google) praised their artistry and fresh flowers as she shared how with Ode "It is always amazing when the real flowers are more beautiful than the pictures." Kelly K (via Google) was "completely floored by the exceptional service of Ode a la Rose." She added, "I sent a rose bouquet to a friend for her birthday – same day service, pricing more competitive than anyone else, beautiful quality flowers, with an added touch of offering a 4×6 printed photo to send along with the bouquet .. a truly unique gift." Similarly, Keri C. (via Yelp) wrote:
"WOW! What a pleasant new experience. We all know sending quality flowers in NYC comes with a hefty price tag; not at Ode a la ROSE. Tried them for the first time last Friday.  I ordered the Sophie Premium Peonies. The flowers were simply breathtaking. They came wrapped in an elaborate stunning box. Delivery, email notification with a picture was spot on. All for much  less than I typically spend. Highly recommend. Will use again."
Long-lasting roses delivered on the same day
Part of the longevity of fresh cut flowers is the efficiency of the flower delivery. David Alvarado (via Google) purchased two dozen roses for an anniversary and had them sent via same day delivery. According to him, "they were absolutely stunning" and "7 days later… they are still alive and healthy and still as beautiful as ever." To end, he wrote: "Needless to say my girlfriend was extremely pleased with the flowers and I was very pleased with the speedy delivery and service.  I highly recommend Ode a la Rose for all of your flower delivery needs!" Reva R. (via Yelp) described the flowers as "OMG! Gorgeous quality roses & so artfully done, not just the beautiful & creative presentation, but also included is wonderful info on how to care for your roses." Even better, the "roses lasted a wonderfully long time, the longest amount of time  I have ever had with any roses, ever!"
Talented florists
Operations make sure they sourced the finest flowers, their florists ensure their beauty is maximised in the designs. Alexa Shinn (via Google) complimented their "extremely talented florist" whose "arrangements were beautiful, fresh and lasted for days." She added, "They are really very knowledgeable and really did an amazing job." Meanwhile, David R. (via Yelp) wrote:
"Flowers were great and the container they came in really gave it a creative and professional feel. Customer service also worked with me in making a change in my order. Great way to show someone you're thinking of them."
Sprout Home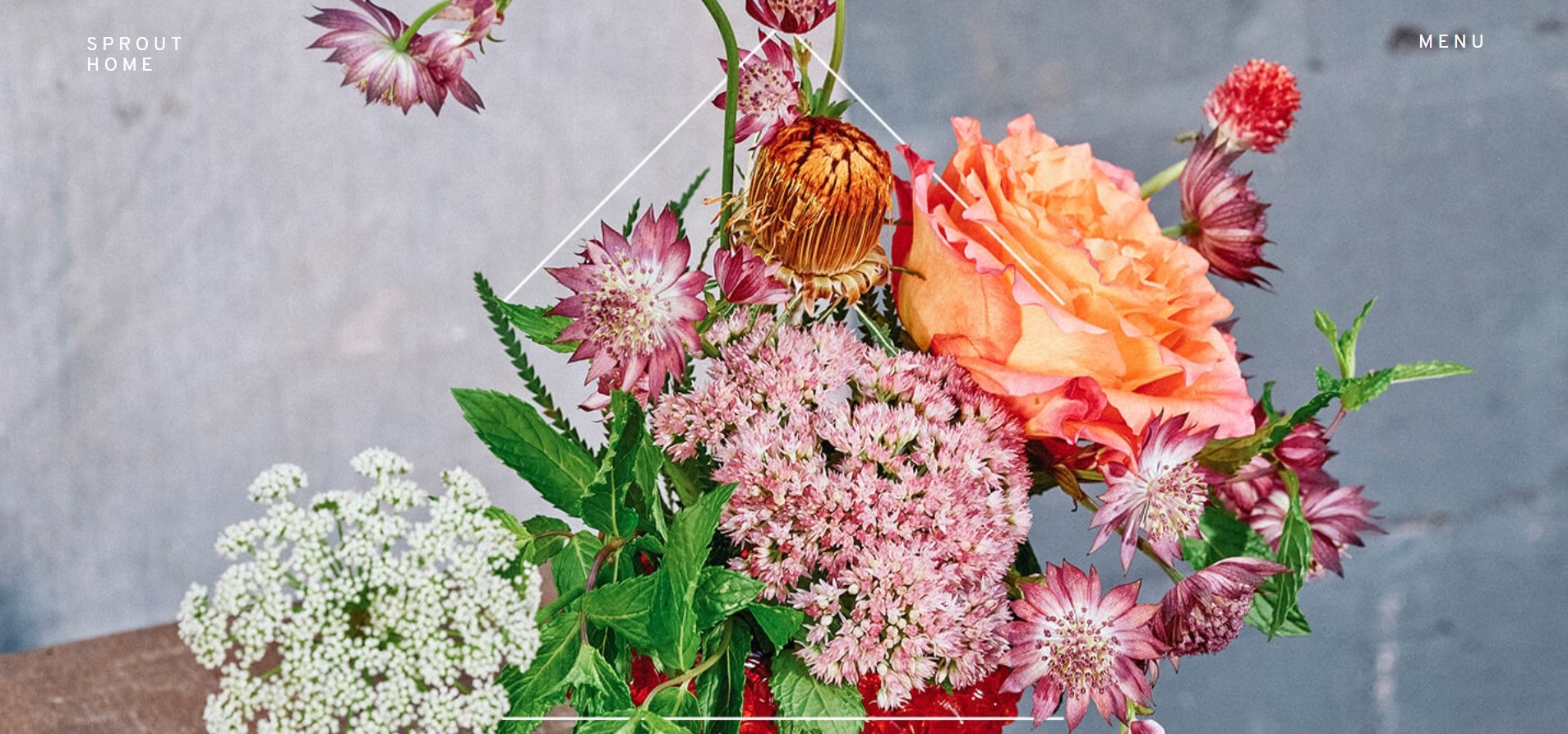 Like a true artisan florist, it's quality over quantity at Sprout Home. Customers can customise orders based on budget, colour palette, and a design inspiration if available. The result? Each one unique and tailored to your taste and intention. They're also not stingy with their knowledge, as they share their expertise through classes and workshops about floristry and floriculture.
Products & Services

Flowers, terrarium

Delivery Fee

Calculated at checkout (Minimum for delivery is $60)

Same Day Delivery

–

Express Delivery

–

Price Range

(Bouquets)

Works around your budget

Website

https://sprouthome.com/

Contact Details

718.388.4440 | bkinfo@sprouthome.com

Facebook

–

Twitter

–

Instagram

–
Pricing, Products & Service

Great plant selection aided by a knowledgeable staff
Most everyone who visits the Sprout Home marvels about their staff's broad knowledge about plants and flowers. Maxine Sharf (via Google) spent over 3 hours with a staff member who helped them "pick plants for four different areas" in their apartment. She added, "She is so knowledgeable and suggested plants that would do well in our different low light / medium light spaces." Halee Sommer (via Google) has made them her "go-to place for amazing plants." She shared, "The last time I visited, Allyson recommended an amazing cactus that I'm thoroughly enjoying. She also recommended I take a class there and I'm really looking forward to my experience."
Exquisite flowers and designs
With a team of highly trained and professional florists, Sprout Home are able to turn out truly exquisite designs. For instance, Ksenia Khalturina (via Google) appreciated "their unique selection, market prices, and friendly staff." She also had her wedding bouquet made here which "It turned out to be STUNNING! ?  ? ? ? ❤️ whomever designed it, thank you. I was impressed." Nandini Naik (via Google) called their designs "Exquisite flowers arranged in a beautifully refined way." Finally, Conor M. (via Yelp) wrote, "Joey and Lu made me an amazing bouquet for my friends wedding."
Sanctuary
Even if you don't intend to buy plants or flowers, visiting this shop is still worth your while as many New Yorkers find their space to be cozy and relaxing. Ali F. (via Yelp) exclaimed, "What a beautiful plant sanctuary! It is so beautiful and peaceful." Alaina Y. (via Yelp) loved their "awesome selection and cute shop!" Finally, Megan H. (via Yelp) wrote: "This place is so cute! The staff is super friendly, Allyson was a doll!"