Dubai is known for hyper-modern structures, skyscrapers and a major business hub in the Middle East. As the most populous city in the UAE, there are always occasions and personal milestones to celebrate. Thankfully, there are many reputable and reliable florists in Dubai who are more than happy to craft and deliver the best-looking and freshest flowers around. We take a look at the different prices and review the quality as well as overall service of Dubai florists to come up with this list. Happy shopping!
BEST ONLINE FLORISTS
Flowershop.ae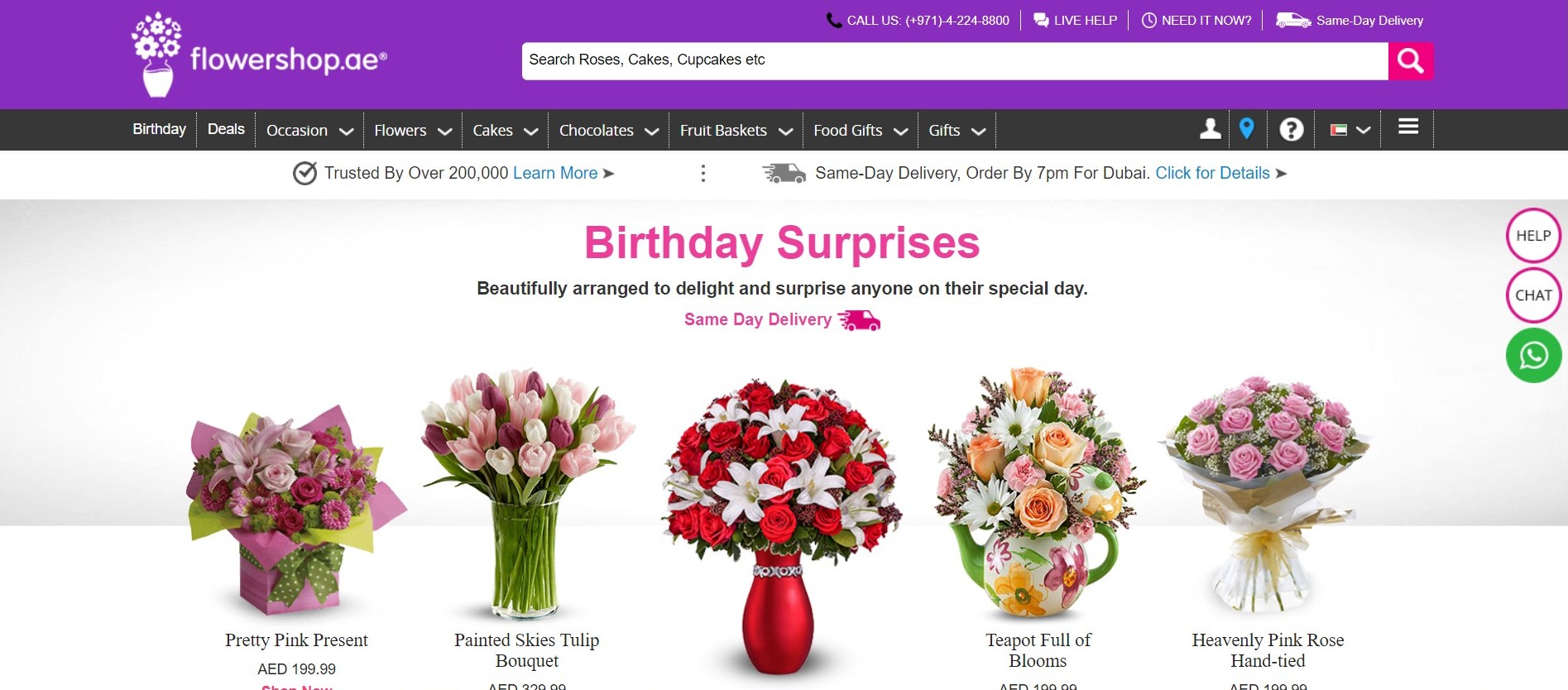 Flowershop.ae is one of the most well-reviewed online florists in Dubai and UAE. With thousands of feedback from past customers, you can quickly and easily view their solid track record. They're highly experienced in fulfilling orders from locals as well as clients overseas. Being an online florist connects them to flower lovers worldwide. Flowershop.ae is also affiliated with other gift shops, from luxury items to cakes and chocolates, so this can be your one-stop shop for any gift requirements. Why shop around when you can find everything you need in a single website?
Products & Services

Hand bouquets, sympathy flowers, corporate flowers, floral stands, orchids, floral accessories, cakes, chocolates, food gifts, other gifts

Delivery Fee

Free for orders AED 99.99 and above

Same Day Delivery

Order before 7pm

Express Delivery

Available upon request

Price Range

(Bouquets)

AED 99.99 – AED 929.99

Website

https://www.theflowershop.ae/

Contact Details

Call Us (UAE): (04) 224 8800 | International: +971-4-224-8800

Facebook

https://www.facebook.com/TheFlowerShop.ae

Twitter

https://twitter.com/flowershopae

Instagram

–
Pricing, Products & Service

Bouquets as low as AED 99.99
Despite the large catalogue and their wide reach, their product prices remain competitive. For less than AED 100, you'll get a beautifully arranged bouquet of roses. Their flower delivery in Dubai is free for a minimum order of AED 99.99, so there's no added cost to your order. Kenneth Nunes (via Google Reviews) shared, "I found flowershop.ae through Google and I ordered from them for the 1st time and it was really simple to order, cheaper and the delivery was on time."
Hundreds of floral designs
To cater to a lot of customers with varying tastes and preferences, Flowershop.ae maintains a large catalogue of floral designs suitable for a variety of occasions and intentions. Fortunately, their experienced florist stays faithful to the photo as seen on the website. K. Larkin (via Google Reviews) wrote, "We even had an issue with one bouquet, which was taken care of immediately and professionally by the team." Similarly, Christina Gitsaki noted that "The flowers looked exactly like the photo on the website."
Delicious, customisable cakes with healthy options
As mentioned, Flowershop.ae also sells a host of other gift options aside from fresh flowers. In fact, many of their positive reviews mention their delicious cakes. These cakes are customisable for birthday cakes, for example. Plus, they also offer healthy cakes as alternatives to people who may have dietary restrictions. They have vegan, dairy-free and gluten-free cakes. L.M. (via Google Reviews) "ordered the vegan chocolate cake and it was delicious tasted like dark chocolate."
High-quality, consistent service
Flowershop.ae has managed to maintain their good reputation because of their consistent service. A returning customer, Abeer Jawad (via Google Reviews) actually wrote they are "becoming better every year." On the same review site, Clint Joaquin called them "the best flower shop in Dubai" after having used their services a few times. From overseas, Sarah Carr sent her daughter a birthday cake. She was "delighted with the excellent service and quality of product," adding that the chocolate-dipped strawberries she ordered "arrived promptly, and beautifully presented." Finally, Gibson Koronge praised them for timely delivery, sharing, "From purchase to date of delivery they provided step by step report. Great job! I recommend their service 100%!"
Damas Flowers & Events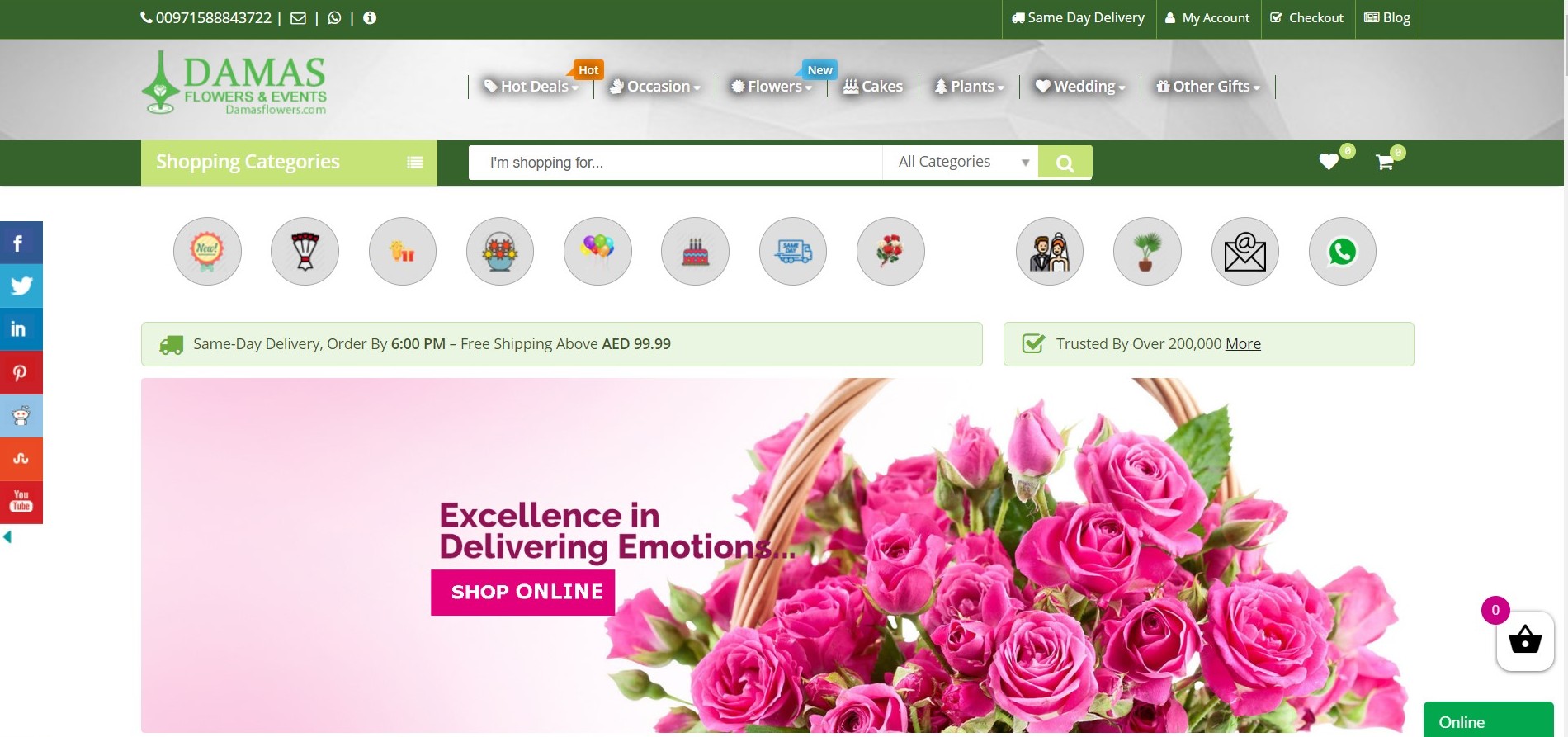 At Damas Flowers & Events, you can order flowers online for delivery in Sharjah, Dubai, UAE. Aside from retail flower arrangements, they also offer bridal bouquets, wedding flowers, wedding kosha, wedding packages, as well as balloon decorations. Whether you need flowers delivered to loved ones or you need a little help adding some pizzazz to your event, this Dubai florist comes highly recommended.
Products & Services

Hand bouquets, orchids, plants, cakes, balloons, perfumes, teddy bear

Delivery Fee

Free for orders AED 99.99 and above

Same Day Delivery

Order by 6pm

Express Delivery

Available upon request

Price Range

(Bouquets)

AED 100 – AED 799

Website

https://damasflowers.com/

Contact Details
+97165551002, +971 556100064, 00971 6 5536545 | [email protected]
Facebook

https://facebook.com/theflowershopuae

Twitter

–

Instagram

–
Pricing, Products & Service

Fast and reliable delivery
Fast flower delivery is the strength and specialty of Damas Flowers & Events. Not only do they offer free flower delivery for orders AED 99.99 and above, they can also deliver flowers within 2 hours from your purchase. Faiza Saleem shared:
"Amazing quick service. Ordered same day and delivered within 2 hours. What was shown on the website they even customized it for my husband's birthday and made me more royal! Extremely satisfied with the service and prompt delivery and fresh flowers. Best of all there prices are very economical!" (via Google Reviews)
User-friendly and hassle-free online shop transactions
Damas also gets a lot of praise for their user-friendly, secure and hassle-free online shop. Even after the order, they have a seamless system in place to keep the customer updated about their orders. Rody Z, via Google Reviews, appreciated the fact that he "didn't have to go to the shop, the whole experience was online and through whatsapp." He also added, "Price wise – good rates ? You can also browse through many options online, delivery is also free!"
Meanwhile, A Mal, in the same review page, shared that "their website is very user friendly and they are prompt in delivery" adding he "was amazed by the excellent level of their products and service" with a bouquet that was "exactly as it was shown on their website." Finally, Rebecca Hawtin-Russell praised their "very professional, fast and friendly service." After ordering, they sent "confirmation and photos of order plus order status updates via WhatsApp." As for the products, she wrote: "Bouquet styles a little more on the traditional side, which I like. Second order not quite as bright as pictured but still lovely and top value for money. Would highly recommend."
Membership perks
What's great about Damas is that they appreciate loyal customers and reward them for return business. According to Rahim Jindani (via Google Reviews), "They have an amazing service specially using Whatsapp and plus they offer amazing price once you repeat order. Super satisfied 🙂"
Prompt and professional customer service
Another important thing about a good online florist is their customer service. Since customers are usually busy or located elsewhere, it's essential for them to be accessible. Fortunately, customers love Damas' prompt, friendly and professional customer service. Darlene Panganiban wrote her personal experience in a Google Review:
"(excerpt)I am thankful I have come across this hidden gem! After long hours of searching for an online flower delivery service, I have found the perfect flowershop! Colorful, fresh-cut flowers arranged beautifully at a cheap price and delivered free of charge! What else can you ask for? Their team had delivered great service beyond expectations! Mr. Vishnu immediately confirmed the order I have placed through their website. He made sure of all the details, including the delivery location, delivery date and time, the receiver's details, etc. He handled the request in a polite, kind, and professional manner. They had delivered best product and excellent service. I am very satisfied and very happy about their product and service."
Flower Station Dubai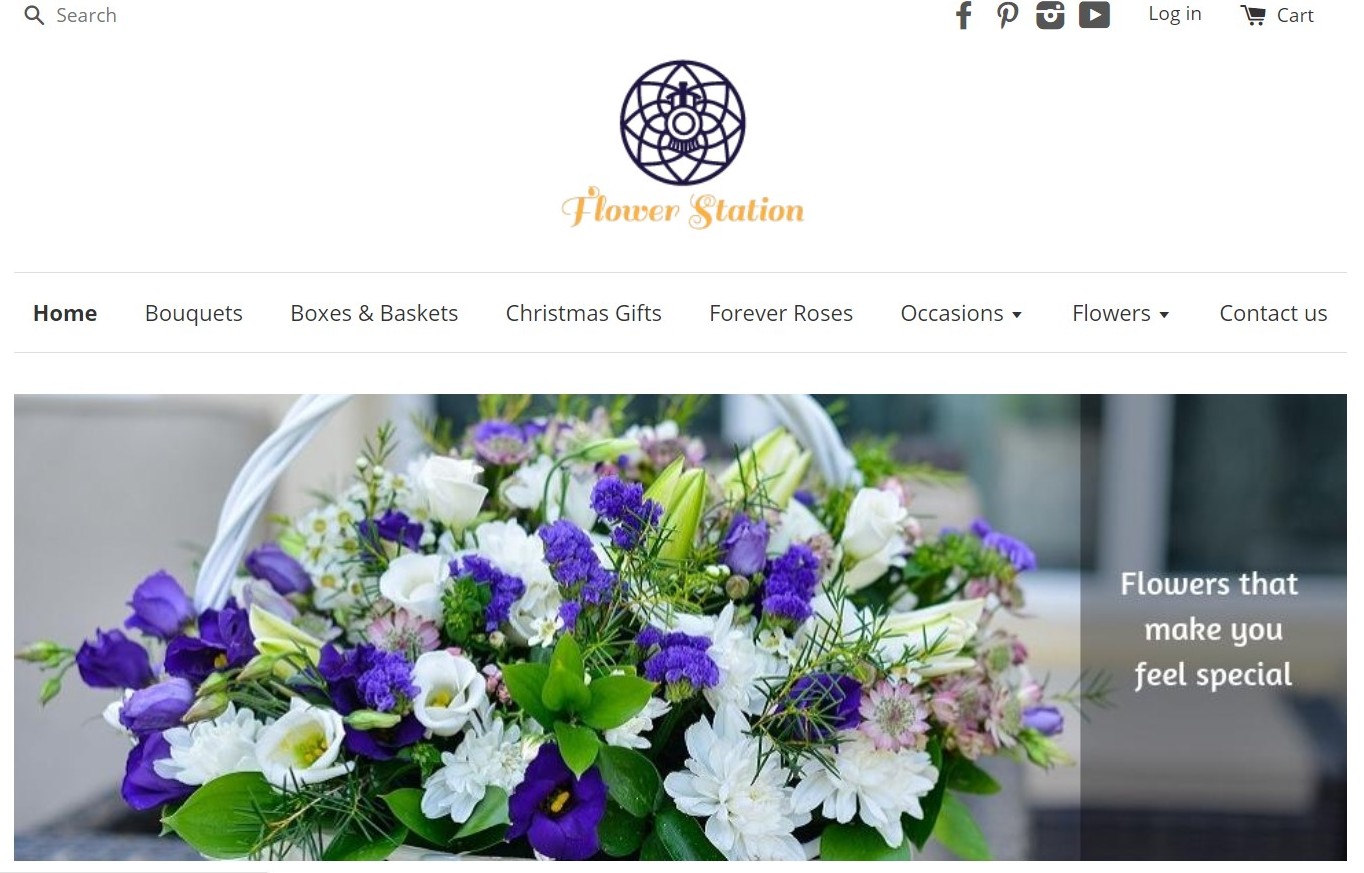 This highly-rated online florist provides flowers and gifts for all occasions. Their flower selection is large, with bouquets, boxes/baskets and creative gifts of forever roses (long life rose). Their preserved roses, placed delicately inside a  glass dome, can last for over a year. Customers can also request for customised arrangements.
Pricing, Products & Service

Prompt and flexible delivery
Flower Station Dubai  has a very efficient system, from taking orders, preparing the order, delivery and post-delivery. There offer two flexible time slots for flower delivery in Dubai: 10 AM – 3 PM  and 3 PM – 8 PM.
Het Soni (via Google Reviews) wrote that they are "always on time" with their delivery. In the same site, Kernel Gaddafi, who lives in the UK, ordered through their website when he forgot his sister's birthday. Based on his experience, "they said they would deliver before 2:30pm… and within 25 mins of me ordering they had delivered the flowers and even called me to let me know that my sister had just received them." Best of all, "the flowers were fresh" and his sister loved them.
Attentive and responsive staff
Another highlight of their service is their friendly and professional staff. In a Google Review, Yra Dennisse Capili wrote, "Special thanks to Mr. Ashish whom I can always count on." She further thanked the team "for consistently giving us prompt service, overwhelming flower decors in any types of occasions , hassle free service, reliable – overall worth paying for!" Wilder Dubai also gave props to their helpful and responsive team for the "great choice of flowers and great arrangements."
Ann McCarthy, meanwhile, thanked their "professional and courteous" staff along with the stunning presentation which she described as "wonderful value for money and as fresh as if just cut from the garden." Another customer actually received a complimentary mini bouquet. The customer shared, "I was staring at the lavander in their shop while I'm waiting for the bouquet and in a few minutes I realized I have a packet and a mini bouquet ? of lavander." This is a testament to how attentive their staff is.
High-quality flowers
Even though they receive orders both locally and from customers overseas, they still manage to maintain the high quality of their products. Anastasia (via Google Reviews) shared her "great experience ordering flower basket" for her mother at the Flower Station JLT. According to her, the "prices are aligned to the quality of the flowers." More importantly, "the arrangement did not wilt for more than 1 week, i was surprised." She added, "Moreover,  florists were very responsible and prepared flower basket by the date i requested." Meanwhile, Melvin Manalastas left this review: "Good customer service, on-time delivery, nice quality of flowers and amazing arrangements."
Valentino Flowers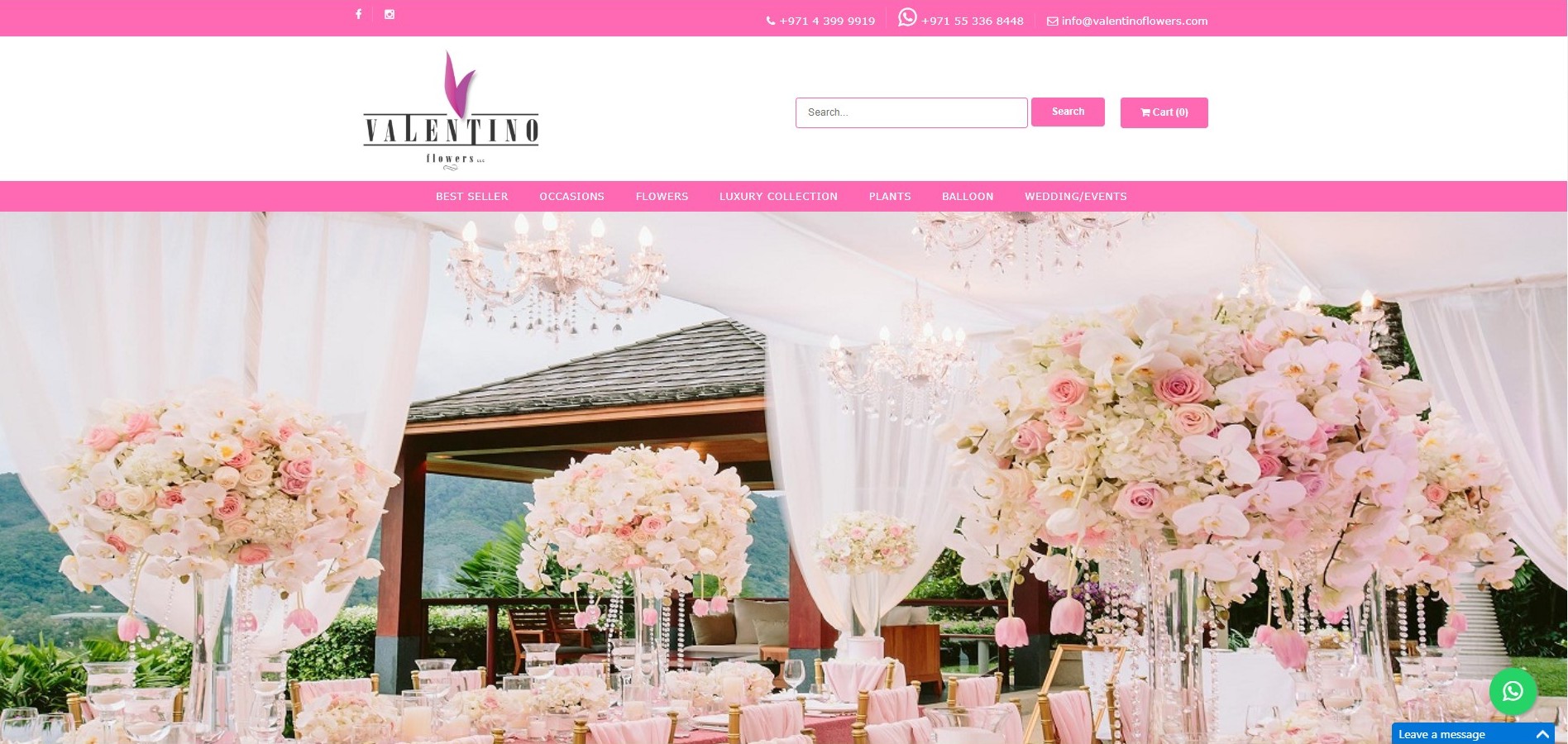 As one of the best online florists in Dubai, you can purchase flowers and gifts from Valentino Flowers online 24/7. It's a convenient way to purchase a surprise delivery, go to bed, and then wait for the courier to deliver the flowers first thing in the morning. Who doesn't want to wake up to flowers? One restriction though is that they don't accept international orders, so if you're overseas and want to surprise a loved one in Dubai, then try another florist. Otherwise, you'll find lots of flower arrangements for all conceivable occasions.
Pricing, Products & Service

Beautiful, handcrafted bouquets with affordable prices
Valentino can make any occasion more magical or more memorable with their carefully handcrafted bouquets and arrangements. Muhammad Osman (via Google Reviews) attests to their beautiful creations, sharing that the product he ordered "was actually better than the one shown in website. Usually it's other way around." He also commends their "efficient delivery service" after ordering online. According to him, they managed to deliver in just "2+ hours" and found the cost reasonable compared to other online florists in Dubai he checked. Najeeb Omar, on the same site, echoes the same sentiments, calling their service "very good, fast arranging & reasonable price."
Friendly and efficient staff
A large part about why Valentino is one of the more reliable florists in Dubai is their friendly and efficient staff. Takmeel, in a Google Review, calls Valentino as the "best flower shop in Dubai." He not only loved the product, he also complimented "their friendly staff and quick service." Altan Nevcombe, on the same site, described their service as excellent. Specifically, he shared, "Eric who liased with me during a delivery went the extra mile to ensure mine and the recipient of my gift's satisfaction. I recommend this company unequivocally."
BEST LUXURY FLORISTS
Bliss Flower Boutique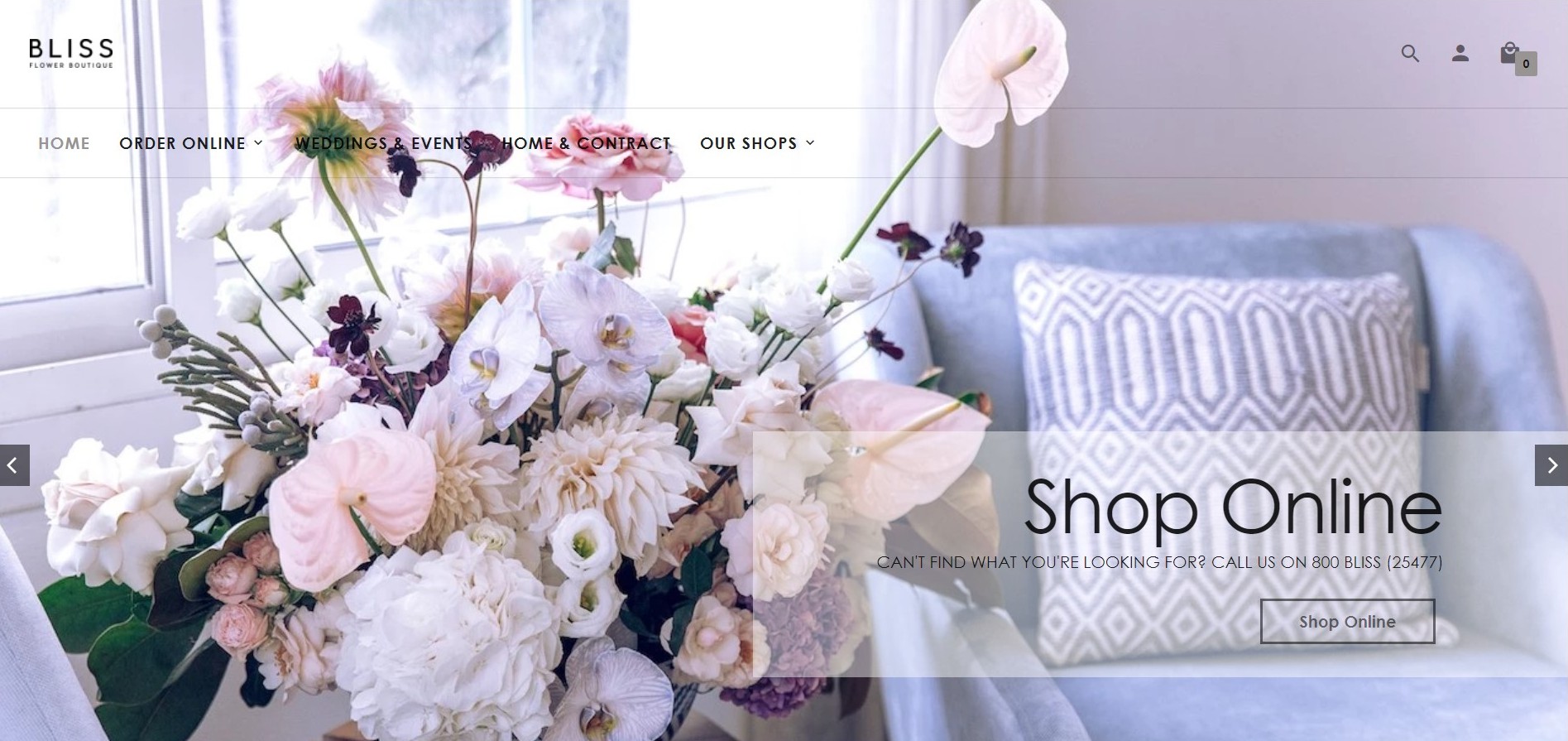 If you don't want to get buried in pages and pages of generic floral styles, you'll be pleased with Bliss Flower Boutique's curated collection of fancy floral arrangements. They refresh their designs from time to time, so there's always something new and fresh for you to order, whatever holiday or occasion may come around. Or you can always purchase a bespoke bouquet to get a unique take as well as a personal approach to your purchase.
Products & Services

Hand bouquets, vase arrangements, floral bags, orchids, diffuser, chocolates, candles, weddings & events, sunscription

Delivery Fee

Calculated at checkout

Same Day Delivery

–

Express Delivery

–

Price Range

(Bouquets)

Dhs. 300 – Dhs. 2,940

Website

https://blissdubai.com/

Contact Details
800 BLISS | [email protected]
Facebook

https://www.facebook.com/BlissFlowersDesignUae

Twitter

–

Instagram

https://www.instagram.com/blissflowersuae/
Pricing, Products & Service

Professionally crafted flower arrangements
Bliss Flower Boutique's team of florists led by Creative Director Abbey Dean, so customers can expect thoughtfully crafted and creative floral arrangements with every order. According to their website, their creative team draws inspiration from current trends in design, fashion and architecture. They are also inspired by the lines, forms and natural rhythms of the flowers. Satisfied customers include Kaitlin Daniells who shared this review on Google:
"When I moved here from London, I was worried that I would not be able to find beautiful arrangements with gorgeous scents…then I found Bliss.  Without a doubt they are the best florist I have ever encountered. Make sure to get roses from them; they are out of this world in terms of size, color and smell!!  They have unbelievable arrangements which are classic yet represent the current trends. Plus, they have great customer service. My go to present for people is a bouquet of Bliss flowers!  I would never get flowers anywhere else!"
Experienced floral designers for events and shows
Bliss Flowers has also gained a reputation for their impressive flower arrangements for events and shows. They have amassed an impressive range of clients because of their team's talent for interpreting the customer's needs. Their versatility can be seen from a single floral arrangement, to larger than life and luxurious floral installations. They can handle corporate functions, private parties, events, fashion shows, weekly contract flowers or chic and sophisticated concepts for weddings.
Excellent customer service
A mark of an excellent florist is their ability to satisfy customers with their service. Even when mistakes occur, Bliss Flower Boutique still manages to reach out to disgruntled customers to make amends and avoid further mishaps. Adnan Karimjee, via Google Reviews, shared his not-so satisfactory experience yet he still appreciated their efforts at correcting their mistakes. He wrote, "if a company can take the time to call and take constructive feedback and address it this quickly, then it speaks volumes about them."
Maison de Fleurs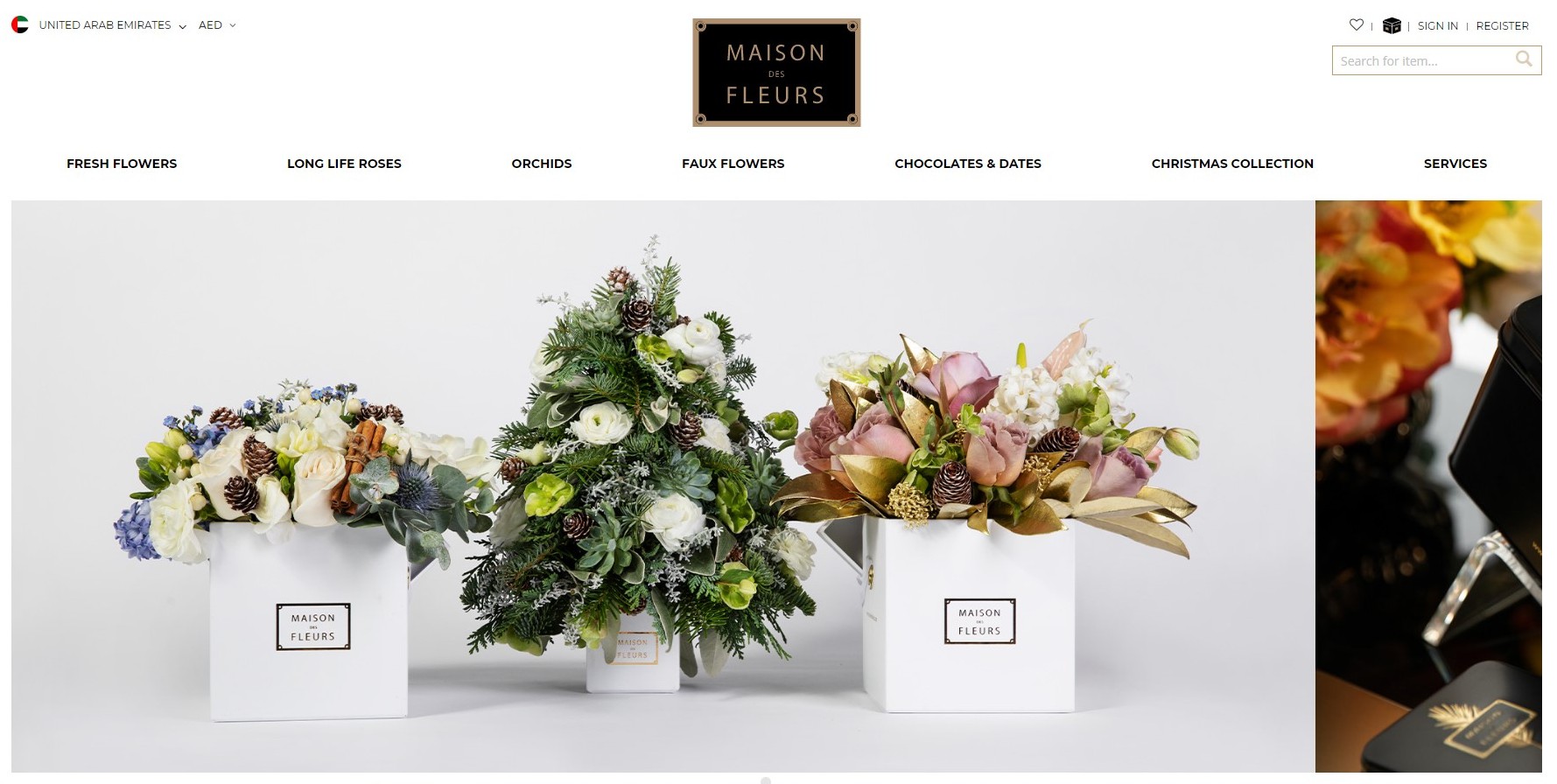 Maison de Fleurs offers upscale floral arrangements for customers looking for more finesse and attention to detail when it comes to floral arrangements. They're known for their roses in chic floral boxes, but you can also find orchids, hyacinths, hydrangea, and other floral varieties. Since their team makes sure each order is meticulously arranged and pristine, so they don't provide same day flower delivery in Dubai. Within 72 hours of you placing your order, you will receive an expected delivery date. But hey, beautiful things take time, right?
Pricing, Products & Service

Skilled and professional staff
Experienced and highly trained florists are the magic behind the brand. Whether for retail sales or events and weddings, Maison des Fleurs' team of professional event managers and florists envision and execute arrangements and settings that can make any occasion extra magical and memorable. Ghula Hassam, via Google Reviews, expressed amazement of their service by calling them "one of the best flowers company in Dubai with excellent service." He even added, "I want to be a staff member of this company."
Reasonably priced upscale floral arrangements
Due to the quality of their products as well as the calibre of their clients, their products tend to be on the more expensive end of the spectrum, but it's bang for your buck as Mohammad Abdulla's Google review described them as "one of the best and classiest flower shops in dubai." On the same site, Fahad Andergeeri wrote, "Great but expensive!" On the other hand, Reema Soboh found their pricing reasonable for the product's high quality. She shared:
"I ordered a hand bouquet for my best friend's mum as she wasn't well (on the phone). It was easy to find this place and when I got there the bouquet was ready and super gorgeous! Needless to say the price for the huge bunch of roses, peonies, and more was reasonably priced and the staff were lovely. I also got a glimpse of them preparing gift boxes for brands like Tiffany's and Bvlgari. I swooned! Lol!" (via Google Reviews)
Faux flowers
If you want something long-lasting, they also sell faux flowers which look remarkably like fresh flowers. So, in case you need to add some classy decoration to your home or office space, their faux flowers collection will be the perfect touch.
Forever Rose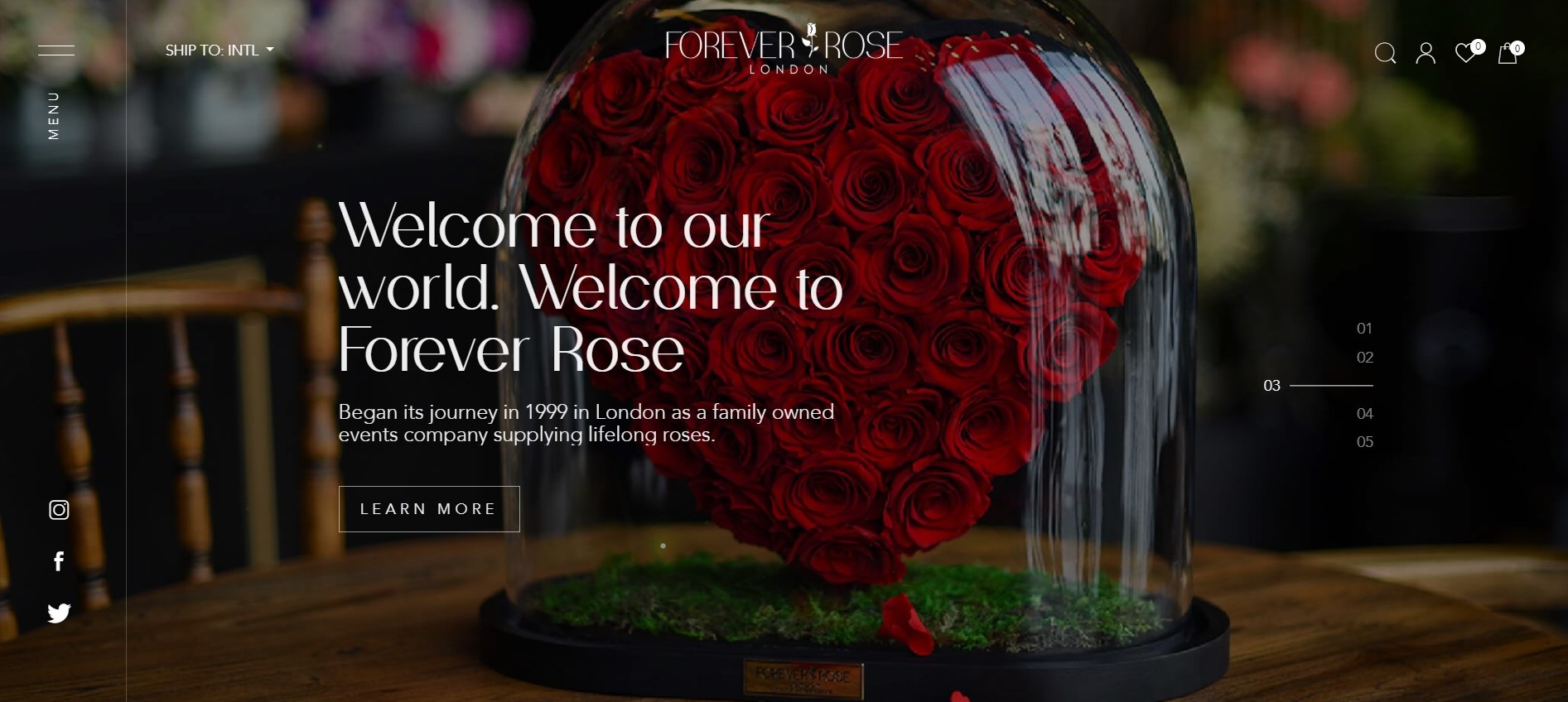 Forever Rose started in London in 1999 as a family-owned events company supplying lifelong roses to Royal palaces in The United Kingdom and Belgium. In 2014, they were acquired by the Al Samadi Group and has since evolved into a one-stop shop for luxury gifts with long-lasting forever roses, premium chocolates, curated perfumes and Ouds as well as a unique collection of fine jewelry and diamonds. They have shops in the United Arab Emirates, Qatar, Saudi Arabia and London.
Products & Services

Preserved roses

Delivery Fee

Calculated at checkout

Same Day Delivery

–

Express Delivery

–

Price Range

(Bouquets)

From $170

Website

https://www.myforeverrose.com/intl/

Contact Details
+971 4 884 6022 | [email protected]
Facebook

https://www.facebook.com/foreverroselondon

Twitter

https://twitter.com/foreverrose_

Instagram

https://www.instagram.com/foreverroselondon
Pricing, Products & Service

Enchanting shop and superb staff
With luxury florists, it's the service and personal touch which can make the price tag worth it. This is why Forever Rose maintains an elegant flower shop for customers to visit and experience their superb customer service first-hand. Yoko Siano (via Google Reviews) shared that she has visited their "beautiful flower shop" many times because she loves "coming inside just to look at the pretty arrangements and the design of the shop itself." She also added, "reasonable price for customized arrangements."
Stephane Jourdain, in the same site, described Forever Rose as "a beautiful place for fresh flowers or forever rose which can last forever under a glass bowl or 3 years unprotected. Really beautiful store." Mariam Alawadhi gave props to their "beautiful roses with efficient customer care," though she conceded that the roses are quite expensive. Several other reviews praised their "very friendly staff" and "well-trained staff."
Customised fresh flower arrangements
Even though they're known for their long-lasting roses, they do sell fresh flowers as well. And because they offer luxury when it comes to flowers, each purchase is bespoke for a one-of-a-kind creation each time. You can then add on one of their decadent chocolates or any of the curated luxury gifts in the shop.
Pricey but worth it
The products, customers agree, are expensive. Although, they do concede that the quality is top-notch. One review described their flowers as "quality and beauty wise these flowers are absolutely outstanding." Wissam Ghanem, on Google Reviews, said Forever Rose is "the best… luxury place to buy the best world's long lasting Rose's with amazing designs and worth what you paid." On the same site, Jay Tuck wrote:
"Excellent variety of flowers never seen.  Prices are very high but the visual stimulation is very desirable ☺"
Beverly Hills Roses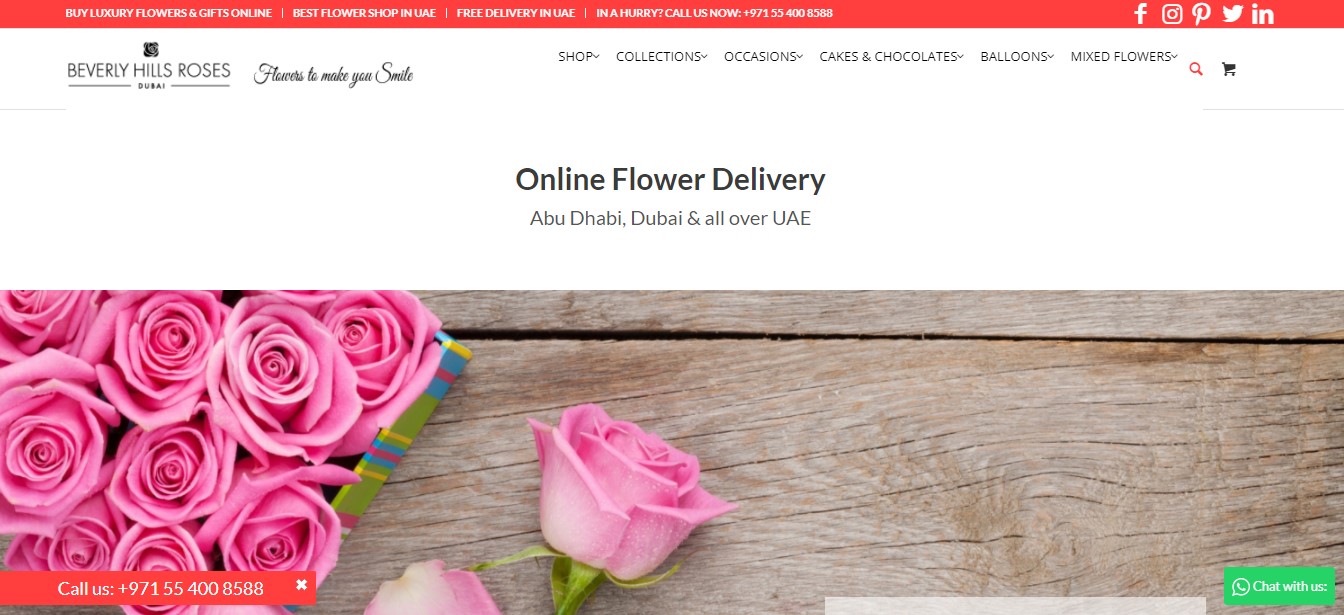 Beverly Hills Roses is a florist shop that specializes in a wide variety of roses for special occasions as you can shop from a good selection of roses from what type it is to the color theme that you prefer – they are sure to have what you like. They pride themselves for their consistently premier arrangements and should you not be satisfied with their flower delivery – they offer a reimbursement policy for this very reason.
Describing their boxes to be of luxury and fashion, they also offer other products such as balloons, cakes and chocolates that you can avail of to complete your dream gift for your loved ones no matter what the occasion. Furthermore, you can easily process and transact your orders all completely online as they accept all major cards such as Visa, American Express and MasterCard as their mode of payment.
Amazing both in service and bouquet quality – they are a recipient of various praises regarding the aesthetic appeal of their arrangements along with the superb professionalism that they exhibit for a wonderful experience and maximum client satisfaction.
If you are looking for a florist shop that strives to make the recipient of their flowers smile and grin as they gaze upon the said arrangement then, definitely give this shop a try!
Pricing, Products & Service

Accommodates a wide range of online payment methods
Their payment methods are through VISA, AMEX, Mastercard, Discover.
Highly commendable delivery services
Offers flower delivery in UAE on all days, including weekends and holidays. For special requests and holiday deliveries, please order at least 48 hours in advance.
BEST ARTISAN FLORISTS
Upscale and Posh Flowers

Artisan florists typically have smaller operations and leaner teams, but what they lack in size, they make up for in quality, innovation and affordability. These are all true for Upscale and Posh. Despite the posh branding, they do have reasonably priced floral products. This family owned shop maintains a team of in-house florists who are constantly working on bespoke pieces and signature displays. Their designs are meticulously crafted, stem-by-stem, to create premium quality products unique to their shop.
Products & Services

Flowers, cakes, balloons, gift sets, weddings, events, subscription

Delivery Fee

Free

Same Day Delivery

–

Express Delivery

–

Price Range

(Bouquets)

Dhs. 139 – Dhs. 499

Website

https://upscaleandposh.com/

Contact Details

Call or Whatsapp: 058 6517898

Facebook

https://www.facebook.com/upscaleandposh/

Twitter

https://twitter.com/uspflowers

Instagram

https://www.instagram.com/upscaleandposh/
Pricing, Products & Service

Convenient floral subscription
For a minimum of AED 250 a month, you can avail Upscale and Posh's subscription service which comes with a free vase and free delivery. This is a convenient way to refresh your home's decor and brighten up spaces with fresh cut, seasonal flowers specially curated by skilled florists.
Stress-free transactions
Customers have the option of visiting their studio or ordering online. Whatever is easier and more convenient for customers. Neslie Faustino, in a Google review, shared that "Upscale and Posh was so professional" in handling her orders. "From their website, to ordering, to delivery – it was all so easy and stress free! They're so friendly as well."
Premium quality yet competitively priced products
A Google review by Michelle Antonio wrote, they "exceeded my expectations" after ordering flowers for Mother's Day. In another review, this time for a Valentine's Day order, the customer described the flower arrangement as "stunning." Adding, "Its impressive! Big Red Roses. Looks like 100 but its not."
Exemplary customer service
Reviews on Google often mentions their customer service as one of the reasons for their multiple use of their service. With each order, one customer wrote, "I had no problem finding the perfect flowers and sweets.  Everything was very high quality and competitively priced." It goes on:
"But what impressed me the most was their customer service.  Both times I requested custom delivery times. The first time was only a few hours notice and they delivered exactly on time.  The second time I ordered I had them change the delivery date because I thought I had made a mistake on the timing. Then less than 24 hours later I realized the original date I requested was right.  So with only a few hours to spare I request they change the delivery date and time again. (This order contained not only flowers but also sweets with a customized message that had to be inscribed by hand)  But even with the short notice and change of plans they delivered exactly on time. I will definitely use these guys again."
"I have used UpScale And Posh Flowers to send flowers and candy to business associates in Dubai for the past eight years.  After exceeding my expectations every single time I decided to trust them to do my destination wedding. I cannot say enough good things about this wonderful florist!!!  My wedding was EXCEPTIONAL!!!
I just wanted to share my experiences with this company because they really do work hard to please the customer.  Also, their chocolates are the best I have ever found. Before finding UpScale And Posh Flowers I had some really embarrassing experiences using other florists who delivered wilted flowers and sent unprofessional looking delivery people to deliver the flowers.  When sending the very best is important I would look to UpScale And Posh Flowers because no one does it better!!!" – Jenna Jackson (via Google Reviews)
Darcey Flowers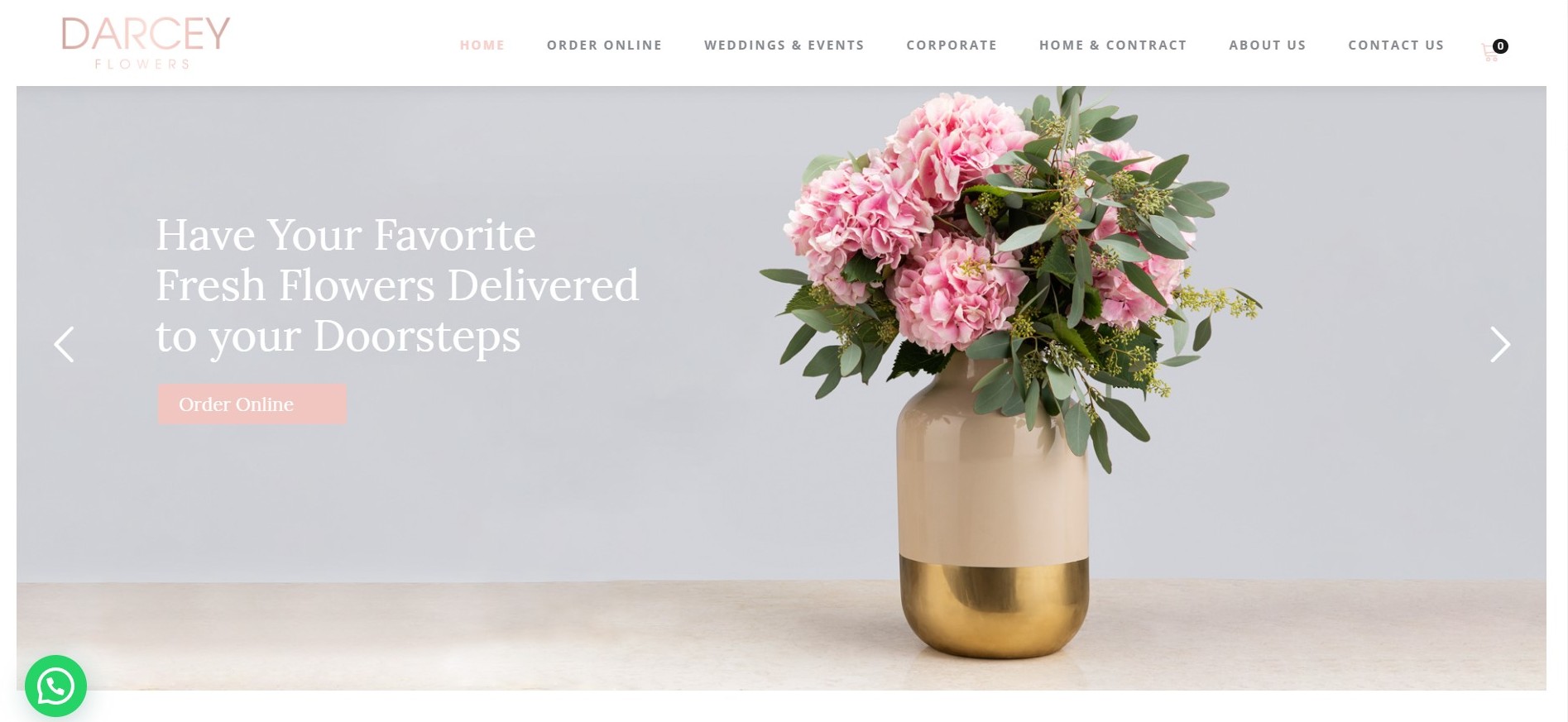 Darcey Flowers guarantee value for money. Their talented management and devoted craftsmen work hard to provide fresh and trendy designs which customers will love. They have a user-friendly online shop where customers can conveniently buy individual flower arrangements for pick up or delivery. They also provide floral designs and decor for corporate clients, events, weddings, etc. Their flowers, foliage, and plants in the hands of expert floral designers can transform any office, home or function room into a warm and inviting space.
Products & Services

Bouquets, flower boxes, plants

Delivery Fee

Calculated at checkout

Same Day Delivery

–

Express Delivery

–

Price Range

(Bouquets)

AED 225 – AED 1,745

Website

https://darceyflowers.ae/

Contact Details
Telephone: 04 338 8789, Whatsapp: +971 50 409 2343 | [email protected]
Facebook

https://www.facebook.com/darceyflowerstradingllc/

Twitter

–

Instagram

https://www.instagram.com/darceyflowers/
Pricing, Products & Service

Budget-friendly bespoke bouquets
Known for their luxurious flower arrangements, customers are surprised at their competitive prices as well as a proactive attitude in working around the customer's budget. For instance, LM's review on Google noted that their "prices are reasonable" that for the quality of the flowers, he'll "be happy to pay more, its definately worth it." On the same site, Nour Abbasi called them his "go to flower shop in Dubai!" He singled out Albert and his team as "the best when it comes to designing unique bouquets that work around your budget." Similarly, Dan John compliments their "amazing" customer service. He ordered through WhatsApp which he said is "easy and you get a quick response." Moreover,"they help you customize the arrangements and sent pictures once the arrangement is ready and accommodate changes. You can also share your budget for them to work around it."
Safe and secure online shop
The online shop is another point of praise based on customer reviews because of the smooth and secure transactions. Mozoon wrote a review on Google which said he loves ordering from Darcey Flowers. They "have a lot of options online and a smooth checking out and delivery process."
Expert floral designers for special events
One of the strengths of Darcey Flowers is definitely their track record in excellent floral work for events and weddings. Nessa Lyn's review on Google praised their work on their event at the Dubai Opera:
"The bouquets were lovely and much appreciated by everyone. They were fabulous that we could ever imagine! Thanks again for the excellent service. I would have no hesitations in recommending you again guys! Looking forward for more transactions with Darcey Flowers!✔?♡♡♡♡"
Meanwhile, they also worked on Jardin Nicole Aguilar's wedding:
"A Great Bouqet of White Flowers for our simple wedding.. it's wonderful design and sweet smell made our day so much special. Delivered on our doorstep on it's promised time. Thank you so much Darcey Flowers!" (via Google Reviews)
Responsive service and reliable delivery
Finally, they wouldn't be so popular and chosen as a go-to florist in Dubai if not for their reliable and fast flower delivery. Sara Alhashemi (via Google Reviews) called them "very communicative, gave me live updates!" She added how attentive they were and "delivered beautifully arranged flowers." She ended the review with this: "You get what you pay for at Darcey." Meanwhile, Sara Al Jallaf's review on Google mentions customer service as the best thing about them. She wrote: "Quick, accommodate  all requests, fast responses to queries, and they keep you updated on your delivery."
WHOLESALE FLOWERS
Black Tulip Flowers
Established in 1990, Black Tulip Flowers has since become one of the best and largest florists in Dubai and the Middle East. They offer flower delivery in the whole of UAE, including Dubai. They have a large selection of flowers, foliage and plants, and their supply is undisrupted because of their farms and tie ups with the world's biggest suppliers of flowers.
Products & Services

Hand bouquets, vase arrangements, wreaths, floral boxes, cakes, fruit arrangements, weddings & events, plants, chocolates, balloons, baskets & vases, wholesale

Delivery Fee

Calculated at checkout

Same Day Delivery

Order by 7pm

Express Delivery

–

Price Range

(Bouquets)

AED 99 – AED 3,999

Website

https://www.blacktulipflowers.com/

Contact Details

+971 52 646 4258

Facebook

https://www.facebook.com/blacktulipflowersuae

Twitter

https://twitter.com/blacktulipuae

Instagram

https://instagram.com/blacktulipflowersuae
Pricing, Products & Service

Impressive same day flower delivery
Positive comments about Black Tulip Flowers in Dubai and UAE are about their fast service and flower delivery. Joey Gatchalian, in a Google review, was impressed by their same day delivery. He wrote: "It is very fast and an easy transaction. Customer satisfaction at its finest." Meanwhile, Shamila Laiq's Google review called their team "Great florists with amazing collection, reasonable prices and extra fast delivery!" Plus, "the customer support staff is responses instantly and are very cooperative!"
Beautiful, unique floral designs
Just because they're fast doesn't mean the quality suffers. In fact, Rajvinoth Swaminatham (via Google Reviews) raved about their "Awesome Collections." On the same site, Fayas Mohamed agreed that they have "the most beautiful flowers!" He also wrote: "You did a wonderful job! Was very quick and provided exactly what i needed for my special day."