Can't decide what gift to send your spouse, mate, or old fella? Let us help you find it with our list of the very best gift delivery in Ireland, narrowed down from a hundred gift shops in the nation.
They offer unique, tasty, and varied gifts catering to different tastes and budgets. So here, we will briefly discuss each store on this list to help you choose the right one to order from.
But, if you plan to surprise a friend from the UK, you could order instead from the best gift delivery shops in the UK. These are respected for their amazing local gifts and fast deliveries!
Disclaimer: This article may contain links from affiliates. If you use these links to buy something we may earn a commission. While we have not tested out the products of every single shop on this list, this selection is based on our research using a 10-point checklist. You can read about our selection system here.
Best Options for Gift Delivery in Ireland
1. Hampers & Co

Shop link: https://hampersandco.com/
Speciality: Irish hampers and gourmet gifts
Price: €5.10 – €1,100
Delivery fee: From €7.75
Payment methods: Amex, Apple Pay, Google Pay, Maestro, Mastercard, Shop Pay, and Visa
Hampers & Co offers a vast array of gift and gourmet baskets for all occasions. They can deliver them from two days to a week throughout Ireland, the UK, and the rest of the world.
Their gift hampers are special being filled with delicious artisan food and exquisite gifts from Ireland. You can also have the crew personalise the gift presentation and card message to make your receiver doubly happy.
For a simple and wonderful gift, you could go for the Red Wine and Chocolates gift bag. And if you desire creamy-good cheese, we strongly recommend their Irish Cheese & Wine hamper.
Next-day gift delivery
Uses artisan food
Simple returns
Wide range of payment modes
No same-day delivery
Too-early delivery sometimes
May charge separately for multiple orders
2. Gifts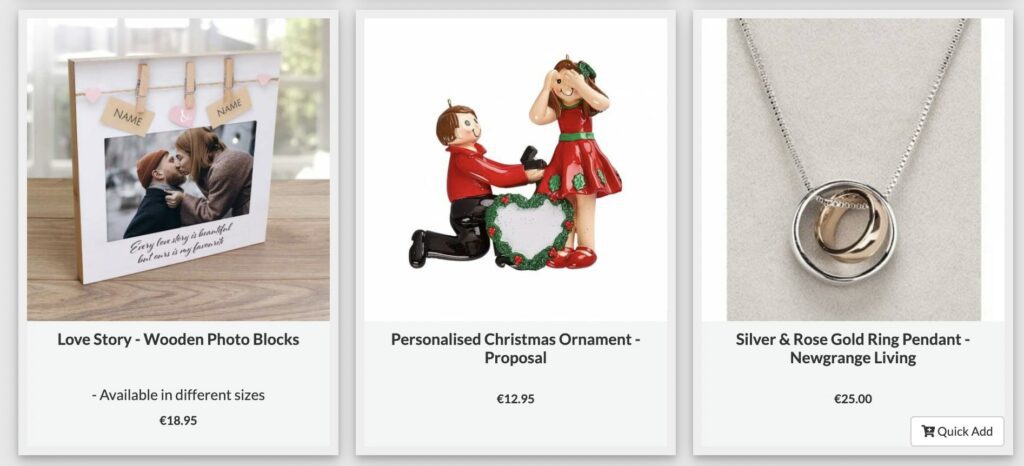 Shop link: https://www.gifts.ie/
Speciality: Personalised gift products and hampers
Price: €3.99 – €349.95
Delivery fee: Calculated at checkout
Payment methods: Visa, Mastercard, Amex, cheque, bank draft, postal order, and bank transfer
Irish-owned and operated, Gifts is a leading online gift shop with tons of personalisable gifts from greeting cards to Christmas hampers. Every gift is prepared and dispatched from their Dublin warehouse.
Thanks to their affordable prices, you can send your loved one a lovely and meaningful gift to celebrate St. Patrick's Day, Mother's Day, Christmas, their birthday, graduation, or wedding.
A plus with this shop is their fixed shipping prices that are quoted at checkout. As well as major credit cards, they can take cheque, postal order, bank transfer, and bank draft payments.
Irish-owned business
Next-day delivery available
Flat shipping price
Wide price spectrum
Closed on the weekends
Complaints about gift design and delivery
3. Athlone Hampers

Shop link: https://athlonehampers.ie/
Speciality: Food hampers for all diets and occasions
Price: €35 – €95
Delivery fee: €8
Payment methods: Kindly enquire with the staff about this
Whether you fancy a gift hamper with vegan, assorted, or gourmet treats, Athlone Hampers has you covered! As always, these can be crafted to suit your lucky one's tastes and wants.
One fantastic, tempting hamper you can get from them is the Alcohol-Free Treat Hamper. It has milk chocolate cookies, Pringles, Nescafe Gold coffee, Shloer sparkling juice, and more.
However, there's only a moderate range available for you to buy online for now. Moreover, it takes longer (within 3 to 5 days) for the hamper to ship across Ireland and Northern Ireland.
Ireland-wide delivery
Offers vegan and gluten-free hampers
Provides bespoke services
No same-day delivery
Presently no overseas shipping
4. Baby Gifts

Shop link: https://babygifts.ie/
Speciality: Premium and personalised baby and christening gifts
Price: €12.95 – €189
Delivery fee: €4.95 – €29
Payment methods: Amex, Apple Pay, Google Pay, Maestro, Mastercard, PayPal, Shop Pay, Visa, cheque, and bank transfer
A new baby born is one of the most wonderful things in the world. So, if you or someone is becoming a parent soon, you may want to pick up neat and personalised gifts from Baby Gifts.
Here, they have top-quality gift hampers and christening sets for boys, girls, and twins. There are also lots of soft plushies, fun rocking horses, and memory-making keepsake boxes here.
Ordering before 2:00 PM will qualify you for same-day dispatch. That said, due to Brexit, the online retailer isn't able to ship outside of Ireland at the moment.
Specialises in premium baby gift hampers
Same-day Ireland gift delivery
Wide range of payment modes
Gives reward points
Pricey rates
International deliveries temporarily halted
5. Chocolate Gifts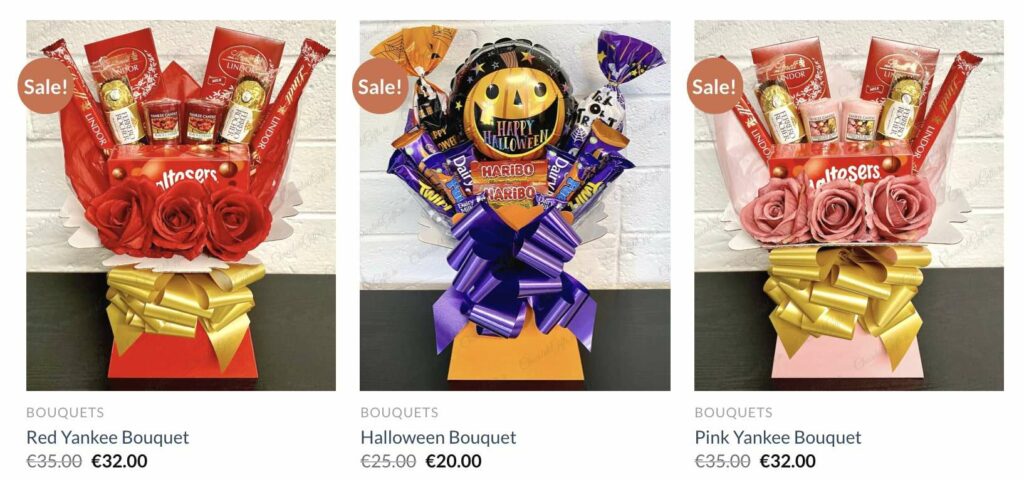 Shop link: https://chocolategifts.ie/
Speciality: Stylish chocolate bouquets and gift boxes
Price: €0.40 – €49
Delivery fee: €6 or €3 for separate product purchases
Payment methods: Visa, Mastercard, PayPal, Stripe, Apple Pay, and Google Pay
For a romantic and affordable gift to your valentine, you might want to check out Chocolate Gifts. This shop was recently established in 2020 and is based in Shannon, County Clare, Ireland.
Their speciality gift is their chocolate bouquets with festive presentation and delicate petals. Others include their overflowing choco hat boxes and tasty snack and fruit gummy box trays.
You can, of course, write your gift message to say 'I love you' or tell a short, humorous tale. Through their courier, you can expect to receive the gift the next day or a bit longer.
Next-day delivery available
Offers signature chocolate bouquets
Accepts various payment modes
Affordable rates
No same-day delivery
Limited product choices
Doesn't take Amex
Closed on the weekends
6. Irish Whiskey Stone Company

Shop link: https://irishwhiskeystonecompany.ie/
Speciality: Whiskey stone gift sets
Price: €7.50 – €55
Delivery fee: €6.50
Payment methods: Visa, Discover, Mastercard, Amex, JCB, Diners Club, and PayPal
Don't know what gift to send a mate who loves drinking whiskey? At Irish Whiskey Stone Company, you can buy them whiskey stones to chill their drink every time and savour it more.
Slate drink coasters, gin and chocolate gift sets, recyclable bottle openers, and hip flasks are also offered here. The wooden lid packaging can be custom-carved with names, logos, or drawings that you want.
Your order can be sent by post in 2 to 3 working days Ireland-wide, which is all good. Do note, however, that personalised gifts will take an extra 3 to 5 days to arrive at your recipient's door.
Next-day delivery available
Gift personalisation available
Takes all major credit cards and PayPal
Caters to a niche market
No same-day delivery service
7. Carrolls Irish Gifts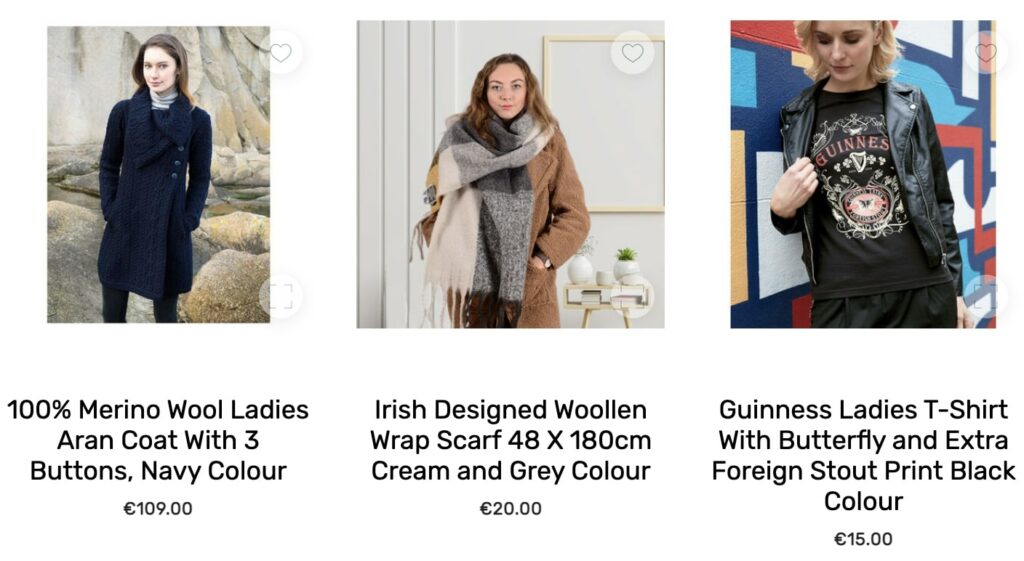 Shop link: https://www.carrollsirishgifts.com/
Speciality: Irish clothing and Guinness gift hampers
Price: €1 – €550
Delivery fee: €6.99 – €46.99
Payment methods: Visa, Mastercard, and PayPal
Carrolls Irish Gifts is one of the most famous and largest retail stores in Ireland. It offers a breadth of categories with thousands of products, including branded ones for you to choose from.
They have everything from Irish souvenirs to elaborate home decor items, but fashion is their forte and they have cosy or stylish Aran knitwear, hoodies, sweaters, jackets, and lots more.
Other than their colossal product range, they offer express delivery in Ireland, a first-time customer discount, and a reliable 60-day return guarantee, making them one of the top gift delivery options in Ireland!
Same-day Ireland delivery available
Free shipping on orders over €49
24/7 customer support
10% first-time order discount
60-day return promise
Few payment methods accepted
Doesn't take Discover and Amex credit cards
8. The Irish Store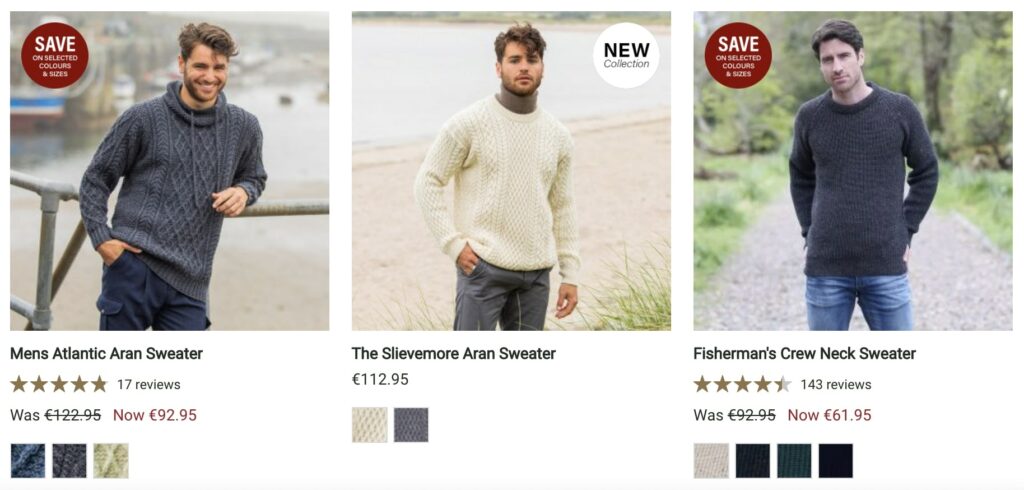 Shop link: https://www.theirishstore.com/
Speciality: Irish-made fisherman's sweaters, bracelets and earrings
Price: €9.95 – €7,687.95
Delivery fee: €8.95 – €26.39
Payment methods: Kindly enquire with the staff about this
Formed in 2011 by Lulu O'Sullivan, The Irish Store brings its clients Irish clothing, jewellery, gift hampers, and gifts. All their products perfectly embody the Irish culture, people, places, art, and their love for them.
In this store, you shouldn't miss their fisherman sweaters and cardigans. These are made with exquisite fabrics like ultra-soft merino, cashmere blend, and pure wool to keep you warm during wintry days.
However, compared to other shops, there aren't that many hampers and souvenirs here. They can deliver your spectacular Irish gift to Ireland, Europe, or other overseas destinations.
Express shipping available
60-day free returns
Has sale products, $10 newsletter discount
Not many gift hamper options
No same-day delivery
Payment modes aren't indicated
9. The Paddy Box

Shop link: https://thepaddybox.com/
Speciality: Affordable gift boxes
Price: €35 – €95
Delivery fee: Calculated at checkout
Payment methods: Amex, Maestro, Mastercard, and Visa
Looking for a gift basket that won't hurt your wallet as much as other shops? Then, you're right on cue with The Paddy Box.
The company is wholly Irish-owned and run and offers a small variety of gift boxes with yummy chocolates, potato chips, relish, peanuts, tea, various fun Irish stuff, or a mix of these.
If you don't like the hampers you see in their online store, no problem, as you can build one yourself. You can start with a custom box and put together the sweets and savouries you want!
Same-day delivery service
Budget-friendly gift boxes
Accepts some major credit cards
Live chat support
Offers only simple and not many gift boxes
Doesn't accept Discover and PayPal
10. Erin Hampers

Shop link: https://erinhampers.com/
Speciality: Indulgent or corporate gift hampers
Price: €36.26 – €777.78
Delivery fee: €8 – €45
Payment methods: Kindly enquire with the staff about this
With swift delivery, wonderful presentation, and a great gift hamper collection, Erin Hampers is very qualified in the list of the best gift delivery in Ireland.
We like the fact that the gift shop provides 'affordable luxury'. There are a lot of hampers available targeted to a certain occasion, diet, and budget that can suit you or your recipient.
Take, for example, their alcohol-free, gluten, vegan, fine wine, or Christmas hampers. These have festive and delicious goodies that everyone can enjoy, most of which are supplied by top Irish producers.
Same-day delivery available
Great selection of products
Open seven days a week
Can accept returns
No live chat support
No other gift goods besides hampers
11. Gift Delivery Shop
| | |
| --- | --- |
| SHOP LINK | http://giftdeliveryshop.com |
| SPECIALTY | Gift Baskets |
| PRICE | 79.00 € – 184.00 € |
| DELIVERY FEE | Provides free shipping worldwie |
| PAYMENT METHODS | Visa, MasterCard, AMEX, PayPal, VENMO, WireTransfer, and many more. (Contact shop for more payment methods) |
The Gift Delivery Shop Team is an international group with specialized customer support accessible 24 hours a day, 7 days a week in a variety of languages including English, Chinese, French, Spanish, German, Dutch, and many more.
They are always looking for the greatest unusual presents from across the world and follow up on your orders to guarantee you have a pleasant gifting experience. They are assisted by a network of external logistic partners to ensure that your present arrives at your specified address as soon as possible.
We like how they work with globally audited Safe & Safe Payment Partners like Stripe, Molly, and PayPal to guarantee all transactions go easily and your information is completely secure. Gift Delivery Shop does not save this information for personal purposes and complies completely with GDPR.
In addition, their customer service team monitors all orders to ensure that they are handled as promptly as possible and sends changes to their clients.They look forward to hearing from you and wish you a pleasant buying experience at Gift Delivery Shop.
24/7 customer service
Provides a variety of safe payment options
Quality gift baskets
Friendly and accommodating staff
Provides Free shipping worldwide
12. The Gift Shop
| | |
| --- | --- |
| SHOP LINK | http://thegiftshop.ie |
| SPECIALTY | Glass, paper, and clothing printed gifts |
| PRICE | €3.99 – €119.99 |
| DELIVERY FEE | Contact the shop for delivery fee details |
| PAYMENT METHODS | PayPal |
The Gift Shop is a family-run Irish enterprise. Eoin and Gina, a husband and wife duo, launched the firm and have been supplying presents to consumers in Ireland and throughout the world online since 2009.
The company began modestly, with Eoin and Gina working from home around their full-time employment until the day came for them to take the plunge and give up both of their stable full-time careers to pursue the website full-time. The crew is highly hands-on and can be reached via phone, live chat, or email at any time of day or night.
Over the years the company has proven to be a tremendous success, and they owe this to many of their great customers referring The Gift Shop to their relatives and friends. From start to end, The Gift Shop is committed to providing their consumers with a first-rate experience.
They provide innovative and high-quality presents for all occasions at extremely reasonable costs. Eoin, the chief designer, takes delight in creating unique, individualized artwork that you won't find anywhere else in Ireland. They help both consumers and potential customers who have questions about any of their goods.
Exceptional staff
Affordable rates
Provides easy listings
Irish-owned business
Does not do same day delivery
13. Blooming Amazing Flower
| | |
| --- | --- |
| SHOP LINK | http://bloomingamazing.ie |
| SPECIALTY | Flower Bouquets |
| PRICE | €55.00 – €1,400.00 |
| DELIVERY FEE | Contact shop for delivery fee details |
| PAYMENT METHODS | Visa, PayPal, GPay, AMEX, MasterCard, Stripe, and Apple Pay. |
Anna Finlay founded Blooming Amazing Flower, a multi-award-winning florist in Ranelagh, Dublin. In 1996, they launched a retail flower shop followed closely by their online florist business, www.bloomingamazing.ie launched in 1998 with complete e-commerce functionality, making them one of Ireland's earliest online florists.
Blooming Amazing Flower Company has built a reputation as an inventive, high-quality Dublin florist over the years. They are also known for their highly skilled and creative team of florists which specializes in original, mold breaking creations and use a wide variety of exotic flowers and foliage.
We like how they take environmental responsibilities seriously too. For instance, their purpose designed flower carrier bags are both reusable as well as recyclable. Flower bouquets are aqua-wrapped using fully biodegradable cellophane and not plastic.
Eco-friendly company
Over 25 years of experience
Provides fresh quality flowers
Has a variety of safe payment options