Featured Image Source from Elite Daily
Times have been hard and stressful for everyone amid this pandemic threat. But we are certain that giving someone a personalised gift—whether or not there's an occasion—will bring joy.
That's why we gathered a list of the best gift delivery shops in London here. Their gift consultants will handle everything to create the perfect gift for the person you deeply care about.
Not only are their gifts classy and beautifully packaged, but they can usually be delivered to your recipient within the day. So, if you need a gift and service of this sort, then this article is for you.
But first, we'll dig into the prices of London gift delivery shops. This will help you determine your budget when you buy from one of the gift stores featured herein!
The Average Cost of Gift Delivery in London
Buying a gift in London typically costs around £3.50 to £399. This price range covers gifts from a heated eye mask to a luxury gourmet hamper with champagne.
We got our average price range from some of the premier gift delivery companies around London, which you can see on the table below.
| | |
| --- | --- |
| Gift delivery shop | Price range |
| Happy Box London Ltd | £3.50 – £85 |
| Edible Blooms UK | £15 – £225 |
| Hamper Lounge | £16.50 – £399 |
| London Hampers | £18.90 – £89.90 |
| Fruity Gift | £29.95 – £119.95 |
| House of Spells London | £4.99 – £149.99 |
| Flowers by Flourish | £20- £60 |
On top of the gift price, you have to pay the delivery charge based on the shipping destination.
Delivery fees generally run from £6.90 to £19.99 but can be free for some stores, provided that you've purchased gifts over a certain value like more than £50.
Most gift shops can deliver throughout London and the UK, but some can also accommodate international deliveries like to America, Australia, and Canada.
Furthermore, look out for special offers and sales that will give you value from your gift purchase. Often, you can get a discount if you subscribe to the gift company's newsletter online.
The Best Gift Delivery Shops in London
Now that we're done with the cost section, allow us to show you the very best gift delivery shops in London!
1) Fruity Gift

Formed in 2006, Fruity Gift specialises in gourmet fruit and cake arrangements made from fresh and high-quality ingredients. They use 100% authentic Belgian chocolates and fruit like strawberries, persimmons, lime, papayas, mangoes, grapefruit, and so on.
Curated by their gift specialists, these delicacies are both scrumptious and unique—something that you won't find in other gift shops or bakeries.
From a chocolate-dipped strawberry platter to a honey lover fruity bouquet (with a nice bee-figure container), this store offers a large array of gift items. They even have gifts such as fruit wicker hampers and wedding rose bouquets.
Their specially crafted products offer buyers various size options. You can type in your message in the input field on the checkout page and their expert gift staff will handle the rest.
One drawback is their expensive gift prices. Although they accept Visa, Mastercard, Amex, and Discover Network, interest-free payments like Zip or Clearpay aren't available.
The London gift store also offers a same-day delivery but you'll have to enquire with them a day before from 10 AM. If it's available, then you will need to place your gift order within the day.
For decadent treats and wonderful flowers, you can't go wrong with Fruity Gift—one of the best gift delivery shops in London!
Same-day delivery available
Accepts Visa, Mastercard, American Express, Discover, and PayPal payments
Open 7 days a week
Expensive rates
Interest-free payments aren't available
Customer Reviews
Most buyers praised the amazing gift presentation and sumptuous treats and fruit. In addition, they said that the customer service team was very helpful and reliable.
Here's the feedback of one buyer named Shakila:
"I ordered a small rainbow edible fruit basket for my son and daughter-in-law's 1st wedding anniversary. The customer service I received prior to placing my order was very good and the staff effectively answered my queries. The fruit basket arrived on time and was absolutely beautiful. The fruits looked sumptuous and were arranged in a very pretty design. My daughter-in-law said it was so pretty she didn't want to open it! She finally did the following day and said the fruits tasted amazing.
I'm so happy I decided to go with something a little bit different like a fruit bouquet as opposed to a traditional bouquet of flowers."
Also, Nigel wrote of the gift delivery shop:
"I recently had an operation in a London NHS hospital and after discharge I wanted to thank the staff for their help during my stay my sister suggested fruit I looked online and found this amazing firm a Fruity Boquet Wow it's just been delivered to me and I'm taking it to the hospital now can't wait to see their faces !!! It's beautiful."
2) Hamper Lounge

PRODUCTS
Postal gifts
Vegan gifts
Cheese gifts
Body & bath gifts
Gourmet hampers
Chocolate gifts
Gin gifts
For the home
Champagne gifts
New baby gifts
Wine and spirits
Gifts for her
Gifts for him
STARTING PRICE
£16.50
WEBSITE
https://hamperlounge.com
ADDRESS
67 Wingate Square, London SW4 0AF, United Kingdom
CONTACT DETAILS
+44 20 3797 7557
SOCIAL MEDIA
Facebook, Instagram
OPERATING HOURS
Open every day from 9.00 AM – 9.00 PM
Don't want your beau or best friend to receive a generic, cheap gift? Then enter Hamper Lounge, whose team has curated the best set of items from the UK's leading brands and artisans.
If you're gifting newlyweds, your parents, a vegan person, a stressed-out worker, a lover, or an athlete, they have you covered with their huge catalogue of items that sell for affordable prices!
One of their most popular offerings is the Coffee for Two Box. This contains a lavender milk chocolate bar, a honeycomb and honeymilk chocolate bar, English shortbread, and coffee—perfect for snack time!
For those wanting to display their photos, you may like their Scented Candle and Frame Gift Box. This includes a 10cl scented candle with the fragrance of your choice and a dual silver photo frame.
Every gift will come with a free gift card allowing you to further customise your order to make the recipient feel extra special.
Now, Hamper Lounge offers same- and next-day deliveries. Unfortunately, due to the pandemic crisis, your gift may arrive a bit later than usual.
Also, the gift shop has lots of payment options including the big three of Mastercard, Visa, and American Express credit cards. In addition, they also accept PayPal, Google Pay, and Apple Pay.
Furthermore, if you're a first-time buyer with them, don't forget to avail of their 10% discount. For this, you have to first subscribe to their newsletter.
Same-day delivery available
Multiple payment options
Affordable rates
10% discount for new customers
Doesn't offer international deliveries
Complaints about customer service
Customer Reviews
Some buyers had a frustrating experience with their customer service due to not receiving any response. On the contrary, others praised the care and effort of the team in preparing their gifts.
Also, most of them complimented the wonderful presentation, great gifts, and superb wine. Here are some client testimonials:
Hema shared her experience on Google:
"We order a hamper to say thank you to our neighbours who have been helping us during the lockdown.
The hamper was beautifully packaged and our neighbours told us that the wine was one of the best they have had for a while (we ordered the French cheese and wine hamper).
I shall definitely order from Hamper Lounge again."
Also, Louise gave this review:
"I was massively impressed with the personal attention given to my order (I forgot to add who had sent the item and was contacted as soon as I placed the order); the item was beautifully packed and it is an incredible feat that the delivery was able to be made during this difficult time. I don't know when I'll be able to see my son and he had great news – being able to send not just champagne but vegan champagne immediately was almost as good as hugging him. He sent me a photo of him with the box and he was beaming. I wish the company the very best; you brought joy during this awful time."
3)   Happy Box London Ltd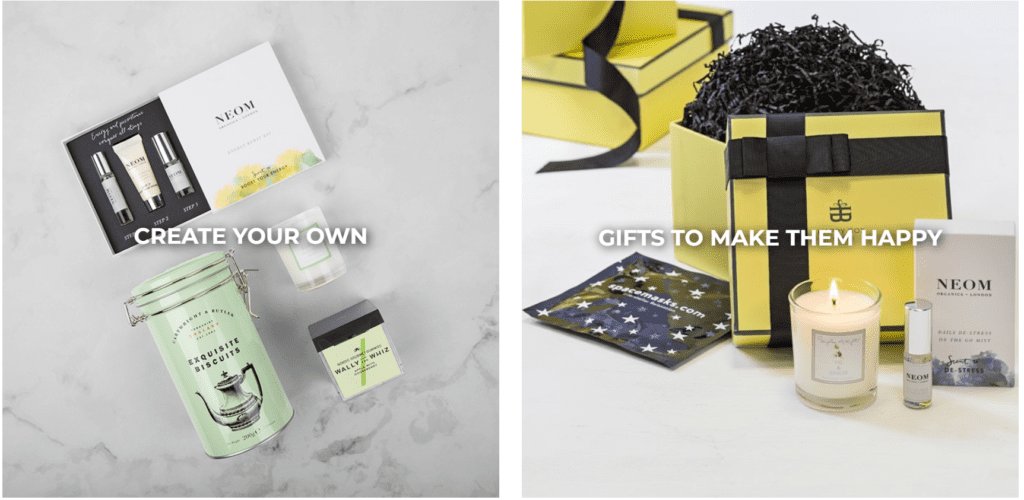 PRODUCTS
Collection
Create your own
Gifts for her
Gifts for him
Gifts for baby
Gifts for celebrations
Gifts to make them happy
Gifts to de-stress
STARTING PRICE
£3.50 individual items (min of £30 worth of items make up a Happy Box)
WEBSITE
https://www.happyboxlondon.com/
ADDRESS
Stirling House, Stirling Way, Peterborough PE3 8YD
CONTACT DETAILS
+44 20 7381 0803


[email protected]

SOCIAL MEDIA
Facebook, Instagram
OPERATING HOURS
Online Only (Customer Services Team is available Monday to Thursday: 8:30 AM – 5:00 PM (GMT),
Friday: 8:30 AM – 2:00 PM (GMT), excluding UK bank holidays)
Saturday – Sunday:          Online Only (Customer Services Team is available Monday to Thursday: 8:30 AM – 5:00 PM (GMT), Friday: 8:30 AM – 2:00 PM (GMT), excluding UK bank holidays)
The small gift boxes contain handpicked luxury items that will wow the receiver on particular occasions. It can be from a birthday to Christmas or everything in between.
The store prides itself on providing candles without paraffin wax and organic tasties from British farms.
Nevertheless, their great range of products has the affordability, not to mention flexibility, for you to design your own happy box. For this, you'd have to buy singular items and put them together for your gift to someone.
Another highlight is you can use a number of payment methods with them, namely, Visa, Mastercard, and Maestro, via Opayo secure card processing (formally known As SagePay). That'll give you an easy time when ordering.
The online gift shop can deliver your precious gift anywhere in the UK, including Northern Ireland, Channel Islands, and the Scottish Highlands.
Happy Box London is an online only shop, with a Customer Services Team only on hand to help Monday to Friday (excluding UK bank holidays). But with the positive things we noted, this won't affect them one bit as one of the best London gift delivery shops.
Competitive rates
Delivers UK-wide and abroad
Accepts Visa, Visa Debit, Mastercard, and Maestro, via Opayo secure card processing (formally known As SagePay)
Some materials used aren't animal-friendly
Customer Services Team is not available on the weekends
Customer Reviews
Check out what Dimitra said of the gift delivery shop:
"Super cute and elegant gift box. Arrived on the day it was requested. Great and fast customer service! Sam was great! Thank you happy box team!"
Also, Stephanie wrote this comment on Facebook:
"Absolutely loved the 'homage du fromage' happy box I received for Valentine's Day-beautifully presented and a lovely selection of gifts inside. Can't wait to order from happy box myself!"
4) London Hampers

PRODUCTS
Father's Day hampers
Anniversary hampers
Birthday hampers
Champagne hampers
Wine hampers
Gourmet hampers
Beer hampers
STARTING PRICE
£18.90
WEBSITE
https://londonhampers.com/
ADDRESS
Unit 127, Viglen Business Centre, Alperton Lane, Wembley HA0 1HD
CONTACT DETAILS
(020) 8123-2750


[email protected]

SOCIAL MEDIA
Facebook
OPERATING HOURS
Monday – Friday: 9.00 AM – 6.00 PM
Saturday – Sunday: closed
London Hampers is the go-to for gourmet food and wine baskets for all occasions. These include Father's Day, Mother's Day, Valentine's Day, birthday, anniversary, wedding, party, and more.
Setting them apart from other gift delivery shops is their packaging. They have embossed wood boxes, soft-close cardboard boxes, and different styles of wicker trays and hampers, adding to the gift's quality.
The rates are reasonable for the generous gift hamper that you'll receive. A gift hamper can contain biscuits, muffins, chocolates, a plush bear, wine, bubbles, or a combination of these.
Let's not forget about the free gift card that you'll get with each hamper you buy. Your message will be written by one of their staff to express your sentiments for the lucky person.
They can ship your gift basket to addresses in London and the UK on the same and next day respectively. However, orders made on a Saturday will be delivered the next week on Monday.
London Hampers also accept major credit cards of Visa, Mastercard, American Express, and PayPal. Although, take note that they don't accept Apple or Google Pay payments.
As many happy customers can agree, London Hampers is one of the best gift delivery shops in London! We recommend them if you want elegant food items and packaging and value for money.
Same-day London delivery available
Takes PayPal, Visa, Mastercard, and Amex payments
Delivers UK-wide
Open only 5 times a week
Doesn't have any special deals or offers
Customer Reviews
Most buyers were satisfied with the elegant gift design, friendly customer service, and prompt delivery. Here are some of the reviews written.
Mack, one buyer, stated this:
"Absolutely excellent, great next day service and made for a lovely lockdown birthday surprise. Would highly recommend."
Also, Prashansa wrote this feedback on Google:
"The gift hamper was perfect. It came in a beautifully decorated box. Mr. Pravin was great, he answered all my questions and was very prompt with his replies. I would order from them again."
5) Edible Blooms UK

PRODUCTS
Chocolate bouquets
Fruit & doughnut bouquets
Hampers
Corporate gifts
Boost your bloom
STARTING PRICE
£15
WEBSITE
https://edibleblooms.co.uk/
ADDRESS
Chester House, 1-3 Brixton Rd, Vassal, London SW9 6DE, United Kingdom
CONTACT DETAILS
+44 20 7498 6566
SOCIAL MEDIA
Facebook, Twitter, Instagram
OPERATING HOURS
Monday – Friday: 9.00 AM – 5.00 PM
Saturday: 9.00 AM – 12.00 PM
Sunday: closed
Are you looking for a fun and creative gift to give to your man, best friend, co-worker, mum, or dad? Well, Edible Blooms UK may be the right shop for you.
They offer whimsical bouquets that comprise not of flowers, but of chocolates, fruit, and doughnuts. Yes, they can be a bit cheesy in concept but they look dope (like the ones pictured above) and are affordable too!
If you'd like something else, they have lovely hampers that you can personalise. For example, you can change the ribbon message, sticker, and include a gift card with your personal message.
Not only that but you can have the gift staff custom-make the hampers or chocolate bouquets for your business. They can put the colours of your company, add a gift card, and logo too!
Apart from that, it's convenient to shop at Edible Blooms since they accept product returns without making it hard. Also, they have a money-back guarantee in case you're not satisfied with the gift.
It's also worth noting that they offer free shipping if you buy gift products over £50, which is a great advantage. Should you choose to buy in bulk, they have discounts for that too.
The gift delivery store offers a host of payment options including Visa, Mastercard, Paypal, and Apple Pay, and Clearpay to divide the cost by 4 repayments without interest on top.
Finally, Edible Blooms can ship your order on the same day for inner London postcodes and around the UK too! You can phone their representative if you have any questions or special gift requests.
Same-day delivery available (inner London areas)
Delivers UK-wide
Accepts Visa, Mastercard, American Express, Apple Pay, PayPal, and Clearpay
Money-back guarantee
Bulk-order discounts available
Small gift hampers
No fresh flowers
Closed on Sundays
Customer Reviews
Reviews were fairly mixed between buyers who received poor-quality products and customer service and those who appreciated the gift design and delightful treats.
One buyer, Yvonne left this review:
"Great communication and the lady I spoke to about a change of address was so helpful.
The product arrive in great condition and tasted amazing ."
Moreover, Carl noted this:
"Recieved today and it looks amazing. Can't wait to surprise my best friend with it xmas day. I think the idea I'd great. Great delivery well presented. I will order again in the future. Thanks you. Merry Christmas EB UK xx"
6) The Champagne & Gift Company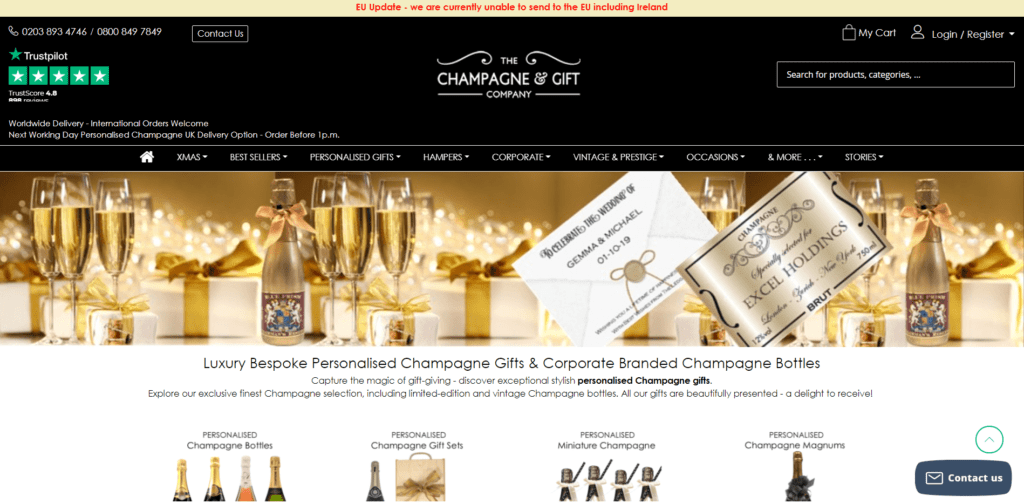 As you can see from The Champagne & Gift Company's homepage, this entry's for the classy folks out there. They're known around the world for their exceptionally stylish, luxury bespoke champagne gift sets that will surely stun those on the other end of the gift giving.
A huge plus for us is that their service can be availed of anywhere in the world. Yep, you read that right. They have worldwide delivery and can accept international orders. For orders from the UK, they can be delivered the next working day if you order before 1pm.
They can cater to businesses and have gift sets have your own private label on the bottle, giving that professional-looking touch. While going all out on the grandness of their product offerings, we also like that they are an eco-friendly company, paying close attention to the materials being used in their packages.
They're a specialist importer of champagne and guarantees that all champagnes they offer are top tier. Their Grande Reserve Champagne is an international Gold Award-winning Champagne from the esteemed House of Baron Fuenté.
Worldwide delivery; accepts international orders
Eco-friendly
Highly customizable gift sets
5-star rating on Trustpilot
Award-winning selection of champagnes
Relatively pricier than other gift setsc
Customer Reviews
Here are some reviews from customers:
"Quick transaction and even had to speak with one of their customer service representatives who was very helpful."
"Making me look great….AGAIN. A very good client of mine was moving home and I wanted to send them a bottle of champagne to celebrate the completion date. Only issue was, the exchange and completion date were so close together on this transaction. I got in touch and placed my order I think around 3.30pm-4pm and yet they still managed to get the delivered the next day. Amazing service. The gift itself was branded champagne with my bespoke company label and the fact that it was delivered on moving day was the icing on the cake. My clients commented on how thoughtful and classy it was. Money well spent in my eyes."
7) Crushed Pearl London

Crushed Pearl London offers same-day delivery every day across most postcodes in London. This means that customers can get their flowers delivered within two hours of ordering, and they do it with the freshest flowers and aesthetically pleasing packaging.
Alongside their flowers, they also offer gifts and plants that can make the perfect combination with your orders. The day of your loved one will automatically be complete when you give them products from Crushed Pearl London.
Their preserved flowers are perfect for those who want a low-maintenance plant. Give them these and they can add a pop of color inside their home.
The only catch with them is that they do not really offer a large selection size. Nonetheless, you can still find something for the occasion you are going to on their website.
Perfect for all occasions
Only uses vibrant flowers for their arrangements
Competitive pricing
Selection is not that big
Customer Reviews
Here are some reviews from customers:
"Hatbox arrangement was beautiful and wife loved it so all good"
"Beautiful smelling roses lasted over a week so very happy"
8) Popcorn Shed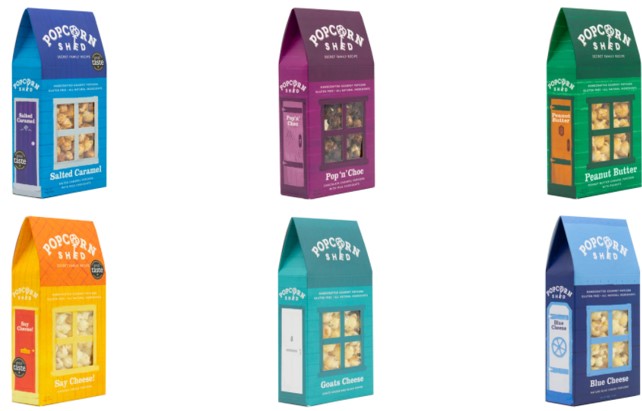 Popcorn Shed is the UK's first super-premium gourmet popcorn brand that makes a fresh caramel batch with each production run. They use an artisan cooking process to create some of the world's best-tasting popcorn flavors.
In comparison to others that only apply spray-on and powder coatings to popcorns, theirs is tumbled in fresh caramel before being scattered with melted chocolate, nuts, and dried fruit
What's great about them is that they offer 10% off of your first order on their website. Aside from these, their products are safe for vegetarians and gluten-free!
What made us recommend them is that they are all about creating the most delicious popcorn treats and gifts for those sharing moments that matter most. Whether you're hungry for a snack or you're looking for a luxury gourmet gift for a good friend or loved one, they've got loads of options to choose from.
From their signature sheds and snack packs to popcorn gift tins and handy letterbox gifts, we're sure there's something you'll love.
Free shipping on Uk orders above £25.00+
Extensive range of services
Has won multiple awards
Operating hours are not mentioned
Customer Reviews
Here are some reviews from customers:
"Lovely colourful sweet vanilla popcorn a great taste with a burst of colour" – Mark J.
"Each flavour is really accurate and seems to have just the right amount of seasoning. You can tell that it isn't mass produced and so far each packet has contained no un-popped kernels which shows great attention to detail. I also find the packaging thoughtfully designed and easy to open." – David B.
"An unusual flavour for popcorn, but one that works very well. I shall be buying more" – James D.
9) Flowers Box Wimbledon

What sets Flowers Box Wimbledon apart from its competitors is how they specialize in premium luxury flowers and flower boxes. Another reason why we recommend them is the fact that they offer over 400 designs.
You read that right! With them, you can find fresh bouquets, potted flowers, and flowers arrangements at reasonable prices.
In comparison to others, each flower bouquet and arrangement is composed by their skilled florists which makes it truly special and unique. They make sure to use a wide range of products, colours, and various techniques when preparing your compositions.
Aside from selling flowers as gifts, they can also supply bespoke flowers and arrangements for events.
Sending flowers will never be out of style. But make sure you are buying from the most exquisite shop in the area.
Payment methods are AMEX, Apple Pay, Discover, Google Pay, Mastercard, PayPal, VISA
5% off your first order when you join their newsletter
Same-day delivery is available
rates for their delivery are available here
 If you select free or economy delivery method during checkout it is not guaranteed your parcel will arrive on the nominated day.
10) Gifts & Flowers Delivered

The simple act of delivering flowers helps to express feelings, connect, and touch people every day. But are you sure you are buying from the right shop?
With Gifts & Flowers Delivered, we believe that you will be putting a smile on the faces of your loved ones.
As of now, they offer 50 exquisite designs and are continuously striving to discover more. This allows them to cater to more customers, especially to those who want an arrangement that no one has ever seen and made before.
Aside from these, their delivery rates are pretty affordable in comparison to others. It ranges from free delivery to £11.00, depending on the type of delivery you need.
Ships flowers in the United Kingdom, Ireland, and Worldwide
Also offers 5% off first orders of customers who join their newsletter
Numerous payment methods
11) House of Spells London

House of Spells London is a shop that offers a wide array of products geared to accommodate fans of various TV series such as Harry Potter and Game of Thrones among many others. With highly convenient locations, interested clients can also have access to their products online as well due to their online shop.
What we find amazing is that clients can be sure that all products are licensed and are part of unbridged collections thus be assured that all items they sell are of stellar original quality.
Another thing that we like is their shipping services. They offer worldwide shipping and free shipping for all orders shipped to the UK.
Their passionate staff just adds to the exciting and enthusiastic ambiance that their shop aims to have along with just the right knowledge and expertise should clients have any inquiries regarding their products.
Customers have commended their staff interaction to be attentive and patient to the concerns of the clients which are very ideal for looking for the perfect gift.
Overall, clients commended their adequately themed facilities and products but could improve on updating their shop interior and holding more promotions and deals to help clients procure more products at reasonable prices.
Offers worldwide shipping
Free UK shipping on all orders
Enthusiastic staff
Licensed products
Numerous shops
Slightly expensive prices
Customer Reviews
Here are some reviews from their clients:
"Super interesting place to visit, especially if you fan of Harry Potter movie or books. So much to see here. The atmosphere are really taking you in magic world. Great place for all family. In the second floor you can find the other items from fantastic movies. Very recommended to visit and enjoy the atmosphere."
"If you're a Harry Potter fan, you'll appreciate this store. It's a lot of fun to walk around in, they even have some authentic props from the movies!"
12) Flowers by Flourish

Flowers by Flourish is a London-based florist shop that provides a wide selection of flowers and plants just for any occasion a client needs it for. Known for their freshness and excellence in the field, they have since then garnered 4.2 stars from their Trustpilot reviews.
We find it amazing that they take such care of their freshness factor as their selection of products are delivered on a weekly basis to ensure that all their creations are readily stocked and equally fresh.
Each of their products is arranged at their studios so that clients can get the best aesthetics for their ordered floral arrangement and their specific preferences as well.
What we found worth improving is their delivery system since some reviews show that they slightly struggled with maintaining the freshness and quality of their flowers until they reach the client.
Overall, clients have commended their competitive prices for the products that they are given even though their flowers can be slightly expensive at first. Nonetheless, their past reviews mostly agree on a pleasant experience with them.
Fresh and quality products
Professionally arranged
Competitive prices
Closed on weekends
Delivery system could be improved
Customer Reviews
Here are some reviews from their clients:
"Excellent service and quality. Ordered the flowers a few days before, they arrived on time and were lovely! I didn't receive a notification/email that they had been posted so I got a bit worried they wouldn't arrive on time but they come early morning on the day. Would highly recommend this provider!"
"Order 222007. Thank you for delivering white hyacinth's bouquet to my parents. These specific flowers were in my mother's wedding bouquet, so it was nice for her to have them again. They arrived on the date specified and in excellent condition. It was difficult to find someone who could supply these flowers and they were reasonably priced. I will be using Flowers by Flourish again."
13) Hey Pots

PRODUCTS
Plants
Candles
STARTING PRICE
Starts at £15
WEBSITE
http://heypots.com
ADDRESS
Work.Life, 13 Hawley Cres, London NW1 8NP, United Kingdom
CONTACT DETAILS

[email protected]

SOCIAL MEDIA
Facebook
OPERATING HOURS
Monday – Friday: Open 24 hours
Hey Pots has potted plants for every occasion. Whether you're looking for a unique gift to mark a special milestone, or something that will bring some greenery and life into any home, potted plants are the perfect option.
In addition, Hey Pots doesn't just sell any potted plants. They make sure that everything in their collection has been sustainably grown and sourced. Plus, all potted plants come with a satisfaction guarantee and carefully selected soil that helps keep your potted plant healthy and thriving.
So, when it comes to finding quality and sustainable gifts, Hey Pots is the perfect choice! With potted plants for all occasions, they have something for everyone — and their commitment to sustainability means you can shop with confidence. Visit Hey Pots today to find the perfect potted plant gift!
Extensive selection of gifts for various occasions
Unique, innovative, and sustainable products
Free UK standard delivery
FAQs about the Top Shops for Gift Delivery in London
---
So you've just read through our top options for gift delivery in London. For great gifts at decent rates, you can simply order from one of these popular shops.
Have any questions or opinions about this list? If you have one, please drop us a line and we'll get back to you promptly.
If you want, feel free to check out our best gift delivery in the UK picks too. That will give you more options from which company to order a gift for someone you care about.