Sending a meaningful gift to a friend or family member in Edmonton? We've compiled a list of the best gift delivery shops in Edmonton for you here!
All the gift shops we've chosen are reliable and reputable based on their great track record backed by satisfied clients.
Each of these shops offers various gifts like gift baskets, flowers, chocolates, or a combination of them. We hope that this quick list will help you find the perfect gift for your loved one.
Disclaimer: This article may contain links from affiliates. If you use these links to buy something we may earn a commission. While we have not tested out the products of every single shop on this list, this selection is based on our research using a 10-point checklist. You can read about our selection system here.
Best Shops for Gift Delivery in Edmonton
1. Bread & Butter Basket Company

Shop link: https://breadandbutterbasketco.com/
Speciality: Baked treats gift boxes
Price: CAD55 – CAD99
Delivery fee: Calculated at checkout; free delivery for gifts over CAD125 in Edmonton, Sherwood Park, and St Albert areas
Payment methods: Amex, Diner's Club, Discover Network, Mastercard, and Visa
A sweet gift box with treats and baked goods will be much appreciated no matter the occasion. If you need one to surprise a loved one or close friend, check out Bread & Butter Basket Company.
It has an extensive range of gift boxes filled with a variety of yummy cookies, indulgent chocolates, tasty bread, candied nuts, or other goodies. Each box is custom-made and includes a handwritten card with your special message.
And best of all, a part of the proceeds will be donated to a charity that supports mental health, so you're also helping the community if you buy from them.
Delicious and exquisite gifts
Extensive gift collection
Free delivery for purchases over CAD125
Can customize the hamper
Supports a mental health foundation
Doesn't deliver on the weekends
Doesn't deliver nationwide
Doesn't take PayPal
2. Specially Made Gifts

Shop link: https://speciallymade.ca/
Speciality: Snack gift hampers
Price: CAD60 – CAD179.95
Delivery fee: CAD23+
Specially Made Gifts is a leading Edmonton gift shop owned and run by sisters Mei and Kuo Hsien.
They aim to make gift-giving a lovely experience for both the giver and receiver. And so, they take customization jobs through email and phone.
Most of their gift boxes are simple and practical, containing energizing snacks that will satisfy your cravings.
According to their past clients, prices are fair, and ordering from them is easy and seamless.
We're disappointed to note, though, that they have lofty delivery rates and are unavailable on Sundays.
Specializes in snack hampers
Can customize the hamper
Fair prices
Good range of products
Outstanding customer service
High delivery fees
Doesn't deliver on Sundays
3. The Makers Keep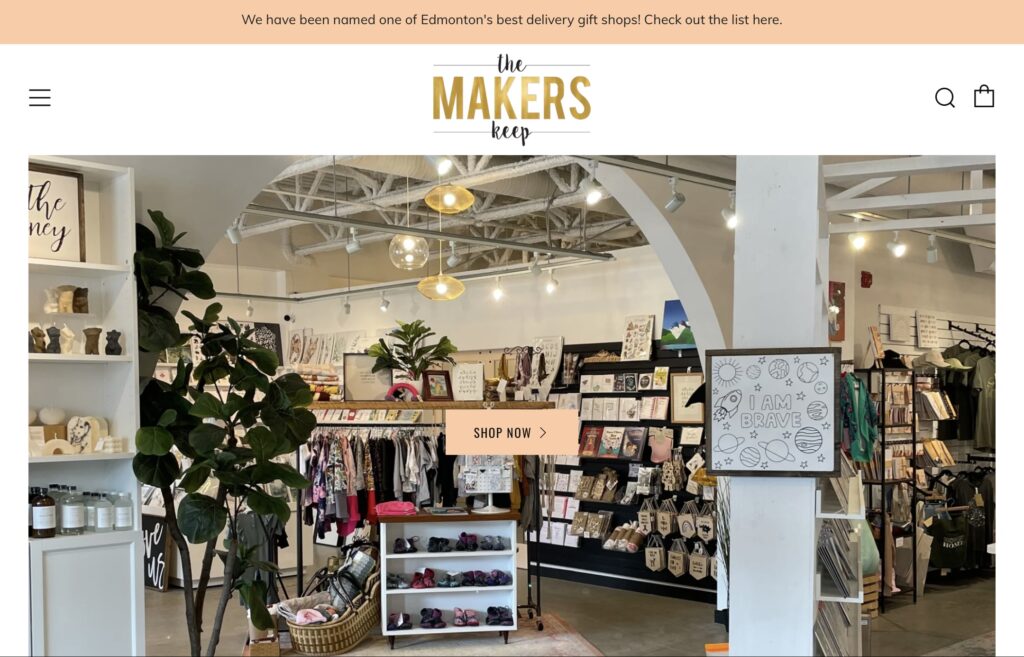 Shop link: https://themakerskeep.com/
Speciality: Food and Drinks, Cards, and Bath and Body
Price: CAD45 – CAD100
Delivery fee: Calculated at checkout; free delivery for gifts over 1 Kingsway Garden Mall Northwest, Edmonton, AB T5G 3A6; 10806- 124th street Edmonton, AB, T5M 0H3 780-452-3891; 101 Riel Dr, St. Albert, AB T8N 3X4; and 2755 Broadmoor Boulevard, Unit 112 Sherwood Park, Alberta, T8H2W7 areas
Payment methods: Amex, Mastercard, Apple Pay, and Visa
Oh, The Makers Keep, where have you been all our gift-shopping lives? This delightful little gem of a gift shop has become our new go-to for all things unique and charming.
From the moment we walked in, we knew we were in for a treat. The Makers Keep boasts an impressive collection of handcrafted treasures that are sure to bring joy to anyone lucky enough to receive them.
We couldn't help but feel like kids in a candy store, only this time the candy was replaced with one-of-a-kind trinkets and treasures.
Convenience is the name of the game at The Makers Keep. With their well-designed online store, we can shop for gifts from the comfort of our own couch, in our pajamas, no less.
Who needs to battle crowded malls and grumpy shoppers when you can browse their curated selection with just a few clicks? It's like having a personal shopper, minus the hefty price tag.
And speaking of reputation, The Makers Keep has certainly earned its spot as a gift shop favorite. Friends and family couldn't stop raving about the delightful presents they received from this charming establishment.
It's like they have a secret formula for finding the most unique and thoughtful gifts, leaving everyone else in their dust, which we love.
Moreover, we were pleasantly surprised by The Makers Keep's reasonable prices.
We like that the Makers Keep knows great gifts don't have to come with an outrageous price tag. They make sure we can find something special, no matter our budget.
However, they don't offer discounts at the present, which kind of bummed us out. We recommend checking their website for other fantastic deals.
4. Gift It Up Inc.

Shop link: https://giftitup.ca/
Speciality: Alcoholic gift hampers
Price: CAD79 – CAD399
Delivery fee: From CAD19 – CAD59
Hanging out with friends may call for a special hamper with snacks, wine, and beer. In that case, Gift It Up Inc. is here for you!
This local gift store offers plenty of exciting food collections for baby showers, birthdays, housewarmings and to express sympathy or say thank you. Plus, you can choose gluten-free goodies!
To ensure the client gets the freshest and most personalized gift items, they only put them together after receiving your order.
As for their drawbacks, they have relatively high gift and delivery service rates, but that shouldn't be an obstacle if you want to get a great-quality and enjoyable gift hamper.
Made-to-order gift baskets
Large range of gift baskets
Offers seasonal sales
Open all week
Premium rates
Payment options aren't indicated online
5. Lisa's Gifts and Flowers

Shop link: http://www.lgflowers.com/
Speciality: Cheery flowers and fruit baskets
Price: CAD49.99 – CAD119.99
Delivery fee: Free for Edmonton delivery
Payment methods: Visa, Mastercard, and American Express
Lisa's Gifts and Flowers offers free flower and gift delivery in the Edmonton area. We have to note, though, that their online shop is a bit clunky, so recommend you call this florist to order.
From their many options, surely you can find a flower bunch that will cheer up your recipient or make them feel loved even if you haven't talked to them for a while.
Our favorites among their selections are their sunny gerberas in a round transparent vase (as shown in the first collage picture above) and their sweet flower bouquet bundled with a cute teddy bear.
Cheery and fragrant blooms
Affordable rates
Open all week
Accepts major credit cards
Takes phone orders
Clunky online shop
Only has a few gift basket choices
Doesn't take Discover Network and PayPal
6. Edible Arrangements

Shop link: https://www.ediblearrangements.ca/
Speciality: Chocolate-coated strawberry boxes
Price: CAD39 – CAD2,399.99
Delivery fee: CAD9.99
Payment methods: American Express, Mastercard, and Visa
Want to give a great gift without blowing your budget? Then you may want to order luscious dipped fruit and other yummy fruity goodies for your buddy, sibling, or parent at Edible Arrangements.
The ingredients used are fresh and preservative-free, making the dessert or snack enjoyable and healthy. Plus, there are lots of different styles and treats you can choose from online.
With so many branches in Canada alone, they let you send the dessert anywhere in the country and on the same day. You're also safe buying from them online since their website is secured by SSL (Secure Socket Layer) technology.
Same-day delivery service
Has a slew of options online
Delivers across Canada
Gives a happiness guarantee
Online transactions are SSL-secured
Some desserts are expensive
Doesn't take Discover Network and PayPal
7. Roma Flowers & Gifts

Shop link: https://www.romaflowers.ca/
Speciality: Bright and lush flower ensembles
Price: CAD49 – CAD799
Delivery fee: Calculated at checkout
Payment methods: Visa, American Express, Mastercard, and Apple Pay
Roma Flowers & Gifts is a hidden gem in 137 Avenue North West in Edmonton. This florist is respected for their stellar floral creations and personable, attentive service.
You can simply choose a bouquet from their impressive online selection or request any flower design you like for the occasion you're celebrating.
Their beautiful flower arrangements surprisingly come at great prices. And if you're on a budget, we suggest getting one of their Deal of the Day flowers to spend less money.
Unfortunately, we didn't find any gift baskets online. What's more, they aren't open on Sundays, so you can't rely on them if you have to make an urgent delivery on that day.
Same-day delivery service
Can create wedding flowers
Guaranteed client satisfaction
Frequently offers flower deals
Accepts major credit cards and Apple Pay
Closed on Sundays
No gift baskets available online
Doesn't take Discover Network and PayPal
8. Mayfield Flowers

Shop link: https://www.mayfieldflowers.com/
Speciality: Enchanting pastel or vibrant bouquets
Price: CAD34.99 – CAD845
Delivery fee: Calculated at checkout
Payment methods: Visa, American Express, Mastercard, and Apple Pay
For a masterfully designed, custom floral bouquet, one of the top florists you can work with is Mayfield Flowers.
They have been around a long time, assisting their clients since 1992. Many clients can vouch for their superb floral designs.
Any occasion and theme of flowers you desire, their talented and knowledgeable staff can help you with. They can be for something as simple as a dinner date or as grand as a wedding!
As a guarantee, they promise that the client will be satisfied with the arrangement, or they'll fix it for free. And as always, same-day delivery is available if orders are placed by 2:00 PM on weekdays and by noon on Saturdays.
Gorgeous flower designs
Provides same-day flower delivery
Guaranteed client satisfaction
Accepts Visa, Mastercard, and Apple Pay 
Closed on Sundays
Doesn't take Discover Network and PayPal
9. The Artworks

Shop link: https://theartworks.ca/
Speciality: Chocolate, house decor, and jewelry gifts
Price: CAD12 – CAD1,575
Delivery fee: CAD18 – CAD25
If you haven't thought of what gift to give someone, then you might want to explore The Artworks' website.
There, they have a fair range of gifts at different price points. These include flowers, chocolates, house decor stuff, and handcrafted jewelry.
What sets them apart is they're creative, unique, and functional.
Some great examples are their adjustable multi-colored dog leash, earthy-colored wavy tray, comfy pet hut, fancy fountain pens, and soft cat and dog-designed pillows.
And if extravagant flowers are what you're looking for, they can make one for your recipient as well!
Wide range of fine and artistic gifts
Arranges luxurious flowers
Accommodates different budgets
Excellent
Friendly service
Closed on Sundays
High delivery fees
10. Awesome Blossom

Shop link: https://www.awesomeblossom.com/
Speciality: Vibrant and lovely hatbox flowers
Price: CAD23.95 – CAD94.95
Delivery fee: Calculated at checkout
Payment methods: Visa, American Express, Mastercard, and Apple Pay
Indeed one of the best flower gift delivery shops in Edmonton, Awesome Blossom has received hundreds of favorable reviews with a perfect score on Google.
We see that it's not just due to their amazingly sweet and vibrant flowers, but it's also because of their excellent service. The flower quality and delivery promptness have been on point.
It's a relief that their great products and services come at reasonable prices. And you can pay for your order using Amex, Visa, and Mastercard safely and easily on their website.
A couple of drawbacks of this company are they're closed on Sundays and don't take Discover Network and PayPal payments. Both are a little inconvenient for some customers.
Same-day flower delivery
Fair rates
Gives flower deals
Guaranteed client satisfaction
Accepts all major credit cards
Closed on Sundays
Doesn't take Discover Network and PayPal
11. Bloomex

Shop link: https://bloomex.ca/
Speciality: Value-for-money gift hampers
Price: CAD5.99 – CAD84.99
Delivery fee: CAD14.99 – CAD19.98
Taken aback by the expensive prices of most Edmonton gift shops? Then, you can bid them adieu and order at Bloomex Edmonton.
At Bloomex, you can get a decent food or chocolate hamper at a fraction of the price most shops charge. Along with that, you get excellent quality food and basket presentation.
We're a bit disappointed, though, that their delivery fee isn't as affordable as their products. Speaking of delivery, you can choose whether to have the gift sent today, tomorrow, or at the last minute, but rates will differ accordingly.
Their affordable prices may also come at a different cost. Some clients were less than satisfied with their flowers, service, and delivery speed.
Multiple delivery options
A host of gift basket options
Offers same-day delivery
Live chat support
Gives special offers and discounts
Some buyers have issues with the final product and delivery
Higher delivery fees
12. Brew and Bloom
| | |
| --- | --- |
| SHOP LINK | http://brewandbloom.ca |
| SPECIALTY | Floral Bouquets |
| PRICE | Contact shop for price range |
| DELIVERY FEE | Free deliveries for orders over $100 |
| PAYMENT METHODS | Visa, PayPal, GPay, AMEX, MasterCard, DISCOVER, and Apple Pay. |
Brew and Bloom is an Edmonton-based, female-led business that serves clients in Edmonton and the surrounding areas with exquisitely arranged flowers, presents, and other treats.
They always utilize the freshest ingredients and support the usage of items that are naturally sourced. From their meals to their handmade goods, they infuse flora into every one of their items.
They specialize in flower delivery in the Edmonton and surrounding area. Make someone's day by sending flowers, and gifts same-day or next-day. We highly recommend them if you're looking for fresh and in season flowers in Edmonton.
Fresh and in season
Convenient locations
Experienced florists
Has a variety of safe payment options
13. Pollie's Flowers Shop 

Shop link: https://polliesflowers.com/
Speciality: Fresh Flower Arrangements
Price: CAD50 – CAD750
Delivery fee: Calculated at checkout
Payment methods: Amex, Mastercard, and Visa
Pollie's Flowers Shop is a florist shop that provides its clients with an excellent range of bouquet arrangements with a unique twist of floral pop to it. Serving surrounding areas in Edmonton, they have since then been offering aesthetic arrangements after another to their clients.
We like that their floral arrangements are carefully curated and done per order to ensure that the flowers used are fresh and of bespoke quality to ensure longevity and beauty.
Furthermore, clients can also have the option to further personalize their gift with other items such as lights, gift boxes, and stuffed toys to make it much more personal and special for the recipient.
Note though that since they do make their bouquets by order, they have quite an early cut-off time for orders eligible for same-day delivery which interested clients may need to be aware of.
Overall, with their fresh and quality flowers, accommodating and responsive customer service, and expert team of florists employed, we highly recommend them to clients in the area looking for services near them.
Fresh and local flower collections
Customizable gifting packages
Offers same-day flower delivery
Slight limitations on locations covered
14. Petals On The Trail

Shop link: https://www.petalsonthetrail.com/
Speciality: All occasions
Price: Starts from CAD19.95
Delivery fee: Calculated at checkout
Payment methods: Mastercard, and Visa
Giving out flowers will never be outdated. With Petals on the Trail, you will be able to choose from a wide range of flowers to gift to your loved one.
What's great about them is if you have difficulty choosing a product, you may let them know, and they will give you creative suggestions. They will ask you for some details about the person you will give it to and then see which of their products fits the description the most.
Aside from this, another factor that we like about them is they deliver city-wide. Including ST Albert and Sherwood Park too!
With them, you will choose not only from flowers but artisan gifts as well. Partner them with your chosen bouquet and make your gift extra meaningful.
The catch here is that they only offer two types of payment method and is closed on Sundays.
Same day delivery
Does not only have flowers, but gift items as well
Unique arrangements
Slight limitations on payment methods