A milestone is celebrated in life to recognize the person's hard work and dedication, challenges and trials overcome in the way, and for good luck from that point onwards.
Graduations, weddings, and moving into a new home are a few examples of a milestone. When this happens, it's customary to give the celebrant a gift whether it be simple, usable, or lavish.
So, in this guide, we've collated a list of the top gifts to give first-time homeowners. They are varied and suitable for certain kinds of people so you have some options to choose from.
And further down, we have included a quick buying guide about gift-choosing. This can be helpful for those who don't know what present to get for someone you care about yet.
The Best Gifts to Give First-Time Homeowners
Before we selected the products below, we assessed them based on a set of criteria to validate them as some of the best gifts you can get for new homeowners.
Our ratings for each company can be seen as you browse our products. We hope that this can help you decide whether or not the gift is a good idea to get.
The criteria, which we used to rate each company, are the following:
And if you're ready, we now give you our list of the best gifts to give first-time homeowners!
1) Money Tree (Pachira aquatica)
Best for Nature Lovers
Price: $59.95 – $159.95
US: www.trees.com/house-plants/money-tree
UK: www.happyhouseplants.co.uk/product-page/mexican-fortune-tree-braided-money-tree
AUS: www.desertcart.com.au/products/49262664-pachira-aquatica-1-plant-house-office-live-indoor-plant-tree-in-12-cm-pot
| | |
| --- | --- |
| Size | 2 – 3 x 6 – 7ft (W x H) |
| Variants | 1 gallon, 3 gallons, white savannah pot, 3 gallons in white Delilah pot, 3 gallons in beige Delilah pot, 1 – 2ft, 2 – 3ft, 2 – 3ft in beige Delilah pot, 2 – 3ft in white Delilah pot, 2 – 3ft in brown Delilah pot, 4 – 5ft, 5 – 6ft, 4-inch pot, 5-inch pot, 6-inch pot, and 10-inch pot |
Decorative, low-maintenance, and believed to bring luck and prosperity, money trees may be a fantastic gift to give first-time homeowners.
It has a fast growth rate and can be grown both inside and outside the house. It thrives in conditions above 60℉ with plenty of moisture; however, it'd be best to keep it away from drafty spots.
Unlike other plants, maintenance is easy with this plant. You only need to water it once every 1 to 2 weeks and mist it regularly for freshness and hydration.
Luckily, money plants come in all shapes and sizes. You can even find a matching pot that fits your home's decor and ambiance.
And here's the fun part: to attract wealth in your personal circumstances, you can place a dime into the soil. Though it's a traditional custom, you have nothing to lose whether it works or not, so it might be worth the try.
Also, bear in mind that the pots and accessories aren't included unless you select them in the available options at the checkout.
Can be grown indoors and outdoors
Wide range of sizes
Low maintenance
1-year warranty
Higher-priced plant
Leaves can shrivel or fall off due to receiving too much light
2) Rummikub Board Game (Bonus Edition)
Best for Homeowners with Kids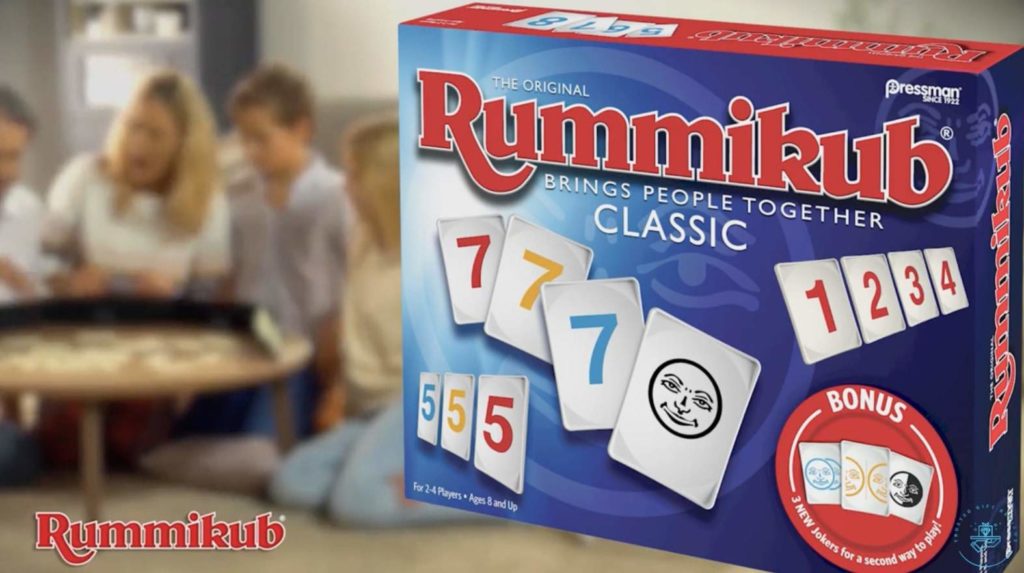 Price: $17.99
US: www.target.com/p/pressman-rummikub-bonus-edition-game/
UK: www.ebay.co.uk/p/26022846443
AUS: www.ebay.com.au/itm/133953883737
| | |
| --- | --- |
| Number of players | 2 – 4 |
| Suggested age | 8 years and above |
| Size (shipping) | 13 x 10.5 x 2.5 inches (L x W x H) |
| Weight (shipping) | 1.97lbs |
A newly occupied home may not be complete in furniture, furnishings, and entertainment. For entertainment, we suggest gifting someone the Rummikub classic board game with bonus tiles.
This board game is surely better than playing video games for kids, as they can make their vision gradually worse from a young age.
So, this is an exciting, fast-paced game of patterns via arranging the number tiles on the racks in a group or set. The first one who has used up all his tiles appropriately wins the game.
As a bonus, this particular board game even contains three joker tiles of mirror, color change, and double joker, to make the game more interestingly fun.
The tiles are made from high-quality plastic, ensuring lasting use with the whole family. A manual is contained in the product too to help you get started on the game and know some tips and moves to win.
Everyone from age 8 and up can play this game in which their strategy, sequential, and other skills can improve. However, it's compatible for just two to four players, unlike bigger board games like Monopoly.
From the looks of the reviews, people had superb fun playing Rummikub. However, some criticized the extra tiles that this game had and the lightweight tiles that fell off easily from the racks.
Improves strategy and arranging skills
Contains three bonus joker tiles
Can accommodate up to 4 players
Accommodates only 2 to 4 players
Some people prefer the classic game with no bonus tiles
Customer Reviews
Fun for everyone
"This is a lot of fun for the whole family – if yo don't want to include the extra pieces, it's easy enough to remove the bonus pieces!" -one user on Target
Favorite game
"Got Rummikub last year for Christmas and have been playing ever since. I even downloaded the app so I can play online when no one else is home. Bought two to give as Christmas gifts." -another buyer on the same website
3) Crosley Cruiser Deluxe Turntable
Best for Audiophiles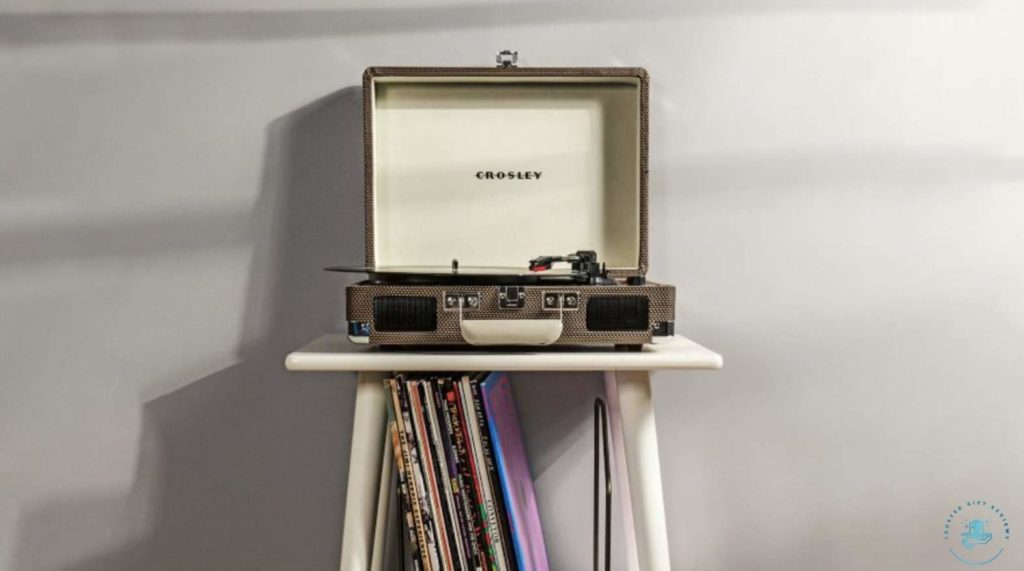 Price: $89.95
US: www.potterybarn.com/products/crosley-cruiser-deluxe-turntable-mp/
UK: www.next.co.uk/style/ls241479/p72841
AUS: www.target.com.au/p/crosley-cruiser-deluxe-portable-turntable/65122884
| | |
| --- | --- |
| Features | Dynamic full-range stereo speakers, Bluetooth, RCA outputs, headphone jack |
| Size | 13.78 x 10.24 x 4.72in |
| Weight | 5.5lbs |
| Variants | Purple ash, mint, chalkboard, tan, navy, and tweed |
For musicians and music lovers alike, you can reward them with this fancy Cruiser Deluxe Turntable from Crosley.
While you are giving them a present for owning their new house, consider it as your birthday or Christmas gift too, given the higher price point of this magnificent acoustic device.
Most Amazon users praised its great sound quality, vintage look, and user-friendliness. That said, several people weren't contented since theirs had some sound and operational defects.
Now, the turntable is packed with features that can make your friend's day complete with music. It plays and can be adjusted to 3 different record speeds namely, 33 ⅓, 45, and 78 RPM to suit their style and preferences.
Moreover, it has dual built-in stereo sound speakers on the front so you don't need to plug in external ones. With Bluetooth support, you can also stream music or ebooks from your phone or laptop to the unit wirelessly.
Another highlight is its complete set of ports, including a front-mounted headphones jack, an aux-in, and RCA outputs. The first one is for listening privately to the record, the second is for connecting an MP3 player or audio device, and the third is for setting up an external speaker.
The Cruiser Deluxe record player is lightweight at 5.5 pounds. It's contained in a stylish and durable vinyl-covered suitcase, making it fantastic for the recipient to travel with.
Best of all, it's available in a wide array of designs and colors for your loved one. This includes purple ash, mint, chalkboard, tweed, tan, navy, and the list goes on . . .
3-speed turntable
Portable vinyl briefcase design
Dual integrated stereo speakers
Connects to external speakers via RCA outputs
Features Bluetooth connectivity
Has headphones and aux-in ports
Available in a variety of colors
Expensive
Needs more space at the back for the casing to fully open
Complaints about sound quality and vinyl-spin issues
Customer Reviews
Badass turntable
"My hubby had been asking me to get him a new turntable since his 1980's one crapped out. I order this one for his bday and it arrived within a couple of days. He set it up in his garage and started pulling albums out of the closet. It works perfectly and really doesn't need a Bluetooth speaker as the built in speaker it comes with is pretty loud. He loves it and if he's happy, I'm happy." -Queenie
Awesome turntable sound quality
"Bought this for my wife, it sounds good. I almost returned it cuz my wife moved it into the kitchen and the lid wasn't completely open so it was rubbing the record and slowing it down causing it to sounds very loopy. User error. We noticed it and moved it to open fully and it sounds great. So you have to open the lid all the way!" -another Amazon buyer
4) Bodha Smokeless Incense
Best for Stressed and Anxious People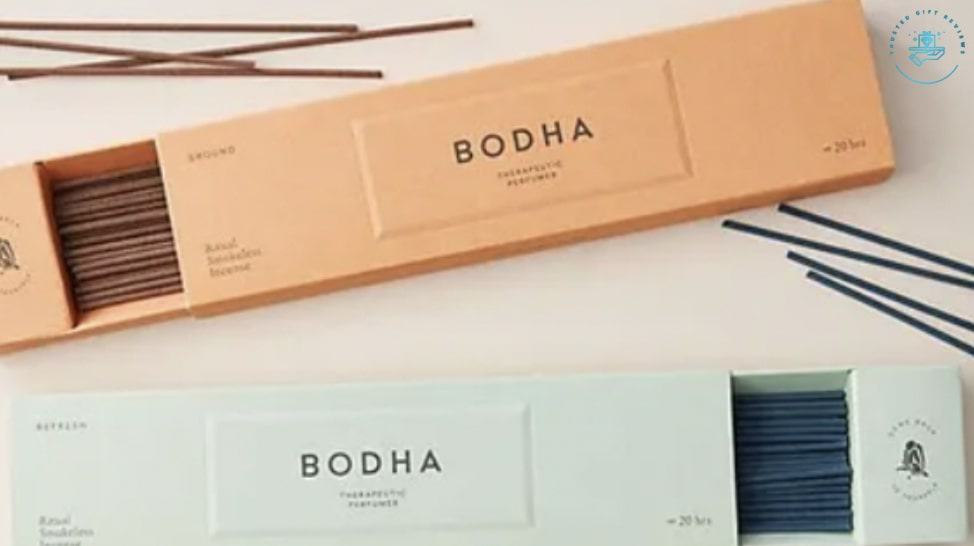 Price: $35
US: www.freepeople.com/shop/bodha-smokeless-incense/
UK: www.freepeople.com/uk/shop/bodha-smokeless-incense/
AUS: www.saintfrancisplace.com.au/products/bodha-ritual-incense-refresh
| | |
| --- | --- |
| Features | Gentle fragrance, smoke-free |
| Size | One size only |
| Number of sticks per box | 60 |
| Variants | Ground, refresh, calm, and purify |
Our stress levels are one of the things that need to be maintained for optimal well-being. House moving is a stressful activity involving demanding physical and mental effort.
Thankfully, there are many things we can do to lower our stress. One is to clear out all thoughts and distract ourselves by exercise or reading; however, as many will agree, it's hard to do so most of the time.
In that case, you can also try lighting scented incense like the Bodha Smokeless Incense. Evident in its name, it does not emit smoke and isn't too strong in scent, but gentle and light.
That's why it makes for a simple and relaxing gift to first-time homeowners. They're made from eco-friendly organic wood and fragrant essential oils using conventional methods.
It was invented in Japan by Nippon Kodo, which suggests a high-quality product. Unlike other kinds of perfumed incense, each stick can last up to an incredible 30 hours.
To prepare it, you simply take one from the pack and place the stick on an incense pot or holder, light it up and blow away the flame, and then enjoy the aroma that will waft in the area.
The only con of this product is the premium price, the difference of which you can use to buy food or other home essentials instead. However, as we said, it's also essential in that it helps to relax the body and the mind during both easy and difficult times, as backed by many buyers.
Its available scents are ground with earthy wood notes; refresh with a dewy leaves scent; calm with a relaxing herbal scent; and purify with a mildly sweet floral fragrance. If you don't know what the recipient likes, you might want to get two boxes for them to use.
Gentle-scented and smokeless incense
Uses organic wood and essential oils
30-hour burn time
Pricey rates
Its scent may not suit the person
Customer Reviews
Beautiful scent for the home or workspace
"Bringing peace and calm into your life! Smokeless incense makes this product a plus! Beautiful Scent for your home or work space! Spa Quality!" -one customer
Emits a mellow and earthy scent
"These incense sticks emit a mellow, earthy scent that delightfully lingers in the room without overwhelming the space." -Very Well Mind (an independent reviewer)
5) KitchenAid Electric Kettle
Best for Making Hot Drinks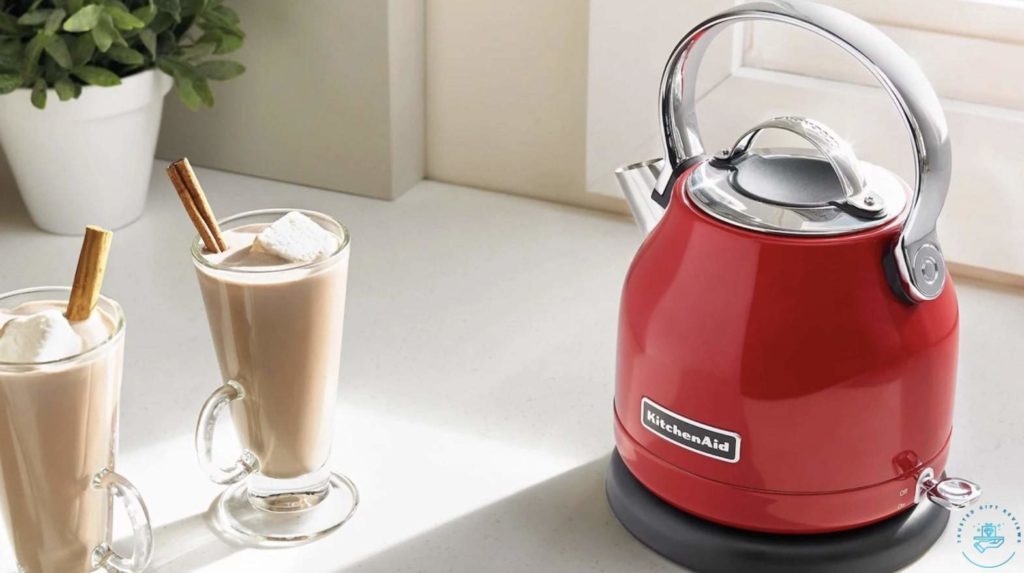 Price: $89
US: www.amazon.com/KitchenAid-KEK1222ER-1-25-Liter-Electric-Kettle/dp/B012WF88QS
UK: www.kitchenaid.co.uk/kettles/859791415020/kettle-1.25l-5kek1222-onyx-black
AUS: www.kitchenaid.com.au/products/1-25-l-artisan-electric-kettle-auto-shut-off-kek1222
| | |
| --- | --- |
| Material | Stainless steel |
| Size | 1.25L |
| Voltage | 110 volts |
| Variants | Brushed stainless steel, empire red, hot sauce, onyx black, and pistachio |
Making hot milkshakes and coffee is a way of life at home. It's what every homeowner and his family needs in his house.
Given this, we suggest giving them a reliable KitchenAid electric kettle. It is superb in terms of boiling speed and convenient functions, such as an LED boil light and a fully rotatable base.
Many reviewers have complaints about the kettle: One is that it rusted for them in the span of two weeks to several months, and two, others didn't like its 'plastic' limescale filter.
These led to a shorter lifespan of their respective kettles, but some people's kettles were still in good shape, even after a few years of use.
The solution for the first was to keep the lid open and kettle empty to reduce the instance of rusting; and as for the second issue, you can just simply remove the limescale filter.
By the way, the purpose of the filter is to reduce the kettle damage and water taste caused by hard water.
Don't worry because the product itself comes with a 1-year limited warranty. Its body is tough made of stainless steel, whereas the sleek, roundish handle is constructed of aluminum.
At 1.25 liters, the electric kettle is quite small compared to other brands. At best, it can serve hot tea, lemonade, or water for 1 to 2 people.
Besides that, as you can see, the KitchenAid stainless steel kettle (KEK1222) has the potential to be one of the best gifts for first-time homeowners. Some colors aren't currently available and you'll have to spend higher to buy this product, though.
Stainless steel body
Removable limescale filter
LED water boil light
Lightweight aluminum handle
Removable base
1-year limited warranty
Smaller-sized kettle
May rust if not properly handled
Premium-priced
Other colors aren't available for now
Customer Reviews
Great kettle
"I have had this kettle for about 9 month now and I am very satisfied with my purchase. A few reviews were not as great and I was very hesitant to order. It seemed that some people had rust problems after a few month. I leave the lid open to ensure that the moisture can escape after boiling water and I never leave any water in it. The hot kettle dries that way pretty quick and it prevents the rust. It is a smaller kettle and I would say it works perfect for 1-2 people servings. The size is definitely to small for a whole family of tea drinkers :)" -Ewa
Looks to be high-quality and attractive
"This kettle is compact, but holds plenty of water. It looks to be high quality and is very attractive on my countertop. I'm so glad that I got this kettle. I wrestled with getting the Kitchenaid kettle with temperature control, but that one had plastic in the interior. This kettle has no plastics, except for a removable filter. I expect that this one will not leak, as there's no plastic window or extraneous seams." -Laurelissa
6) One Line a Day Journal
Best for Couples at Their New House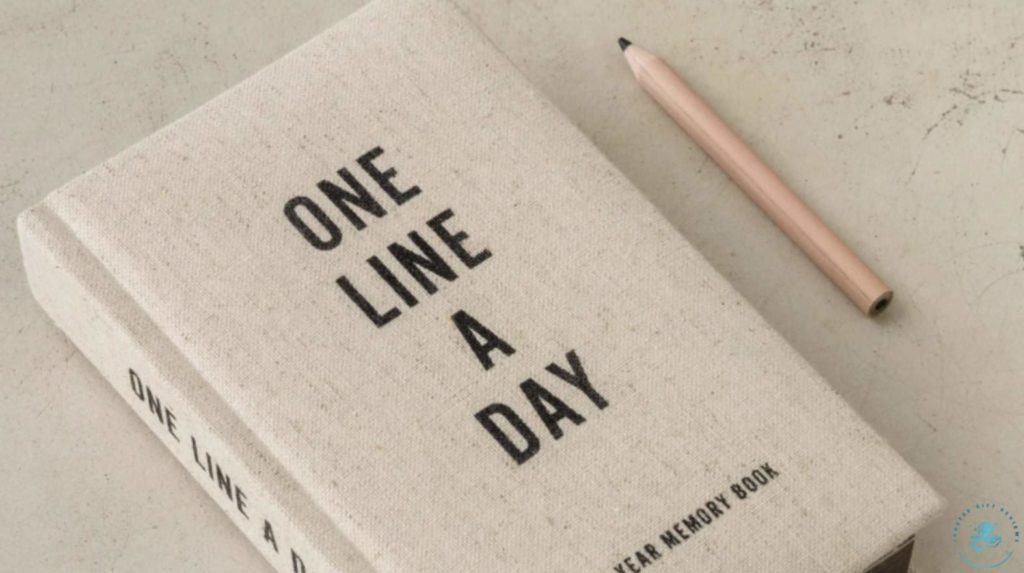 Price: $33.85
US: www.chroniclebooks.com/products/one-line-a-day-a-five-year-memory-book
UK: www.etsy.com/uk/listing/1052793852/one-line-a-day-a-five-year-memory-book
AUS: www.amazon.com.au/One-Line-Day-Five-Year-Memory/dp/0811870197
| | |
| --- | --- |
| Features | 5 years of journal space, has a page marker |
| Size | Approx. 6.50 x 3.94 x 1.34in |
Rather than post all your thoughts, accomplishments, and special events on social media, don't you think journaling them is infinitely better?
For that, the One Line a Day memory book suits any type of personality and age, especially new homeowners, couples, or both.
It is handmade with spaces where your friend can jot down the happenings every day for 5 long years. Then, once complete, that will become a wonderful mini-book that he can cherish.
Having said that, the cover can look a bit traditional. Moreover, the price is rather high for a simple journal with a simple page marker.
We like the idea, though, that this journal can be used by couples. Their most difficult days, happiest moments, funniest jokes, and introspections can be recorded in it.
As a result, it can make their relationship a lot better as time goes on, just like very fine wine. This is since the couple can learn so much about each other and build a deeper relationship with trust, bliss, and love.
The journal can be ordered on Etsy, where the delivery will be free throughout the United Kingdom. And to top that off, the staff will package and deliver this notebook sustainably for a double win.
Handmade journal
Great for all personalities
5 years of writing space
Top-quality paper
Premium price
Old-fashioned cover
7) Jutlo Round Woven Straw Clock
Best for Rustic Home Decor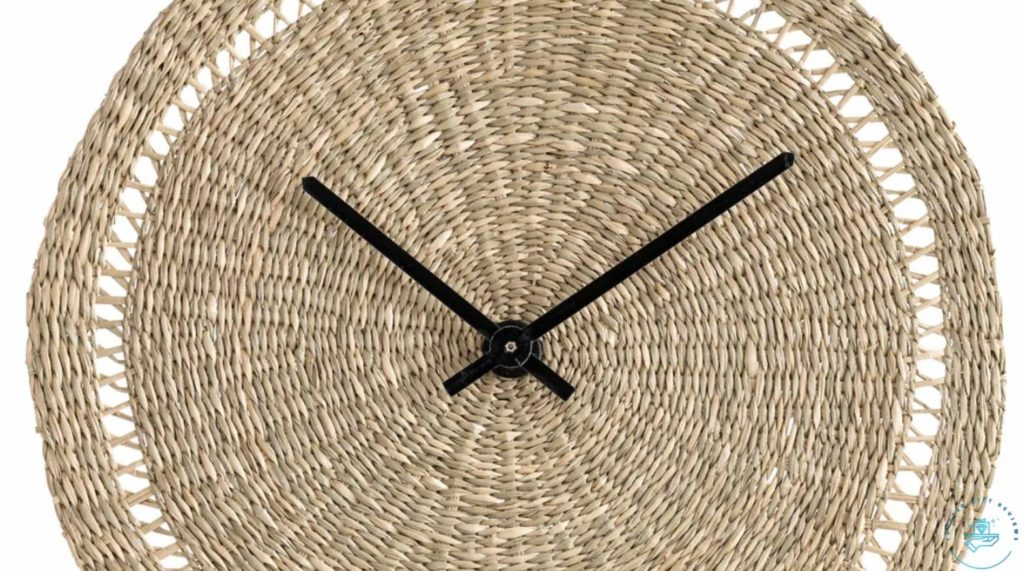 Price: $50.79
US: www.laredoute.com/ppdp/prod-350232045.aspx
UK: www.laredoute.co.uk/ppdp/prod-350232045.aspx
AUS: www.laredoute.com/ppdp/prod-350232045.aspx
| | |
| --- | --- |
| Materials | Jute, natural straw, metal |
| Size | 15.75 x 1.97in |
| Colour | Natural |
Meticulously handmade with straw and jute, this Jutlo clock makes for a perfect gift for homeowners who appreciate rustic and creative products.
Belying its country appearance, it operates on a quartz mechanism to tell accurate time. That also makes it hardier and more shock-proof than mechanical clocks.
It's simple, quaint, and also lightweight without the clock numbers on its face. You can tell your loved one to place it in the living room, kitchen, or even the office.
And who knows? You might kindle someone's interest in handicraft products that take a lot of effort and time to make.
In other words, gifting them with this clock would be a nice starting point for setting up their tribal decor at home in the future.
What we don't like about it, however, is it doesn't come with a 1.5V AA battery, along with plugs and screws to fix it onto the wall, so you'd have to get them from a different store.
As for the specs, this wonderful clock has a natural brown color and measures 15.75 x 1.97 inches. You can get it from the La Redoute Store whose link is already provided above.
Rustic and creative design
Artisanal craftsmanship
Quartz mechanism
Spacious clock design
Battery isn't included
No screws and plugs
Doesn't appeal for some people
How to Choose the Ideal Gift for First-Time Homeowners
Don't know what gift to buy for someone who is going to move out? Well, here's a simple guide to choosing the ideal gift for first-time homeowners!
1) Know what the person likes
First, if you're gifting someone, you have to know what they like. Besides that, you have to know what you can't give them due to allergies, feeling uncomfortable, or something like that.
It shouldn't be difficult to know this if you're friends with the recipient. But, if you haven't met the person before, you can just give them a general gift.
Perhaps, for this, you can surprise them with bright, lovely blooms, a nice gift basket with tasty treats (always works), or a bottle of wine or champagne.
Of course, you can also get creative by painting a picture that's framed and can be hung on the wall or a simple origami crane with a handwritten letter. However, this approach is fitted more to close friends and families.
2) Search online for potential gifts
Once you know what the person likes, it's fairly easy to search for a gift online. But, consider your budget and the time it will take for the gift to be delivered.
There are lots of gifts that you can find online from candies to vacuum cleaners. Because they're new homeowners, it might be a good idea to give a gift they can use for the house.
Depending on where you live, Amazon is a great starting place since they deliver anywhere, or local shops provided that your loved one can receive the gift at their new home address.
3) Order away
When you've made up your mind about the gift, and you are good with it and the price tag, proceed to checkout.
If you have any order questions or issues, kindly contact the customer service team. They should be right with you at the soonest time during work hours.
Double-check information including the recipient's name, address, zip code, and things like that. Purchase only from a secured website and track your order often to know where the gift is at presently.
4) Surprise them when they've transferred to the new house
Whether you choose the gift to ship to the recipient or you first and you handle the rest, both are fine. But, we suggest getting the package first personally in-shop or delivered to you.
This way, you can give the gift a more personal touch, and where you will give it to your friend or the new neighbor to make them feel welcome in the neighborhood. This helps to establish great relationships with them at the beginning.
FAQs about the Top Gifts for First-Time Homeowners
---
And those were some of the best gifts you can give to first-time homeowners, in our opinion. If you have any other suggestions, feel free to let us know about them by messaging us.
Furthermore, do you have any questions whatsoever about the list? If you have one, drop us a line and we will get back to you in a bit.
Related Articles about Housewarming Gifts
ST: Top 7 Gifts to Give First-Time Homeowners
MD: Can't seem to find the perfect gift to give? Well, here are the top gifts to give first-time homeowners alongside their pros, cons, and reviews!