Featured Image Source from Freepik
Hong Kong is one of the most festive places in the world as it also celebrates Chinese New Year and the Mid-Autumn Festival. Hence, gift-giving here is very common and greatly enjoyed by all.
If you're planning to send a gift to your soulmate or parents but don't know where to start, don't worry, as we collated a list of the best shops for gift delivery in HK here for you.
But before we show you our top choices, we'll look into their gift and delivery rates. Doing this will help you pick from our featured gift shops, which will follow.
If you're ready, let's start!
The Best Gift Delivery Shops in HK
Now that you know about their gift delivery costs, here are the very best gift delivery shops in HK!
1) Gift Hampers HK

Subconsciously, we buy things because we know that we'll get our money's worth or even more with them. And for a cost-effective gift hamper, you can order it from Gift Hamper HK.
It has a diverse range of products that are sure to 'wow' your friends or family. It offers Father's Day hampers, gourmet hampers, fruit hampers, new baby hampers, and wine hampers, among others.
Their gift boxes feature a variety of themed classy items like slow-roasted nuts, Jellycat sky dragon dolls, oat cookies, hand cream, lotion, wine, rum, gin, and many more besides that.
The items can be packaged inside a sleek black gift box, eco-friendly shopping bag, or a classic gift basket. All baskets will also include a complimentary personal message with your words.
To make up for their hefty rates, they offer free deliveries on all orders for the HK metro area and the outer suburbs. They often give out promotional codes, which you can avail of when you buy at their store.
Note, however, that shipping outside of the aforementioned areas will incur a rather pricey delivery fee.
For same-day delivery, remember to order before 1.00 PM from Monday to Friday. If you order later than this time, your gift will ship out the next day or the day after.
Another perk when you buy from their store is you'll always end up happy, as they provide a satisfaction guarantee. So if there are any faults about their product or service, just give them a call and they will duly rectify the matter.
With fine gift hampers, outstanding customer service, and prompt deliveries, Gift Hampers HK is one of the best gift delivery shops in HK, which you might see for yourself!
Customer Reviews
Gift Hampers HK holds a score of 4.4/5 stars on Google Business. Several clients praised their variety of selections online as well as their beautiful gift hampers and timely delivery service.
Carol, one buyer, said this of the gift store:
"I made the order at 1pm and it delivered before 4pm! Amazing service and the gift is decent & special instruction was followed. Will definitely purchase again."
Furthermore, another client named Vanessa wrote this:
"I have used Gift Hampers HK for the past 4 years, as many of my employees have had babies. The choice of hampers is always diversified, with a wide price range. Delivery service is reliable. The website is very user friendly. I would highly recommend Gift Hampers HK to anyone."
2) Better Than Flowers

An original French concept, Better Than Flowers aims to give people a unique and romantic gift other than the clichéd flowers and chocolate box and couple Valentine's Day tees.
Offering a heart-shaped or emoji balloon that is ready to soar plus your chosen gift items of Haribo candies, fragrant candles, bracelets, wine bottle, and/or greeting card, your other half will surely beam as he or she opens the cardboard boxed gift coming from you.
Your personal message whether in Mandarin, English, Sanskrit, French, or Korean will be printed on a small card. This will be tied onto the floating balloon to make it extra special—and Insta-worthy too.
As there is only a small selection of gifts, you won't be overwhelmed when buying at this store. However, they will be coming with new products every month.
The buying process is simple and custom, unless traditional gift hampers, betterthanflowers allows you to select the balloon(s) and the gift add-ons that you want as well as the delivery options of same-day, or a specific date.
What's more, they accept different payment methods of Mastercard, Visa, American Express, JCB, and PayPal. Therefore, purchasing your desired balloon gift will be easy and pain-free with them.
Their downside is that their products only cater to romance, birthdays, and new baby occasions. Ironically, they don't offer fresh flowers, which would nicely complement their one-of-a-kind, romantic gift.
Their price range stretches widely and can accommodate people with less or more budget. These are reasonable and can be brought down by using their coupon or social media discounts.
Better than Flowers delivers all through the week throughout Hong Kong. But you'd have to order before 10.00 AM to secure same-day delivery to your one and only.
Customer Reviews
The company was given 4.8/5 stars on Google and 5/5 stars on Facebook. People raved about the smile-invoking balloon gifts and efficient service provided by its caring and professional team.
One buyer named Taighan wrote this comment on Google:
"Best. Service. Ever. They are really quick to get your gifts delivered! I use them again and again and each time they never fail to disappoint. Thank you for sharing the joy!!"
And check out Everything Violin's review of the gift delivery service:
"Such great service. I needed a surprise for my mum and as I'm in the US needed a delivery. I ordered online and they contacted me to enquire about delivery day. They delivered the same day and took photos to show the delivery, video for me to see the balloons and told me who opened the door to receive the box. Above and beyond. I will certainly be using them again and highly recommend. Thank you for your great service."
3) Gift Something

Can't seem to find the right gift for someone? You can try Gift Something, which has tons of local and imported products ranging from lovely blooms to extravagant gourmet hampers.
Some of what they offer are children's books, toys, cuddly plush animals, fruit hampers, seasonal boxed flowers, personal cards, balloons, beard kits, coffee glass mixers, and so forth.
A complete one-stop shop, they have gifts for a wide range of occasions including the Lunar New Year, Mooncake Festival, Mother's Day, Father's Day, baby or bridal showers, thank yous, I'm sorrys, and even dates.
If you want to customize your gift, their highly trained gift specialist can assist you with whatever you need. Just give them a call to start making a unique gift coming straight from your heart.
Their goods start at affordable rates so you can pick your poison here. Add to that the benefit of reward points and promotional codes to get great value for your money at this store.
If you are an eco-warrior, this gift store is for you. Their gift boxes and fillers are recyclable and reusable, plus their tapes and cellophane wrappers are biodegradable, all of which enable you to leave a lesser environmental impact.
To top that off, they give free and same-day delivery to HK metropolitan areas from Monday to Friday, while they provide urgent and specific time ship-out at a premium price.
As one of the best gift delivery shops in HK, Gift Something stands behind all their flower and gift products. If you aren't contented with them, the team can give you a replacement or refund.
Customer Reviews
The reviewers noted their beautiful blooms, polite and friendly staff, and timely delivery. That's the reason why the gift store earned an impeccable score of 5/5 stars on Google!
Here's a comment posted by one client named Dorothy:
"It was straightforward and efficient to order the flowers over the internet from Thailand. The flowers were delivered as per the schedule, and the recipient was delighted with the quality of the blooms. Thank you!"
And here's another one left by Mark:
"The team pulled out all the stops to ensure the the gift was delivered ahead of schedule. A real nice team, friendly and cooperative – a special thank you to Edgar and Justin…"
4) Give Gift Boutique

Founded in 2008, Give Gift Boutique is a Mongkok-based gift shop offering a vast array of fresh floral arrangements, deluxe gift hampers, delectable sweets, and groovy accessories.
The baskets are packed with loads of premium goods from local and international brands. The staff can modify or substitute the items in the baskets to suit your particular needs and budget.
You may want to get their eternal dried flowers which come with a jewellery case where you can put ornaments or small items in it. It even comes with a lovely gift card with your message on it.
The attraction of this gift shop is that it delivers throughout Hong Kong, China, England, America, and other countries. Same-day, next-day, and urgent deliveries are what they do every single day.
What's more, they accept a complete range of payment methods like cash, check, credit cards, bank transfer, WeChat, AliPay, PayMe by HSBC, and FPS. The majority of their local clients use bank transfers whilst most people purchasing from overseas use credit cards.
That said, their gift products have the most expensive starting price of all the companies we've listed here. Unfortunately, they don't offer any free gift delivery service in the region.
Give Gift Boutique is another of the best shops for gift delivery in Hong Kong. They had been featured by nationally renowned media like the South China Morning Post, TVB, Now, Sassy, and Hong Kong Moms.
Given this, you can trust that their team will create your gift perfectly and deliver it on time to your loved one, which is what most buyers said of them in the reviews.
Customer Reviews
On Google, the gift shop garnered 4.8/5 stars from its buyers. They praised its wonderful flowers and baskets (which had the personal touch they wanted) and speedy delivery.
Lyn shared her experience with them on Google:
"I've sent an assortment of beautiful fruits to a friend and also some flowers on her birthday and I am overwhelmed by the excellent products and wonderful service. I can recommend them highly and assure you that you would not be disappointed. What a lovely shop! You're in a class of your own! Thanks so much. You made my friend very happy! ❤️"
Plus, Kwok mentioned this:
"Bought a bouquet for my mom on mother's day. Product number:BT0717A2
Very Beautiful, even better than the pic shown on the website. It also came with a little golden card, which is an extra?? details. Reasonable price. Highly recommended ??"
5) Gift Flowers Hong Kong

For gorgeous, seasonal, and fresh floral arrangements, you can rely on Gift Flowers Hong Kong. It has an exciting variety of blooms for all seasons and occasions including wrapped, vased, and boxed bunches.
Designed by a creative team, their floral gifts will impress your receiver with their fantastic colour combinations, foliage balance, skilful preparation, and the personal touch that you requested.
They use roses, tulips, gerberas, peonies, hydrangeas, and lilies, among others. We especially like their tropically beautiful two-stem arrangement consisting of white hydrangeas and Eustomas.
The florist is environmentally driven as they strive to use less plastic and tape every time they work. One of the ways they do this is to use cellophane wrappers that are 100% biodegradable.
Gift Flowers Hong Kong offers free deliveries for any flower gift that you choose. It can deliver on the same day if you order your flowers before 1.00 PM from Mondays to Saturdays.
Aside from flowers, they also have a wonderful range of greeting cards. You can then fully express what you want to say to the special person whether you want to ask for forgiveness or marry her.
That being said, they don't have other gifts like chocolate tablets, scented candles, or hand cream or lotion to accompany the flowers.
As you can see, Gift Flowers Hong Kong is no doubt one of the best gift delivery shops in HK. Feel free to contact the team so they can start working on the flower arrangement you have in mind.
Customer Reviews
Gift Flowers HK received a perfect score on Facebook. Excellent customer service and wonderful and fresh flowers are what you'll hear most when you read its client testimonials.
One satisfied client, Dion, left this review on Google:
"We have used your service at least 5 if not 6 times and your product your delivery your overall experience is amazing, god bless you are the best."
Also, check out this review coming from Sandra:
"Oh, What an amazing service! I had to order flowers for my daughter from Europe, as my daughter studies in HK. Beautiful and tasty flower bouquets, have ordered it yesterday and today she received it on her campus. Fabulous sunflowers like from Tuscany! Thank you."
6) AKJ Wines & Food

AKJ Kosher Wines & Food is a company that provides premium wine choices, gift baskets, and food that is one of Israel's finest. They are certified and recognized through various awards such as the 2019 Decanter World Wine Awards and Vinalies Grand Prix of Excellence among others.
Offering Israel's finest wine, they help tourists to purchase kosher wines and goods that promote their culture ever since the company was founded back in 2017. They also host many free wine tastings in order to help you find the best wine that is best aligned for your tastes as an individual.
They also offer services that specialize in the importing of a variety of wines that are not available to the public such as particular kosher premium wine selections and gift baskets which include such selections. Furthermore, this can be easily procured and availed of on their online shop wherein they have a wide selection of their products which you can choose from and be assured their quality is of consistent and outstanding quality.
We recommend this company for you due to their high-quality and accommodating customer service that will ensure that your whole transaction and experience with them will go smoothly and free of any issues as much as possible.
Customer Reviews
Here is a review from their customer:
"Very good quality, helpful staffs, nice price! Highly recommend
"
7) M Florist Hong Kong

M Florist Hong Kong specializes in flower arrangements that are perfect for any occasion. They focus on the seasonality of the flowers so they can provide a beautiful arrangement with seasonal blooms.
We love how their customer support is willing to answer any questions or concerns that customers may have, ensuring that their shopping experience is pleasant and memorable.
In comparison to other companies, they provide elegant flower arrangements. They are perfect for any occasion and aesthetically pleasing.
Aside from pre-designed flowers, they also offer a wedding flower decoration service. They have two themes which are, white romance and deep beauty that hopefully meets your chosen theme for your special day.
Customer Reviews
Here are some reviews from their previous clients:
"Ordered the flowers online and they were delivered on time. The flowers look absolutely gorgeous. Kat is very patient and offers great customer service. 10/10 will recommend."
"Very professional and very good communication,
flowers are in very good condition and the service is absolutely perfect~ Highly recommend~~"
"Beautiful flowers and good after sales services. What I saw from website was what I got eventually. Recommended."
8) Flower Actually
Flowers make an excellent gift regardless of the occasion. If you want to splurge a bit on luxurious arrangements, then Flower Actually is your best option for that.
Their selection of flowers ranges from bouquets to flower gift boxes or hampers.
Speaking of the latter, you also have the option to personalize your flower arrangement based on the occasion. We highly recommend maximizing this option if your recipient has a favorite color or flower in particular.
We also love the fact that this company plants 5 trees for every purchase made at their website. So in a way, you're also giving back to nature while making sure your recipient is happy.
Of course, all this comes with a price. They're certainly not the most affordable ones out there but for the quality that they offer, we think that it's worth it!
Customer Reviews
Check out some reviews from their previous clients:
"Not a flower guy myself like most of the men in Hong Kong but was really impressed with Flower Actually since their bouquets are stunning and different from the mass market ones! My girlfriend really loved the bouquet I bought her. Highly recommended!" —Joe Cheng, Google Reviews
"A very impressive florist. She provided the best and customised recommendations after our short conversation. The bouquet was stunning and delivery arrangement was timely. My friend was very surprised and loved the flower so much. I appreciated their service very much." —KL Tan, Google Reviews
9) Podarona

Podarona is a gift shop that provides you with only the best selection of gift choices which you can freely choose from and customize to your preferences. All of their products are also locally sourced and presented beautifully in order to bring a smile to your recipients' faces.
Their all-around service can help you have more time and energy for your other priorities, since they can write personalized messages for you and provide you with a range of gifting ideas that you can simply choose from. They also design their gifts using products made by local makers, designers, and small business to promote the local HK creative community.
They even make it to a point to choose mostly natural products that contain no harmful chemicals and additives to ensure that you are offered the healthiest choices so you won't gift anything harmful to your loved ones. How awesome is that?
For same-day delivery, remember to order before 11.00 AM from Monday to Friday. The extra fee of 200hkd is applied for this.
Plus, they also handle all of the logistics such as shipping and packaging, so you can simply relax and trust that they will deliver your beautiful surprise anywhere in Hong Kong.
Podarona is also conscious about eco practices and tries to reduce plastic packaging as much as possible.
We recommend this company for your gifting needs due to their dedication to providing you with only stellar gift boxes that will surely awe your recipients. They are definitely one of the go-to gift shops in Hong Kong that you can 100% rely on for any of your gifting needs- whether it be casual or corporate
Customer Reviews
Check out some reviews from their previous clients:
"Just wanted to share with you that my friend loved her box (I think she posted it on her IG!). We usually send her flowers and she said this was way better (of course!). Thank you so much again! "
"Podarona has provided wonderful, customized gift boxes to my team (for Christmas, Welcoming new baby occasions). Veronika went above and beyond – from recommending items to fit my budget to accommodating multiple handwritten notes for the recipient! She is great to work with for all your gifting needs. "
"Thanks so much, Veronika for your fantastic service and thoughtfulness. My friend certainly likes the gift, Happy to support local HK businesses too."
10) Flower Actually

Flower Actually has been in the floral industry for some time now and is one of the most popular companies there is. They provide reliable service to ensure that you can trust them no matter what, and they work hard to ensure every customer has an amazing experience with them.
They are a flower delivery service that makes it easy for you to express your feelings when you can't find the words.
In comparison to other shops, we can say that the presentation of their flowers is exquisite and incomparable. With this, almost all of their products can fit into any occasion.
Something to wait for 2022 is their collaboration with the best international sporting brand, ADIDAS. For Valentine's Day, their amazing flowers will be displayed within their shops and we invite you to visit Adidas's Miramar Store and their Hankow Road Flagship store to see the exquisite art pieces.
11) Pilot Shop Hong Kong Ltd

In Hong Kong and Asia, aviation students and aviators experience a lack of options when it comes to choosing their own gear. Therefore, Pilot Shop Hong Kong Ltd was established and continuously aims to be an aviation shop by aviators for fellow aviators.
Pilot Shop Hong Kong Ltd is the perfect store for those who love aviation. from simple postcards and keychains to sophisticated mechanical watches, they have it all.
What's great about them is they have three major categories of products. These are aviation supplies, aviation-themed souvenirs, and die-cast models.
We also love how they offer staff discounts and support schemes for airline staff.
12) Florist.hk

Florist.hk is a flower shop that provides clients in the area with quality flower arrangements that is ideal just for any occasion the client may need a bouquet. Established back in 2000, they have since then been offering consistent, friendly, and helpful service to customers who wish to avail of their products.
We like that their website features not only a comprehensive description of their floral arrangements but also supplementary information regarding flower meanings and flower care so that clients can make each of their orders more meaningful.
Aside from this, they also have a plethora of gifting options that clients can easily customize and pair with their ordered flowers.
We think, however, that their website could use more updating in terms of its design and features to make it easier for clients to browse through their online shop.
Overall, with convenient ordering procedures and knowledgeable staff to guide clients through the whole process until their flowers are delivered, we highly recommend them to clients in the area who are in need of flowers.
13) Best Gift Hong Kong

Best Gift Hong Kong is a gifting shop in the area that offers a wide plethora of items such as clothing, drinkware, pens, stationaries, and merchandise that is ideal for both personal and corporate gifting purposes.
Clients can easily reach them through WhatsApp to easily order for them and get an immediate quote which can let clients know the expenses of their products from the get-go.
Furthermore, their website is also written in the local language to better help clients who aren't fluent in English to easily navigate their platform and avoid misunderstandings.
However, we find their choices rather limited, and clients may have to inquire further with them if they would like something for a particular occasion.
Nonetheless, with their highly assistive customer service and presentable merchandise and items, we highly recommend them to clients in the area looking for customized gifting services.
14) Foliagestore Floral & Gift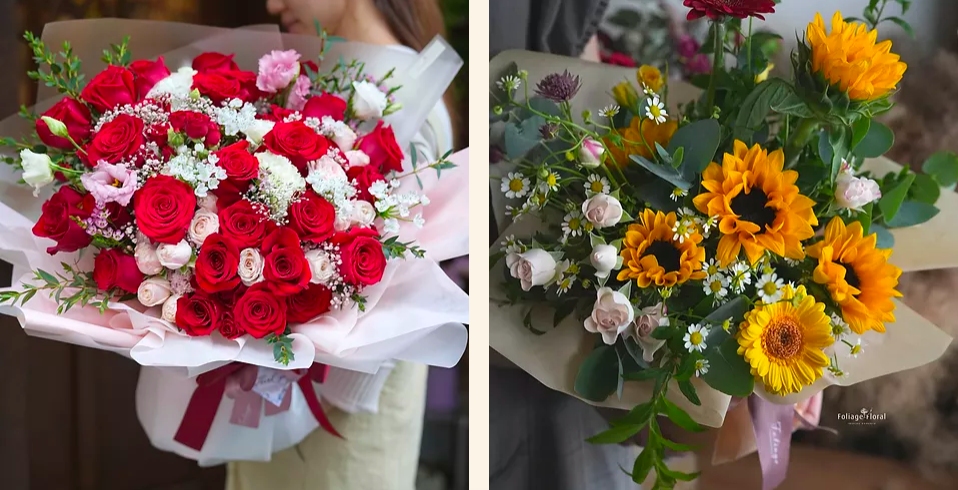 Foliagestore Floral & Gift that's been around for years and is continuously growing.
We were attracted to their devotion to delivering exceptional design, the freshest quality, and best service to each customer.
We can see this devotion in the products that they sell. Each bouquet and arrangement they make is sophisticated and beautiful.
They have a flower arrangement for every occasion—everyday, wedding, grand opening and so on.
You might think that flowers are a cliché, but trust us, when you see their work you won't have to think twice about choosing them!
FAQs about the Top Shops for Gift Delivery in HK
---
And that completes our top shops for gift delivery in Hong Kong! Having excellent service and high-quality gifts, their staff will give you a great buying experience throughout!
Do you have any questions or comments about our list? If so, you can let us know by messaging us and we'll get back to you as soon as we can.
Also, check out our other helpful gift or florist lists. For instance, you may want to read about the best florist in Singapore for all occasions next!