Still can't find that perfect gift for your loved one? Or perhaps you're rushing for a last-minute purchase because you forgot to buy one? Whichever it is, don't worry, 'cause we're here to help you find the right gift shop for your needs!
Whether you're looking for a bouquet of fresh blooms, delightful food delicacies, or something unique and personal, we've found them all for you! Read our list below to know more about the places that offer the best gift delivery in Melbourne!
1. Hello Botanical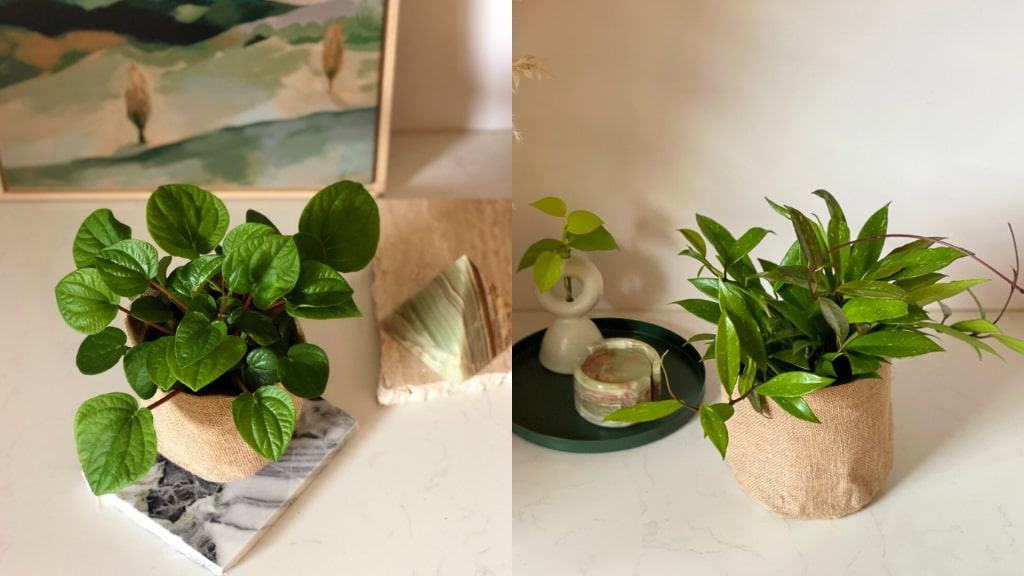 They say plants have their own way of being therapeutic, helping someone feel more calm and relaxed. If you want to give your loved ones a gift that brings out positive vibes, then Hello Botanical is the place to be!
This shop is famous for their large selection of sustainable and locally-sourced indoor plants. The best thing about them is that their plant gifts can be suitable for any season!
Some are fast-growing, some have beautiful leaves, and some add a unique character to a place. They're perfect for plant enthusiasts, aspiring botanists, or people who need some healing support.
Their lush green gifts are designed with premium custom-made hessian planter bags and pot covers. To make your gift more special, you can include a handwritten postcard, which also comes with plant care instructions.
If you want to add an extra gift, you can also choose from their well-crafted collection of botanical ware, organic products, and plant-lovers apparel.
For your work colleagues, they also have corporate plant gifts that can brighten up the office! Moreover, you can use their products and services to showcase your brand through customised co-branded plant gifts where they also design custom postcards for certain clients.
They offer same-day delivery service but only for orders received before 11am. So, make sure to book ahead!
To help you monitor your delivery process, they'll send you an email with a tracking code so you know once your gift is already on its way.
Products packaged in reusable baskets
Pre-orders available
Also have a plant subscription service
Express same-day delivery service
Free delivery service for specific order amount and delivery zones
Products packaged in reusable baskets
Pre-orders available
Also have a plant subscription service
Express same-day delivery service
Free delivery service for specific order amount and delivery zones
Customer Reviews
Most customers mentioned that they enjoyed the huge plant collections and care packages of Botanical Care. They also said that they experienced smooth and fast delivery transactions.
A customer wrote this feedback:
"One of the reasons I chose this online store was the speed at which the last minute gift I was sending could be delivered. I ordered on Sunday and it was delivered on Monday so I really appreciated the quick turnaround. But apart from all that, the recipient reported "luxurious products" and "beautiful packaging". Obviously tasteful and thoughtful products and presentation. I would definitely recommend Hello Botanical and wouldn't hesitate to shop there again when I next need to send gifts."
2. Sweet Mickie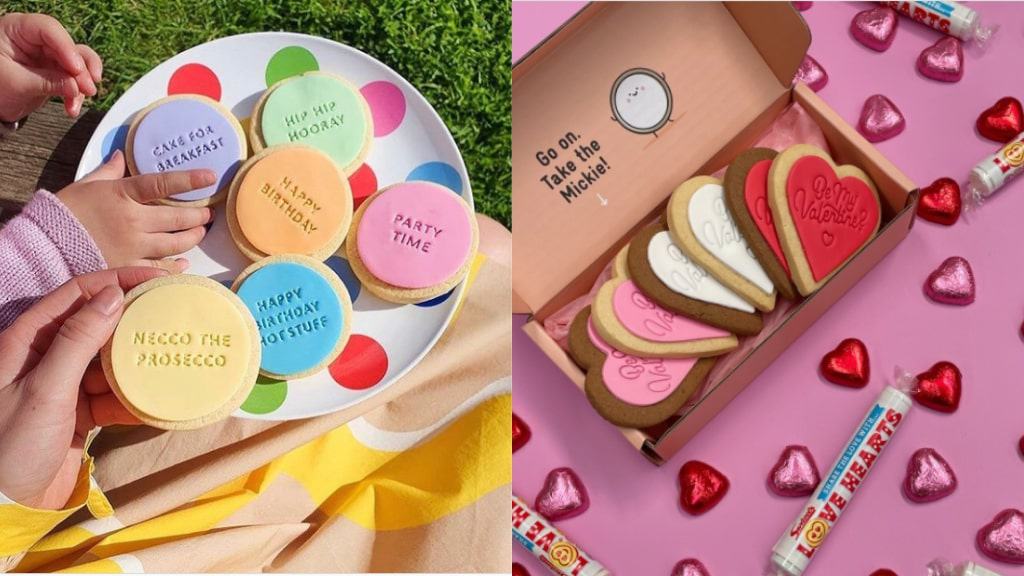 Be it your special someone, family, friends, kids, colleagues, or other relatives, you can never go wrong with some savoury treats! Sweet Mickie will surely satisfy everyone's taste buds with lovely and tasty cookies!
Each of their cookie collections is crafted with simple yet highly-customisable icing design! They're available in various styles, giving you Instagram-worthy visuals and delightful flavors.
They're housed with creative letterers and illustrators who make custom-designed cookies. They make specially designed cookie gift boxes for birthdays, weddings, hens, corporate events, product launches, and more.
Simply choose your theme, pack size, and the style that suits your needs. Then, you can personalise your own set of cookies with particular messages, colours, toppers, and type of cookie.
Similar to the previous store, same-day delivery service is only available for orders made before 11 am.
This shop is also one of the few that have served established companies. Their clients include Google, Louis Vuitton, Omega, TimeOut, Snapchat, and many more!
Provides membership perks
Refund services within 24 hours
Same-day delivery service
Lack of gluten-free and vegan cookie options
Customer Reviews
Sweet Mickie has gained lots of positive remarks because of their rich-in-flavour and beautifully-made cookies. Customers also said that the shop was able to accommodate last-minute orders without any hassle.
Some also claim that the shop truly has the best gift delivery in Melbourne. They were impressed with the fast delivery, responsive staff, and cheap rates.
A customer gave this feedback:
"I've dealt with Emma and the rest of the SM team a few times now, and cannot express how positive my experience has been each and every time. From creating personalised cookies for my business (Allyaide), to sending some delicious Christmas cookies my way. I am always so excited when the postman comes! Very reasonable prices, quick delivery and turnaround time, and the best part – they taste bloody delicious! I appreciate it when I find businesses, such as Sweet Mickie, that get personal and provide such impeccable customer service. It truly means the world and is a huge indicator on whether I will become a repeat customer. It's safe to say that I will! Can't get enough. Thanks for all that you do Emma and team! Have a safe and merry Christmas."
3. Hamper Emporium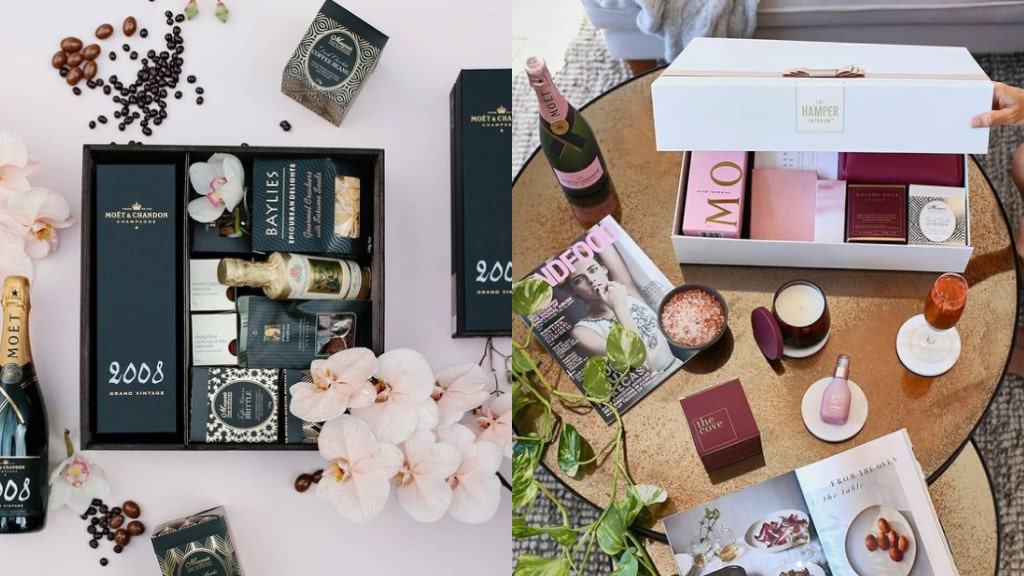 | | |
| --- | --- |
| BEST FOR | Luxurious Gift Hampers, Exclusive Set of Hampers from Local Artisan Food Brands, Festive Hampers |
| STARTING PRICE | $59 |
| DELIVERY FEE | Free Standard Delivery , $16.95 (Express Delivery) |
| WEBSITE | https://www.thehamperemporium.com.au/ |
| SOCIAL MEDIA | Instagram , Facebook , Twitter |
| ADDRESS | C1/391 Park Rd, Regents Park NSW 2143 |
| CONTACT DETAILS | 1300459452 |
| OPERATING HOURS | Monday – Friday: 9:00 AM – 5:00 PM |
For people who enjoy sharing their favourite local delights or other delicious treats, the Hamper Emporium offers gourmet food gift hampers for any occasion.
Locals recognise them as Australia's leading experts in producing luxurious hampers and gift baskets. So, if you want to impress your family, friends, clients or staff, they have great collections!
Each hamper is filled with gourmet foods from local and international brands and packaged with fine and classic gift boxes.
On their catalogue, they feature tasty sweets and snacks, famous local delicacies, wines, champagnes, beers, whiskeys, and other Melbourne foods.
Since they mostly offer products from Australian brands, they have the best gift ideas to bring back from a trip. So, if you have friends or relatives who've just finished travelling around the city, you must definitely visit their shop!
Aside from these, they also have specially designed collections for men, women, and newborns, as well as for certain occasions like Valentine's Day, Mother's Day, Christmas, and more.
For corporate hampers, they also offer a wide range of customisation options such as branded ribbons, gift cards, and custom-engraved accessories.
Stylish and elegant gourmet hampers
Corporate-branded hampers
Handpicked products 
Flexible payment options
Free standard delivery
Provides express shipping for next-day delivery only
Doesn't cater to specific dietary requirements
Customer Reviews
Customers were impressed by how The Hamper Emporium quickly manages to customise large orders of hampers in a short time. They also praised the quality of the hampers.
A customer left this review:
"I just wanted to say a huge Thank you to all at The Hamper Emporium. I received the Choc and Red Hamper along with the other hampers and I am happy to say all are in perfect order. I greatly appreciate your prompt and efficient service. I will highly recommend your services to all my clients and family/ friends. Thanks again!"
4. Daily Blooms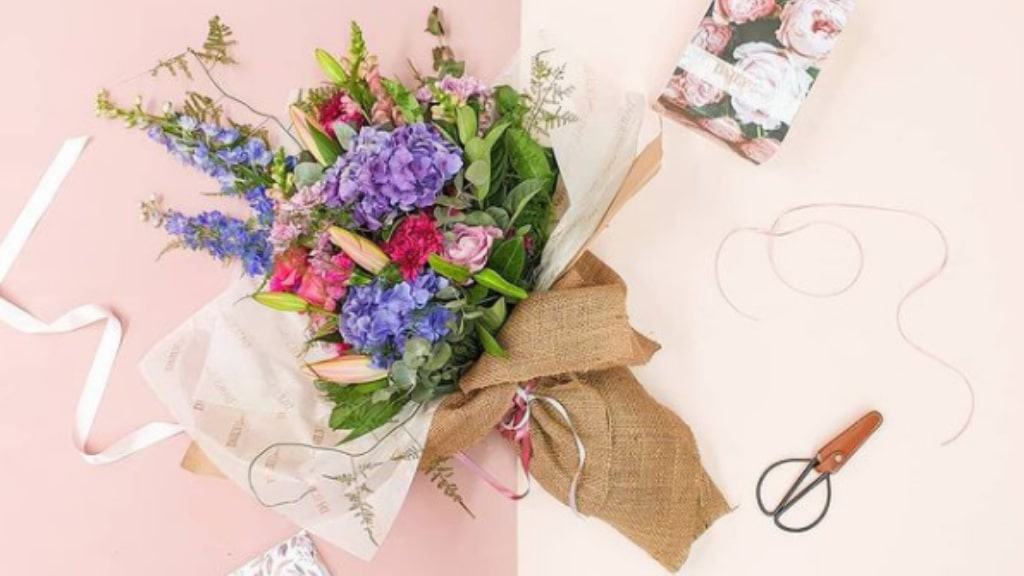 If you want to include a lovely set of flowers together with your hampers, Daily Blooms creates sophisticated and aesthetic flower arrangements. Their hand-tied bouquets display vibrant selections of seasonal blooms, freshly-sourced from farmlands.
As they only use fresh and locally grown flowers, you can always find new arrangements. Flower selections and colour palettes change every day, giving your loved ones a meaningful and one-of-a-kind gift.
Their cottage-garden inspired arrangements come with a simple and subtle style that can add pleasing visuals to a home/office. Their creations are also nicely wrapped in carry bags that are available in different sizes.
They have varied floral collections made for birthdays, Valentine's, and sympathy and thank you greetings. You can also add extra gifts to your chosen bouquet — they have gift cards, vases, candles, chocolates, teas, and even body and skin care products.
For flower enthusiasts, they also provide subscription services where you can receive a delivery every week or month.
Fresh blooms directly sourced from farms
Offers flower subscription service
Same-day delivery
Delivery service is available from Monday to Saturday only
Additional fee for orders on future dates
Customer Reviews
Many customers were highly satisfied with the overall services of Daily Blooms. They said that they received gorgeous scented bouquets and on-time delivery as well.
A customer posted this feedback:
"Just WOW. Our wonderful friends ordered us a large bouquet for our wedding. We came home to them and were blown away. They were HUGE. We had to buy a new vase and even still we had to split them between two vases as there were just so many flowers. The most beautiful bouquet I have ever received, we will be ordering from Daily Blooms for all our future floral needs. Thank you!"
5. Manflower Co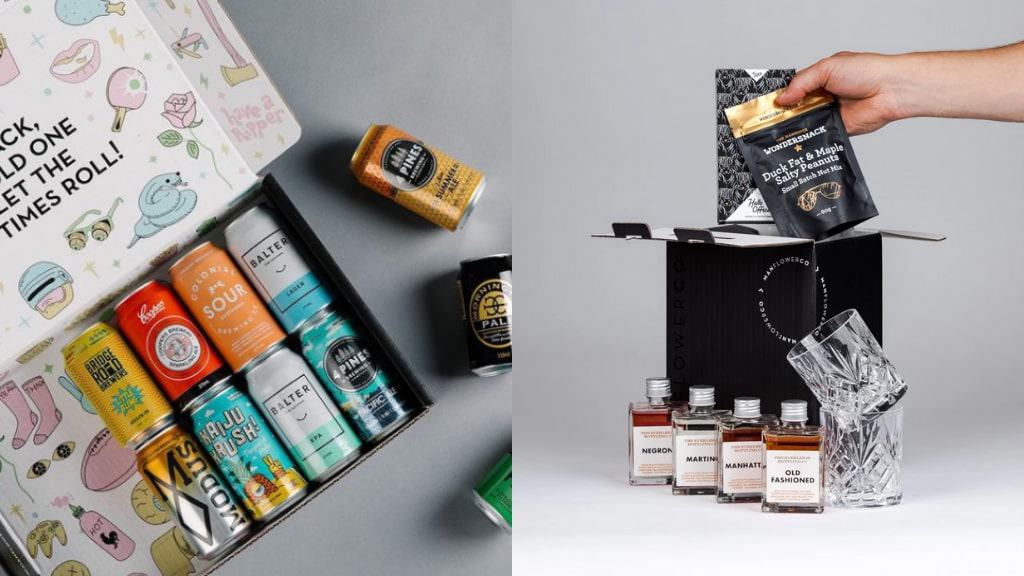 Searching for gift ideas for your father, husband, son, boyfriend, or male friend/colleague? If so, then Manflower Co is the right place for you. This shop features unique combinations of gift items that men will love.
Manflower Co focuses on offering gift packs that celebrate moments in life. This includes their signature beer collection, the key companion to every moment!
Their bestsellers feature Australian craft beer, whiskey, and cocktail gift collections that are bundled up in their signature matte polished boxes.
To make your gift more memorable, these fine and refreshing beverages can be paired with additional items.
You can choose from among beer holders, coasters, drinking glass, and more. They even have unique collections for specific groups of people like travellers, golfers, adventurers, etc.
They also have sweet treats and snacks like chocolate, nuts, jerky, and so much more. Other essential items like socks, toiletries, hammocks, and sneaker cleaning kits are also included.
Apart from men's gifts, they also have corporate gift selections that can help boost the company's brand recognition. Their creative team offers high-quality gift boxes tailored to a company's project, style, and occasion.
They've done work for clients withseasonal events, client appreciation, milestones celebrations, and even staff rewards.
If you're looking for fancy standalone gifts, they also have the Top Shelf collection featuring glassware sets, bottle openers, dock wireless chargers, Bluetooth speakers, neat desk organisers, blankets, wallets, stationeries, sling bags, and work folios.
If you already have an ideal theme in mind, you can also request a fully customised gift box. Just choose your preferred gift packaging, then you can start adding items from their catalogue.
Custom-designed corporate gift boxes offered
Same-day delivery
Free express shipping fee for specific order amount
Delivery service is available on weekdays only
Doesn't accept refunds
Customer Reviews
Many customers recommended the services of Manflower Co because of the responsive and helpful staff. They also liked the large beer selection, great tasting notes in each package, and fast and on-time delivery.
This is why they were truly convinced that the shop has the best gift delivery in Melbourne. A customer wrote these remarks:
"Great gift ideas for the men in your life. My husband loved it! It would be great if you could pick the date of delivery, but other than that, we were extremely happy with the service. I will definitely recommend this service to others.
FAQs About The Best Gift Delivery in Melbourne
____________________________________________________________________________
And there you go with the shops that do the best gift delivery in the city! Have you already decided which one to go to for gifts for your family, friends, or even for yourself? Tell us all about it!