Still can't find that perfect gift for your loved one? Or perhaps you're rushing for a last-minute purchase because you forgot to buy one? Whichever it is, don't worry, 'cause we're here to help you find the right gift shop for your needs!
Whether you're looking for a bouquet of fresh blooms, delightful food delicacies, or something unique and personal, we've found them all for you! Read our list below to know more about the places that offer the best gift delivery in Melbourne!
1. The Indoor Plant Co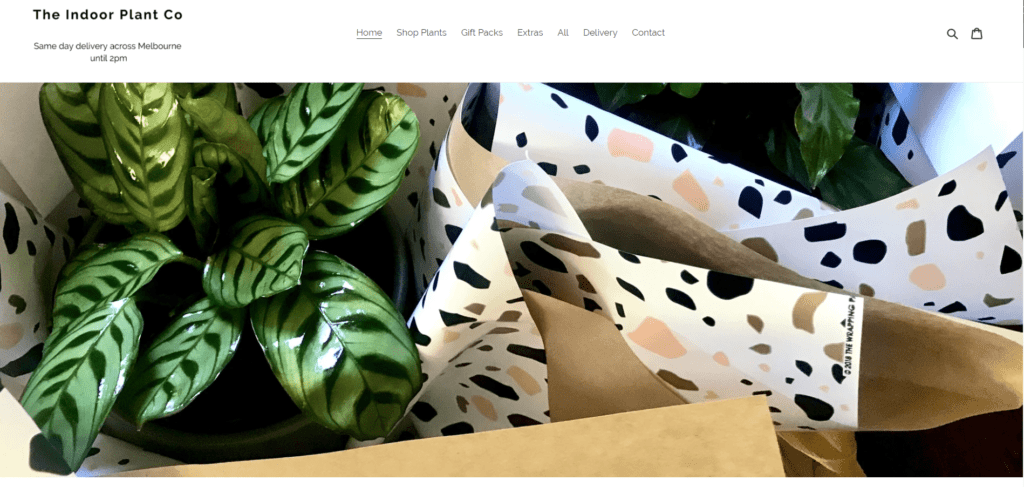 The Indoor Plant Co offers carefully designed and curated plants, gift packs, hand and body products, and even drinks, perfect for your loved ones. One thing that was notable during our survey was how simple yet seemingly high-end their collections are.
Good news for those last-minute gift ideas – they have same day delivery across Melbourne until 2pm. These gifts come with a ceramic pot, gift wrap, and card, so that last-minute idea doesn't seem very last minute. You can customize your set, too!
To attest to the quality of their products and service, they were also rated as "Melbourne's best plant delivery service" by TIME OUT May 2021 amid the craze of plant delivery services in the city.
2. Hello Botanical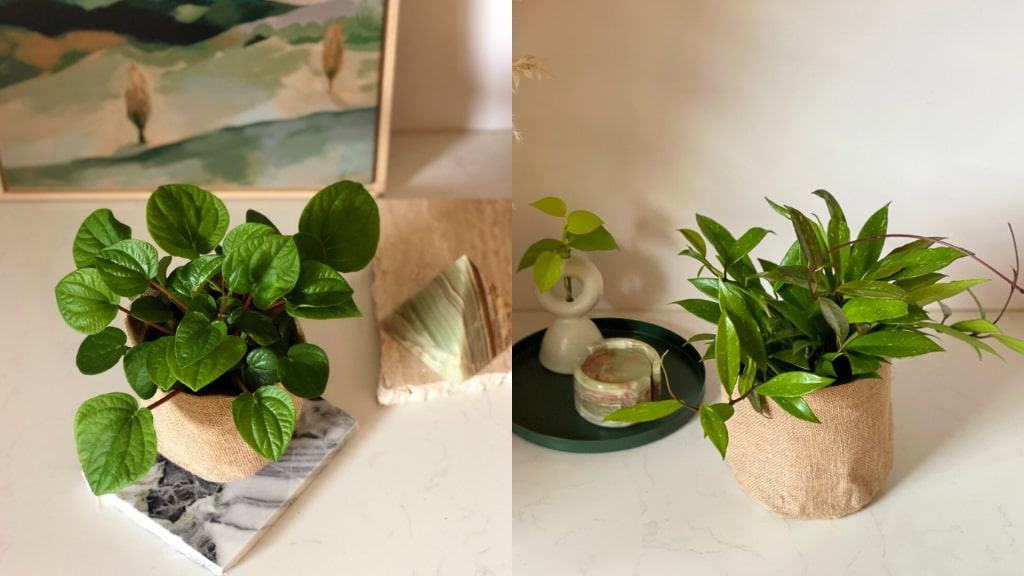 They say plants have their own way of being therapeutic, helping someone feel more calm and relaxed. If you want to give your loved ones a gift that brings out positive vibes, then Hello Botanical is the place to be!
This shop is famous for their large selection of sustainable and locally-sourced indoor plants. The best thing about them is that their plant gifts can be suitable for any season!
Some are fast-growing, some have beautiful leaves, and some add a unique character to a place. They're perfect for plant enthusiasts, aspiring botanists, or people who need some healing support.
Their lush green gifts are designed with premium custom-made hessian planter bags and pot covers. To make your gift more special, you can include a handwritten postcard, which also comes with plant care instructions.
If you want to add an extra gift, you can also choose from their well-crafted collection of botanical ware, organic products, and plant-lovers apparel.
For your work colleagues, they also have corporate plant gifts that can brighten up the office! Moreover, you can use their products and services to showcase your brand through customised co-branded plant gifts where they also design custom postcards for certain clients.
They offer same-day delivery service but only for orders received before 11am. So, make sure to book ahead!
To help you monitor your delivery process, they'll send you an email with a tracking code so you know once your gift is already on its way.
Customer Reviews
Most customers mentioned that they enjoyed the huge plant collections and care packages of Botanical Care. They also said that they experienced smooth and fast delivery transactions.
A customer wrote this feedback:
"One of the reasons I chose this online store was the speed at which the last minute gift I was sending could be delivered. I ordered on Sunday and it was delivered on Monday so I really appreciated the quick turnaround. But apart from all that, the recipient reported "luxurious products" and "beautiful packaging". Obviously tasteful and thoughtful products and presentation. I would definitely recommend Hello Botanical and wouldn't hesitate to shop there again when I next need to send gifts."
3. Sweet Mickie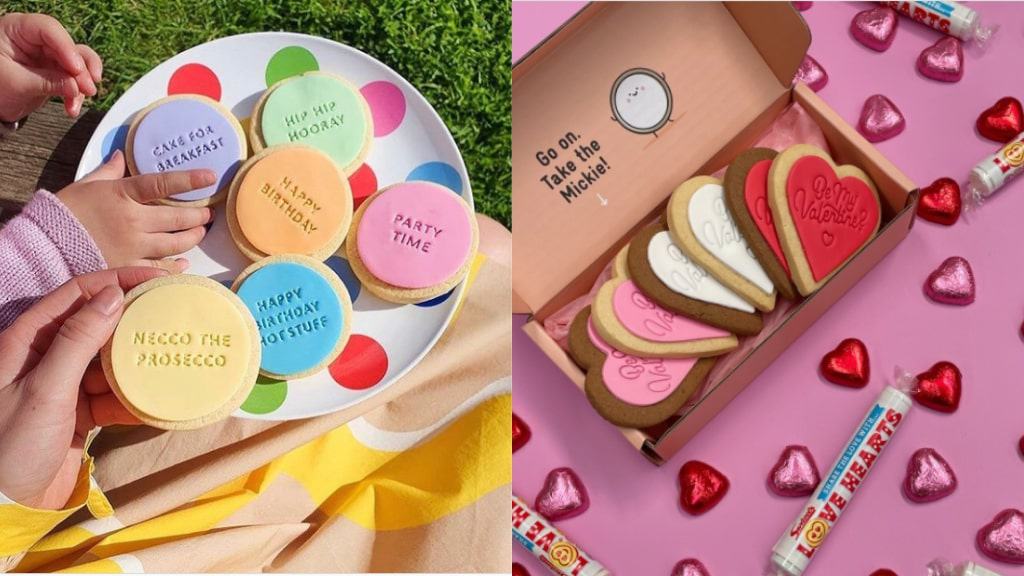 Be it your special someone, family, friends, kids, colleagues, or other relatives, you can never go wrong with some savoury treats! Sweet Mickie will surely satisfy everyone's taste buds with lovely and tasty cookies!
Each of their cookie collections is crafted with simple yet highly-customisable icing design! They're available in various styles, giving you Instagram-worthy visuals and delightful flavors.
They're housed with creative letterers and illustrators who make custom-designed cookies. They make specially designed cookie gift boxes for birthdays, weddings, hens, corporate events, product launches, and more.
Simply choose your theme, pack size, and the style that suits your needs. Then, you can personalise your own set of cookies with particular messages, colours, toppers, and type of cookie.
Similar to the previous store, same-day delivery service is only available for orders made before 11 am.
This shop is also one of the few that have served established companies. Their clients include Google, Louis Vuitton, Omega, TimeOut, Snapchat, and many more!
Customer Reviews
Sweet Mickie has gained lots of positive remarks because of their rich-in-flavour and beautifully-made cookies. Customers also said that the shop was able to accommodate last-minute orders without any hassle.
Some also claim that the shop truly has the best gift delivery in Melbourne. They were impressed with the fast delivery, responsive staff, and cheap rates.
A customer gave this feedback:
"I've dealt with Emma and the rest of the SM team a few times now, and cannot express how positive my experience has been each and every time. From creating personalised cookies for my business (Allyaide), to sending some delicious Christmas cookies my way. I am always so excited when the postman comes! Very reasonable prices, quick delivery and turnaround time, and the best part – they taste bloody delicious! I appreciate it when I find businesses, such as Sweet Mickie, that get personal and provide such impeccable customer service. It truly means the world and is a huge indicator on whether I will become a repeat customer. It's safe to say that I will! Can't get enough. Thanks for all that you do Emma and team! Have a safe and merry Christmas."
4. Hamper Emporium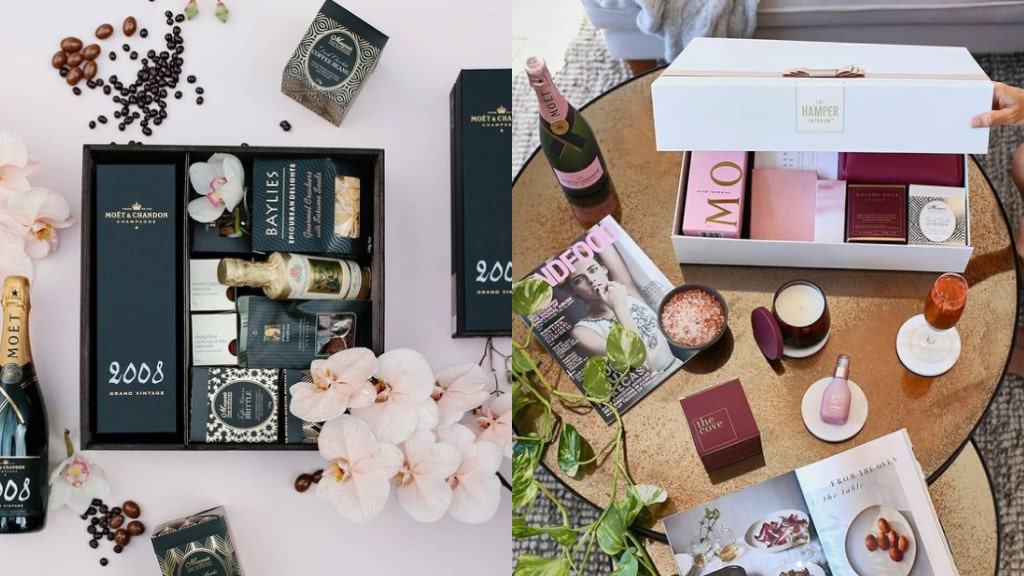 For people who enjoy sharing their favourite local delights or other delicious treats, the Hamper Emporium offers gourmet food gift hampers for any occasion.
Locals recognise them as Australia's leading experts in producing luxurious hampers and gift baskets. So, if you want to impress your family, friends, clients or staff, they have great collections!
Each hamper is filled with gourmet foods from local and international brands and packaged with fine and classic gift boxes.
On their catalogue, they feature tasty sweets and snacks, famous local delicacies, wines, champagnes, beers, whiskeys, and other Melbourne foods.
Since they mostly offer products from Australian brands, they have the best gift ideas to bring back from a trip. So, if you have friends or relatives who've just finished travelling around the city, you must definitely visit their shop!
Aside from these, they also have specially designed collections for men, women, and newborns, as well as for certain occasions like Valentine's Day, Mother's Day, Christmas, and more.
For corporate hampers, they also offer a wide range of customisation options such as branded ribbons, gift cards, and custom-engraved accessories.
Customer Reviews
Customers were impressed by how The Hamper Emporium quickly manages to customise large orders of hampers in a short time. They also praised the quality of the hampers.
A customer left this review:
"I just wanted to say a huge Thank you to all at The Hamper Emporium. I received the Choc and Red Hamper along with the other hampers and I am happy to say all are in perfect order. I greatly appreciate your prompt and efficient service. I will highly recommend your services to all my clients and family/ friends. Thanks again!"
5. Daily Blooms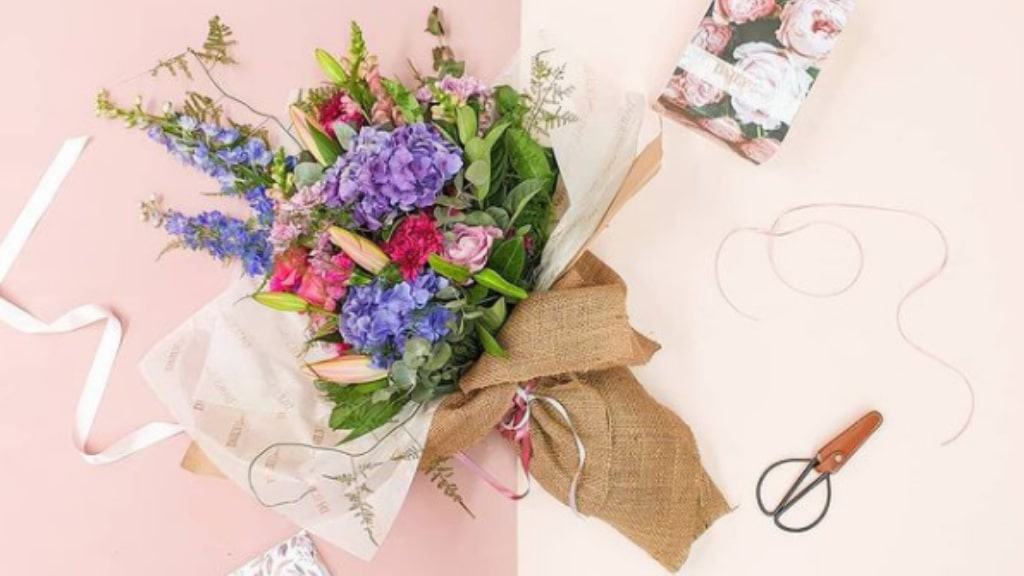 If you want to include a lovely set of flowers together with your hampers, Daily Blooms creates sophisticated and aesthetic flower arrangements. Their hand-tied bouquets display vibrant selections of seasonal blooms, freshly-sourced from farmlands.
As they only use fresh and locally, sometimes imported, grown flowers, you can always find new arrangements. Flower selections and colour palettes change seasonally, giving your loved ones a meaningful and one-of-a-kind gift.
Unlike others, they update the photos on their website regularly to allow buyers to see what arrangement they will closely get.
Their cottage-garden inspired arrangements come with a simple and subtle style that can add pleasing visuals to a home/office. Their creations are also nicely wrapped in their signature, fully compostable hessian wrap apart from their Luxe range.
They have varied floral collections made for birthdays, Valentine's, and sympathy and thank you greetings. You can also add extra gifts to your chosen bouquet — they have gift cards, vases, candles, chocolates, teas, and even body and skin care products.
For flower enthusiasts, they also provide subscription services where you can receive a delivery weekly, fortnightly, or monthly.
Customer Reviews
Many customers were highly satisfied with the overall services of Daily Blooms. They said that they received gorgeous scented bouquets and on-time delivery as well.
A customer posted this feedback:
"Just WOW. Our wonderful friends ordered us a large bouquet for our wedding. We came home to them and were blown away. They were HUGE. We had to buy a new vase and even still we had to split them between two vases as there were just so many flowers. The most beautiful bouquet I have ever received, we will be ordering from Daily Blooms for all our future floral needs. Thank you!"
6. Manflower Co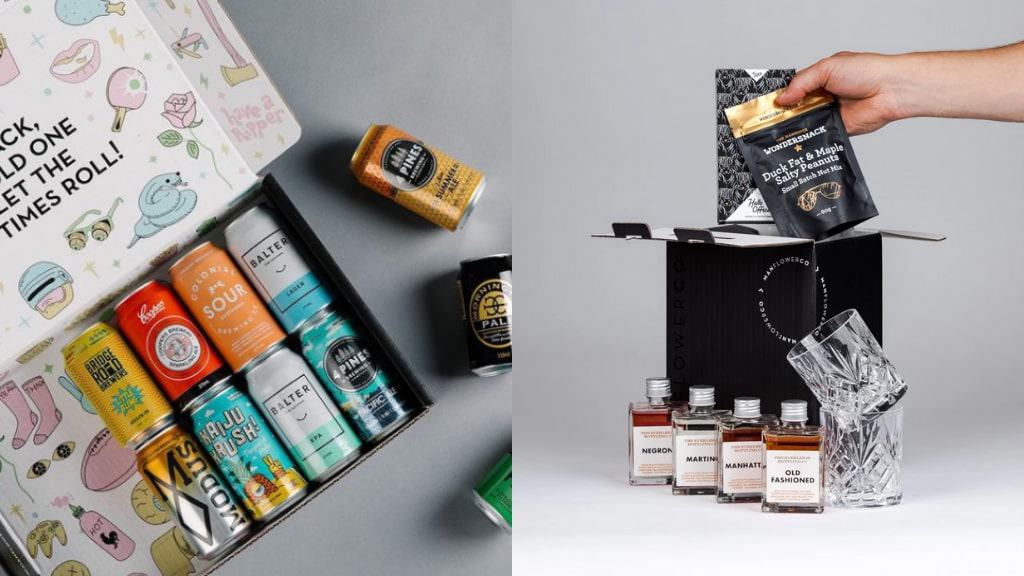 Searching for gift ideas for your father, husband, son, boyfriend, or male friend/colleague? If so, then Manflower Co is the right place for you. This shop features unique combinations of gift items that men will love.
Manflower Co focuses on offering gift packs that celebrate moments in life. This includes their signature beer collection, the key companion to every moment!
Their bestsellers feature Australian craft beer, whiskey, and cocktail gift collections that are bundled up in their signature matte polished boxes.
To make your gift more memorable, these fine and refreshing beverages can be paired with additional items.
You can choose from among beer holders, coasters, drinking glass, and more. They even have unique collections for specific groups of people like travellers, golfers, adventurers, etc.
They also have sweet treats and snacks like chocolate, nuts, jerky, and so much more. Other essential items like socks, toiletries, hammocks, and sneaker cleaning kits are also included.
Apart from men's gifts, they also have corporate gift selections that can help boost the company's brand recognition. Their creative team offers high-quality gift boxes tailored to a company's project, style, and occasion.
They've done work for clients withseasonal events, client appreciation, milestones celebrations, and even staff rewards.
If you're looking for fancy standalone gifts, they also have the Top Shelf collection featuring glassware sets, bottle openers, dock wireless chargers, Bluetooth speakers, neat desk organisers, blankets, wallets, stationeries, sling bags, and work folios.
If you already have an ideal theme in mind, you can also request a fully customised gift box. Just choose your preferred gift packaging, then you can start adding items from their catalogue.
Customer Reviews
Many customers recommended the services of Manflower Co because of the responsive and helpful staff. They also liked the large beer selection, great tasting notes in each package, and fast and on-time delivery.
This is why they were truly convinced that the shop has the best gift delivery in Melbourne. A customer wrote these remarks:
"Great gift ideas for the men in your life. My husband loved it! It would be great if you could pick the date of delivery, but other than that, we were extremely happy with the service. I will definitely recommend this service to others.
7. Box of Goodies

Box of Goodies is a gift shop that offers a wide range of gift boxes in which clients may choose from their online shop of ready-made gifts or order a gift box that is specified by the client themselves for their loved ones.
They have a wide selection of themed gift boxes such as neutral baby goodies, bath goodies, birthday goodies, farewell goodies, wine goodies, crochet goodies, and self-care goodies among others. They offer delivery services in Melbourne from Monday to Saturday except on public holidays but they offer a cut-off for their same-day delivery on the said dates.
They also accommodate and even encourage their clients to add a special item to their customized box of goodies and are packed securely in order that it arrives in tiptop shape to the recipient. Furthermore, they have a comprehensive and no-hassle procedure when it comes to delivering multiple boxes and in which the client may reach out to them anytime through their hotline.
We recommend this gift shop for customers looking for a highly customizable gift box for their loved ones and hassle-free transactions accompanied by superb professional and accommodating staff that is eager to answer any queries regarding their services.
Customer Reviews
Here are some reviews from their clients:
"Received a box of Goodies today. Treated ourselves for Covid Lockdown 2.1. Loving all the options we chose for the Create Your Own box!"
"It's a very easy site to navigate – you can choose your own contents and the products are top quality! 100%"
8. Jacob & Roy

Jacob and Roy is a gift shop that specializes in incorporating nature in the very comfort of each home in which their gifts capitalize and have a unique niche for clients in Melbourne have a new and modern style for their homes and gifts that will last them for life – may it be given of received.
They have a wide range of a selection of plants that will surely suit any home environment the client wishes to spice up such as the Parlour Palm, Watermelon Peperomia, Monstera, Mini Mon, Hoya Carnosa, Dragon Tail, Swiss Cheese Vine, and the Dragon Scale among other variations. They are also able to style and prepare the said plant gifts for events such as those corporate in nature.
The staff is also accommodating and offers instructions specifically for each plant and how to better maintain and take care of it for the ease of access of the client. Furthermore, they also cater custom orders for the said plants and they also have an available return policy for their plants and can be seen on their website for more information.
We recommend this shop for clients looking for a gift shop that offers a wide range of premiere plants that will surely suit each of the client's needs and preferences both as home decor and a specific gift.
Customer Reviews
Here are some reviews from their customers:
"Lovely and unique product! My niece loved her 30th birthday gift. Beautiful pot and packaging and excellent service. Highly recommend for that special gift ?"
"Such a GREAT little local company! So glad I found them while scrolling through Instagram, such a nice and different gift to send to friends. The quality of the plants and there pots is simply beautiful, and the packaging is also really lovely. Would 10/10 recommend to a friend! Always nice to support local, especially when it's such great quality."
9. Garner Plant Delivery

Garner Plant Delivery is a shop that offers a wide range of potted plant delivery in which they ensure that these are all offered at generous amounts and affordable rates. They make it a point that the plants that they offer and sell are all healthy prior to the delivery and are easy to care for once that it is delivered to your doorstep.
They offer same-day delivery across Melbourne in which they have an excellent catalog of plants from which you can choose for your personal indoor greenery or for sending to friends with a heart for plants. Should you want to get updates and exclusive offers and discounts – the company also offers A Garner VIP which you can avail of by simply sending your email on their website.
You can also shop under the pressure of budget as they have a selection for plants under $50 to that of under $200. Furthermore, if you wish to shop for a plant for a specific occasion then the shop also offers gift bundles and hampers that are specifically crafted to spoil the ones you love with fresh and healthy plants.
If you are looking for a distributor of plant gift bundles then you should try to visit their website to take a good look at their catalog and see if any of their plants spark your interest.
Customer Reviews
Here is a review from a customer:
"The simple act of delivering a plant during the Covid19 chaos enabled me to give my daughter a gift of love from Perth.Honestly, I can't thank these guys enough.
When Stage 4 Covid restrictions were announced this week, I wanted to give my daughter (who is living in Melbourne) a gift to keep her spirits up. Setting my alarm for Perth time, I rang to make sure they were still trading and spoke to Meredith. She was so helpful (despite having to adjust to the shutdowns herself), and I then went online and made the purchase of the Little Devil. It was all so easy.
Less than 2 hours later my daughter sent me a pic of her new plant – appropriately named Wilson for the isolation she was about to undertake.

Thanks guys for being so AMAZING and showing why we all should support small businesses during this pandemic."
10. Pookipoiga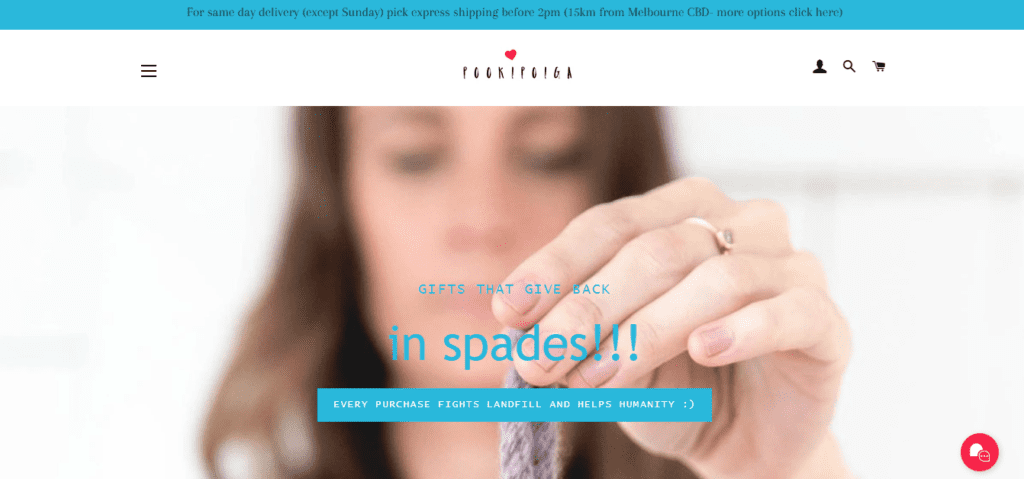 Pookipooiga is the perfect gift store if you want to buy environmentally friendly products. Even though they have only been operating for two years, their small actions are already making a difference.
A great thing about them is how extensive their range of products is. Additionally, their price range can almost fit into anyone's budget.
If you are having trouble looking for unique gifts, browsing their website may solve your problem. No matter the preference of the person you are gifting, they will surely love Pookipooiga's products.
If you are looking for gifts related to clothing, ceramics, greenery, and the likes, they have it all. Aside from individual products, what's amazing about them is that they also have hampers and gift packs
11. Gift a Plant Melbourne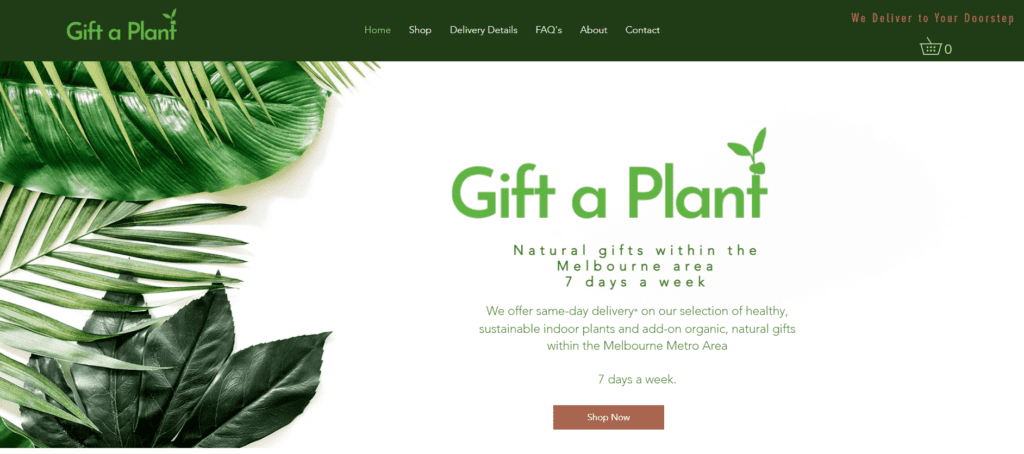 Gift a Plant Melbourne is an online plant gift delivery service that encourages gift givers to go green. Their offerings are perfect for plant lovers and people who value environment-friendly products since they're handpicked by a dedicated team of plant enthusiasts.
Another thing we like about this one is that they source their plants and natural botanical gifts from local growers and suppliers within Australia, so it adds that homegrown and special touch to it.​
They also ensure that the plants you get are healthy, fresh, strong, and absolutely ready for the journey to the lucky receiver of your gift.
Since it's an online service, it doesn't have a physical store. But it guarantees accessibility across all of Melbourne.
12. Flowers for Jane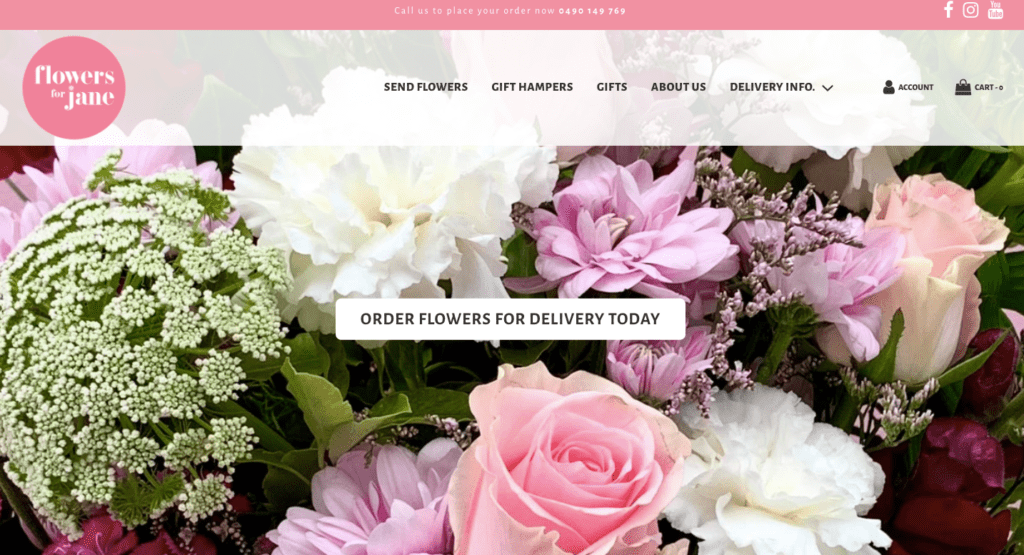 Flowers for Jane opened online in 2014. It's your go-to online florist in Melbourne and surrounds providing affordable, simple, on-trend flower bouquets and vases filled with fresh seasonal flowers.
Every arrangement they create that day uses their lovely "florist choice blooms" or a "mixed all-sort," making ordering flowers online straightforward. Allowing their florists to select the freshest and nicest looking blooms for your bouquets.
Their goal is to create a trusted and reputable flower brand built from over 25 years in the industry and customer feedback.
13. The Little Market Bunch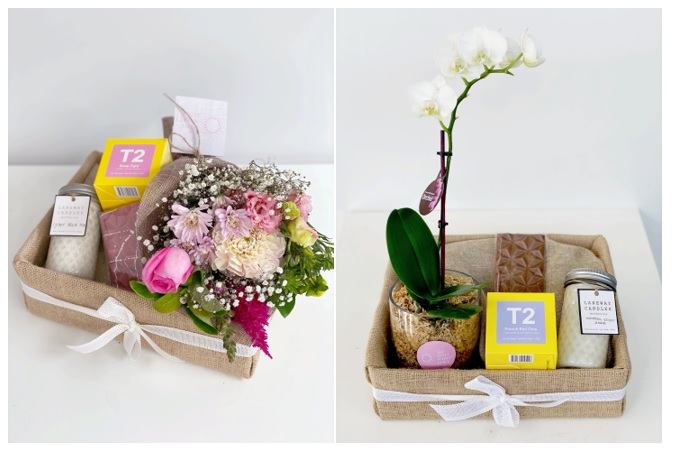 The Little Market Bunch is a company that flower and gift shop that provides its clients with simple and vintage-themed creations at affordable rates along with the freshest quality as well.
Each day, clients can expect that they area le to come up with a new variety of gift and flower bundles to spice up their gift-giving experience and deliver excitement all throughout.
Though taking this into consideration, some of their seasonal and specialized selections may be only available until stocks last or until a limited time only.
They are also highly reviewed on multiple platforms which shows just how many new and recurring clients have time and time again trusted them and were satisfied with their customer service and products.
Overall, with an informative website and secure order and payment feature, we highly recommend them to clients in the area who intend to give their loved ones a carefully curated and exciting gift basket of their choice.
14. Yellow Duck Baby Gifts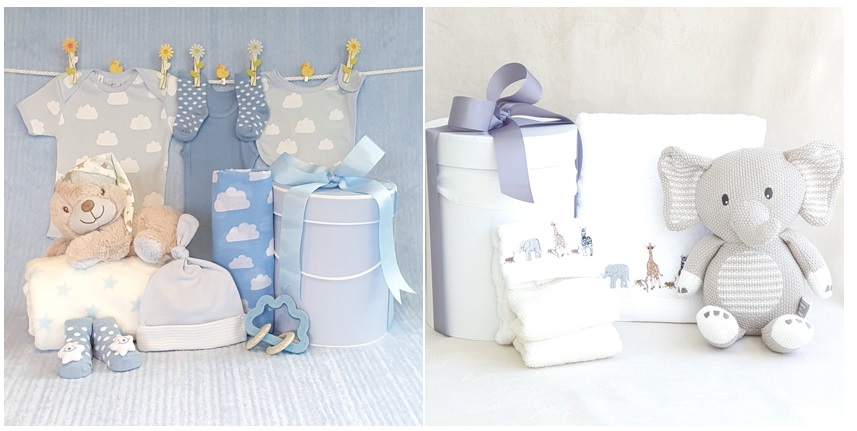 Yellow Duck Baby Gifts is a shop that offers clients a wide variety of personalized hampers that are specially crafted for infants and all events to celebrate the lives of these little ones. Established back in 2007, their founders have garnered over 30 years in the industry so clients can expect expert advice from them from ordering to delivering.
From baby blankets to gift hampers for twins and triplets, their products are reliably sourced and made very safe for babies so clients won't have to worry about their safety.
Furthermore, they are able to accommodate same-day deliveries Australia-wide given that clients order within the said cut-off time in the day.
However, due to COVID-19 restrictions, their physical retail store may be under some limitations but interested customers can easily contact them for more guidelines.
Overall, with their comprehensive baby hamper selections, accommodating customer service, and highly reliable online platform, we recommend them to individuals looking for unique and caring gifts for their infants.
Customer Reviews
Here are some reviews from their clients:
"I want to thank you Yellow Duck, I received this little pirate hamper for my baby boy Sebastian, he loves to cuddle the comforter and the clothing is of high quality this was an awesome surprise when I opened the hamper, great gift."
"This gift hamper was absolutely perfect for a friend's baby shower. She had chosen not to know her baby's gender, so the neutral grey colour scheme was ideal! Thanks so much, will be buying from you again!"
15. Stellar Gifting

Stellar Gifting is a gifting company that gives clients a memorable gift experience to clients may it be for personal purposes or in corporate settings. Known for their amazing gift service, they have since then had several corporate partnerships with well-known companies such as Pinterest, Spotify, and Accenture among many others.
We like that their products are also sustainably sourced and comprehensive so that clients can have items not short of what they paid for and deserve.
Though note that they only accommodate same-day delivery services for clients living in Metro Melbourne and for those living outside the said area may take longer if not the next day.
Furthermore, we like that their packaging and boxes are reusable to promote less waste and an eco-friendlier approach from the company to their clients.
Overall, with their professional customer service, carefully curated gift boxes, and speedy delivery, we highly recommend them to clients in the area looking for sustainable gifting options.
16. Young Willow
Young Willow™ offers the perfect gifts for the arrival of a new family member with their various baby and toddler items and hampers.
Of course, they have options to treat mums to a few luxuries as well.
We love how we have the option to choose between pre-made offerings (hampers) or customising our own for it to be more personal.
We also adore their packaging! All their products are packed in such a way that they arrive in style.
What's more is they have express shipping and same day deliveries depending on your location.
If you're looking for more reasons to go for them, we find their customer service to be impeccable.
With quality products and service, there's no way we're going to keep them a secret!
Look out for their flagship store opening in Ascot Vale in October 2022.
Customer Reviews
Here are some reviews from their clients:
"First time buying something from Young Willow and it was fantastic. I'd left things to the last minute but the team was super helpful and helped put together a custom gift box on the spot. Great customer service, great quality products. Will definitely be buying all future baby shower presents from here!"
"This was my first purchase from Young Willow and definitely won't be my last. Emily responded to my query and reassured it will be delivered before my deadline. I ordered it on Monday and was very surprised to have received it the very next day. The box was beautifully packaged and the gifts I ordered was loved by my friend. Very impressed with the products, service and packaging!"
17. Fig & Boom
Fig & Boom is a flower shop that provides clients with fresh and fashionable flower arrangements perfect just for any occasion and to get the message across to the recipient. Furthermore, they also hold flower arranging and styling events so that individuals interested to pursue florist skills could schedule.
We like they employ an expert team of professionals who have an excellent sense of detail and are very meticulous when it comes to curating each flower arrangement for each client.
Apart from this, they are able to accommodate deliveries from all parts of Australia but unfortunately, they cannot currently accommodate international orders.
Open most days of the week and on public holidays, they also have an exceptional plethora of products that can complement their floral arrangements to make the package much more memorable.
Nonetheless, with their responsive and professional florist team, secure modes of payment, and delivery carriers, we strongly recommend for clients in the area looking for bouquets to check them out.
FAQs About The Best Gift Delivery in Melbourne
____________________________________________________________________________
And there you go with the shops that do the best gift delivery in the city! Have you already decided which one to go to for gifts for your family, friends, or even for yourself? Tell us all about it!