Flowers as gifts will never go out of style. In the right hands, a florist can make their natural beauty shine. In the wrong hands, customers can suffer through dull and wilting blooms. In this article, we grouped Singapore florists based on their strengths. Some excel in flower delivery, others in weddings and events, and some are known for beautiful retail products. We review pricing, products and quality of service to help you choose the best Singapore florist for your needs.
BEST ONLINE FLORISTS
Flowers and Kisses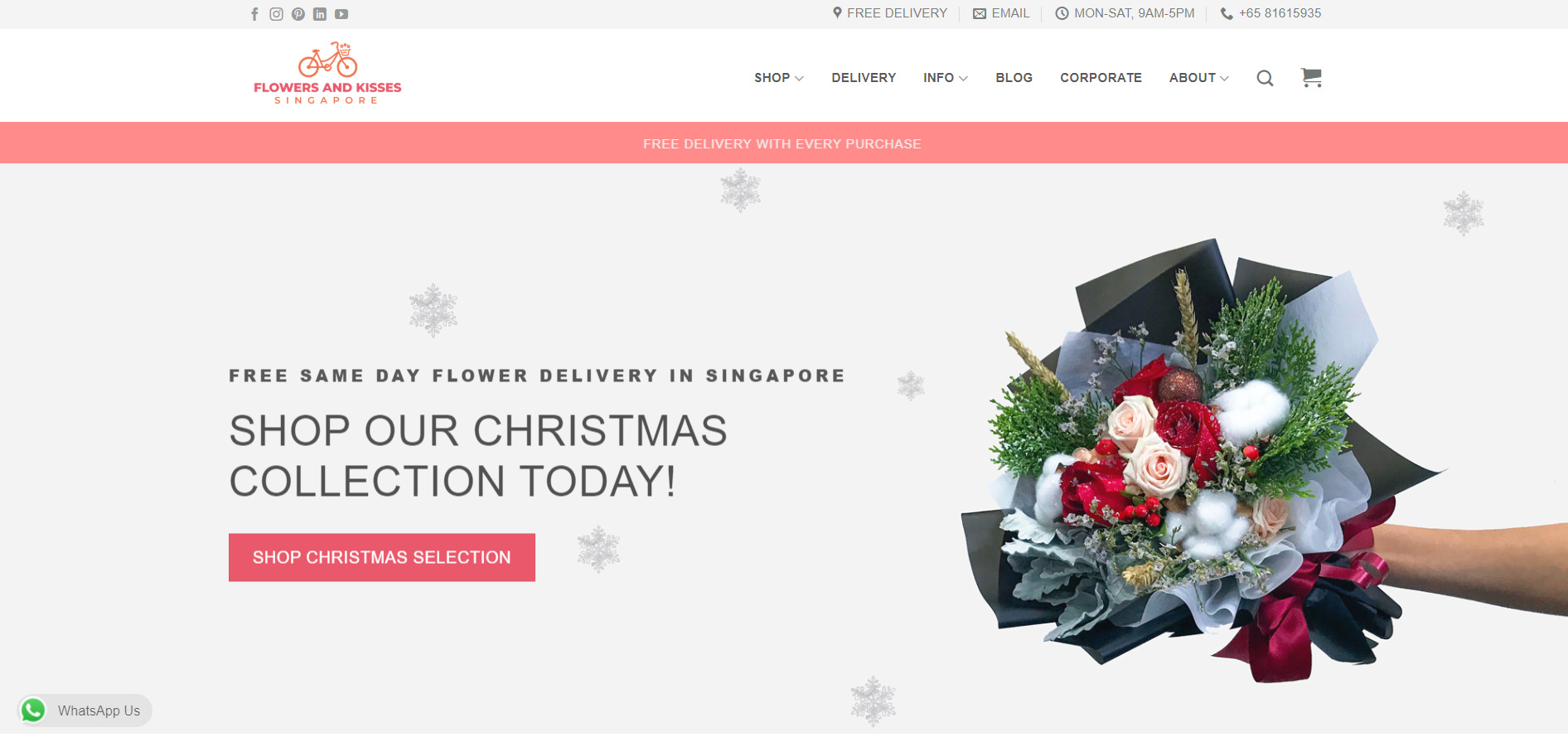 Flowers and Kisses founder Damien got his love of flowers from his mother who was a gardening enthusiast. He turned this passion into a profession through floristry. His goal for his flower shop is "to sell quality and stylish floral bouquets at an affordable price." His passion and business acumen work quite well with many satisfied customers and hundreds of positive reviews.
Pricing, Products & Service

Thoughtfully crafted bouquets and arrangements below $30
Flowers and Kisses offers very affordable flower arrangements. For just $24, you get a beautifully wrapped single-stem rose with an assortment of crisp, white Baby's Breath and framed by a beautiful, green foliage. From this simple item alone, you can tell a lot of care and attention to detail goes into crafting each product.
Budget-friendly, bespoke bouquets
Flowers and Kisses does not constrain themselves with their catalogue. Customers are free to request for one-of-a-kind creations to make their floral gift extra memorable. Simply let them know your preferences and they'll work within your budget to create something truly worth your money. Previous customers attest to this. Stephen Ng shared:
"This is my second time getting flowers from here and the exprience so far has been fantastic. For someone who's as clueless as I am about flowers, the staff here couldn't have been more helpful. All I knew was a couple of my girlfriend's favourite flowers and they turned that into an amazing bouquet! They even threw in afew exotic flowers that made the bouquet look more complete and all within my budget as well! Definitely my go to florist for any occasion." (via Google Reviews)
Prompt and free same-day delivery island-wide
You don't have to worry about exorbitant delivery fees because Flowers and Kisses offers free delivery island-wide in Singapore. Plus, if you order before 4pm, your flowers will be delivered within the day–no extra charge. Whenever they can, they also accommodate requests even after the same-day cut-off. Here's a review from Rachel Lee:
"First time ordering through them. The online order process was a breeze. Last minute change on delivery date. Called to change date of delivery and was greeted by helpful staff who said they could send the flowers on the same day I ordered though the delivery on that day had closed. Flowers sent was gorgeous and it made my friend's day. Thanks much Flowers and Kisses! Thumbs up for you guys and will definitely order from you again." (via Google Reviews)
Friendly, easy and hassle-free transactions
A lot of their positive reviews and feedbacks mentions friendly and accommodating staff as well as problem-free transactions. This goes for both in-store and online purchases, hence a number of them are also returning customers. In Google Reviews, Sharon Wong raved about the "stunning" flowers, adding that the "ordering process were swift and they were really polite and friendly." Joyce Lim wrote about the "prompt delivery with speedy replies with customer service and nice delivery man." Jack Kanoff echoes the same sentiments, sharing his first-time buying from them and noting that "they're professional, responsive, flexible and friendly."
Flower Chimp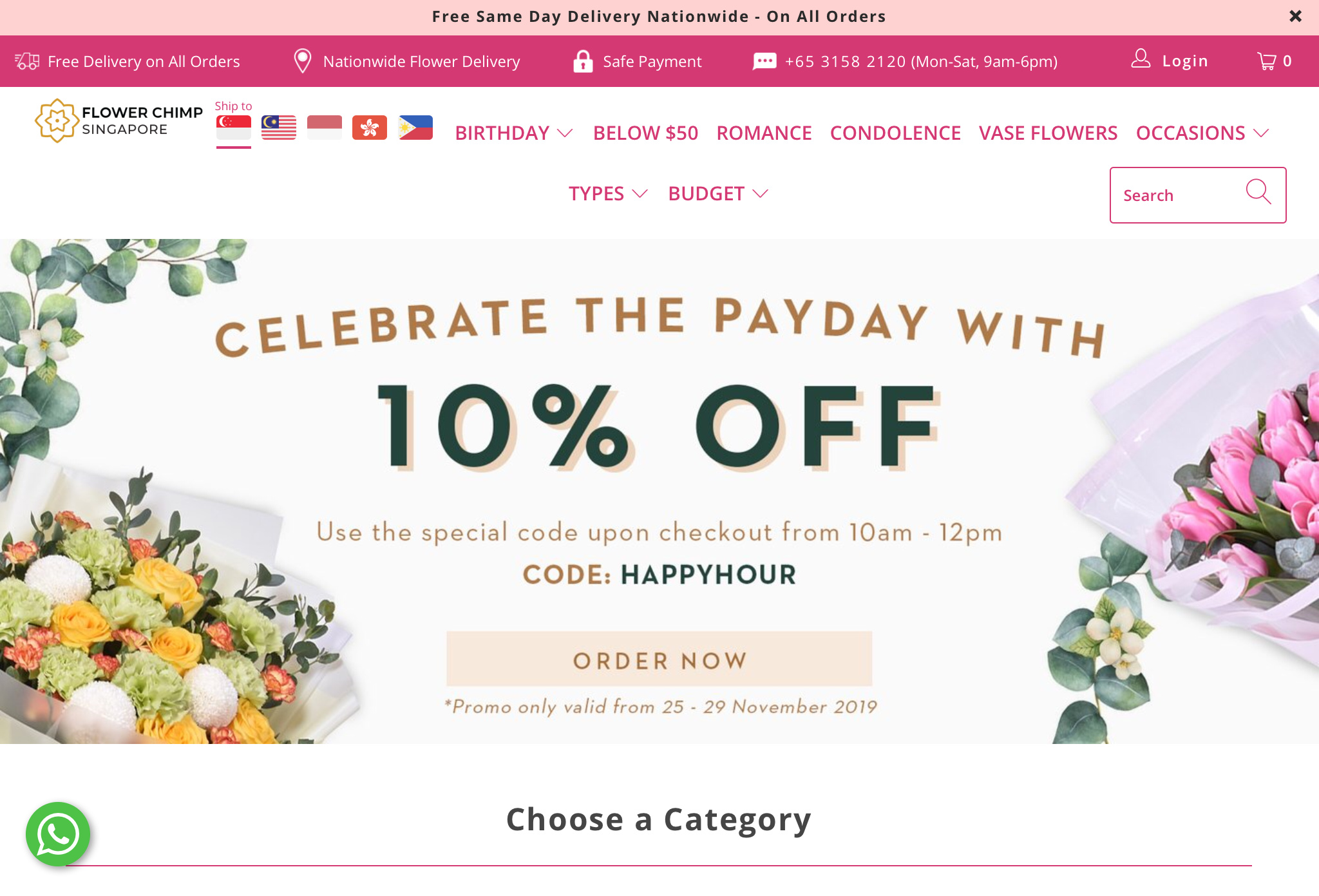 Flower Chimp is an established online florist. They provide flower delivery in Singapore, China, Malaysia, Hong Kong and the Philippines. This means you can use their online platform if you are overseas to ship fresh, cut flowers to loved ones in those countries. Their history and experience also ensures a level of professionalism and efficiency in their service. Of course, a good system is essential since they receive orders from all parts of the globe. Thankfully, their safe and secure platform allows for fuss-free purchases. Plus, their "Flower Chimp Guarantee" ensures unique freshness, superior flower quality and competitive value of every single order. This online florist is best for customers located outside Singapore as well as busy people who have no time to shop in-store.
Pricing, Products & Service

Large selection with bouquets below $50
Their wide selection and large catalogue accommodates a wide range of budget, from below $50 to above $150. In lieu of personalised and bespoke services, customers can filter their online selection by type of flower, arrangement and occasion in order to find the perfect product for the occasion without blowing their budget.
Prompt and reliable free flower delivery
Even though they get purchase from around the globe, the flowers get delivered to the intended recipient on schedule. Zolta through a Google Review commended their commitment to a successful delivery despite hiccups. He wrote, "Same day delivery and I've gave them wrong address and they messaged me for more info and next day, Order Delivery 10/10 they also sent picture for approval." Here's another customer review to attest to their reliable delivery:
"Ordered for a birthday. Honestly was a bit skeptical as it was my first time using this service with all the reviews on internet. However, the flowers arrived within the allocated time slot on their website. Plus, the flowers are still fresh! The delivery person was also able to find the house as it was a bit tricky which worried me for a while." (via Verified Reviews)
Flowers are as advertised
Online florists can be tricky especially since customers have to rely on the images presented in their catalogue and hope that the purchase will be as good as the photos. For Joyce, the product lived up to expectations, writing on Google Reviews: "I ordered flowers from the UK and was delighted that they arrived looking every bit as good as the website promised." Sarah Ismael had the same experience, sharing "Delivery was on time, the bouquet was just as pictured and absolutely elegant!"
Commendable customer service
When there are issues, Flower Chimp can also be trusted to respond quickly to remedy the situation. For instance, Melvin Goh shared on Google how customer service responded to his concerns: "Happy to share that Flower Chimp takes the trouble of listening to my woes about the flower and took the necessary steps to rectify the issue to our satisfaction. Well done Flower Chimp!!!" Ruslan Kolotogin shared another:
"There was some misunderstanding with the flowers composition and the guys didn't inform me about it. Guys apologized later on. Over all very fast response, definitely gonna order more." (via Google Reviews)
SOCIALLY CONSCIOUS SHOP
Floral Garage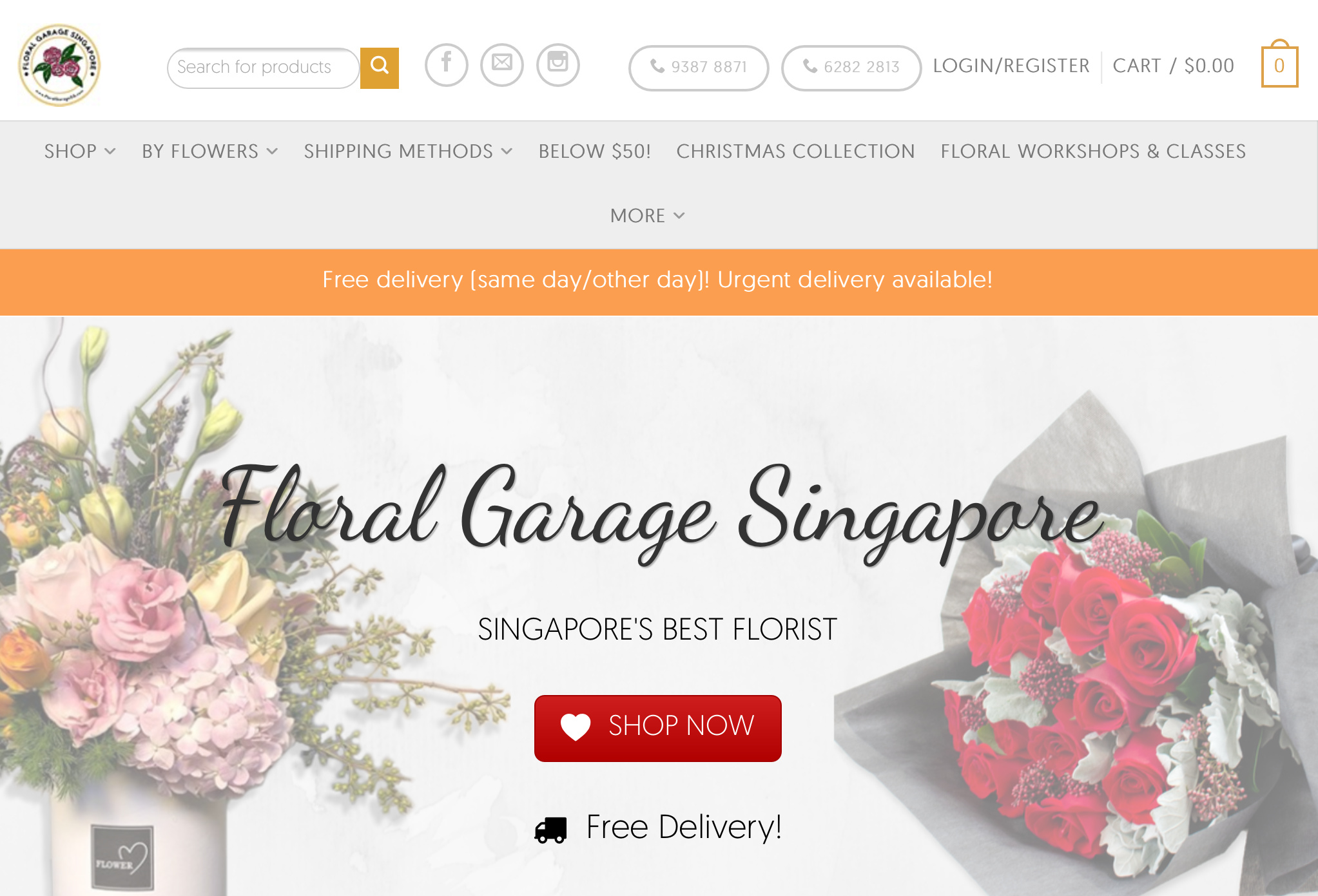 Floral Garage manages to stand out from other Singapore florists because they give back to the community through activities aimed at helping and empowering the less fortunate. If you want your money to contribute to a good cause, then Floral Garage is right up your alley. Plus, it helps that their products are affordable, thoughtfully crafted and delivered free in Singapore.
Pricing, Products & Service

Hand bouquets for less than $30
You don't have to spend a lot of money to buy a bouquet at Floral Garage. They have products priced at $30 and below. At $29.90, you get a beautiful sunflower bouquet to cheer up your significant other or a friend.
Loyalty rewards programme
To reward their customers, Floral Garage has a loyalty programme in place. With every dollar you spend, you will earn 1 Coin which you can then use to redeem rewards from their partner merchants or use them for discounts on your future orders. Becoming a member is free, so you can start collecting Coins with your first order.
Free same-day delivery
Orders placed as late as 5pm are still eligible for same day delivery. Plus, if you're in a hurry, urgent and express flower delivery can also be accommodated.
Hampers, party supplies & gifts
This is a one-stop shop for your gifting needs, so their products are not limited to flowers. You can also find hampers for various occasions, soft toys as well as party supplies to help you set up and mount a fun party for a loved one. You can buy the supplies and DIY it. They even have a minimalist party package for a simple get together.
Freestyle and customised bouquets
Sometimes, customers may be looking for something more specific which may not be available in their catalogue. For this case, you can ask them for customised bouquets. Glenn Forbes (via Google Reviews), who ordered a custom bouquet, commended Floral Garage, saying "I am based overseas and they responded to my query promptly. My order was a custom order and they were more than happy to accommodate, showing patience and a willingness to make changes during the process." On the other hand, if you can't decide what to get, simply leave it up to their expert florist to craft a freestyle arrangement. Christine Lim (via Google Reviews) who ordered a freestyle bouquet, shared: "Based on a brief description of the recipient, Flower Garage got the style spot on. I am confident of their judgement and ability to interpret my needs."
Community activities, floral workshops & classes
Floral Garage is not all about selling flowers and gift items, they also share their knowledge and skills through their charity events, floral workshops and classes. For anyone who wants to learn a new skill, looking for a team-building activity, or perhaps you're just searching for a new experience with loved ones, you may want to inquire about this service. Their most recent "Give Back" activity was during International Women's Day where they held a non-profit floral arrangement workshop for low-income women and mummies. Other events they mounted in the past include raising funds for animal shelters and donating materials for flag days.
WEDDING & EVENT FLORISTS
Sing See Soon Floral & Landscape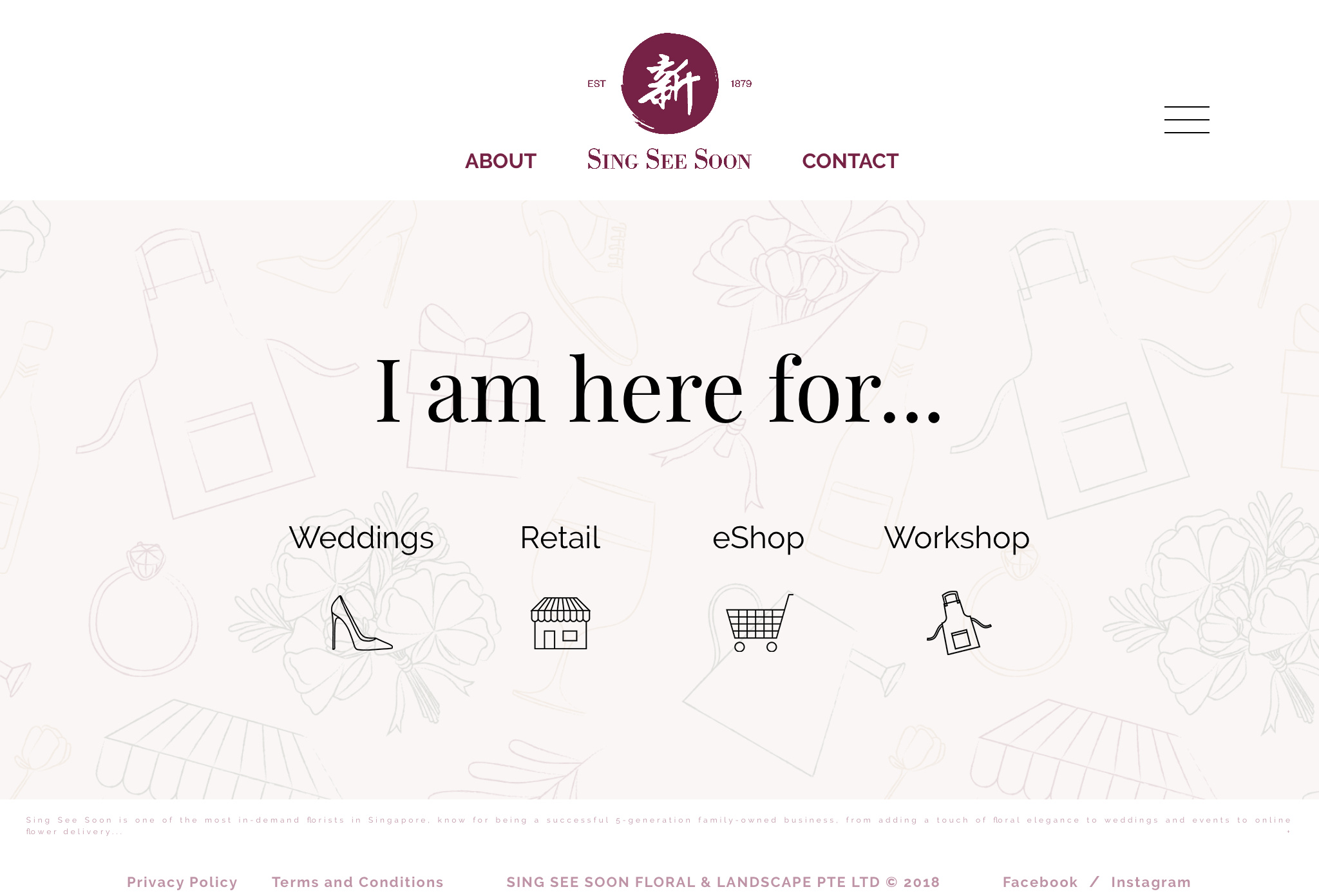 Sing See Soon is already an established company in Singapore. This is a full-service florist including Weddings, Retail, eShop and Workshop. Since 1987, this family-owned business has bloomed into being one of the most in-demand florist and landscaping experts in Singapore.They're trusted by high-profile clients, including aristocrats and celebrities.
Pricing, Products & Service

Turns dream weddings into reality
A wedding is a one-in-a-lifetime. At least, that's the hope. So, you better pray things go smoothly or the dream will be ruined. Fortunately, Sing See Soon has a long history and experience in providing floral services to weddings of any scale. They are currently importing over 100 types of flowers from New Zealand, Holland, Taiwan, China, Malaysia, India and Bangkok. This is enough to deliver breathtaking arrangements and setups for your magical moment.
Their customer profile includes the newest and most prestigious properties on the island and in Asia: Marina Bay Sands, Resorts World Singapore, Capella Singapore, the Intercontinental Hotel Group, the Goodwood Park Group, the Shangri-La Group (Singapore, Jarkarta, Futian), St Regis (Singapore, Bali, Shenzhen), Four Seasons (Singapore, Guangzhou), The Luxury Collection (Laguna, Nusa Dua), and many more.
Everyday florals, landscaping and interior design
Sing See Soon brick and mortar has an area for retail with potted plants and fresh cut flowers to brighten your homes. Their team will be more than happy to provide expert advice. One customer shared, "Beautiful collection of flowering evergreen and bonsai plants. Also you can buy gardening stuff, flower pots, soil, manure, seeds and other related things. Cash and cards both accepted." Of course, they also provide landscaping and interiors if you want a more professional approach to blooming your spaces.
Workshops
Sing See Soon organizes workshops for hobbyists, corporate and group sessions. They can customise it to your preferences and needs.
Unique, bold and colourful bouquets
Sing See Soon also has an online shop for your flower delivery needs. Their selection is curated with bold and colourful designs. The arrangements are elegant and crafted by experts, so expect the prices to be on the higher end. Although, based on reviews, their products are well worth your money. You can also buy a Christmas Tree, complete with a disposal service! How convenient is that?
The Enchanted Tree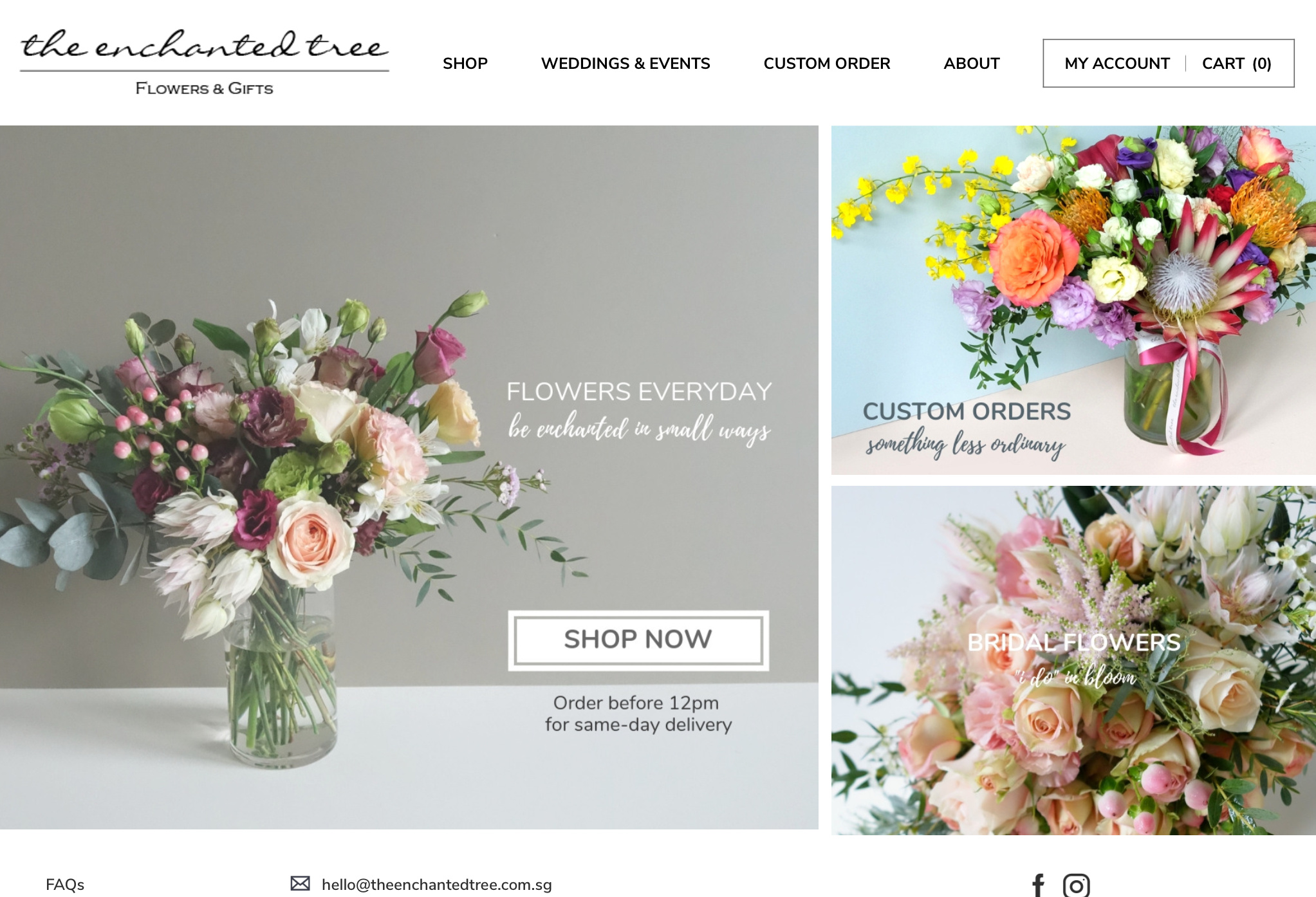 For a more down-to-earth, yet elegant wedding, The Enchanted Tree provides a transparent quotation for your wedding floral needs. This can work for DIY brides since you can just pick and choose which arrangements you need for your big day instead of opting in on a full package. They provide customised bouquets, boutonnieres, corsages, wearable flowers, etc. The same customised touch can be observed in their online shop with a curated selection of beautiful hand bouquets.
Pricing, Products & Service

Budget-friendly, customised bridal flowers
Quality over quantity is evident in The Enchanted Tree's arrangements for weddings and events. They use beautiful, fresh cut flowers to maximum effect. You can conveniently ask for a free quotation online depending on your requirements and preferences, so you know what to expect in terms of costs and designs.
Curated selection of affordable bouquets
Customers can shop for bouquets from their online shop. Despite the limited selection, each one has a distinct style and filled generously with focal blooms. They also have a "Daily Pick" option which is based on the selection of market-fresh seasonal blooms. Meanwhile, the "Surprise Pick" at just $30 is perfect for people who want a bit of thrill in receiving or giving flowers, or if you are simply clueless about flowers. Jennifer Yeo likes their style, sharing:
"My second bouquet from The Enchanted Tree. Probably one of the nicest and most affordable florists around. They have different selections everyday. Only $30 a bouquet with free delivery. If you need a bigger bouquet, you can buy two and combine them together." (via Google Reviews)
BEST FLOWER DELIVERY
24Hrs City Florist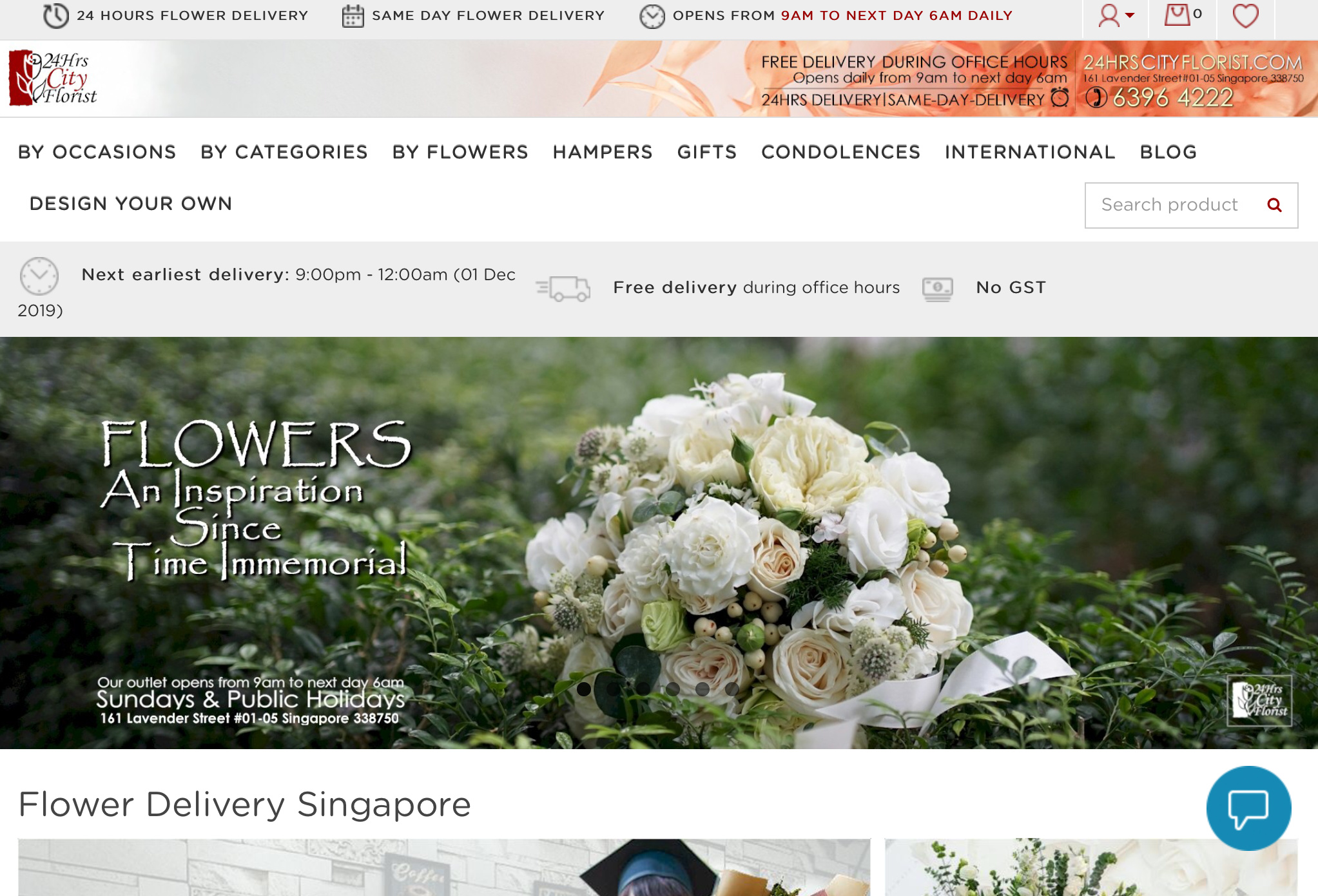 24Hrs Florist is the go-to florist of customers looking for last-minute surprises or forgot a special occasion. To avoid getting into hot water, simply shop online and they will deliver any time of the day. You can even pop in to their store in central Singapore, open at 9am until 6am the next day! Surprise your loved one first thing in the morning or before you tuck in at night. This florist actually started out specialising in funeral flowers. Eventually, they expanded their catalogue to include everything from traditional flower arrangements to trendy designs. They also have food, wine, chocolates, toys and other gift items.
Products & Services

Bouquets, Table Arrangements, Preserved Flowers, Gift Baskets, Soft Toys, Cakes, Plants, Fruit Baskets, Hampers, Corsages, Wines, Chocolates, Health Food, Funeral Flowers

Delivery Fee

Free at certain time slots

Same Day Delivery

Free delivery during office hours, order by 8pm

Express Delivery

–

Price Range

(Bouquets)

$65 – $600

Website

https://www.24hrscityflorist.com/

Contact Details

(65) 63964222

Facebook

–

Twitter

–

Instagram

https://www.instagram.com/24hrscityflorist/
Pricing, Products & Service

24-Hour Flower Delivery
Many customers have been saved by the after-office-hours service of this florist. Eddie Ong, via Google Reviews, thanked 24Hrs City Florist for being open after he overslept. Though the selection at the store was limited, he did note: "beggars can't be choosers! Staff was also extremely helpful in assisting me in the selection. Thank you so much!" Tan Desmond puts it quite succintly with this review: "6am… drink halfway suddenly remember urgent occasion need flowers this is the shop to go to."
Fun, character, arrangements
24Hrs City Florist is also known for their fun, character bouquets. They make anything from Hello Kitty and Cookie Monster to a Minion and even a PokeBall. Fajeli Naim, who ordered a Yoda Bouquet, wrote this review:
"Greeted by the friendly staff..Ordered the Yoda Bouquet however requested for a more colourful flowers instead. To my surprise, it turned out better than expected! Yoda was bigger than expected too. Initially thought it would be a small soft toy. Should have included dimensions in your description but nonetheless the flowers were arranged nicely and they were fresh! My fiancée love it!???Totally Worth it! Thank you so much!" (via Google Reviews)
Little Flower Hut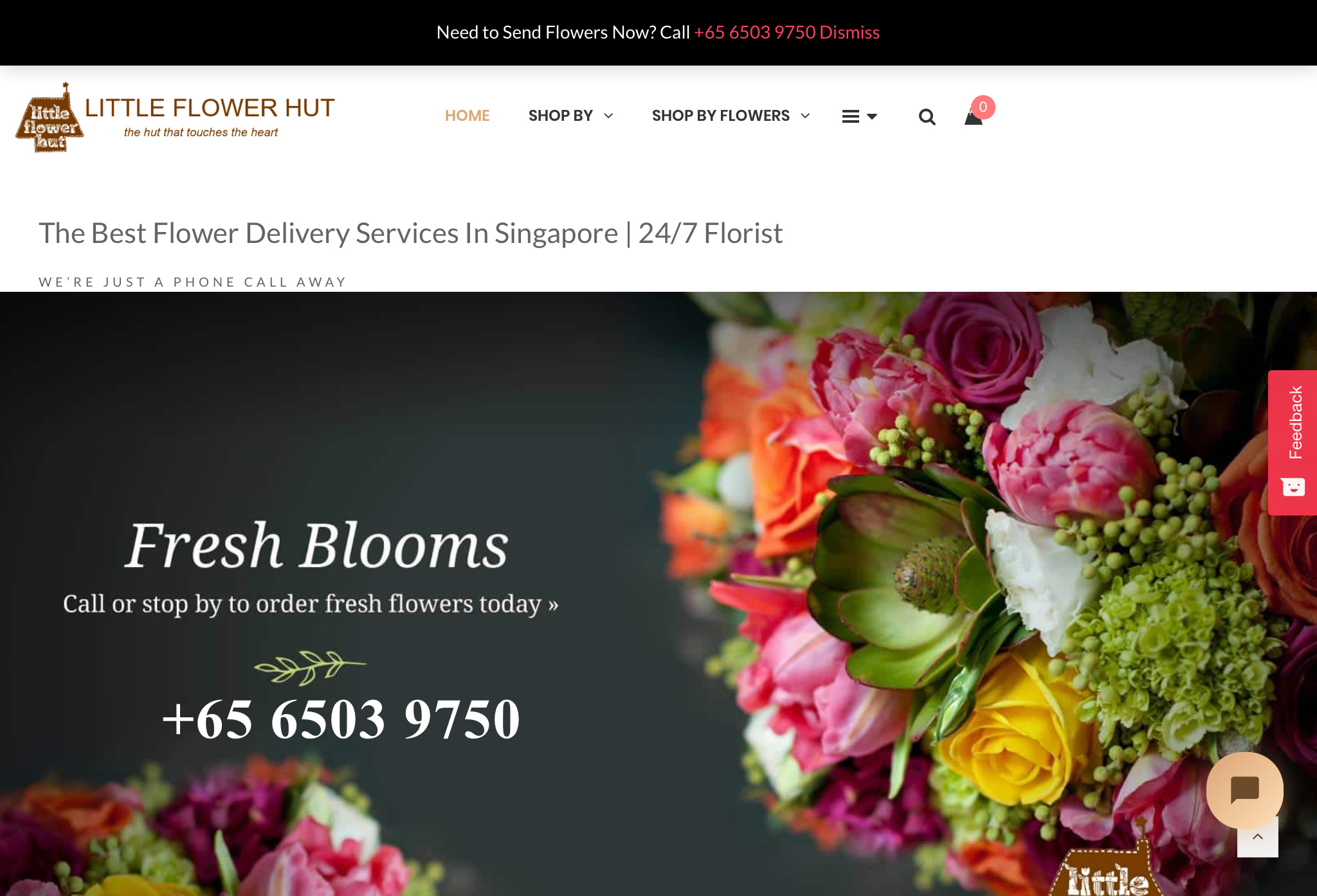 Little Flower Hut is another 24/7 flower delivery service in Singapore. Apart from their round-the-clock delivery, they earned many positive reviews for their beautiful selection, responsive customer service and beautiful products. They offer flower arrangements, gift hampers and plants.
Products & Services

Flower Arrangements, Flower Stands, Condolence Wreaths, Floral Boxes, Bouquets, Baby Hampers, Hampers, Plants, Succulents, Balloons, Events, Workshops, Subscription

Delivery Fee

Free

Same Day Delivery

Free, order by 4pm

Express Delivery

2-3 hours, delivery fee from $30

Price Range

(Bouquets)

$35 – $150

Website

https://www.littleflowerhut.com.sg/

Contact Details
+65 6503 9720 | [email protected]
Facebook

–

Twitter

–

Instagram

–
Pricing, Products & Service

24-hour flower delivery with same-day & express delivery options
If you need flowers and you need them fast, Little Flower Hut's express service will be your saving grace. According to their website, allow 2-3 hours for flower delivery after a successful transaction. Their delivery service is not just fast, they're also one of the more reliable flower deliveries in Singapore. Xu Fan, through Google, called them on an early Monday morning to purchase birthday flowers which they "prepared within an hour and wrapped the birthday cake super nice as well." He ends his review with "very friendly thank you!" In another review, Very Sng wrote: "Happy with the service and flower arrangements even at the last minute and on the weekend before a Public Holiday."
Big bouquets
If a simple hand bouquet won't do, scroll through their selection of Big Bouquets to make a grand gesture. They have large bouquets of fresh cut flowers as well as large quirky creations of teddy bear flower arrangements and other novel creations, like a floral pineapple for prosperity.
Large selection with budget-friendly options (below $50)
They have hundreds of floral designs to cover all conceivable occasions. This also means you can buy a professionally crafted bouquet at $50 and below. The catalogue ranges from a charming bouquet of Baby's Breath ($35) to an elegant flower stand priced at $700. As for the quality, customers generally give favourable reviews. To attest to this, John LimPeh wrote:
"Came across LittleFlowerHut from a friend. which I found tat they are creative and opens to suggestion / opinions on their products. They are precise and also never vail on me when I made my purchases from them. LittleFlowerHut will be my 1st choice for my needes." (via Google Reviews)
FlowerAdvisor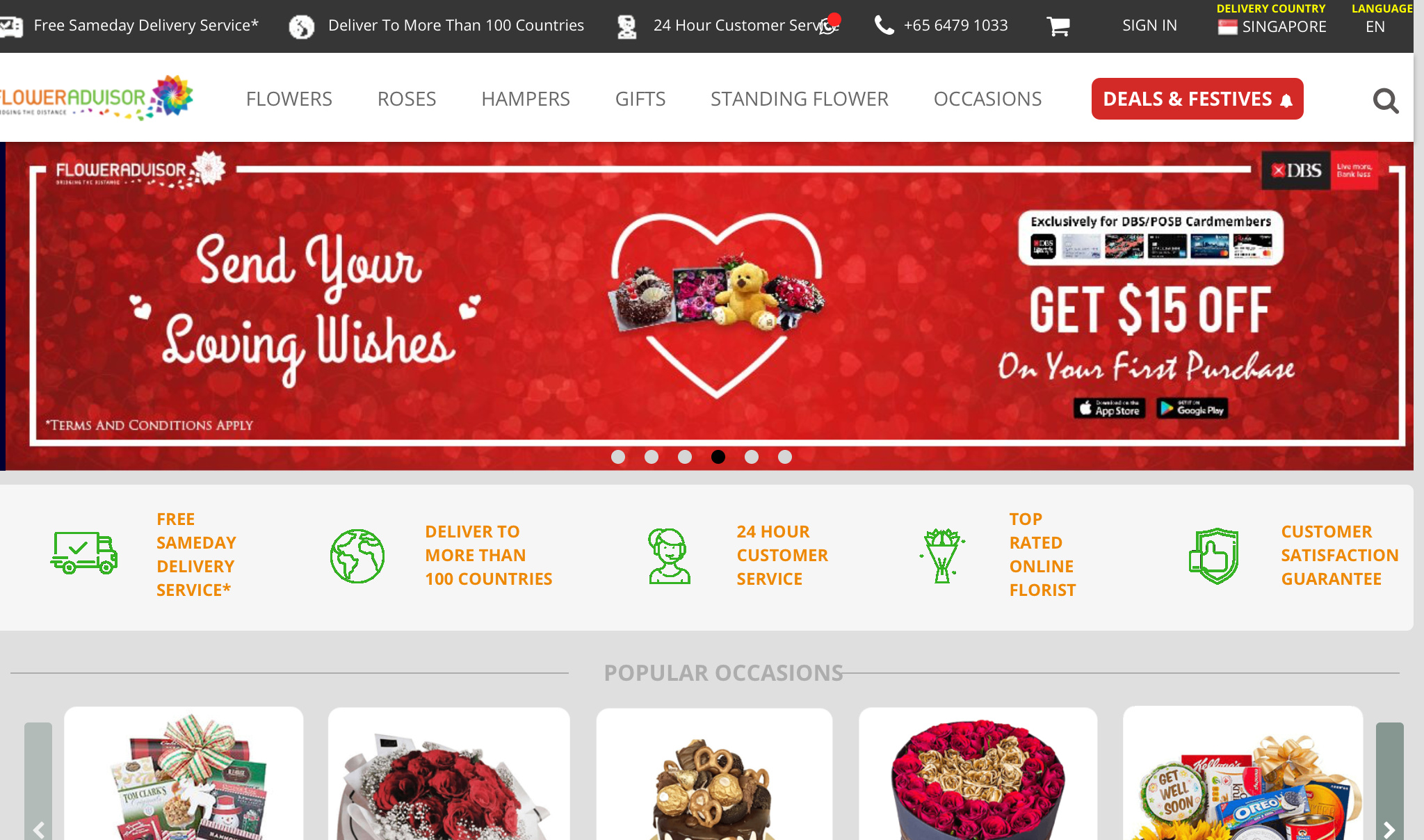 FlowerAdvisor is an online florist with affiliates worldwide. In fact, they deliver to more than 100 countries, in case you are looking for a florist to deliver flowers to loved ones overseas. Or perhaps you are the one based outside Singapore and you want to surprise friends and family in the country. Fortunately, this global network is already experienced and tested in fulfilling orders from multiple countries.
Products & Services

Bouquets, Funeral Flowers, Potted Plants, Table Flowers, Floral Boxes, Flower Baskets, Orchids, Hampers, Gifts, Flower Stands

Delivery Fee

Free

Same Day Delivery

Free, order before 5pm

Express Delivery

Available upon request

Price Range

(Bouquets)

SGD 35 – SGD 1,342

Website

https://www.floweradvisor.com.sg/

Contact Details

+65 6479 1033 (24 hrs)

Facebook

https://www.facebook.com/floweradvisor

Twitter

https://twitter.com/floweradvisor

Instagram

https://www.instagram.com/floweradvisor/
Pricing, Products & Service

Operates 24/7
FlowerAdvisor operates 24 hours a day, 7 days a week. They can also fulfill deliveries on Public Holidays and they accommodate urgent deliveries upon request. This makes them an ideal florist for busy professionals and urgent orders because they will make delivery a priority. Sally, via Google Reviews, describes her experience as "top notch from start to finish." Specifically, she shared that "(t)he site was easy to navigate, the flowers arrived on time and the call to ask if My Mom would be there was great." Even their international deliveries are reliable. Manoranjitham G wrote, "Delivered on schedule even though the delivery was in Malaysia!"
Delivers to more than 100 countries
FlowerAdvisor has expanded their operations to include Asia, Europe, Australia and the US. In Asia, they have operations in Malaysia, Indonesia, Philippines, India, Hong Kong and Singapore. This can be a complicated arrangement for most startups, but not for FlowerAdvisor. Ahmad Nurhakim, a non-Singapore resident, share via Google Reviews: "I have confused to find flower delivery can send to Singapore, because I live in Indonesia, so I just find FlowerAdvisor it's really helpful and gives me assist to choose the right flower for my occasion." Meanwhile, here's a Google Review from a Singapore resident sending flowers internationally:
"Been using this for more than 5 years, good service, convenient and reasonable price. Often I send flower to my friends in Indonesia. So convenient, go to Flower Advisor website, choose flower, fill address, make payment. Done! I'm comfortable with them, coz sometimes last minute I need to send flower, they were able to deliver. They even will send the picture of the flower and picture of the receiver as proof. So I was satisfied with their service. The only thing need to improve is the variant of flowers need to be more creative and varieties. The customer service also very attentive to our inputs, they are trustworthy!!!! Highly recommended!!!"
Wide range of floral products and gifts for varying budgets
Just because flower delivery is FlowerAdvisor's strength, that doesn't mean the quality of their products are compromised. In fact, they not only have a wide range of floral designs to cover all major holidays and occasions, they also have affordable options for customers who may not have the budget to purchase premium flower arrangements. Plus, their products live up too the photos on their catalogue. Here are a couple of reviews from customers:
"The flowers were exactly like in the website and the delivery was on-time. Also, there are wide choices of flowers collection." – Nadya Budianto (via Google Reviews)
"Item exactly same with the website, affordable price, customer service really helpful." – Alpen Yap (via Google Reviews)
Xpressflower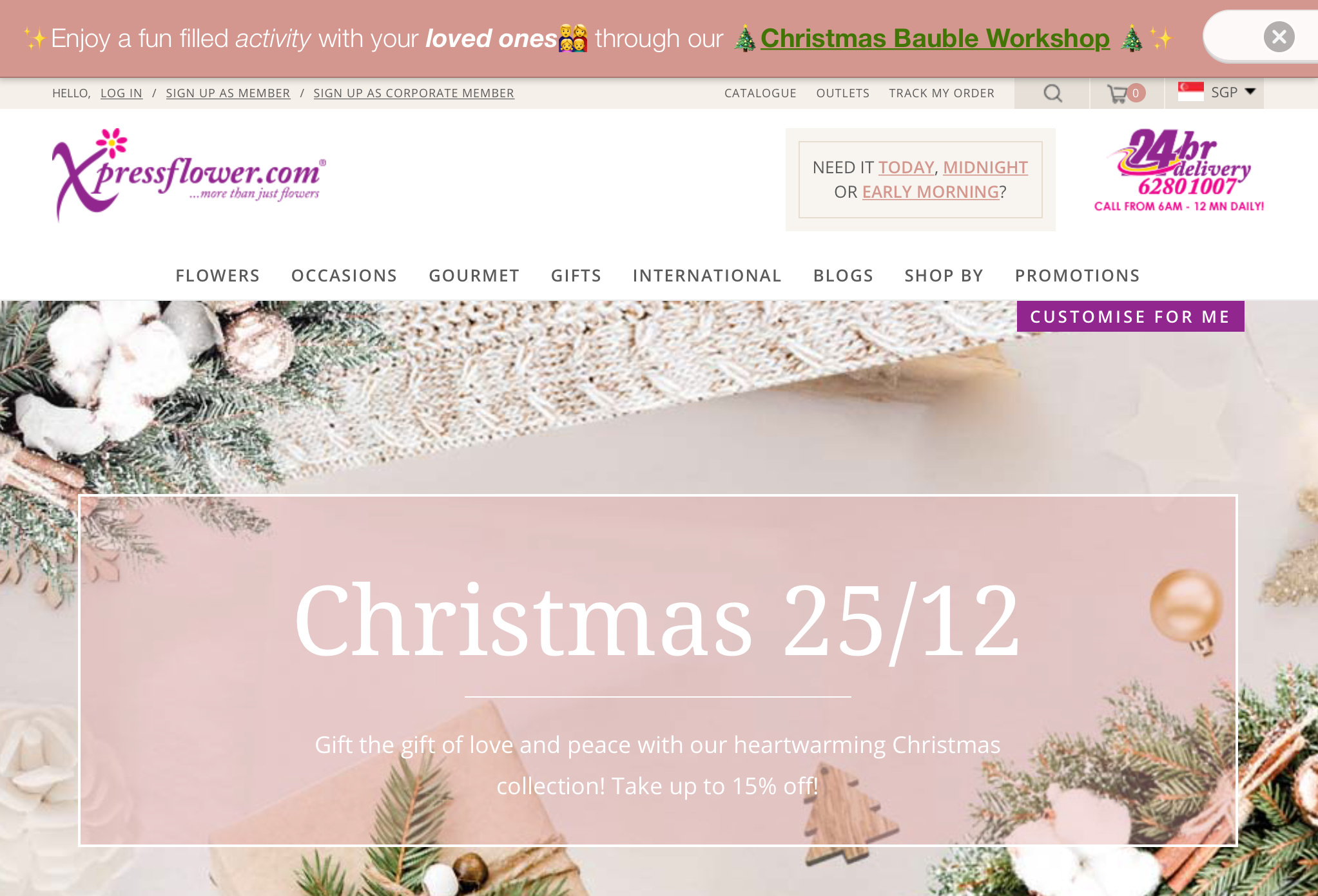 Based on their name, you can immediately tell that their priority is excellence in flower delivery. While some florists may overstate their reliability in delivering flowers, Xpressflower thankfully does not. Given the many positive feedback you can find, there's a level of assurance for the kind of service you're getting. Plus, they have several branches all around Singapore, so they can just mobilize their staff nearest to your location for more efficient delivery.
Products & Services

Artificial Flowers, Bouquets, Orchids, Plants & Succulents, Preserved Roses, Table Arrangements, Value Packed, Champagnes & Wines, Hampers, Candies & Chocolates, Baked Goods, Gifts, Balloons, Home & Lifestyle Items

Delivery Fee

From S$5.40, free for deliveries between 1pm-5:59pm (weekday)

Same Day Delivery

Order by 9pm

Express Delivery

3-hour express delivery

Price Range

(Bouquets)

S$72 – S$500

Website

https://www.xpressflower.com/

Contact Details

+65 6280 1007

Facebook

https://www.facebook.com/Xpressflowercom/

Twitter

https://twitter.com/xpressflower

Instagram

https://www.instagram.com/xpressflower_singapore/
Pricing, Products & Service

24-hour customer service and delivery
While some florists only provide 24-hour customer service, Xpressflower also provides 24-hour delivery. So, no matter how early or late you want to send fresh flowers, they will be able to fulfill your order. Fortunately, you won't have to wonder whether your recipient actually received your flowers. Once delivered, they will notify you by email and SMS. Aside from flower delivery in Singapore, they also provide international flower delivery to China, Hong Kong, Indonesia, Japan, Malaysia, the Philippines, Taiwan, United Kingdom, United States and Vietnam.
3-hour express delivery
For urgent orders, you can request for an express delivery. Through this service, they will deliver your order within 3 hours. Here's a review from Kingsley Ng:
"The staff, Lim, is really friendly and has assisted me alot in preparing and delivering my flower to my fiance. The bouquet prepared was beautiful and she kept her promise to deliver it to my fiance's workplace in time even though it was a last min request. Really appreciate her assistance. Thumbs up!!!" (via Google Reviews)
Value-packed bouquets
Xpressflower has over a hundred floral designs for bouquets alone. Starting prices are higher than other florists in this list, but what you're getting is convenience and reliability in order fulfillment. You can even order a customised arrangement if you want something unique. Their professionalism impressed Shan Wang (via Google Reviews), so she wrote, "Went down yesterday for a birthday bouquet, Tammy & Yiwen were fantastic in their customer service. There were other customers around but the crowd did not faze them. They were patient & accommodating to my customized request."
Disney Collection
For added quirk and whimsy to your order, you might consider purchasing from their Disney collection. Treat your loved one like a Disney princess with arrangements inspired by popular characters like Belle, Ariel, Snow White, Cinderella, among others.
Roses Only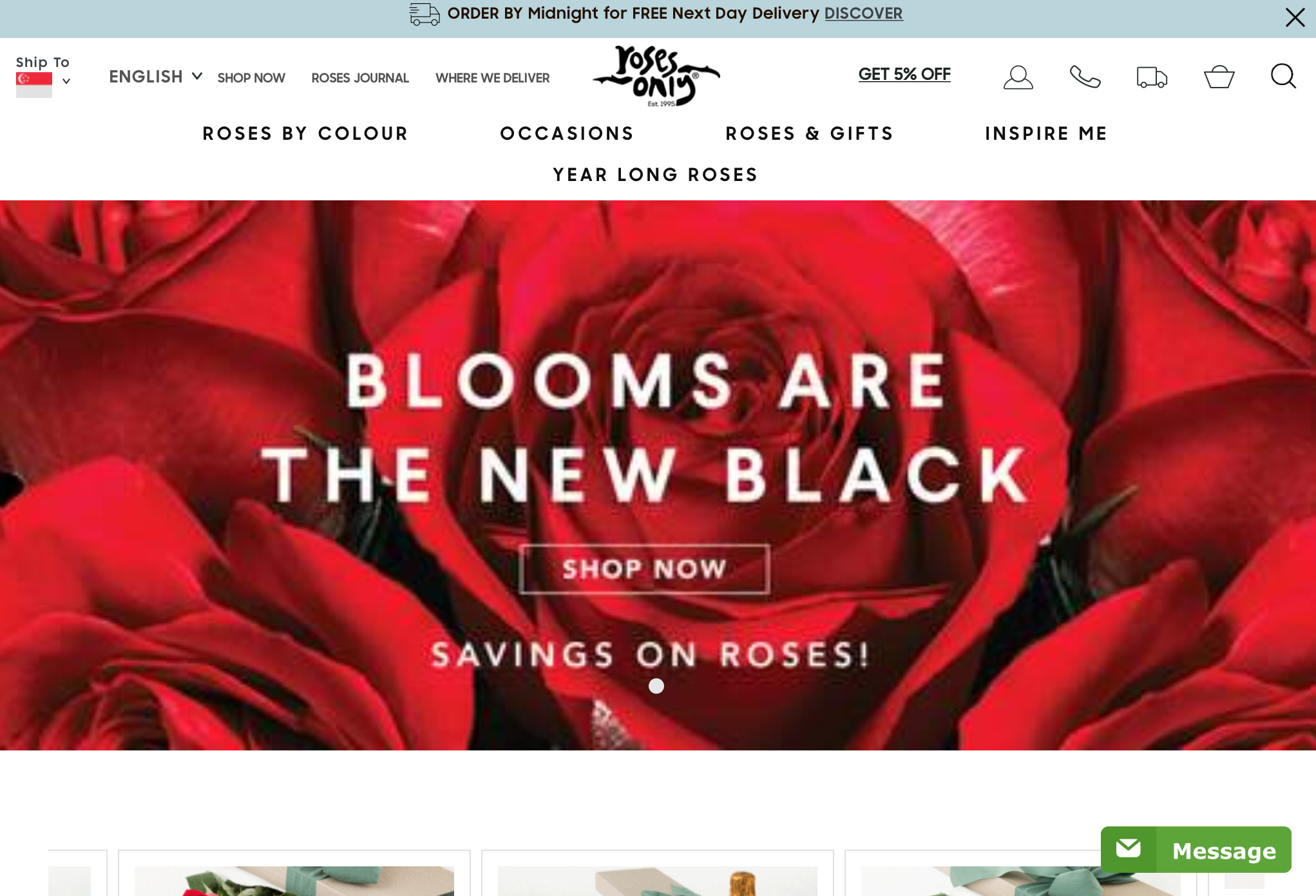 Roses are undoubtedly top-of-mind for romance. The many colours of the rose also makes it suitable for other non-romantic holidays and occasions. Naturally, roses are staples in any flower shop in Singapore, but one florist takes it to another level. Roses Only specialises in the best equatorial roses which can grow up to 65cm in length. These elegant, long-stem roses are sure to impress your significant other. As the owner James Stevens puts it, "Roses Only is a luxury brand," so don't expect cheap products. However, if you seek perfection in roses along with quick and efficient delivery, this one's your best bet.
Pricing, Products & Service

2-hour express flower delivery
Nothing ruins a surprise than late or missed deliveries, fortunately with express delivery from Roses Only, you won't have to stress out or wait a long time for your flowers to be delivered. Their impressive 2-hour express flower delivery means the flowers arrive in a timely manner and in their freshest possible state. Jessey Neo (via Google Reviews) gave 5 stars because of "prompt delivery with really lovely rose delivered." Even customers overseas get the same service and quality as local purchases. Nicholas Price from Australia ordered roses for delivery in Singapore which he shares "was made so easy and effortless."
Elegant, long-stem roses in a variety of colours
Just because they specialise in roses, doesn't mean there's no variety. In fact, they offer 9 different kinds of roses: red, pastel pink, white cream, mauve purple, cherry brandy orange, yellow, rainbow, mixed and bright pink. These choices make it possible for customers to find the perfect variety to suit any occasion. Darren Yew (via Google Reviews) was impressed with their roses, writing, "kudos to rose only for the amazing quality of roses." Meanwhile, Aileng Miller shared, "their roses are really fresh. On occasions when an order of roses do not met the quality, I am informed and a recommended substitute will be offered."
Signature gift box
Another recognizable aspect about Roses Only and their products is their signature gift box. The packaging is specifically designed to protect the flower while highlighting the beauty of these long-stem roses. They don't rely on unnecessary materials and fluff to distract from the flowers. Instead, the box is sleek and sophisticated. Yew notes that "they are packaged beautifully." Karan Prasad also wrote, "Great presentations, classy packaging."
Curated gift sets
To add more oomph to your present, consider one of their curated gift sets. They bundle roses with champagne, chocolates, teddy and candles. After all, only the classiest gifts can be paired with their stunning roses. Plus, if you want to send a token that lasts, they also have preserved roses which can last for a year!
ARTISAN FLORISTS
Floristique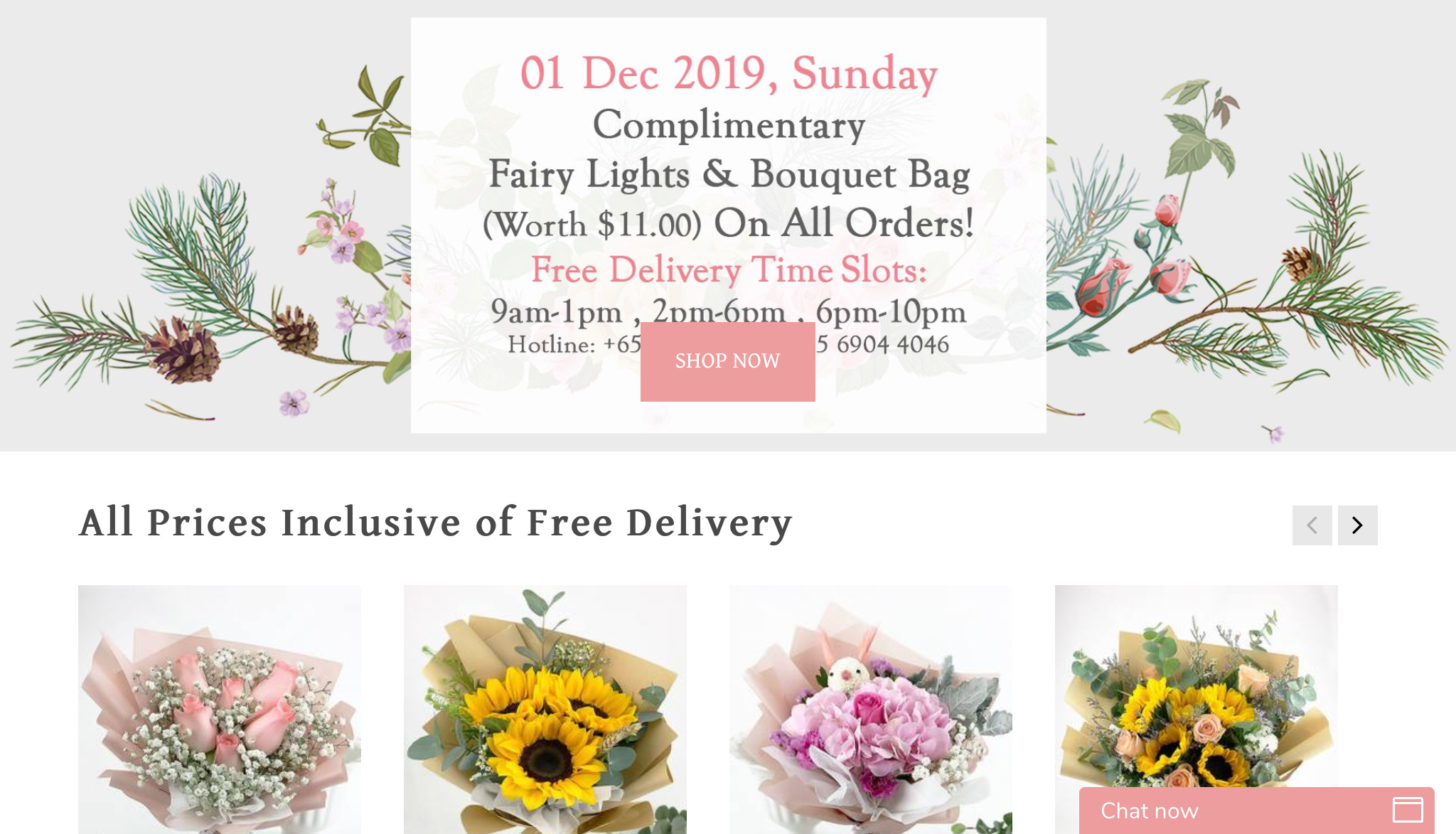 When personal touch and uncommon floral designs, artisan florists like Floristique can fill this gap. At Floristique you'll find exotic bouquets at reasonable prices as well as customised bouquets personally designed by the founder, Wendy. Of course, there are ready-made products for customers looking for a fast and convenient transaction, but they are far from the stock photos which other online florists tend to use.
Pricing, Products & Service
Custom floral designs with personal touch from the florist
At Floristique, the florist personally talks to the customer to know their preferences or if they have a photo reference. Once settled, she will approximate the design as best as she can while injecting the Floristique brand, all while sticking to your budget. Winnie Tan received flowers from Floristique and here's what she had to say:
"Received a bouquet of flowers from my new colleagues to welcome me on my new job! The flowers are very nicely arranged and comes with a fairy lights and a Floristique Bag! Amazing! went online to check them out, and realized that flowers aint so expensive after all!" (via Google Reviews)
Express delivery of artisan bouquets
Artisan florists typically require more time than other mass-market online florists, since handcrafting and customising designs are more tedious. However, Floristique balances design and delivery, requiring only a minimum of 2 hours for urgent orders. So, customers get artisan bouquets and fast delivery.
Cheap yet thoughtfully crafted bouquets
In spite of the hands-on service and the personal touches to each purchase, Floristique still manages to keep their prices low so more people can afford a beautifully crafted flower arrangement. Bryan Chew (via Google Reviews) wrote, "(b)eautiful flower arrangement by Floristique at such an amazing price." Adding, "I bought this for $39 for a friend of mine today and its really the same as portrayed on their website. Delivery was prompt and the delivery guy is very courteous."
Poppy Flora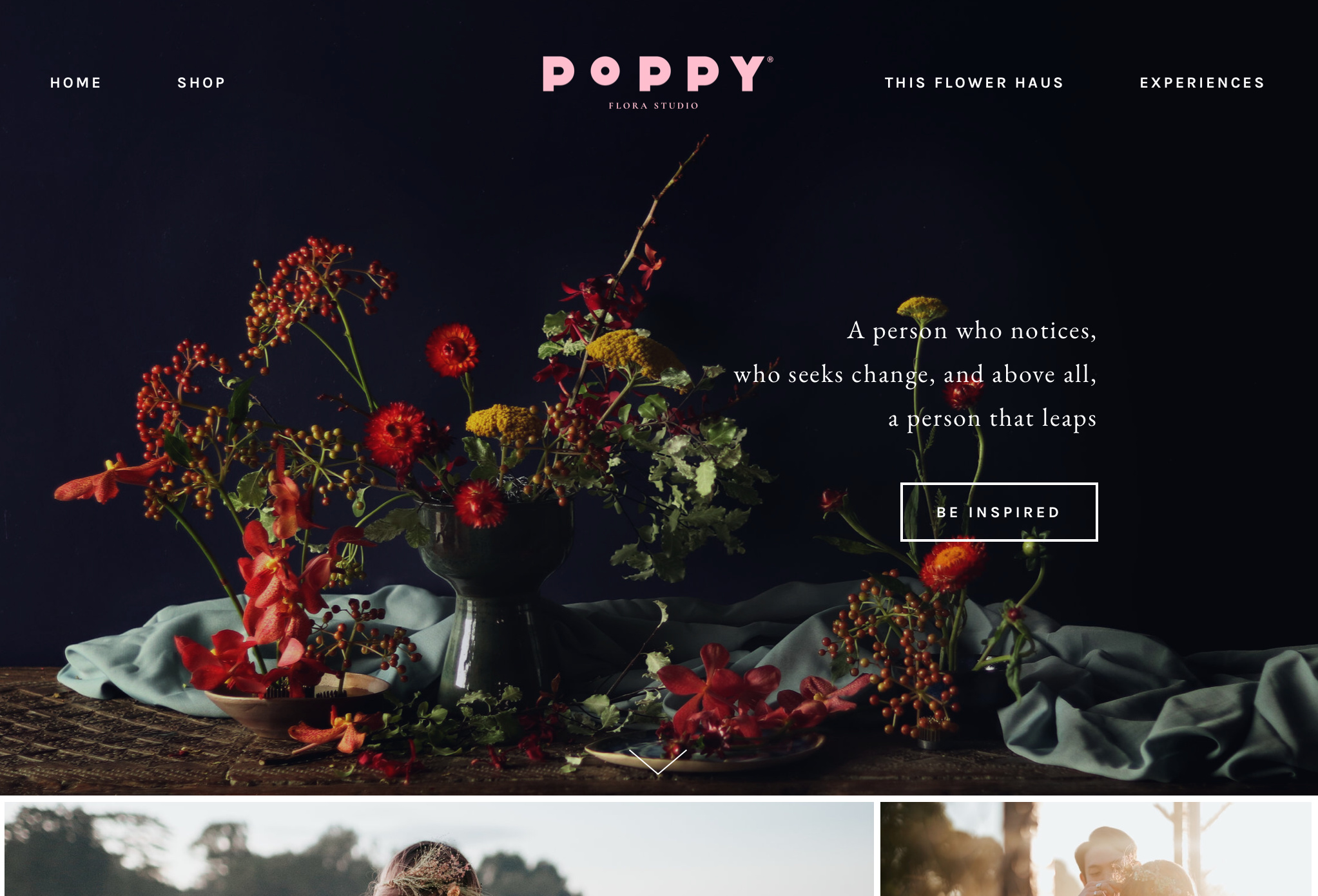 Poppy Flora is a floral studio known for their bold, dramatic and moody arrangements. The founder, Sarah, has been immersed in floristry and floral art for almost two decades and she's been using her knowledge and expertise to foster creativity and innovation in the industry. While events and editorials are their expertise, the discerning customer can buy flower arrangements in retail via their online shop or at the studio.
Pricing, Products & Service

Artistic floral arrangements
Poppy Flora's designs are far from the usual fare. The flowers are seasonal, the colour palette unexpected, and the arrangements all have interesting textures. In short, their products are not merely one-dimensional, and they certainly stand out. The prices are higher than the usual florist, but that's to be expected with the kind of artistry infused in their designs. Two reviews at Google call their collection "awesome" and "amazing." Another customer praised them for their "great conceptual technique." Roots Rever is another satisfied customer:
"Poppy is beyond 5 stars ! We have ordered ten bouquets for our thanksgiving event and we are Super impressed with how fresh the flowers are , the size is generous ( which is beyond our expectation ), also , the variety of flowers used is amazing as we have not seen some of the flowers in Singapore ! Poppy flora studio is also very attentive to small details as we have added in some special requests and they have delivered as per what we have requested , there is no doubt at all that they will be our go to florist for every event that we are going to do from now onwards. Kudos to Poppy Flora Studio and thank you as we are grateful that our event was a success because of the effort that you guys have put in , thumbs up :)" (via Google Reviews)
Magical events
Poppy Flora's artistic touch can add an atmospheric flair to any event, be it a wedding, an exclusive gathering or a birthday party. Here's what Hagar Risingerar had to say:
"I want to know their secret of how can they make a special event more meaningful and magical. Great selection of flowers for my sister's big day. Her smile on her face is shows how satisfied we are with this company. Indeed, we are a happy client." (via Google Reviews)
Efficient service
Not only are their products beautiful and unique, their service is also equally praised because of how professional and efficient they are. Cassandra Leong (via Google Reviews) shared her experience, "The staff here always go the extra mile, they did up a bouquet when I had a wedding emergency 10 mins before closing time, and still ensured it was meticulously presented." Bharathi Das simply calls them "one of the best same day flower delivery shop in Singapore."
Windflower Florist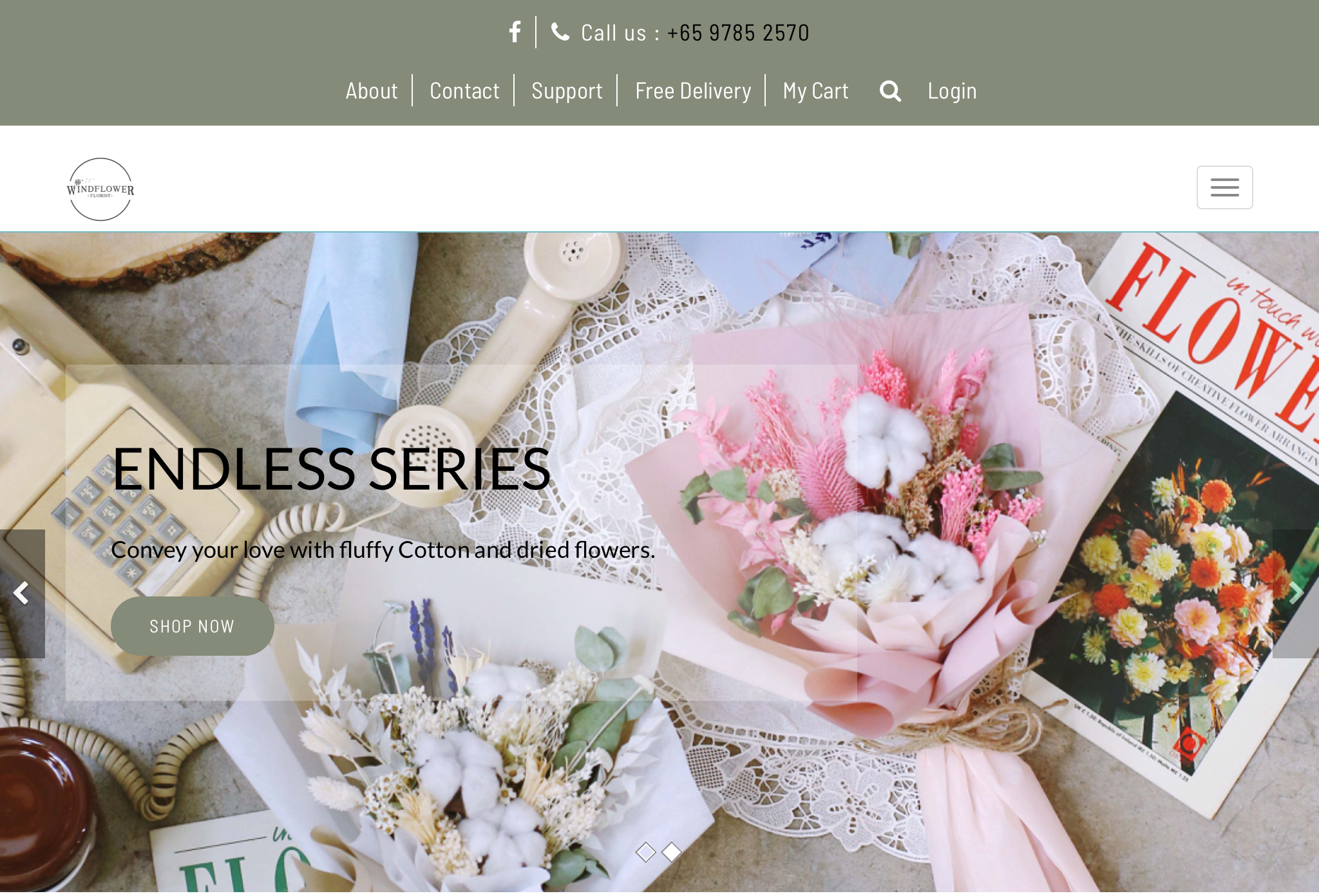 This small, family-owned shop has been around since 1997. They've fully embraced the 21st century with a user-friendly platform where customers can order fresh flowers online. Still, they have retained a grounded approach to their business, prioritising quality over quantity in crafting everyday bouquets. They have a dedicated arm for weddings and events, but you'll know what to expect based on their impressive catalogue.
Pricing, Products & Service

Reasonable prices for high-quality creations
While their products are not the cheapest flowers around, for the quality, they're pretty reasonable. Vanessa on Google Reviews wrote, "gorgeous flower arrangement with the right price point. It's not the cheapest, don't get me wrong. After a couple of orders with them, it's wonderful knowing that they've done such a great job at being consistent." Harrison Ng meanwhile shared:
"Fantastic service (delivered in time), very reasonable price (offering a spread of flowers , even in Valentine's day period, and deliver fee included), and most importantly flowers are very beautiful and arrange as what it looks like in the picture. Good job! Definitely I will be a returning customer. Recommended to my friends too and they also provided positive feedback." (via Google Reviews)
Fresh and beautifully arranged flowers
How fresh are their flowers? Well, according to online reviews Jay Jay, the "sunflower was able to attract some bees during my care before handing over to the next owner." Another wrote, the "flowers were still fresh and it was obvious that 100% of care and dedication was put into arranging and delivering them." Finally, Sharon Alexis Poo, who used their flowers for a photoshoot said their "flowers were really pretty in real life! A lot of people complimented on the flowers as well when they saw it during our photoshoot."
Crafty creations
Apart from the fresh, dried and preserved flowers you can order. They also have quirky arts and crafts which you can use to decorate your home. These pretty little tokens can make any room more charming and lived in.

WHOLESALE FLOWERS
GG Fresh Flower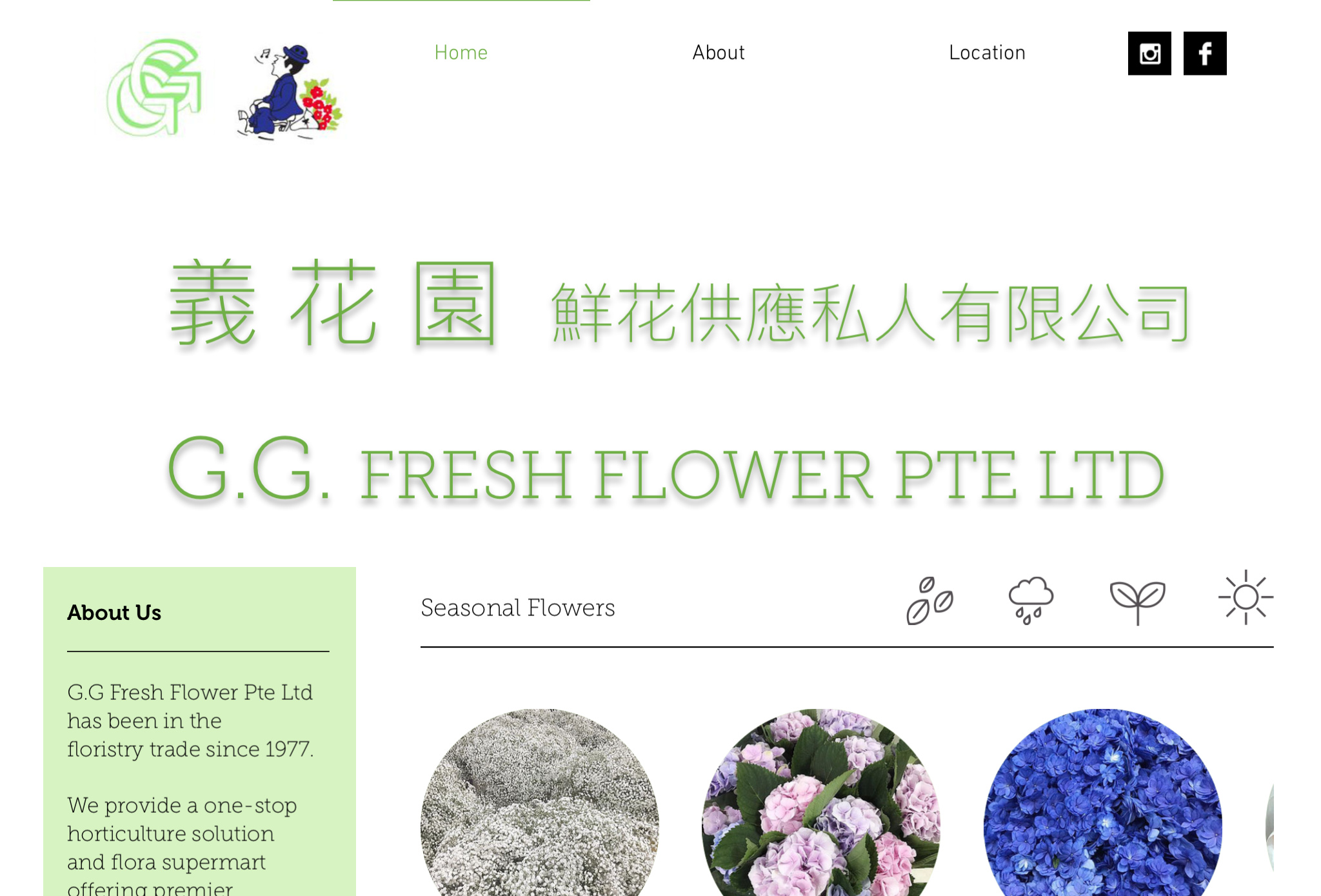 Certain occasions call for a lot of flowers, such as weddings or festive parties. They also supply plants, flowers and foliage to many florists, wet markets, supermarkets, shopping malls, bridal companies, wedding events, as well as collaborating with various workshops, funeral homes as well as hotels and
corporate companies. So, when you need a wholesale florist for flowers and foliage, GG Fresh Flower is one of the best ones around. They have been in the floristry industry since 1997, so after decades of experience, you can expect this well-oiled machine to handle any type of customer as well as the quantity they need.
Pricing, Products & Service

Large and wide variety of horticulture products
Since they supply plants and flowers to many companies in Singapore, they maintain a large inventory of products. They source the freshest flowers from Holland, Australia, New Zealand, USA, Colombia, Ecuador, Italy, Israel, Kenya, South Africa, Turkey, India, Malaysia, China, Vietnam, Thailand, Taiwan and other parts of the world.
Expert suppliers to a variety of events
GG Fresh Flower provides more than just the products, they also lend their knowledge and expertise to clients to get the best deal possible. For example, when Wen Jing Chew (via Google Reviews) was looking for a foliage for the wedding, she found GG fresh flowers online. She shared her amazement of the "wide selection of flowers and plants." She also praised their helpfulness, writing:
"I didn't have the name to the leaves I'm looking for but John helped to identify and gave me exactly what I wanted. The prices are very reasonable as well. I've gotten the Murraya leaves to decorate a stage backdrop of 8m long and the whole bunch only costs $45. Another staff, a middle-aged uncle also helped me to get champagne roses at a much cheaper rate when he realized that the petals were sold out. Will definitely recommend GG fresh flowers to anyone looking for fresh flowers at reasonable rates and great service!"
Meanwhile, another online review by Jasper Yong praised their overall service:
"Decided to take a trip down and was amaze to find out how huge an establishment it was, considering it to be in an industrial building. Was then attended by a young hearty staff named Jiajun who showed and recommended me an assortment of flowers when I told him my intent. Delivery was accurate and punctual as well. Overall experience over at GG Fresh Flower was very pleasant and definitely the go-to for anyone looking for wholesale fresh flower."
Friendly and accommodating staff
Most reviewers also make it a point to commend the staff for their friendly demeanor and expertise. Shawn Tan, via Google Reviews, who found GG Fresh Flower online dropped by their store and shared that "Overall, the price was reasonable and the staff were friendly… the staff were very helpful to help me load up my car. One of the better shops that i've come across as they provided me with the best service." Florence Grundy-Warr shared that all her questions "were answered in a timely manner and with ample information that actually proved to be useful. You do not always get that kind of customer service so I am more than pleased." Finally, Nash Masagus wrote that it is a "Good location to get flower stocks, staff very efficient in handling orders."
Ji Mei Flower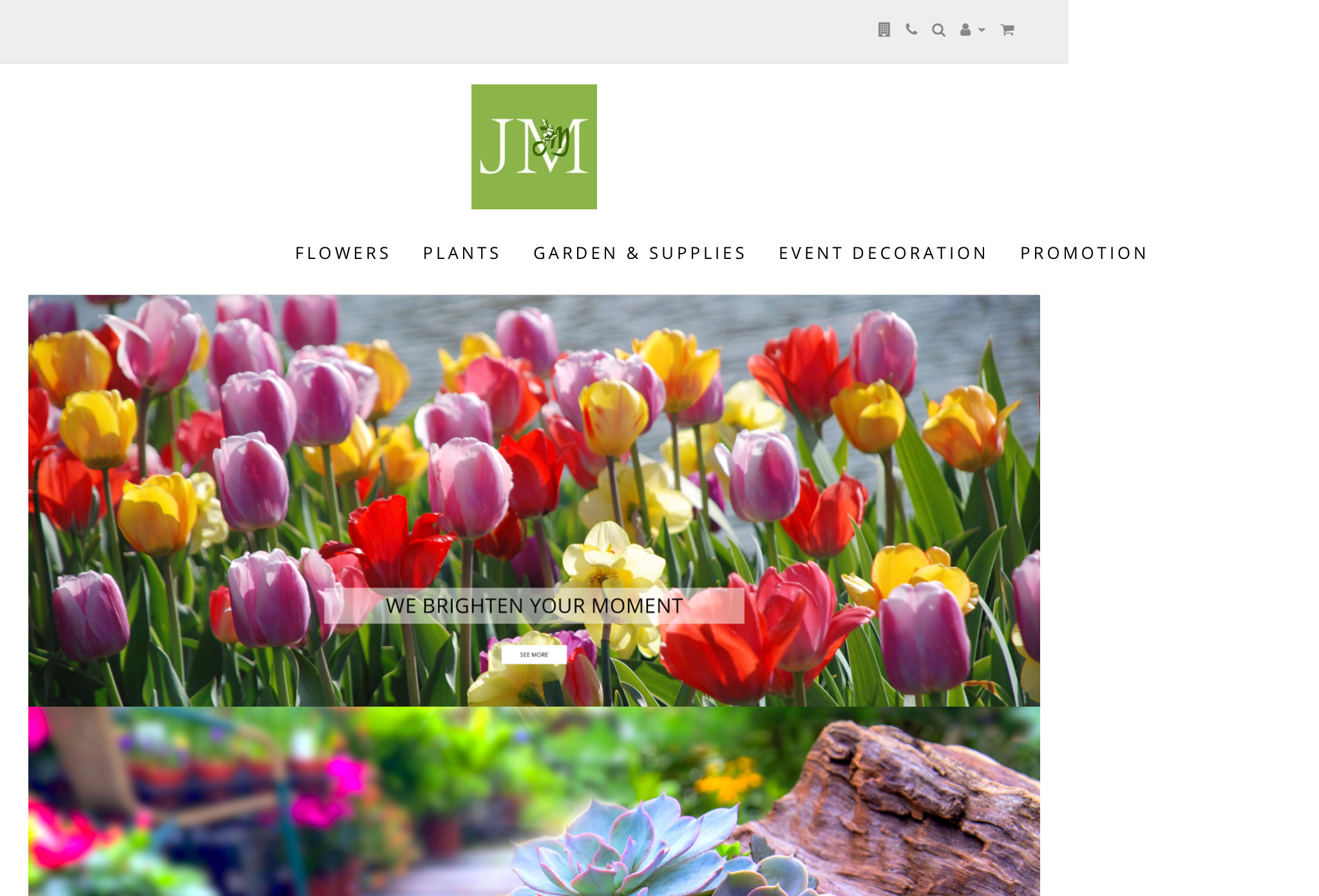 Hydrangea, roses, tulips and so much more. You can buy them wholesale to save money. You can also find retail products for sale as well as gardening tools and supplies. There are hundreds of positive reviews online to attest to their high-quality products and excellent service.
Pricing, Products & Service

Big space with ample and organised inventory
They have a big space with cold storage to keep and maintain the freshness of their products. There's parking space, so you can bring along your vehicle especially if you plan to buy a lot of items. Yin Chong Boey, in a Google Review, noted the "lovely place with a huge collection of fresh flowers and very affordable pricing." Ana shared that they have a "nice selection of cut flowers in their walk in cold room." As an advice, she wrote, "if you intend to buy orchids, don't buy the ones that are not potted (stuffed in moss in a clear 'plastic pot'). The orchids fall off after a week and never reflower again. You have better luck buying the ones that are already potted in charcoal (though they're not as pretty). Orchids prices here cost more than the florist over at rideout Park." Finally, Ping Ping commends their store inventory management, saying the system "save our time getting what we need. Products are of good quality, staff are helpful and approachable."
Reasonable prices
As mentioned, their wholesale, and even retail, prices are reasonable. Tan Heong shared on Google Reviews, "This is the best place to shop for all plants. The prices of most items are reasonable n cheaper than others nearby." Meanwhile, according to Emilia Ksenia, they have a "great selection of plants, flowers, tropical leaves, pots, vases and anything flora related. Prices are incredible. Neeta is amazing – the best friendliest service! Ask for her when you go."
Store-wide sale
If you want to save even more money, Yi Wong suggests going after 7pm. He wrote:
"Come after 7 pm for standard store wide 15% discount but they do occasionally have even better sale during July period. Boasts other largest cold room in Singapore for your fresh flower needs. Good selection of pots and accessories too." (via Google Reviews)