Featured Image Source from POPSUGAR
Hunting for a nice gift to give someone? We can help you out, as we've collated a list of the very best options for gift delivery in Brisbane.
Our listed shops offer many bespoke and thoughtful gifts for any occasion, be it for an anniversary, Valentine's Day, Mother's Day, new baby, recovery, or a simple thank you.
But before we show you our top choices, we'll discuss how much gift delivery costs in Brisbane. This will help you find the right store to order from in terms of your budget.
If you're all set, let's start!
How Much Does Gift Delivery Cost in Brisbane
Gift delivery rates vary widely in Brisbane. Their products can cost from free to $875 on average, based on the data we collected.
In that range, we included a wide variety of gift hampers with simple to gourmet items, as well as books, stationeries, flowers, jewellery, and more.
Here is a pricing summary of popular gift delivery stores in Brisbane and their prices:
| | |
| --- | --- |
| Gift delivery stores | Prices |
| Gifts 2 Remember | $0 – $875 |
| MOB Shop | $2 – $420 |
| Brizzie Baskets & Blooms | $9.95 – $410 |
| New Farm Deli | $10 – $180 |
| Avid Reader | $19.99 – $32.99 |
| Gift Basket | $30 – $380 |
| The Hamper Emporium | $69 – $369 |
| Little Mr. Bouqs | $65 – $110 |
| Indigo Flowers and Gifts | $13.99 – $240 |
Of course, you'll also have to pay the delivery charge too. This typically ranges from $5 to $25 depending on the store and location.
The farther you are from the city centre, the higher the delivery fee. For example, you'll pay higher if you're sending the gift from Brisbane to Melbourne than to a nearby suburb.
So you can save up on delivery costs, look for stores that offer free delivery. But for this, you'd often have to buy products worth a certain value.
Another tip is to make your own gift basket instead of buying a completed one.
Some stores sell standalone gift boxes, treats, snacks, baby products, and even wines. You can then pick the items you want and arrange them in the basket—and done!
Not only will you save money, but you'll also be giving a special gift to your recipient that you specially made.
The Best Gift Delivery Options in Brisbane
Now you know about the price of gift delivery shops in Brisbane, we now give you our top list!
1) MoB Shop

PRODUCTS
Jewellery
Ceramics
Homewares
Accessories
Health & beauty
Stationery
Books
Local food products
Kids
STARTING PRICE
$2
WEBSITE
https://www.mobshop.com.au/
ADDRESS
Level 3, Brisbane City Hall, King George Square Brisbane, QLD, Australia 4000
CONTACT DETAILS
Phone: +61 7 3339 0810
Email:

[email protected]

SOCIAL MEDIA
Facebook, Instagram
OPERATING HOURS
Monday: school bookings only
Tuesday – Sunday: 10.00 AM – 5.00 PM
Christmas Day, Boxing Day, and New Year's Day: closed
If you're looking for unique handcrafted gifts created by talented local artists, order online from the Museum of Brisbane's shop—or MoB Shop for short.
Here, you can find earrings, stationeries, ceramics, homeware, books, gourmet food, cosmetics, and kids' crafts and games.
A new product is added to the shop's collection every now and then. Keep your eyes peeled as you may find something special to surprise the person you care about.
That said, since this is a museum store, the prices are premium. Sure, you may find cheaper gifts elsewhere but you likely won't find items from MoB Shop, which are exclusive and of top standard.
Besides that, MoB Shop accepts Afterpay payments so you can spread out the cost by a number of payments without any interest, at all.
Best of all, you don't even have to visit the store. You can shop online with your smartphone and check out, with free domestic shipping if you buy items over a certain limit.
Free delivery over $150
Handcrafted products by local artists
Accepts Afterpay payments
2) Brizzie Baskets & Blooms

PRODUCTS
Christmas gift hampers
Easter gift hampers
Picnic gift hampers
Birthday gift hampers
Wedding & anniversary gift hampers
Thank you gift hampers
Flowers & bouquets
STARTING PRICE
$9.95
WEBSITE
https://www.brizziebaskets.com
ADDRESS
PO Box 289 Albany Creek 4035, Albany Creek, Brisbane, QLD 4035, Australia
CONTACT DETAILS
Phone: +61 1300 055 439
Email:

[email protected]

SOCIAL MEDIA
Facebook, Instagram
OPERATING HOURS
Monday – Friday: 9.00 AM – 7.00 PM
Saturday: 9.00 AM – 5.00 PM
Sunday: closed
For quick and affordable gift hampers, you can do your shopping at Brizzie Baskets & Blooms. They carefully deliver orders in and around Brisbane City and Australia.
With their large array of gift hampers for any occasion, your friend, family, or colleague is in for a big surprise. They also have fresh bouquets to complement your gift basket.
During working hours, you can consult with their gifting staff to give personal touches to your item. When it is shipped, you'll be able to track your order at any time for convenience.
We like that they have a variety of payment options. Credit cards, Direct Deposit, Paypal, or Afterpay—you choose how you'd like to pay for your purchase.
While there were a few complaints about their customer service, most shoppers had a wonderful experience thanks to their nicely presented baskets and ease of ordering.
For the reasons mentioned above, we counted them as one of the best gift delivery shops in Brisbane. Remember, you should have placed your order before 10 AM from Monday to Saturday for same-day delivery.
Affordable rates
Same-day delivery available
Nationwide delivery
Accepts Visa, Mastercard, Amex, Paypal, Direct Deposit, and Afterpay payments
Gift hampers are ordinary in design (except for the personalized ribbon)
Customer Reviews
Some Brizzie Baskets & Blooms customers complained about delivery times and customer service. However, other buyers didn't experience any problems abd were happy with the gifts and flowers they received.
Let's hear Tony's review of the gift hamper shop:
"Contacted Amy from brizzie baskets and blooms after my 2 year old grand son who was very sick was flown to hospital from Gladstone for specialist treatment. I requested some toy cars be added to his gift pack the girls explained they normally don't do cars but would see what they could do . I got a text from the little blokes mum the next day saying it was the first time in days he had smiled because he received some toy cars along with a dragon and other items in his gift pack
thanks to you guys much appreciated."
And here's Marina's feedback:
"Thankyou for such great service my client absolutely loved her beautiful flowers and surprise hamper. Will be ordering again."
3) The Hamper Emporium

Is your best friend marrying soon or your cousin's birthday coming up? You might want to send them lavish gift baskets from The Hamper Emporium.
They offer a classy range of gift hampers and baskets for men, women, and corporate entities. Almost all their gift hampers come with a bottle of whisky, wine, and bubbly.
Their gift basket items are carefully selected to suit different events such as weddings, family reunions, achievements, job promotions, and summer beach holidays, among others.
That's as far as customizing your basket can go, which is one con. In other words, you can add or swap its items for something else.
Another con is that they don't accept American Express credit cards, only Visa and Mastercard. But you'll forget about these things as they charge nothing for their deliveries all over Australia, and more importantly, have great-value rates.
And in case you're not sure about what to buy, you can chat with their 24/7 team live. They're there to ensure your buying experience is stress-free.
Same-day delivery available
Accepts Visa, Mastercard, PayPal, Direct Deposit, Google Pay, and Zip Pay payments
Live chat support
Nationwide delivery
Doesn't accept American Express credit cards
Customer Reviews
A lot of buyers noted that the sumptuous gift hampers had a great price. Also, they loved the delicacies, design, and packaging of the products.
Anthony, one buyer, stated of the company:
"Used them a number of times now as corporate gifts – the recipients were always delighted at the well thought out and presented gifts. The buying /paying /delivery process is simple and efficient. Well done !"
Furthermore, Suzanne said:
"The Hamper Emporium offer the best and very impressive selection of hampers online. Offering free delivery is a definite plus and with attractive packaging the gift is very eye catching from the start. Once the package is opened the receiver of the hamper continues to be delighted with the excellent range of top line products. Their online ordering system is very user friendly and the cost of the hampers is surprisingly affordable considering the quality offered. I shall continue to use this business whenever I want to impress as you could never disappoint with a hamper from The Hamper Emporium."
4) Avid Reader

PRODUCTS
Fiction
Crime & thriller
Biographies
Politics & culture
Healthy living
Food & cooking
Art & design
Magazines
Gift vouchers
School prizes
STARTING PRICE
$19.99
WEBSITE
https://avidreader.com.au/
ADDRESS
193 Boundary St, West End Qld 4101, Australia
CONTACT DETAILS
Phone: (07) 3846 3422
Email:

[email protected]

SOCIAL MEDIA
Facebook, Twitter
OPERATING HOURS
Monday – Saturday: 8.30 AM – 6.00 PM
Sunday: 8.30 AM – 5.00 PM
Since 1997, Avid Reader has been the go-to shop for fiction and non-fiction books. Besides that, it hosts literary events like author signings, book launches, and book clubs.
You can find thousands of titles here that appeal to everybody. So you can find great books here to gift someone, especially if he's a book lover!
One of the latest novels they have is Sistersong (pictured above) which tells the story of three British sisters going against each other with envy, treachery, and jealousy in the mix.
Another is John Grisham's Sooley which is all about basketball and the spirit of competition. It's actually his first novel on this subject and we bet that it will engross you from beginning to end.
So we were saying… you can get a book or two shipped for your nephew or to a friend. Also, you can just swing by at Avid Readers to pick up the books and wrap them up to complete your gift.
Having an excellent reputation with book aficionados, Avid Reader is no doubt one of the best options for gift delivery in Brisbane.
Some books are available for sale
Open all week
Staff book recommendations
A bit expensive if you buy more than one
Customer Reviews
The bookstore received rave reviews from numerous people. They mostly said the store had a complete range of books and the staff really knew their stuff.
One buyer named Ilona remarked:
"Brilliant bookstore with super helpful staff, great reading suggestions, so passionate about books making it easy to buy perfect gifts for myself & loved ones."
Also, Jodie wrote this feedback:
"Love love love this place! Great range of books, knowledgeable staff and the book launches and events are second-to-none."
5) Gifts 2 Remember

PRODUCTS
Create your own gift hamper
Fresh flowers & live plants
Mother's Day
Birthday
Thank you
Gifts for her
Gifts for men
Baby
Gluten-free & vegan
Balloons
NZ gift hampers
Gourmet food store
STARTING PRICE
From $0
WEBSITE
https://gifts2remember.com.au
ADDRESS
Brisbane, Queensland, Australia
CONTACT DETAILS
Phone: 07 53708944
Email:

[email protected]

SOCIAL MEDIA
Facebook, Instagram
OPERATING HOURS
Monday – Friday: 8.30 AM – 4.00 PM
Saturday – Sunday: closed
Gifts 2 Remember has an array of gift hampers, gourmet food, flowers and plants, and other gift items for all occasions.
Considering this, there's something for every budget and need. You don't necessarily have to spend big to make a family member, co-worker, or mate feel special.
The unique thing about this store is they offer vegan and gluten-free gift baskets. So if your recipient has special dietary needs, then these gift hampers will be brilliant for them.
If you want to take the gift-giving a step further, you can opt to create your own gift box with the.
You can start out by ordering a few essentials from them like an empty gift box, chocolates, biscuits, tea, and/or candle. Then you just put them together as you want.
The store offers same-day delivery to certain areas like Caboolture, Ipswich, Beenleigh, and Ferny Hill. You can order from them using a credit card or via Afterpay, Apple Pay, or Google Pay.
Same-day delivery available
Accepts various payment modes
Closed on Saturdays and Sundays
No 24/7 customer support
Customer Reviews
According to buyers, the gift hampers were presentable and had delicious treats. They also complimented the service for delivering on time and informing them at every stage.
One buyer named Clarissa shared this:
"Professional and friendly service, very helpful in getting gifts delivered to a friend and responded quickly to our queries. Thank you ☺️"
And another client, who works at Caboolture Property Developments wrote:
"We have ordered several times from Brisbane Baskets and our clients rave about their quality everytime. Thanks for your exceptional service and lovely baskets to add that special touch."
6) Pot Me Pretty
Pot Me Pretty is not your typical gift shop, what makes them unique is that they mostly sell plants. With their range of products, you will be able to find the perfect gift for your loved ones.
Add some green to your life from their trendy range of Indoor Plants, Succulent and Cactus, and Terrarium Gifts. Plus, they also offer Sympathy Gifts and Plant Gift Packs that are perfect for any type of occasion.
A great factor about them is that during high vl=olume days such as Valentine's Day, mother's Day, and Christmas, their delivery times may extend past 5:00P< due to large numbers of orders being handled.
Even though they only have a few products, any of these can still suit the event you are going to.
Next-day delivery for orders placed before 5:00 PM
Has small, medium, and large plants
Can add accessories and extra products
Closed on weekends
Credit card payments only
7) Gifts for Mumma

PRODUCTS
Warmers and Diffusers
Wax and Oils
Fans and Purifiers
Unplugged
Laundry and Clean
STARTING PRICE
Starts from $2.95
WEBSITE
https://scentsy.com/
ADDRESS
2701 E. Pine Ave., Meridian, ID 83642
CONTACT DETAILS
(208) 472-0800
SOCIAL MEDIA
Facebook, Instagram, Pinterest, and YouTube
OPERATING HOURS
Open 24/7
Gifts for Mumma is the ultimate destination for finding the perfect gifts for the extraordinary mothers in our lives. Their services, convenience, reputation, and costs make them a cut above the rest.
When it comes to services, Gifts for Mumma delivers beyond expectations. Their website offers an extensive selection of unique and thoughtful gifts, curated with love and care
Whether it's personalized jewelry, luxurious spa sets, or heartwarming keepsakes, they have something to make every mumma feel truly special.
With their user-friendly interface and streamlined checkout process, shopping has never been more enjoyable or hassle-free.
Convenience is king, and at Gifts for Mumma, they wear the crown.
Their website is available 24/7, ensuring that busy individuals like us can shop at any time that suits our schedule. No more rushing to physical stores or battling long queues!
With just a few clicks, we can find the perfect gift, have it beautifully packaged, and shipped directly to our mumma's doorstep. It's effortless gifting at its finest.
In the realm of reputation, Gifts for Mumma reigns. Countless satisfied customers have praised their top-notch products and impeccable service.
Their commitment to quality shines through in every gift they offer, and their prompt and reliable delivery ensures that mumma's special day is celebrated without a hitch.
With a wealth of positive reviews and testimonials, they have become the go-to source for finding that one-of-a-kind gift that'll leave a lasting impression.
Unfortunately, they don't offer promos or discounts at the present. We suggest checking their website from time to time to find new fantastic deals.
Wide range of options
Hassle-free shopping experience
Exceptional value for your money
No promos or discounts at the present
8) Lolly Mail

PRODUCTS
Jars
Hampers
STARTING PRICE
Starts from $45.00
WEBSITE
https://www.lollymail.com.au/
ADDRESS
Asutralia
CONTACT DETAILS

[email protected]


(07) 2111 7550.
SOCIAL MEDIA
N/A
OPERATING HOURS
Monday to Friday 8am – 4pm
Saturday CLOSED
Sunday CLOSED
Lolly Mail is Australia's sweetest lolly gift box delivery. What makes them stand out from the rest of the shops on this list is their range of products.
With them, you have the freedom to choose a pre-mix jar or even build your own jar!
In building your own jar, you can either pick a regular-sized (1.1L) or a large jar (2.5L). The next step would be choosing your favorite selection of premium lollies and chocolates.
They make sure to always fill the jar up to the brim so don't worry about it!
Additionally, to make your jar even more special, they have a wide range of cards that only costs $2.00. Add a simple, yet sweet message, to make your loved one's day complete
Accepts custom orders
High-quality sweets
Free standards shipping
offer Australia Post Next Day Delivery at checkout for $10 flat fee
Same day Brisbane delivery available $15 flat fee
9) Little Mr. Bouqs

Little Mr. Bouqs is a company that offers and provides exceptional flower delivery services and gift packages around your area. They specialize mainly on flower delivery but they also have anexcellent selection of gift packages that is comosed of various items such as tes sets and baby needs in accordance to what occasion you might need the gift package for.
They have a comprehensive website wherein you can craft your very own order under each occasion in which you can also simultaneously schedule where and when it is delivered. They also have a unique rewards program which you can avail of in which even you get rewarded for sending thoughtful gifts and love through their services as well.
Starting back in 2015, the company has since then been dedicated to creating sustainable products as this is evident in the product brands they have in their selection along with their locally sourced flowers in Australia. Furthermore, you can now have a variety of add-ons with your order to send more of your love to the person you wish to send it to.
We recommend this company for you since they offer a unique aesthetic appeal to every order and have stellar customer service that will surely makey ou feel rewarded as much as your recipient is happy with their order as well.
Sustainable products
Customizable orders
Offers a rewards program
No direct hotline is available
Customer Reviews
Here are some reviews from their clients:
"We're in the UK and wanted to send flowers to our niece for her birthday, so we chose LMB. So glad we did and so is she. She absolutely loved the flowers you picked, loved the delivery with a smile and we loved that they made her happy. Beautiful bouquet. Would recommend and will use again."
"Flowers are always fresh and bouquets look amazing! Super quick delivery and helpful staff! Definately recommend Little Mr Bouqs for your go to flowers in Brisbane"
10) Gift Baskets of Class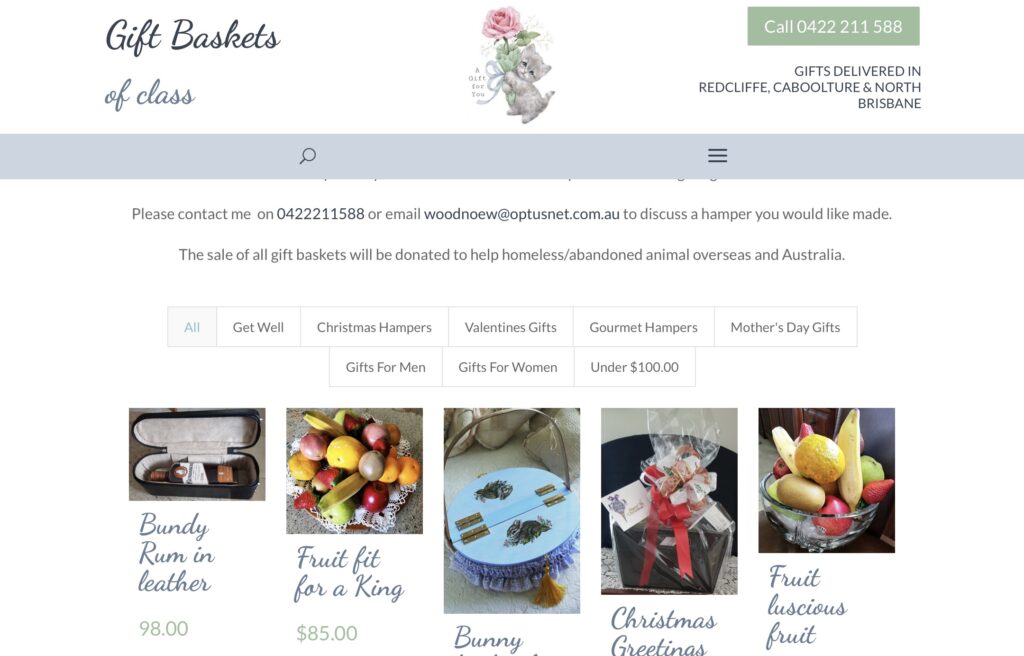 | | |
| --- | --- |
| PRODUCTS | Gifts for Women, Gifts for Men, Gourmet Hampers, and Gifts for Babies |
| STARTING PRICE | $65 |
| WEBSITE | https://www.giftbasketsofclass.com/ |
| ADDRESS | Australia |
| CONTACT DETAILS | 0422211588 |
| SOCIAL MEDIA | Not available |
| OPERATING HOURS | Open 24/7 via chat |
At Gift Baskets of Class, we experienced a level of service that truly lives up to its name.
From the moment we placed our order, their commitment to excellence was evident. Their extensive range of gift baskets caters to every taste and occasion, showcasing a genuine dedication to quality and sophistication.
Convenience is the name of the game, and Gift Baskets of Class plays it expertly.
Our order process was seamless, with an intuitive website that made selecting the perfect gift basket a breeze.
Their swift delivery left us in awe, as our carefully chosen gift arrived punctually, adding an extra layer of surprise and delight to our recipient's day.
Gift Baskets of Class has forged a reputation that precedes them, and with good reason.
The testimonials from satisfied customers speak volumes about their consistent excellence.
Our own experience only reaffirmed this sterling reputation, leaving us with no doubt that this is a company that consistently delivers on its promises.
Cost is often a concern when it comes to luxury gift options, but Gift Baskets of Class surprised us pleasantly.
Despite the premium quality of their offerings, their pricing remains competitive. The value for money we received was exceptional, making us feel that we had made a wise investment in spreading joy to our loved ones.
However, they don't offer promos at the present. We advise checking their website for other affordable items.
Quality selection
Timely delivery
Outstanding reputation
Competitive pricing
Customer Reviews
"Exceptional gift baskets and impeccable service. Highly recommended!"
"Gift Baskets of Class consistently exceeds expectations. A trustworthy choice for meaningful gifting."
11) Indigo Flowers and Gifts

PRODUCTS
Flower Gifts
STARTING PRICE
$13.99
WEBSITE
https://www.indigoflowers.com.au/
ADDRESS
Level 3, Brisbane City Hall, Runcorn Brisbane, QLD, Australia 4000
CONTACT DETAILS
Phone: +61 409 800 666
Email:

[email protected]

SOCIAL MEDIA
Facebook, Instagram
OPERATING HOURS
Monday-Friday: 6am-3pm
Saturday-Sunday: Available via special request with 2 business days notice
Indigo Flowers and Gifts is shop that specializes in crafting and delivering flower arrangments and other gift assortments for any occasion at your very doorstep. They have a variety of arangmenets and packages wherein you can choose from which has then earned them to be one of the leading florists in the greater Brisbane area.
Started back in 2019, they are committed and dedicated in delivering only the best and finest quality of flowers at affordable prices. They are driven to make you, along with other clients that have chosen them for their services, have a fun and stress-free experience when it comes to transacting your order with them.
They make it to a point to be able to satisfy your every concern and need to the best of their ability and accommodate any special requests that exceed your expectations. Furthermore, they also delivery on-hand to all major suburbs, schools, churches, funeral homes, and hospitals in the Runcorn area and surrounding areas for a better assurance in the quality of the flowers and for safety purposes as well.
We recommend this company for you if you would like to avail of high quality flowers for your loved ones at affordable prices along with convenient transaction methods and stress-free procedures.
Locally sourced products
Highly skilled florists
Reliable network for international orders
Operating hours are unclear
FAQs about the Top Gift Delivery in Brisbane
---
And that's a wrap for our top options for gift delivery in Brisbane. With them, sending gifts has never been easier to do.
Have any questions about our list? If you do, send us a word and we'll get back to you as soon as possible.
If you're interested, you can have a look at the best gift delivery in Melbourne too. The stores here offer unique gifts and products for decorating your home or surprising someone.