Featured Image Source from Giftboss
Giving gifts is one of the most joyous experiences one can have. That said, it's hard to know specifically what gift to buy and how to personalise it for someone special to you.
Fortunately, we've compiled a list of the best gift delivery companies in Perth here. Their friendly and kind staff can suggest ideas and pack your gift in a way that will impress your recipient.
Before we start, however, we'll zero in on the average cost of gift delivery in Perth. By doing so, you'll have a quick reference to know which shop will best suit the budget you have right now.
Ready? Let's start!
The Average Cost of Gift Delivery Companies in Perth
Gift delivery shops in Perth sell a broad variety of goods such as hampers, chocolates, alcoholic beverages, balloons, bouquets, plants, and toys.
Based on the data we gathered, the average cost of these products is $3 to $3,000. You can see these in our table below where we recorded the prices of different gift outlets in the city.
| | |
| --- | --- |
| Gift delivery shop | Pricing |
| Just in Time Gourmet | $3 – $100 |
| St Anne's Florist & Hampers | $4 – $2999 |
| Hampers by Design | $14 – $285 |
| Christmas Hampers Perth | $22 – $400 |
| Perth Gifts & Hampers | $35 – $250 |
| Avenue Hampers | $79 – $209 |
| Innaloo Florist | $38.50 – $250 |
| Kalipay Gift Designs | $1.50 – $199 |
| Plants for Friends | $12 – $185 |
| Brew Crates | $4 – $155 |
| Bodi Box | $37 – $139 |
| The Daily Blossom | $4 – $140 |
| Hands of Afrika | $14.99 – $59.95 |
On top of that, you'll need to pay a delivery fee of around $10 to $45. This will depend on your gift and shipping location, whether in Perth CBD, outer suburbs, or interstate, including New South Wales, Northern Territory, Victoria, and other Australian states.
To save your money, you can opt for free gift delivery offered by certain gift shops. But to qualify for this, you will need to spend over a certain value, for instance, $50 or above.
Check for special offers too in the form of promo codes or event sales. That way, you'll have some savings left and won't regret that you didn't redeem the store discount earlier on.
Also, you can lower your expenses by creating a custom gift hamper from scratch by buying only the items you need.
Say, you can buy a box or hamper from the store and add potato chips, chocolates, jam, ketchup, and/or peanuts. Afterwards, try to make the basket presentable, tie the ribbon with nice colours, and so now it's ready to be delivered to your recipient.
The Best Gift Delivery Companies in Perth
Now that you know how much gift delivery costs in Perth, we now round up our top picks!
1) Just In Time Gourmet

PRODUCTS
Birthdays
Easter
Christmas
Picnics
Mother's Day
Father's Day
Weddings & engagements
Anniversaries
Valentine's Day
Get well gifts
Thank you
Special gifts
Luxury/pamper
Newborn babies
Care packages
STARTING PRICE
$3
DELIVERY FEE
Perth CBD and urban areas

$10 per product or hamper order
Free delivery for orders $50 and over

All other areas including Outer Perth, WA Regional, Victoria, New South Wales, Queensland, South Australia, Tasmania, ACT, Northern Territory and Tasmania

$15 per product or hamper order

Wholesale customers (excluding Perth City)

To be advised after receipt of order
WEBSITE
https://www.justintimegourmet.com.au/
ADDRESS
5/19 Baling Street, Cockburn Central, WA, Australia 6164
CONTACT DETAILS
+61 1300 667 992


[email protected]

SOCIAL MEDIA
Facebook, Twitter, Pinterest, Instagram
OPERATING HOURS
Open 24/7
Getting a gift for your darling or mate? Since each person has a unique personality and wants, we suggest you give a personalised gift to make them smile and feel happy and appreciated.
For this, Just In Time Gourmet is the ideal shop to order from. They have a full catalogue of products, including gift hampers, chocolate boxes, teddy bears, champagnes, and wines.
From birthdays to Valentine's Day, picnics to weddings, it's your one-stop gift shop. They even have luxury and pamper hampers as well as vegan, gluten-free, and dairy-free gift hampers.
Each of their baskets is filled with amazing treats and tastes coming from 64 well-known brands. These include brands like Charlotte Piper, Bloomsberry Chocolate, Dan300, Roza's Gourmet, La Bang Body, and tons more.
These goods are delicious, finely made, or useful for the one you're giving them to. You can rest assured that they won't just leave it on the sidelines or dispose of it by giving it to someone else.
However, if you can't find the gift hamper among their selections, then you can create your own hamper through them. You have two options on how to do this as listed below.
Either, you can start with a 'base' hamper and fill it with items from their shop as you go on. Or, you can skip getting a hamper and get your desired items from their site to put in your own creative hamper, maybe a top hat filled with goodies or a hand-painted cardboard box with a ribbon.
They can deliver your gift hampers Australia-wide including Perth CBD, NSW, Queensland, Northern Territory, WA Regional, and even across the island to Tasmania.
You can sweeten up the price by spending at least $50 (if that's sensible) so that you get free delivery. Also, you can use Visa, American Express, Mastercard, and PayPal to pay for your item—they don't have Afterpay interest-free payments, though!
Same-day delivery available
Free delivery for orders $50 and up
More than 50 product brands
Pay with Visa, Amex, Mastercard, or PayPal
No Afterpay payment option
Customer Reviews
It's rare to find a gift store with a perfect score but Just In Time Gourmet did just that. They gave a reliable and stress-free service to buyers from order to delivery.
Adam wrote this feedback about their exceptional service:
"Amazing Service and followed every direction I gave. these people are amazing not only delivering on Easter Sunday but completely free of charge no other fees other than the price of the product!! Also delivered with such efficiency and care and really know how to look after their customers. #1 absolutely outstanding!"
Caitlin made her own thoughtful DIY basket for her mum as seen below:
"Fantastic selection of lovely produce. My mum has multiple dietary restrictions, but I was able to select many suitable favourites from your website and create my own hamper to send. Easy to use website with clear information, that lead to a beautiful delivery for her birthday thank-you!"
2) St. Anne's Florist & Hampers

PRODUCTS
Flower arrangements
Gift hampers
Roses
Baby hampers
Helium balloons
Wines
STARTING PRICE
$35
DELIVERY FEE
Perth CBD and surrounding areas

from $17 (GST-inclusive)

Outer Perth suburbs including Dawesville, Chidlow and Two Rocks

$45 (GST-inclusive)

*The exact delivery fees will be calculated upon checkout
WEBSITE
https://stannesflorist.com.au/
ADDRESS
111 Newcastle Street, Perth WA 6000
CONTACT DETAILS
(08) 9388-8844


[email protected]

SOCIAL MEDIA
Facebook, Pinterest, Twitter
OPERATING HOURS
Monday – Friday: 8.30 AM – 4.30 PM
Saturday: 8.00 AM – 11.00 PM
Sunday: closed
Staying at home has been hard lately, so why not send your mates a cheerful gift hamper, blooming arrangement, or for the kids, colouring books, UNO cards, and balloons from St. Anne's Florist & Hampers?
You can also get the always-welcome fruit baskets from them and a range of alcoholic drinks like bourbons, wines, champagnes, beers, and spirits to forget about your problems and carry on.
These gifts can be delivered right to your doorstep or to your recipient's on the same day. For this, you must have placed your order before 12.30 noon at any time during Mondays to Fridays.
That being said, the delivery fee to Perth metro areas is higher here compared to other shops, and can crazily balloon up if you ship to outer Perth suburbs.
Although they don't let you create your own personal gift basket, they let you purchase add-ins for your gift hampers. But because your chosen gift hamper is already filled with a certain set of items, we think that this is unnecessary and will only increase the price of your purchase.
Nonetheless, they deserve a spot on our list of the best gift delivery in Perth due to their extensive product selection, fast service, and nicely presented gift hampers with decadent snacks and treats!
Same-day delivery available (in Perth only)
Accepts Visa and Mastercard payments
Also sells bespoke fresh flowers
High delivery fees
Doesn't offer a custom gift basket service
Doesn't accept Amex credit cards
Customer Reviews
Their fresh blooms received a lot of praises from buyers. So did their same-day delivery and wonderfully presented gift hampers and baskets!
Taryn remarked of the flowers she bought:
"Absolutely stunning! Such gorgeous natives, wrapped beautifully and they've lasted well over a week now."
And check out this comment from one client, April:
"I highly recommend St Anne's Florist, I ordered a large gift hamper for my step dads 50th at short notice and it was delivered perfectly on the same day…life saver! Presentation was beautiful and quick delivery I will definitely be using them again. Thank you!"
3) Hampers by Design

PRODUCTS
Get well soon
New baby hampers
Chocolate hampers
Fruit baskets
For her gift hampers
For him gift hampers
Gourmet food hampers
Pamper hampers
Stitches the Bear hampers
WA gourmet & pamper
Wine & alcohol pampers
Beautiful extras
Mother's Day gifts
Father's Day gifts
Valentine's Day
Christmas hampers
Make your own hampers
Corporate hampers
STARTING PRICE
$14
DELIVERY FEE
Calculated upon checkout
WEBSITE
https://www.hampersbydesign.com.au/
ADDRESS
1524, Wangara, Perth, WA 6947
CONTACT DETAILS
1300 474 586 [email protected]
SOCIAL MEDIA
Facebook, Instagram, Pinterest
OPERATING HOURS
Monday – Friday: 9.00 AM – 4.00 PM
Saturday – Sunday: closed
Hampers by Design is a gift store specialising in luxury gift baskets and hampers. They are proud to offer first-class gift hampers with the finest products from Australia for different occasions.
You can buy ready-made gift hampers, purchase in bulk for your company, or custom-make with your business logo, name, and colour palette, as well as add a couple of accessories to boot. Their gift consultants will be more than happy to help make your buying experience enjoyable and effortless.
Not only does the gift hamper and food packaging look superb, but the foods will also satisfy your taste buds. If you are a certified vegan, they have hampers with vegan chocolate and white wine too!
They have gifts for your boyfriend, girlfriend, mother, father, grandmother. You can grab a pamper hamper consisting of tea, assorted chocolates, sleep fragrance, and an eye pillow to relax at home.
For new parents, they have lots of adorable baby packs from one with a cuddly plush animal and a knitted and muslin rattle to complete packs with baby blanket, socks, swaddle, toy, and more!
Also, you may want to check their Stitch the Bear range to buy for your kid or a friend. Proceeds from this will be donated to Perth Children's Hospital Foundation, so you'll be supporting a good cause too.
Hampers by Design covers Perth and the whole country. They offer same-day delivery only for Perth CBD, benefitting everyone, especially those who are doing last-minute shopping!
Same-day delivery available (around Perth metro)
Secure online payments with Visa, Mastercard, and Amex credit cards
Offers custom corporate hampers
No discounts
Delivery services only from Monday to Friday
Customer Reviews
Hampers by Design is well-received on both Google and Facebook. Buyers mentioned that the baskets were gorgeous and neatly packaged and the staff was very helpful and answered all their queries.
Let's see what Claire has to say about the shop:
"Over the last few weeks I have ordered two hampers from the team for friend/family in Perth. The hampers were beautifully put together and delivered as ordered. I found the website very easy to search and the team helpful on separate queries I had. I will definitely be using again. Great local business."
Moreover, another buyer named Leigh noted:
"The staff at Hampers By Design were excellent – very helpful in customising a hamper, as the one I wanted was temporarily unavailable. And the hamper itself was gorgeous! Would recommend for gifts, thank yous, etc."
4) Avenue Hampers

PRODUCTS
Mother's Day
Birthdays
Baby
Thinking of you
Thank you
Congratulations
Settlement/referral
STARTING PRICE
$79
DELIVERY FEE
Perth metro (standard): free
Perth metro (same day): Weekdays: $14.95/Saturdays: $19.95
WA Regional: free
Interstate: free
Sunday/public holiday delivery: not available
WEBSITE
https://www.avenuehampers.com.au/
ADDRESS
Inglewood 6932, Perth, Western Australia
CONTACT DETAILS
1300 32 32 47


[email protected]

SOCIAL MEDIA
Facebook, Instagram
OPERATING HOURS
Monday – Friday: 9.00 AM – 5.00 PM
Saturday: 9.00 AM – 11.00 PM
Sunday: closed
Avenue Hampers is another of the best gift delivery companies in Perth. With free standard delivery, locally sourced wines and gourmet sweets, and premium packaging, it gives the others on this list a run for their money.
With the fair-priced Appreciation gift hamper, you can savour the moment with a glass of Margaret River wine and a handful of crunchy peanut brittle from Kelly's Candy Co.
For a perfect gift for her, you can grab the Sweet Scents hamper complete with hand cream from Mt Macedon Rose, stress-relieving candles from Conscious, and a fragrance diffuser from Rituelle.
Their products promote sustainability too like their Welcome Home, Baby hamper, which includes a cute long-eared Mr Honey Bunny plus Willow Tree's organic wash and balm as well as an eco-friendly rattle and teether.
Their standard delivery is free around the Perth metro which will take about 1 to 3 days to arrive at your address or your recipient's. The price is a bit higher for same-day delivery so we suggest that you pick the standard option to save money.
In a nutshell, we think that their luxury products are beautiful inside and out. However, they are a bit on the expensive side and the hampers have fewer items than other gourmet hampers.
Free delivery in Perth metro
Accepts Amex, Visa, Mastercard, and PayPal payments
Sustainable products
Expensive hamper prices
No 24/7 support
Customer Reviews
Buyers have been saying that it was extremely easy to order with them. They also noted that their gift hampers were wondrous and had many treats of which recipients were very happy with.
Cherie left this review on Facebook:
"Amazing hampers. Excellent service. Leonie lovely to chat to and goes the extra mile. Sent a hamper to my sister in New Zealand and it arrived safe and sound. My sister said it felt like she was opening Pandora's box she was so impressed with the contents. Highly recommend this company."
Also, let's see Helen's comment as well:
"I found Avenue Hampers to have a beautiful selection of hampers to choose from, an easy ordering system, excellent customer service and same day delivery..it made organising a gift for someone incredibly easy so I've just ordered my second in 5 days!! Gorgeous business-thank you!"
5) Perth Gifts & Hampers

PRODUCTS
For him
For her
Baby
Corporate
Father's Day
Valentine's Day
Mother's Day
Hamper add-ons
Custom orders
STARTING PRICE
$35
DELIVERY FEE
Next-day delivery: $15 (around the Perth metro)
WEBSITE
https://perthgiftsandhampers.com.au/
ADDRESS
4 Aurora Grove, Ocean Reef, WA 6027, Perth, Australia
CONTACT DETAILS
+61 439 947 715


[email protected]

OPERATING HOURS
Monday – Friday: open 24 hours
Saturday: 8.00 AM – 12.00 PM
Sunday: closed
Perth Gifts & Hampers is a small, family-owned gift shop located at 4 Aurora Grove. It offers Aussie-made delicacies like candies, chocolates, mugs, bubbles, coffee, and the like on a classic wooden container.
Linda Orr is the owner of this boutique gift shop. This was formed out of her passion for making fabulous gifts and making people's day.
Her store has loads of gift hampers for various occasions. Be it for him, for her, a new baby, corporate, Father's Day, Mother's Day, or Valentine's Day, you can show these people you love them.
Though the store's prices are pricey, you'll get exceptional service here from the very start. Linda can help you personalise your gift so it's just the way you want it for your recipient.
Another downside is that the store delivers around Perth metro only, shipping out on the next day, and also not free. But you can drive by whenever you're available to avoid this extra fee.
In our opinion, this gift store is excellent because you'll receive a kind and personal service. Your gift won't just be something that was bought online, and since your ideas went into it, it has the effect of producing a smile telling you that you made the right decision.
Next-day delivery available
Does custom orders
Open 24 hours from Monday to Friday
Expensive prices
No same-day delivery available
Serves Perth metro area only
Customer Reviews
Most buyers experienced an outstanding service here. Also, their custom gift hampers were beautifully made and the delivery was efficient.
Here's Catherine's feedback of the store:
"Thank you for preparing and delivering such a beautiful gift. My friend (new mother) just loved it. I will definitely be ordering from you again. I can't recommend this Perth-based company enough."
Also, Rochelle stated this:
"Such beautiful products and beautifully wrapped. My client was over the moon."
6) Code Bloom

PRODUCTS
Sympathy and Funeral Flowers
Dried Flowers
Wedding Flowers
Corporate Flowers
Event Flowers
STARTING PRICE
Starts from $50.00
DELIVERY FEE
Calculated at checkout
WEBSITE
https://www.codebloom.com.au/
ADDRESS
Shop 4, The Mezz Shopping Centre,
148 Scarborough Beach Rd, Mt Hawthorn WA 6016
CONTACT DETAILS
Phone :9444 8604
Email :

[email protected]

OPERATING HOURS
Monday to Friday – 8.30 – 6.00pm
Saturdays – 8.30 – 5.30pm
Closed all public holidays and Easter Saturday.
Code Bloom is not your typical floral shop. What makes them stand out is their daily flower delivery service to Perth and the suburbs. They can deliver to all Perth hospitals, businesses, and, of course, residential addresses.
Aside from this, another factor why they are very recommendable is for their extensive range of products. If you are going to an event and need flowers, browsing their selection is the perfect chance for you to buy the right flowers.
And by the way, they ensure that the wrappers for their flowers compliment the arrangement so that it will look more aesthetically pleasing.
We also love how they can cater to events. Whether it is a wedding, private event, or corporate function, their flowers will absolutely add a touch of finesse that can make the event memorable.
However, if your friend or family member isn't too fond of flowers, then worry not! Because Code Bloom also offers gift hampers that you can customize to include glasshouse candles, edibles, alcohol, and more.
Only use the freshest flowers
Also offers other products such as candles, preserved flowers, scarves, soft toys, and body products
Quick delivery
Offers gift hampers that can include glasshouse candles, edibles, alcohol, and more
Do not deliver on Sundays and public holidays
Customer Reviews
Here are some reviews left by their previous customers on their Facebook Page:
"Extremely easy to order and deal with. I'm in Vic and organised to have a dried arrangement delivered to a friend in WA. The flowers were delivered with 5 hours of me ordering, which was greatly appreciated and she loved them too! Thanks so much Code Bloom!"
"Amazing fast service!! Ordered flowers at 12pm and they arrives just after 2pm! Such beautiful flowers, Highly recommend! Thanks CodeBloom ?"
"Fantastic delivery service above and beyond! Same day delivery in Perth ordered from Scotland the previous evening. Well done. Would use again!"
7) Innaloo Florist

Innaloo Florist is a full-service florist that is sure to become your florist favorites when it comes to ethical, aesthetic, and eco-friendly flower arrangements. If you are concerned with the source of the flowers, they are equally as concerned and try to make each product as environmentally and locally sustainable as much as possible.
Comprised of a team of florists that are nature lovers, each and everyone has considerable years of experience under their belt which aids them in crafting the bouquet of your dreams.
Following Nature First Living, the shop only buys flowers that are grown locally and are also in the season as well before utilizing each and every petal into a stunning design spun together with passion and mindfulness for nature. They also source their flowers from West Australian growers which contain no chemicals at all and they also use only biodegradable foam and minimize their plastic use as much as possible.
We recommend this florist shop for you if you would like to give back to the environment yet still partake in marveling at its beauty through each bouquet and flower arrangement. Furthermore, their policies not only help them be kinder to Mother Nature but also encourage you to take part in every purchase.
Flowers contain no chemicals
Eco-friendly approach
Highly experienced staff
8) Kalipay Gift Designs

PRODUCTS
For Her
For Him
Corporate Gifts
Alcohol Box
Teacher's Appreciation
Sympathy and Thinking of You
Bags and other Items
STARTING PRICE
$79
DELIVERY FEE
Within Perth local suburbs: Free
Flat rate outside Perth and Australia: $18.50
WEBSITE
https://www.kalipaygiftdesigns.com/
ADDRESS
Western Australia Osborne Park, WA, Australia 6021
CONTACT DETAILS

[email protected]

SOCIAL MEDIA
Facebook, Instagram
OPERATING HOURS
Monday – Friday: 10:00 AM – 5.00 PM
Kalipay Gift Designs is a gifting shop that aims to give you a fun and enjoyable experience in handpicking items that will give joy to your recipients. They also aim to support locally made Australian products as this is their primary source and brands that they use in curating their gift baskets.
Their products are made with love and utmost care in order to provide you and your desired receiver a gift basket that is on point with the occasion as well as a blast during the said process. Their gift baskets are all aesthetically appealing and highly customizable as well which will surely leave you in awe with their presentation.
They are highly commended for their generous portions of items along with excellent customer service which made each product exceed and satisfy each of their clients to the fullest. Furthermore, they are always ready and accommodating to answer any of your questions and concerns should you have any queries regarding their policies.
We recommend this gifting shop for you due to their close attention to detail they have then earned a lot of loyal customers who always look to them for a reliable provider of gifting options.
Approachable and accommodating staff
Locally sourced items and brands
Excellent customer service
Customer Reviews
Here are some reviews from their customers:
"Thank you for the most beautiful gift I have ever received. I felt so special receiving this stylish box full of top quality products! I am so happy that I have discovered the perfect gift to make my girlfriends feel special on their birthdays! Thank you lovely lady!"
"I've got my gift delivered a couple days ago to Melbourne and I was completely satisfied with what they did! You can easily see a touch of passion in every single edge all around the gift box!"
9) Plants for Friends

Plants For Friends is an excellent gift shop for you if you are looking for plant options for your friends, family, and the like. Plants are a lasting gift that your loved ones will be able to enjoy long term.
They make sure that all of the plants that they distribute are pest-free and of top quality to ensure that both you and your recipient will get to enjoy its benefits for a long time. Their plants are also presentable and aesthetic in appearance which makes it a good choice if you are looking for a gift that will be good decor for yourself and your loved ones as well.
Each order is handled with care along with instructions that are specifically for the plant you ordered so that you will be guided on how to properly care for the said plant species. Furthermore, they also include a complementary botanical gift card to add your personal dedication and message to your recipient that will surely bring a smile to their faces.
We recommend this company for your plant-related ideas since not only do they deliver consistently excellent and presentable plants but also have excellent, accommodating, and approachable staff that will guide you through the whole process.
Wide selection of plant species
Prompt communication
Fast delivery
Customer Reviews
Here are some reviews from their clients
"We can't thank Plants for Friends enough for their amazing gift for our client who was ecstatic to come home to find her plant and goodies which prompted her to reach out straight away to thank us. Their delivery was on time and communication from start to finish with a snap of the delivery was so well done. We will be recommending to all. Thank you!"
"I've used Plants For Friends a few times. I'm so impressed with product range, cost, timeliness and the overall level of customer service. I've stopped using florists and am committed to this exciting, excellent young company. "
10) Brew Crates

PRODUCTS
Crates perfect for any occasion
STARTING PRICE
$4
DELIVERY FEE
Calculated at checkout
WEBSITE
http://www.brewcrates.com.au/
ADDRESS
Hocking, WA 6065
CONTACT DETAILS
Email:

[email protected]


Phone Janice: 0416 049 314
SOCIAL MEDIA
Facebook, Instagram
OPERATING HOURS
24/7 for placement of website orders
Email and phone enquiries will be responded to from 8am – 7pm daily, Western standard time
Delivery is available to local Perth 7 days a week
Brew Crates is how it started with gifts of WA Craft Beer and tasty WA-made snacks, gifted in a timber crate, promoted on its own website.
What's great about them is that recently, they expanded to be WA Gifts and Hampers, gifts of WA Wine, Spirits, Ciders, an ever-growing selection of WA Made gourmet items & tasty treats, along with Tea & Coffee, and Pamper & fragrant gifts. Brew Crates has now become a collection of WA Gifts and Hampers!
In comparison to other companies, their website is a guide to their gift offerings, however, they often customize gifts to suit their client's preferences & price point. Additionally, they can create gifts for all occasions.
My Brew Crates and Gift hampers range in price from $40 – $150 on average, with larger hampers being curated to suit both Personal and Corporate requests. All items included in my hampers, Excluding Alcohol, are available for individual purchase, to either add to a chosen gift or create your own shopping bag.
They personally deliver the items themselves to all local Perth, being Rockingham to Yanchep, the coast on the west, and east to the hills in Kalamunda and surrounds, for a $10 fee.
Aside from this, orders to areas in WA and Australia-wide, are sent via the Australia Post Express. Only $25 for up to 5kg, it covers most gifts and its price is confirmed if the package is over that weight.
Offers a huge range of items that are perfect for any occasion
Nice and secure packaging
Affordable prices
Tracking details are supplied to their customers once lodged at the Post office.
Office hours are not stated
Customer Reviews
Here are some reviews of their previous clients on their Facebook page:
"Great service as usual ? this is the second time I've ordered a delivery as a gift to a friend or client from WA Gifts and Hampers. Always happy with the options for the gift box and a great price range too. Will deffo be back soon for more gifts."
"I'm so glad I ordered from this business. Janice was so great to deal with and helped me specialise a hamper. I would definitely order again."
11) Bodi Box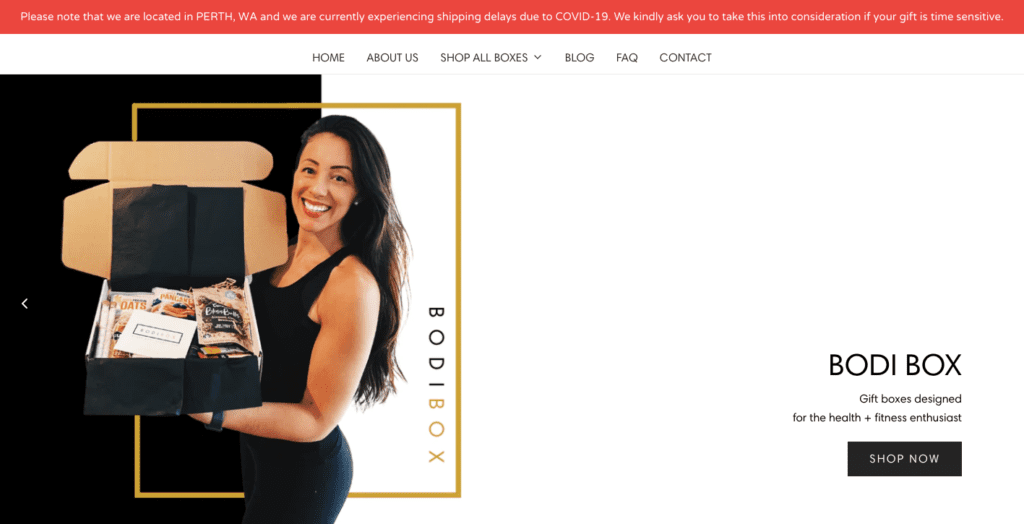 PRODUCTS
Gifts Under $50
Build Your Own Box
Small Boxes
Large Boxes
STARTING PRICE
$37
DELIVERY FEE
Computed upon checkout
WEBSITE
https://bodibox.com.au/
ADDRESS
Perth, Western Australia
CONTACT DETAILS
Fill out the form on their website
Click here to be routed to their Facebook Messenger


[email protected]

SOCIAL MEDIA
Facebook, Instagram
OPERATING HOURS
Contact for more information
Greg and Tash are the founders of Bodi Box who have this belief that a healthier world, is a happier world.
With that belief in mind, we are impressed that they wer able to create Bodi Box. It is indeed a great idea that these gift boxes becomes a medium to bring health and fitness to as many Australian homes as possible.
Compared to other gift boxes, Bodi Box is focused on the health and fitness of people. You may purchase products from them from small to big boxes, products from under $50 and also even create your own Bodi Box whom you can send to your loved ones.
Their boxes contains products that will help you live a healthier life such as GU ENERGY STROOPWAFEL, SMOOTHIE BOMB – COFFEE, FRISP FRUIT CRISPS and BONDI SLIMMING PROTEIN SACHET to name a few,
If your loved one is indeed a gym junkie, Yoga/Pilates enthusiasts or an athletic person who is really careful with the food they and products they use, giving them Bobi Box will the best decision you will ever make.
Customer Reviews
Here are some reviews of their previous clients on Google and on their Facebook page:
"I was looking for a fitness type gift box to gift for someone and couldn't find anything in NZ so I googled and found Bodibox in Australia and even better the gift was for someone Aussie based. I made the error of purchasing two boxes by accident and Tash was amazing in getting me my refund back immediately ? Then shipping troubles with Sendle meant my parcel went missing but Tash organised for a new box to be sent free of charge which arrived and the receiver loved it ? Such amazing service and highly recommend! Excellent communication and one of a kind that do fitspo gift boxes in this part of the world. Thank you so much Bodibox team!" – Priscilla Smalley
"Thank you Bodi Box for the great gift ideas! The customer service, delivery time and thought that goes into these boxes is fantastic! It was beautifully wrapped and delivered to my front door. ? I loved how you can create your own box to suit anyone. The website is also easy to manage ? Will definitely recommend and buy again in the near future. ?" – Slavica Zivkovic
"My husband bought me a muscle recovery box because I am always complaining about how sore I am from the gym. I love the products! They all smell amazing and make me feel great!" – Sabrina Tilley
"LOVED LOVED LOVED IT! I received a Bodibox as a birthday present from a good friend. The smell of the lavender from the wheat bag when I opened the box was amazing!" – Tammy Williamson
12) The Daily Blossom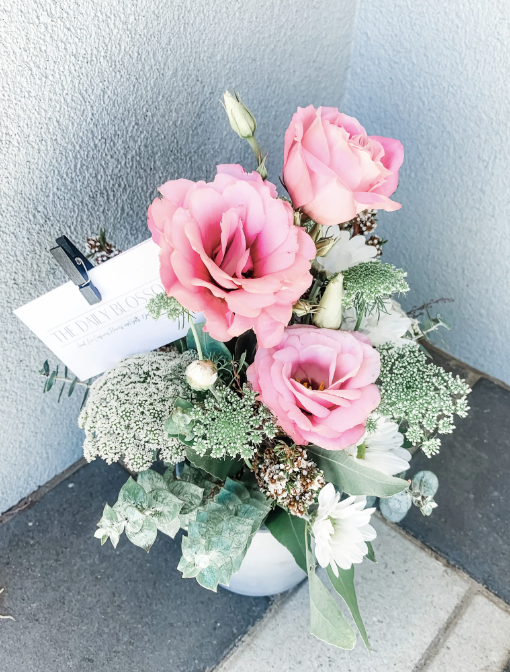 The next on our list is The Daily Blossom – Perth's Original Eco Florist.
Not all gift shops are sensitive to how mother nature is deprecating that is why we are impressed that The Daily Blossom are a foam-free florist where there is no plastic foam at the base of your lovely, natural blooms.
You can really feel that they care deeply about the environment and strive to create sustainable and reusable products that bring joy while causing no harm.
You can feel good about sending your love messages because your gift is created and delivered in a sustainable manner.
Your vases are handcrafted in our Hamilton Hill studio, we only use Australian grown blooms, and all of our gifts are sourced from Western Australian artisans, so we (and you) are directly supporting other local businesses.
Your orders are in safe hands with them as they value each order you place since you have entrusted them with your most precious moments.
Only delivers from Tuesday to Saturday
Customer Reviews
Here are some reviews of their previous clients on Google Reviews:
"Amazing customer service and beautiful flowers. Will be using Daily Blooms for all future flower and gift needs. Thanks for brightening up my loved ones day!" – Gillian Hughes
"I just received faultless customer service from the lovely Jess, which I find is hard to come by these days.
Thank you for assisting in the delivery of blooms to a friend in need, communication was exceptional, and ordering on the website was seamless. I will be recommending you to my friends! Thanks again, I'll be back." – Ash Nilson
13) Sweet Hearts Chocolates

PRODUCTS
Chocolate Bouquets and Gifts
STARTING PRICE
$44.99
DELIVERY FEE
Computed upon checkout
WEBSITE
https://www.sweetheartschocolates.com.au/
ADDRESS
5 Alola Court,
Alexander Heights, WA, 6064,
Australia
CONTACT DETAILS
0413793555


[email protected]

SOCIAL MEDIA
N/A
OPERATING HOURS
Contact for more information
Another on our list is Sweet Hearts Chocolates.
While it may seem cliché for others, we think that chocolates are classic gifts for the people we love.—chocolate bouquets even more so.
And we think that you can never go wrong with this classic gift. This is why we're recommending this chocolate bouquets and gifts shop located in Perth.
They promise to create unique chocolate bouquets that make a statement in aesthetic, quality, cost and flavour, and we believe that their products are proof of this promise.
We like that this small family-run business offers excellent customer service and always goes the extra mile to provide the best for their customers.
For all these reasons, we think they're worth the consideration as your go-to gift delivery store.
High quality products
Excellent customer service
No weekend deliveries
Operating hours unavailable
Customer Reviews
Here are some reviews of their previous clients on Google Reviews:
"Karen is the absolute best! Amazing customer service, I love that I'm supporting a local business run by a very hard working, passionate woman. You can tell all the products are made with love and I would always recommend Sweet Hearts for any and all special occasions."
"I received one of your lovely gift baskets and it was the most wonderful unexpected surprise and ooh so Gorgeous!!!! Highly recommended if you want to impress someone with a very thoughtful gift"
14)   Hands of Afrika

Hands of Afrika is a gifting shop that offers clients an excellent selection of beaded products that are especially inspired by Afrikan traditions and practices and take a better look of products from their perspective as well.
We like that all of their products are handmade and made from quality materials so that clients can be sure that each order from them is durable and can be used for a long-time.
Furthermore, their customer service is also highly commended by their past clients since not only were they prompt to reply but also very knowledgeable in terms of the products that they offer which was a great help to new customers.
It is important to know that even if they do have a physical store, there may be some products that they only offer exclusively on their website's online shop.
Overall, with their accommodating customer service, quality products, and authentic themed apparel and accessories, we highly recommend them to customers looking for a handmade gift that directly represents the Afrikan culture.
Quality handmade products
Accommodating customer service
Secure delivery
No physical stores
Long processing dates
Customer Reviews
Here are some reviews from their clients:
"Your beaded accessories are beautiful. I bought the Lace Choker and I am loving how grand and colourful it is. You are so helpful and kind. Thank you!"
"I love my beaded earrings!"
FAQs about the Leading Gift Delivery in Perth
---
And there you have it for the best gift delivery in Perth. They can help you create a stylish gift hamper for your loved one or colleague.
Any questions or suggestions regarding our list? If so, kindly let us know by dropping us a message and we'll get back to you promptly.
Plan to gift a friend who lives in Melbourne? For this, you can order from the best gift delivery shops in Melbourne to send it to the doorstep of your friend and save up on shipping costs too!