Featured Image Source from Santa Barbara Company
Looking for a gift that will be enjoyed and appreciated by your friend or colleague? If you are, you're in luck, as we've put together the best gift delivery options in Los Angeles here for you!
But before we move on to our top selection, we'll have a quick look through their rates. This will help you decide which gift store to order from that will rightly suit your allotted budget.
Ready? Let's begin!
How Much Does Gift Delivery Cost in Los Angeles?
From the data we've gathered, we found that gift delivery in Los Angeles can cost anywhere from $5.99 to $2,250+. The price depends on the product you order and the delivery rate.
In this price range, you are sure to find a gift that is suitable for your purpose and budget as there are tons of options to choose from by shopping online at our chosen shops.
You can bring down the price if you use an online promo code when you order. But you'll typically have to sign up for the monthly newsletter first to receive it as well as other deals.
Now, here's a table of some of the top gift delivery shops in LA along with their gift and delivery rates. You can use this information to help you choose from our list, which will follow shortly.
| | | |
| --- | --- | --- |
| Gift Delivery Shop | Price Range | Delivery Charge |
| Gourmet Gift4U | $10 – $215 | $9.99 |
| Fancifull Gift Baskets | $25 – $278.95 | Calculated at checkout |
| Mel & Rose | $45 – $2,250 | Calculated at checkout |
| Edible Arrangements | $5.99 – $1,999.99 | From free to $14.99 |
| The Gift Basket LA | $30 – $750 | $15 – $40 |
| Holy Chic Los Angeles | $30 – $1,350 | Free at orders worth $150 |
The Best Gift Delivery Options in Los Angeles
With that in mind, let's now go on to our list of the best gift delivery options in Los Angeles, California!
1) Gourmet Gift4U
For a sweet, berry-tastic, and contemporary gift, Gourmet Gift4U has you covered! It brilliantly combines elegant, fresh flowers and heavenly, chocolate-dipped strawberries in one arrangement to be sent to your special someone.
You won't find their gifts anywhere else because each of their arrangements is one-of-a-kind and tailor-made to your specifications.
Whether you're gifting your dad this Father's Day, a grandson that will soon graduate, or a friend that has always been there for you, their gift of treats can express how much you truly love and appreciate them.
You can go online and browse their offerings of arrangements, signature boxes, macaroons, and fresh berries. At checkout, you can also select the chocolate type (dark or milk), berry type (organic or not), color, size (regular or large), and box type (round box or bouquet).
However, if you aren't sure what to pick, you can just shop by product and choose a certain theme for your recipient. Or you can also contact the gift team and they will happily assist you.
In our opinion, the pictures we have above for this gift delivery shop show some of its best berry creations.
The only drawback of choosing this gift shop over others is their high prices. That said, their yummy products and reliable customer service will more than make up for them.
Based in Encino, LA, they offer a same-day delivery service in which your gift arrangement or box can arrive at your recipient's doorstep within a few hours, which is both fast and convenient.
Speaking of convenience, they offer a full range of payment options including American Express, Visa, Mastercard, Discover, Google Pay, Klarna, Shop Pay, and PayPal. Hence, ordering from them won't be a problem at all.
Based on the reasons we've stated here, Gourmet Gift4U is indeed one of the best gift delivery options in Los Angeles!
Same-day delivery available
Accepts a lot of payment modes
Offers refunds
Special offers and promos are available
Higher rates
Doesn't deliver nationwide
Customer Reviews
Gourmet Gift4U garnered a perfect 5/5 score on Google. Many buyers shared that the berries were delicious, the florals were fresh, the staff was reliable, and the delivery was fast and prompt.
One buyer named Bart left this review on Google:
"A week later they are by my bedside and still look so pretty, even the roses that have dried look pretty and stylish…very French country shabby chic!
After we ate the delicious treats and took out the wrappers, we are left with a gorgeous flower arrangement that's still thriving, and beautiful!
Highly recommend!"
What's more, Sharon said this:
"I order today via the phone . And I got say , oxana was the one who helped me and she gave me great service , she was kind and creative! Totally helped me out with building the right gift basket ! And as well the delivery was fast too ! Highly recommend !"
2) Fancifull Gift Baskets

PRODUCTS
Gourmet gift baskets
Wine & beer
Corporate gifts
Occasion gift baskets
Custom baskets
STARTING PRICE
$25
WEBSITE
https://fancifullgiftbaskets.com
ADDRESS
5617 Melrose Avenue, Los Angeles, California 90038, USA
CONTACT DETAILS
+1 323-466-7654


[email protected]

SOCIAL MEDIA
Facebook, Twitter, Instagram
OPERATING HOURS
Monday – Friday: 10.15 AM – 5.45 PM
Saturday: 11.00 AM – 4.00 PM
Sunday: closed
Formed in 1987, Fancifull Gift Baskets makes all sorts of gift baskets for different occasions. These include custom and corporate ones as well as kosher, gluten-free, and vegan options for those following a special diet.
There are a few options that you can choose as you order a gift product. For example, some gift options let you add red, white, or sparkling wine, which would be perfect for celebrating an anniversary or wedding.
They also have flowers should you want to incorporate them in your basket. For this, just let the team know and they can suggest better options and create one for your partner or friend.
Ordering before 1.00 PM on weekdays will make you eligible for same-day delivery. However, you can also have the team deliver at a specific date to arrive before your event or gala dinner.
Because they use FEDEX, their products can't ship out on Saturdays and Sundays. But their store is still open on Saturdays from 11.00 AM to 4.00 PM so you can come by if you desire.
Their product range is set at different price points so there's surely something for every budget and need. All of them provide excellent value for money, which many buyers can attest.
On top of that, their customer service is supreme as they always see to it that their clients are satisfied with the product. They will even call a few days later to check if the gift basket is being enjoyed—something that other companies don't do.
And, though their gift baskets don't look premium but quite simple and common, we like the fact that the team still goes out of its way to give the basket a personal touch and make it with care and detail.
Same-day delivery available
Offers vegan, kosher, and gluten-free choices
Provides after-sales support
Deliver on Satudays
Customer Reviews
Clients said that their gift baskets were unique and had scrumptious treats. They also found it easy to buy from the online store thanks to the gift team who was on hand to assist them.
Here's the feedback coming from one buyer, Nicole:
"Thank you for such wonderful,friendly,helpful customer service!! & I even received a follow up phone call to see if my friend like her gift I sent!! That I can say has never happened from other flower or gift basket company I have purchase from. The items in the gift I purchased were lovely. I will be sure to pop in on my next trip to LA. Thanks so much!!"
Moreover, Mikey wrote this review:
"Wally is the best. He has hand picked most unique Selection of fine wines, meats, cheeses, chocolates, they have the most exquisite meaningful gift baskets you could possibly imagine that you could personally build yourself for a loved one, or that favorite client" of yours to leave the most remarkable professional impression of who you are."
3) Mel & Rose

PRODUCTS
Gift Baskets

Wine
Champagne
Asian-inspired
Baby
Beer
Chocolate
Custom
Epicurean
Floral
Fruit
Get well
Gourmet
Kosher
Organic
Romantic gifts
Spa & relaxation
Spirits
Sympathy
Tea & coffee
Theme
STARTING PRICE
$45
WEBSITE
https://www.melandrose.com/
ADDRESS
8344 Melrose Ave, Los Angeles, CA 90069, USA
CONTACT DETAILS
+1 323-655-5557


[email protected]

SOCIAL MEDIA
Facebook, Twitter, Instagram
OPERATING HOURS
Monday – Friday: 9.00 AM – 10.00 PM
Saturday: 10.00 AM – 10.00 PM
Sunday: 12.00 AM – 7.00 PM
If you're planning to get a wine, beer, or spirits basket, Mel & Rose is your store. For over 20 years, their staff has been curating gift sets with high-quality products and treats for their clients.
With their enormous selection, they make you spoilt for choice when you do your shopping here. Among them are sake gift baskets, floral gift baskets, kosher gift baskets, romance gift baskets, sympathy gift baskets, and more!
They can do corporate gift baskets with your logo and color pattern on the basket you can give away to your employees or clients. For this, you'd have to go to their Corporate, Multiple Gift, and International Orders section and follow the steps indicated therein.
Although their products are relatively expensive, they can come up with something to fit your particular needs and budget. That's outstanding customer service right there.
You can talk with them live 7 days a week during business hours in case you have questions or are stuck with deciding on the best product to send.
By getting any one of their gift baskets or alcoholic beverages, they will provide a gift-wrapping service and a card with your personal message free of charge.
As for shipping, they can deliver across Los Angeles and the States as well as internationally. However, be aware that there were some complaints about the delivery taking longer than usual.
Despite this flaw, we picked Mel & Rose as one of the best gift delivery stores in Los Angeles due to its beautiful gift baskets and hard-to-find wines that can be included to cheer up or treat someone you know!
Provides same- and next-day deliveries
Delivers locally and internationally
Live chat support available
Open 7 days a week
Products can't be customized on the order page
Complaints about their customer service
Customer Reviews
Some people gave negative remarks about their delivery service. However, most people mentioned that the shipping was timely and fast for their well-packaged, exciting gift baskets.
Let's see what Dawn has to say about the gift store:
"I ordered a basket for my daughter. It was wonderful! Much more than I was expecting. I can't thank you enough! I would definitely recommend and use in the future."
Furthermore, Nikki wrote this feedback:
"I had to place orders for multiple baskets and Ashley was so patient on the phone, and careful to review each order. She even helped me get them messengered rather than waste time shipping. Awesome customer service experience!"
4) Edible Arrangements

PRODUCTS
Arrangements

Fresh fruit
Chocolate-dipped

Other Gifts

Balloons
Brownies
Cookies
Cheesecakes
Chocolates
Curated Boxes
FruitFlowers
Nuts
Popcorn
STARTING PRICE
$5.99
WEBSITE
https://www.ediblearrangements.com
ADDRESS
5870 Melrose Avenue, Los Angeles, CA 90038, USA
CONTACT DETAILS
323-462-6666
SOCIAL MEDIA
Facebook, Twitter, Pinterest, Instagram, YouTube
OPERATING HOURS
Monday – Saturday: 9.00 AM – 5.00 PM
Sunday: 10.00 AM – 3.00 PM
Father's Day (June 20, 2021): 9.00 AM – 5.00 PM
Like our previous pick, Edible Arrangements also offers choco-dipped strawberries and flower arrangements. But instead of just berries, this company also uses a wide variety of fresh fruit such as cantaloupe and honeydew melon, pineapple, grape, mangoes, and kiwis, among others.
Their creative fruit designs come in a wide range of sizes and shapes that can whet appetites. They are either presented as a lovely bouquet or stylishly inside a round container ready to be enjoyed by the recipient.
The treats can be customized with various toppings, fruit, and chocolate. Furthermore, you can pair your gift by adding balloons, plushies, nuts, brownies, and more.
The store can ship out your edible arrangement within the same day through a local store. After all, they have over 1,200 franchise stores in the USA ready to take your order.
However, some clients reported that it's hard to get hold of them regarding their delivery issues. But the great thing about them is that they try to sort things out so that you are satisfied with their service.
What's more, they accept all major credit cards including American Express, Visa, Mastercard, and Discover Network. Also, you can use PayPal and Amazon Pay when buying at their store online.
Plus, your edible bouquet or arrangement will always be delivered fresh. It will be packaged in a custom container and transported in their clean and refrigerated van.
Remember, the food must be consumed soon after receipt and within 24 hours at the most. By the way, some of their products may contain peanuts so they may not be suitable for people with allergies.
Same-day gift delivery offered
Gives a satisfaction guarantee
Accepts credit cards, PayPal, and Amazon Pay
Special rewards and offers available
Some products are not suitable for people with allergies
Complaints about their delivery service
Customer Reviews
There have been some complaints about incorrect products being delivered. Nevertheless, most clients were happy with their delicious fruit arrangements prepared by kind and friendly staff.
Take a look at Maresa's comment below:
"I've ordered here a few times and always excellent service! Delicious fruit and arrangements and boxes of dipped strawberries that really impress others!"
Plus, Larry shared his experience ordering from them:
"Just left this location to purchase a gift for my mom and I'm happy that I was able to deal with Astrid. Astrid was very helpful took away all of the stress when trying to select the right gift for moms."
5) The Gift Basket LA

PRODUCTS
Gift Baskets/Boxes

Wine, champagne & more
Cigar
College care
Mother's Day
Holiday
Hotel
Birthday
Get well
Thank you
Spa/relaxation
Sports
Theme
Western
Tea/coffee
Business
Valentine
Baby
Picnic
Congratulations
Wedding/anniversary
STARTING PRICE
$30
WEBSITE
https://www.thegiftbasketla.com/
ADDRESS
12400 Ventura Blvd, Suite 122, Studio City, CA 91604, USA
CONTACT DETAILS
818.597.2220


[email protected]

SOCIAL MEDIA
Instagram
OPERATING HOURS
Open every day from 9.00 AM – 5.00 PM
Want a gift basket that will give you great value for money? Then look no further than The Gift Basket LA, which was locally established in 1982 by Jere Berkeley.
This company is not only one of the best gift delivery shops in Los Angeles but it may also be one of the most popular too.
Its clientele includes A-listers and popular TV series like The Ellen DeGeneres Show, for one, as well as NBC, ABC, Discovery Channel, Paramount Studios, 20th Century Fox, Columbia Pictures, and more.
They have a slew of gift basket options that are loyal to the theme they're designed for. Some of these themes include new baby girl, western, college, spa and relaxation, Valentine's, and business.
Besides that, they can put together a special and unique basket for someone you care about.
Having worked for more than 30 years, the owner has always taken pride in putting only the finest-quality items into the basket to create a wonderful experience for the person to whom you're planning to give the gift.
This company has no gimmicks like newsletter signups or free delivery over a given value, or something like that. They simply fill the baskets with delicious treats and useful products for people to use, which is why you'll get the most bang for your buck with them.
Gift Basket LA covers homes and workplaces in Los Angeles, Beverly Hills, and South California every day. Also, they can ship your gift baskets to a loved one anywhere in the country.
You can order your custom gift basket online or by giving them a call or email. A CS representative will respond to assist you with your specific gift basket or box needs.
Impressive clientele
Serves clients nationwide
Gives great value for money
Higher delivery fees
No special discounts or promos
Customer Reviews
Buyers were very satisfied with the gift baskets from The Gift Basket LA. Their recipients from far and near loved the delicious and variegated treats and stuff that they received.
One satisfied client named Lorianne left this review:
"Years ago, my husband and I traveled to a wedding where the bride and groom provided out-of-town guests with beautiful gift boxes filled with snacks and other goodies from The Gift Basket (see attached). We were so impressed with the assortment of high-quality goods in our box, my husband and I started using The Gift Basket to send a holiday basket to our vet every year as a thank-you for the care he provides for our many pets. This basket is always well-received, with both our vet and his staff raving about the selection and quality of treats it contains. If you want to make a good impression or express how much you appreciate someone, send them a basket from The Gift Basket."
And also, check out Jim's feedback:
"I was referred to The Gift Basket LA by an Hollywood industry executive who has been using their services for many years. and I wasn't disappointed. I needed several highly customized gift baskets on a pressing schedule, some local to LA and others shipped to New York. Jere, the owner and basket designer took care of my requirements and crafted several baskets, all customized for my needs right on schedule. Her communication is great and her pricing is excellent considering how much attention is paid to detail. The items she selects for the basket are truly gourmet and world-class; where she finds these special items, I don't know. The recipients of the Southern California baskets received theirs incredibly quickly using The Gift Basket's hand delivery and the East Coast baskets were so nice, the people receiving them were astounded at how great they looked coming all of the way across the country. I could go on and own about this business, but I'll state that if you want the very best gift basket experience, give them your business. An obvious 5 star rating!"
6) Bubles Champagne Gifts & Events

Bubles Champagne Gifts & Events offers an extensive range of gift boxes that can totally fit into any occasion. They stand out from other companies since their gift boxes are elegantly designed, in the US and curated with a wide range of eclectic and iconic Champagne bottle(s).
They pride themselves on making their gift boxes personable and unique. And as much as possible they try their best to feature selective seasonal products.
By buying gifts from them, you will absolutely expect the wow effect, giggles, and sparkles in the eyes of your loved ones when they open the box.
Additionally, what made us really recommend them is their same-day delivery in Los Angeles. Their gift boxes will go straight to the recipient's door on time and in perfect condition!
You may personalize your gift
Large selection of products
Payment methods are VISA, MasterCard, Discover, and AMEX
Working hours are not available
Customer Reviews
Here's what some people have to say about them:
"Fantastic experience with Bubles. Order process was easy and efficient. Same day delivery for a gift and great follow up and customer service. Highly recommend!"
7) Holy Chic Los Angeles

PRODUCTS
Preserved Roses
Scented Candles
Chic Gifts
And More
STARTING PRICE
$30
WEBSITE
https://holychiclosangeles.com/
ADDRESS
1527 Montana Avenue
Santa Monica, CA 90403
CONTACT DETAILS
Tel: (747) 999-2020
Email: [email protected]
SOCIAL MEDIA
IG
FB
OPERATING HOURS
Mon-Fri: 11AM – 7PM
Sat-Sun: 11AM – 6PM
Holy Chic Los Angeles is a gift delivery service that delivers gifts from the most exclusive boutiques in Los Angeles. The company was founded in 2013 by three friends who had their own personal experiences about gift-giving in LA.
Holy Chic Los Angeles chic roses are the highest quality real flowers that don't need water and last at least one year. Furthermore, their scented candles are made of virgin coconut/soy wax blend, 100% natural cotton wicks, and phthalate-free perfume grade fragrance oils.
Each candle uses a reusable, elegant clear glass container with a dome. And lastly, all their candles are handcrafted in small batches at our workshop in Santa Monica, California.
With their range of gifts, we are confident that you can find the perfect one that you can gift your love ones!
Get 10% off any purchase if you sign up for their newsletter
Wide range of products
Responsive customer care
Some products may be sold out quickly, so make sure to place your orders now
Customer Reviews
Here's what some people have to say about them:
"I love this store. It's so sophisticated. I love the idea of preserved roses that will last for over a year. I gave it as a birthday gift to my family member and I did a proper research before picking this place. Everything they offer is better than any other store of similar kind: from prices to the gorgeous velvet boxes that they use for the arrangements (others would offer you simple paper box). The decision is on you, of course, but i know I'll come back there again ?"
"At a very reasonable price, the bouquet I ordered appears to be very beautiful and elegant. If I needed help, I wouldn't go anywhere else. Thank you so much!"
8)   The Juicy Leaf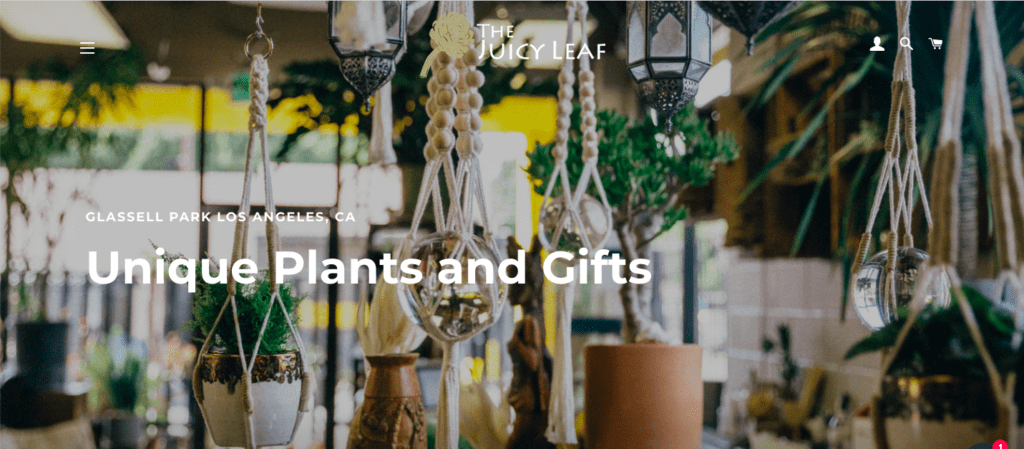 The Juicy Leaf is a boutique store located in Glassell Park Los Angeles.
What caught our eye about this store is the fact that they offer an alternative for gift giving with their unique designer terrariums and succulent arrangements.
We like that they also specialize in driftwood sculpture, hand made glass and pottery, and a curated selection of vintage furniture and objects. This gives us more unique gift options to choose from!
They also provide private planting parties for all occasions and we think that this is very interesting, and again, something different. If you want your event to be memorable, we think this is a great option.
For their gift deliveries, they offer next day deliveries which we think is very convenient.
We'd also like to rave about the whole vibe of their store. We especially like the quality plants they have and the decor of the whole place!
We highly recommend if you're looking to veer away from the usual gifts.
Sells unique designer terrariums and succulent arrangements
Also specializes in driftwood sculpture, hand made glass and pottery, and a curated selection of vintage furniture and objects
Next day deliveries available
Customer Reviews
Here's what some people have to say about them:
"Great products and customer service. We first saw this store while we were taking our daughter to music class. We were intrigued by the name and plants in front of the window. I highly recommend getting plants for yourself and your loved ones here. They are knowledgeable and care about their customers. We are going to shop here again in the future."
"Unique designs. Gorgeous and exactly as pictured on the site! They hand wrote the card which made it even more special. Delivery available and easy ordering online was so convenient since I'm not in the city. Will 100% order from them again."
FAQs about the Top Options for Gift Delivery in Los Angeles
---
And that concludes our list of the best gift delivery options in Los Angeles. Now you know which store to buy from for a gift that will elicit a smile and encourage positive vibes!
Any questions or comments about our picks? If you have one, kindly send us a message and we'll get back to you in a jiffy.
Other than that, if you're sending a gift to a special person in Toronto, you may be interested in the best shops for gift delivery in Toronto. There, you can find breathtaking gift baskets as well!