Hoping to make someone's day? If so, then perfect timing, as we organized a list of the very best gift delivery stores in Colorado Springs here for you!
These gift shops offer a smorgasbord of products, including gift hampers, flowers, balloons, and handcrafted cards that can be shipped to your friend on short notice!
Best Gift Delivery Shops in Colorado Springs
1. Songbird & Island Orchid

Shop link: https://island-orchid.com/
Speciality: Gourmet gift baskets and lovely orchids
Price: From $50
Delivery fee: Calculated at checkout
Songbird & Island Orchid is a unique merger business offering gourmet gift baskets with mostly Colorado food products and lovely orchids imported from a small Hawaii farm.
Each of their gift baskets is handpicked by the owner to deliver the best flavor and experience to you or your receiver.
Their gift products start affordably at $50, but you won't get much with their cheapest item. Their complete and satisfying gift baskets are priced higher between $75 and $125.
Moreover, they have a wide range of colorful and beautiful orchids that your loved one can use to adorn their house. Be aware, though, that the orchid section of their website is currently under maintenance.
Also, they only accept advance gift basket and orchid orders bound for Colorado Springs for now. That means you'll have to pick a different shop if you're planning to send the gift to other cities and states.
Carefully curated gift baskets
Sells lovely orchids
Competitive rates
No same-day delivery
Doesn't deliver outside Colorado Springs
Some parts of the website are still under development
2. See's Candies

Shop link: https://www.sees.com/
Speciality: All sorts of candies and chocolates
Price: $6 – $84
Delivery fee: $8.95 – $43.95
Payment methods: Visa, MasterCard, Discover, American Express, PayPal, Venmo, and Klarna
See's Candies is an eminent candy manufacturer and retailer founded in 1921. All kinds of enticing sweet treats can be found here, from candies to chocolate bars to salted nuts.
Some treats are made to be egg-free, dairy-free, nut-free, soy-free, sugar-free, and kosher, which is helpful if you have a friend who is following a special diet.
Furthermore, it's exciting to buy here because they give occasional promotions that let you spend less if you buy more.
For instance, you can get their milk or dark chocolate-covered almonds at a reduced price, $10 each, if you buy two instead of just one. Typically, they cost $12.50 each.
That said, this company has high delivery rates, especially if you avail of their express delivery options. And to add insult to injury, going with their least expensive standard delivery will take at least six business days until the gift reaches its destination.
Has a whole gamut of candies and chocolates
Expedited next and two-day delivery available
Offers several dietary options
Excellent discounts
High delivery fees
Slow ground delivery times (up to six business days)
3. Jasmine Flowers & Gifts

Shop link: https://www.jasmineflowersgifts.com/
Speciality: Wonderful flowers and gifts
Price: $86 – $391
Payment methods: Amex, Mastercard, Visa, Discover, PayPal, Apple Pay, and Google Pay
If you want to send a friend or parent bright and wonderful flowers and a gift in Colorado Springs, then you can try Jasmine Flowers & Gifts.
The flower prices are on the expensive side, but they may be worth it because they're made with care and passion.
Some previous buyers told us that the employees were skillful, kind, and helpful in crafting flower ensembles for their recipients.
This florist can promptly ship your flowers to Colorado Springs and nearby areas on weekdays. Do note that they're not open on Sundays and don't deliver much farther out.
Provides same-day delivery
Crafts wedding flowers
Offers houseplants and gift baskets
Secure online transactions
Closed on Sundays
Premium rates
Doesn't deliver nationwide
4. Front Porch Gift Co.

Shop link: https://www.frontporchgiftco.com/
Speciality: Artisanal gift boxes
Price: $35 – $95
Delivery fee: Free within 20 miles of the shop
Payment methods: Amex, Apple Pay, Discover, Google Pay, Mastercard, Shop Pay, and Visa
Front Porch Gift Co. is a great gift box or hamper company that sources its products from small local vendors.
They have a nice and inexpensive selection of gift boxes for birthdays, anniversaries, casual gifting, and weddings. And you can add a personalized message with every box as you check out.
One of our favorites at this store is the Mountain Mementos gift box.
This fantastic set includes a Simple Body kitchen and bathroom spray, a Sherwood "Welcome to Colorado" wood ornament, a set of two Light Provisions beeswax tapers, and Gray Mountain Tray catchall pottery.
For an added price, you can also add an Of Mud Pottery coffee mug.
Also, with this gift shop, you get free delivery within 20 miles of the shop. However, they don't take PayPal and they're closed on Sundays.
Local and artisanal gift products
Multiple delivery options
Takes corporate orders
Accepts several payment modes
Doesn't take PayPal
Closed on Sundays
5. A Wildflower Florist

Shop link: https://www.awildflowerflorist.com/
Speciality: Exciting and vibrant floral ensembles
Price: $50 – $300
Payment methods: Amex, Mastercard, Visa, Discover, PayPal, Apple Pay, and Google Pay
Formed in 1992, A Wildflower Florist is a premier family-owned flower and gift delivery shop based in N. Powers Boulevard of Colorado Springs.
The florist can deliver your custom flower goods in Greater Colorado Springs and anywhere in the world.
There's a fairly large range of flowers you can find here for any occasion and sentiment. As of the time of writing, they have lots of mesmerizing fall flowers blooming in yellow, orange, and red.
Additionally, they have food gift hampers—one nice example of which is displayed on the collage above—as well as fresh plant baskets, like the Benjamin Fig Tree and Croton Plant Basket.
Rates at this shop are reasonable, but their special offers don't seem to help customers save, as they have a similar or even a higher price than normal.
Lastly, they're closed on Sundays, so we recommend other shops on this list if you need fresh flowers on that day.
Specializes in fall and classic flowers
Delivers worldwide
Crafts wedding blooms
Secure online transactions (SecureTrust-certified)
Closed on Sundays
Their special offers flowers are still expensive
6. Gift Basket Connection

Shop link: https://www.gift-basket-connection.com/
Speciality: Simple but enjoyable gift baskets
Price: $33.99 – $127.50
Payment methods: Visa, American Express, MasterCard, Discover, Amazon Pay, PayPal, and Google Pay
Gift Basket Connection is a one-stop gift shop with gift baskets, flowers, balloons, stuffed animals, and houseplants.
Online, they have a large selection of these gifts. Although their snacks and sweets are only ordinary, they're very affordable and enjoyable.
It's effortless to order from them, and you can pay them using Visa, Amex, Mastercard, Amazon Pay, Google Pay, or PayPal. Unfortunately, for those with a Diners Club card, you'll have to use another card among those we mentioned just now.
Furthermore, their delivery service covers Colorado Springs and the rest of the country through their partner florists. Indeed, same-day shipping is a specialty of this gift shop, so order early.
Same-day gift delivery
Great rates
Wide range of gifts and flowers
Delivers worldwide
Gives a satisfaction guarantee
Ordinary-looking gift baskets
Doesn't accept Diner's Club cards
7. Bloom Bar & Co

Shop link: https://bloombarandco.com/
Speciality: Stylish and wild floral arrangements
Price: $14.99 – $524.95
Bloom Bar & Co is a relatively young business that opened in 2019. Owner Stephanie Murdock and her team design and arrange flowers for a full range of occasions, from anniversaries to sympathies and weddings.
Here, they have a knack for making artistic and wild floral bunches. They use a great combination of flowers and foliage which results in a modern and animated style.
They are just as good at composing a custom bouquet of your desired style and budget range. Just click into their custom section and fill in the required fields there.
Besides those, they carry an interesting gift range, including a chocolate hamper, a teddy bear, cookies, a greeting card, and tea. But, unfortunately, there aren't many gift hampers here.
Finally, your flowers and gift can be delivered within the day or on a scheduled date. But for the latter, you'll have to spend an extra $15, which can be a bit heavy for the wallet.
Custom flower designs
Makes wedding flowers
Same-day and timed delivery offered
Has a nice gift range
Limited gift basket choices, closed on Sundays
Delivery policy and payment methods aren't indicated
8. Colorado Crafted

Shop link: https://www.coloradocraftedbox.com/
Speciality: Cool and local gift boxes
Price: $12 – $240
If you have a friend, a teacher, or a family member who will stay in Colorado for a while, why not welcome them with a stylish gift box courtesy of Colorado Crafted?
All the products in their small gift sets are obtained from local vendors and suppliers. So the quality is great, and by buying from them, you get to support these local businesses.
Their categories are only a few, namely for him, for her, housewarming, and thank you. And the selections for them aren't many as well.
They can help out with any size of order whether personal or corporate. What's more, you can even build someone a gift box from scratch for the holidays or for casual gifting.
Colorado Crafted ships orders via UPS and FedEx only. While the staff will process the order on the same day, the fastest arrival time for the gift for your recipient is the next day.
Next-day gift delivery
Fulfills corporate orders
Build-your-own gift box
Delivers internationally
$10 off your first order
No same-day delivery
Most gift sets are pricey
Gift basket choices could be more
9. Mouth

Shop link: https://www.mouth.com/
Speciality: Value and relishing gift boxes
Price: $11.25 – $172.50
Delivery fee: $0 – $44.99
Mouth has a single, clear-cut goal: to find the best small-batch food from independent producers throughout America and to smartly combine these items for their gift boxes.
So, they offer an excellent and delicious variety of gourmet foods and snacks for birthday celebrants, health nuts, vegans, homebodies, or just about anyone.
But while some products are in the affordable $50-to-$60 range, some are costly, going beyond $100, including their extravagant birthday and vegan snack boxes.
And to be eligible for free delivery, a buyer has to spend over a steep $149. Plus, their express and overnight delivery rates are very high, so we advise ordering in advance if you want your recipient to receive your gift in time without paying extra.
But there's good news for those who plan to continuosly enjoy their snacks. You can go for their subscription boxes and pay them in monthly installments.
Local, artisan food
Multiple delivery options
Delivers nationwide
Has various gift box dietary options
Takes subscription payments 
Costly gift boxes and express delivery rates
Hard to avail of free delivery (over $149)
10. Skyway Creations

Shop link: https://www.skywaycreations.com/
Speciality: Top-notch flowers and healthy indoor plants
Price: $55 – $110
Payment methods: Visa, Mastercard, Discover Network, American Express, PayPal, and ApplePay
One of the oldest and trusted florists in the city, Skyway Creations specializes in classic flowers for any occasion, including weddings and corporate parties.
You will find a lot of arrangements in-store and online using flowers such as roses, sunflowers, gerberas, and orchids arranged by an amazing and talented crew.
Most of the customers we interviewed liked the beautiful flowers sent to them or their loved ones as well as the reliable and compassionate staff. However, they also felt the rates were a bit high.
But on a more positive note, you don't have to worry if you're recipient is far from you. As part of the Teleflora network, they can ship your floral order in the Colorado Springs area and nationwide.
Bear in mind, though, that they're unavailable on Sundays.
Bespoke flowers and gifts
Wedding bloom expert
Same-day delivery
Delivers nationwide
Mobile-friendly website
High flower rates, normally closed on Sundays
Doesn't seem to offer any discounts
11. Island Touch Gifts & Baskets
| | |
| --- | --- |
| SHOP LINK | islandtouchgiftbasket.com |
| SPECIALTY | Curated gifts |
| PRICE | From $35 |
| DELIVERY FEE | Shipping cost is based on total weight and volume of product purchased |
| PAYMENT OPTION | Contact shop for more details |
Island Touch Gifts & Baskets is a Veteran-owned and run small business that believes in bringing the serene, pleasant, and soothing atmosphere of the Caribbean lifestyle to everyone as a giving experience.
They wanted to bring a bit of the Caribbean Island culture to Colorful Colorado, so they built a giving business that provides a harmonic combination of both areas in their gifting process. Like many businesses, they began in the adjacent sunroom of the owners' house. Today, they are happy to have their own storefront in the heart of Old Colorado City, as well as a large warehouse to make unique items in the heart of downtown Fountain.
They feel that a present should be attractive, meaningful, and personal in order to elicit an emotional response. They aim to assist you attain a heightened sensation of enjoyment in your gifting experience, whether you're commemorating a particular day, a milestone, or just to rejoice and brighten someone's day.
Attention to detail
Wide variety of products
Years of experience
Complicated missing shipments reporting
12. Colorado Kernels

| | |
| --- | --- |
| SHOP LINK | https://www.coloradokernels.com/ |
| SPECIALTY | Corn, flowers, and corporate gifts |
| PRICE | From $15 |
| DELIVERY FEE | Calculated upon checkout |
| PAYMENT OPTION | Contact shop for more details |
At Colorado Kernels, we were left awestruck by the seamless and remarkable services offered.
From the moment we placed our order, their efficiency shone through. Swift confirmation and a user-friendly interface ensured a stress-free shopping experience.
Convenience, thy name is Colorado Kernels. Their impeccable same-day delivery left us in awe.
Our goodies arrived at our doorstep, elegantly packaged, right on schedule. No more impatient glances at the clock—they redefine punctuality.
Our journey with Colorado Kernels was illuminated by their sterling reputation. A quick glance at their online presence reveals a trove of glowing testimonials.
We joined the ranks of the impressed, enamored by their commitment to excellence. Trust is the cornerstone of any business, and Colorado Kernels has built a fortress.
At first glance, one might hesitate, but hold your horses!
Quality comes at a premium, and Colorado Kernels is worth every dime. The joyous unboxing of top-notch products accentuated the investment. We're reminded sometimes, it's smarter to indulge.
Uncompromising quality met exemplary service—the epitome of a delightful experience.
Colorado Kernels isn't just a gift shop delivery service; it's a curator of moments, a maestro of convenience. We're not customers; we're admirers.
However, they can get busy during peak days. We suggest booking ahead of time so they can deliver your gift to you on time.
Colorado Kernels delivers beyond expectations
Effortless same-day delivery at your doorstep
A fortress of trust built on glowing testimonials
13. My Floral Shop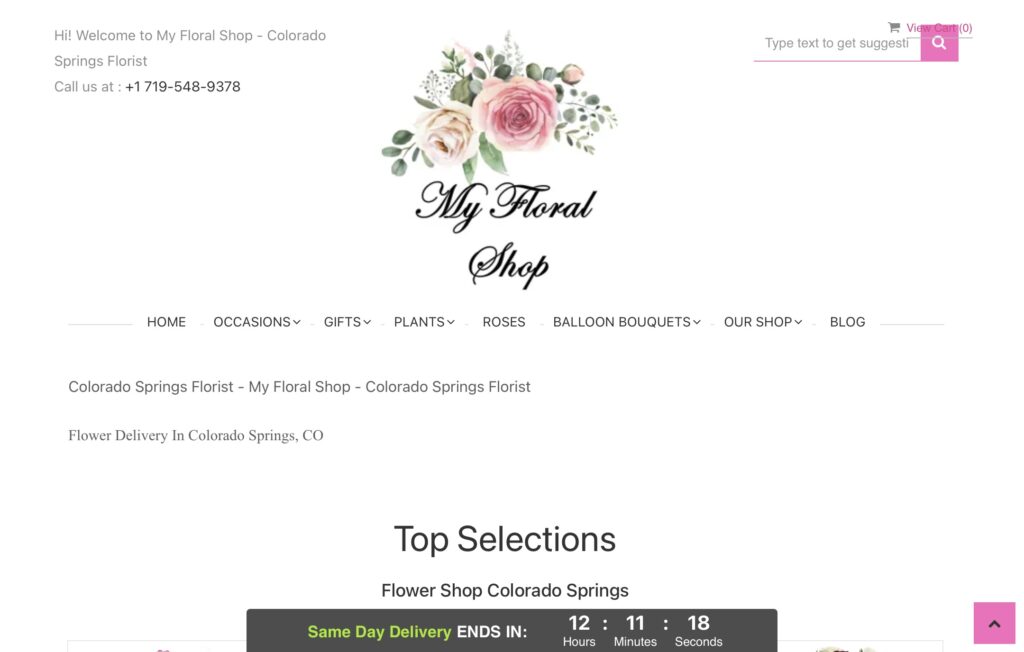 | | |
| --- | --- |
| SHOP LINK | https://www.myfloralshop.com/ |
| SPECIALTY | Plants, roses, and balloon bouquets |
| PRICE | From $35 |
| DELIVERY FEE | Calculated upon checkout |
| PAYMENT OPTION | Contact shop for more details |
At My Floral Shop, we pride ourselves on delivering a bouquet of excellence in the realm of gift delivery services.
Our experience with this establishment left us both charmed and impressed, and we're thrilled to share our assessment.
My Floral Shop's service is nothing short of impeccable. Timeliness is their mantra, as our floral arrangement arrives precisely when promised.
The courteous delivery personnel exudes professionalism, ensuring our order was handled with utmost care. They've mastered the art of making customers feel valued.
The convenience factor at My Floral Shop is a game-changer. From their user-friendly website to the effortless ordering process, they've streamlined the entire experience.
Customization options abound, allowing us to tailor our gift with ease. Our busy lives were made easier, thanks to their commitment to simplicity.
Reputation is paramount, and My Floral Shop stands tall. Their name rings with reliability and trustworthiness, a testament to their years of dedicated service.
With a plethora of satisfied customers singing their praises, we were confident in our choice. Our experience only solidified their sterling reputation.
Balancing quality and cost can be a delicate dance, but My Floral Shop executes it flawlessly.
Their prices are competitive without sacrificing the splendor of their offerings. We received value beyond our expectations, making our decision to choose them all the more gratifying.
A win-win in every sense.
However, they don't offer promos at the present. We advise checking their website for other affordable items.
Courteous personnel make customers feel valued
Easy ordering process provide a seamless and customizable experience
Renowned for its reliability and trustworthiness
Backed by a legion of satisfied customers
Cost-effective excellence
14. Sasquatch Cookies
| | |
| --- | --- |
| SHOP LINK | sasquatchcookies.com |
| SPECIALTY | Cookie Cakes |
| PRICE | From $3.50 |
| DELIVERY FEE | Calculated after checkout |
Sasquatch Cookies combines the founder's three biggest loves: food, people, and giving. They make wonderful Sasquatch-sized cookies in a variety of flavors that can be mixed and matched. They make people's taste buds sing and make them perform a little happy dance about their houses because of the cookie sweetness.
They dress up as Sasquatch and serve fresh-baked, warm cookies across their neighborhood. They had a good time with their neighbors while sending and receiving cookies from the big guy himself.
What we and their clients like about them is how they have passion for giving back their blessings. They like being a part of the words and reminders delivered to loved ones all throughout Colorado Springs and the country, but they recognized a need for even more giving. Every year, around 1,800 individuals in Colorado Springs are homeless.
This reality is visible in their town, with people asking for food and assistance on street corners, sleeping on chilly streets, and congregating at local homeless shelters. Sasquatch Cookies aspires to come alongside these people and remind them of their value and dignity. They collaborate with their local homeless shelter, Springs Rescue Mission, donating 10% of their revenues and donating all of their day-old cookies to The Marian House.
Fast shipping
Reasonable rates
Environmentally friendly
More Gift Delivery Lists