Featured Image Source from Snowflake Chocolates
Need an attractively presented and top-quality gift to send to a loved one for an upcoming occasion? If so, your search ends here, as we found you the very best shops for gift delivery in Adelaide.
As you may be wondering about the rates of these gift stores, we'll go through the cost section first. Then, we'll proceed to our top recommendations for this list so you can quickly find the perfect gift.
Ready? Let's start!
How Much Does Gift Delivery Cost in Adelaide?
The great thing about getting a gift is that you have a ton of options available out there at a price that suits you. You can get fresh blooms, gift hampers, gourmet gift boxes, chocolates, pampering gifts, accessories, and so much more.
Based on our collected data, gift delivery prices in Adelaide range from $3 to $300. The average cost of the said range is $151.50, but people typically spend about $50 to $100 to buy a gift.
Next, delivery fees typically run from $10 to $35 whether you're sending the gift within the metro, to a country area, or interstate. Make sure to check if the gift company can send the gift to your recipient's location before you buy.
Also, look out for discounts offered by gift companies in the form of promo codes or season sales to get more value out of your purchase. But you usually have to subscribe to a newsletter first to get them.
Here's an overview of our top shops for gift delivery in Adelaide as well as their product and delivery rates:
| | | |
| --- | --- | --- |
| Gift Delivery Company | Rates | Delivery Fees |
| Sleek and Unique Gifts | $6.95 – $185 | Calculated upon checkout |
| Adelaide Better Baskets | $49 – $299 | Calculated upon checkout |
| Send a Basket | $10 – $100+ | $18 – $35 |
| The Gift Specialist | $3 – $250 | From $10 |
| BoxSAlicious | $35 – $300 | From $15 – $30 |
| Unveiling SA | $6 – $100+ | Calculated upon checkout |
| 4UGIFTS | $6 – $208 | Calculated upon checkout |
The Best Gift Delivery Services in Adelaide
Now that you have a good idea of gift shop costs, we now present to you our top options for the best gift delivery in Adelaide!
1) Sleek and Unique Gifts

PRODUCTS
Baby items
Corporate gifts
Handcrafted items
Female gifts
Men's gifts
Plant gifts
Sympathy gifts
STARTING PRICE
$6.95
WEBSITE
https://sleekanduniquegifts.com.au/
ADDRESS
310 Greenhill Rd, Glenside, Adelaide, SA 5065, Australia
CONTACT DETAILS
+61 400 995 192


[email protected]

SOCIAL MEDIA
Instagram
OPERATING HOURS
Monday – Friday: 9.00 AM – 5.00 PM
Saturday – Sunday: closed
Sleek and Unique Gifts offers a broad variety of curated gift boxes for men, women, new parents, sympathy, and corporate events. A lot of customers love their lovely and relaxing indoor plant gifts.
Aside from that, they have individual items that you can add to your order like a pair of socks, bandana-style bib, urban lion plush, premium wine, and denim quilted bag, amongst others. From there, the gift staff will take care of the presentation of these items for you.
Their prices are a little high, even though there aren't that many gifts inside the box. However, you can be confident of their products since they are of high quality and mostly Australian-made.
The gift boxes can arrive at your recipient's doorstep within the day in Adelaide. But remember to order before 12.30 PM on weekdays and 9.00 AM on Saturdays for same-day delivery.
However, due to the policy of their courier, Australia Post, their house plant gifts can't ship between states or to minor regional areas.
Anyway, the delivery will be efficient and prompt, on time for your recipient to celebrate the occasion. Also, according to one client, the online process had been easy for him from order to delivery.
Now you know, for beautiful gifts and presentation and a seamless online buying process, we highly recommend Sleek and Unique Gifts as one of the best gift delivery shops in Adelaide!
Same-day Adelaide delivery available
Simple online order process
Gives special offers
Expensive rates
Plants can't be delivered interstate or to country areas
Customer Reviews
The gift shop earned 4.8 out of 5 stars on Google. Many clients praised its gift quality and wonderful packaging as well as its swift delivery and dependable staff.
Narmeen left this review of the company:
"A lovely selection of quality gifts, was perfect for my sister for the delivery of her baby. Im really glad it was delivered on Saturday thank you! The whole process was easy to do ☺️"
Furthermore, another client named Piper said this:
"AMAZING!!
I could not recommend sleek & unique more. There is such a wide variety of stock to choose from and I love the way they use local SA products when available. The service is flawless and the presentation of the boxes is stunning. I cannot wait to buy many more boxes over christmas!"
2) Adelaide Better Baskets

PRODUCTS
Gift Hampers
Anniversary
Birthday
Christmas
Gourmet
Chocolate & confectionery
Corporate
Father's Day
For him
For her
Get well
Mother's Day
New baby
New home
Staff reward
Tea & coffee
Thank you
Valentine's Day

Gift Add-ons

Balloons
Beer
Piccolos
Port
Red wine
Sparkling wine
Spirits
White wine
STARTING PRICE
$49
WEBSITE
https://www.adelaidebetterbaskets.com.au/
ADDRESS
183C Main Rd, Blackwood, Adelaide, SA, Australia 5051
CONTACT DETAILS
08 7480 1727 0422 444 670


[email protected]

SOCIAL MEDIA
Facebook
OPERATING HOURS
Open 24/7
Searching for an economical gift hamper to send to a loved one? If so, you should definitely check out what Adelaide Better Baskets has to offer.
They have an enormous range of gift baskets and cater to all occasions including anniversaries, get well parties, business events, engagements, weddings, Valentine's Day dinners, high tea parties, victory parties, and more.
Prepared fresh every day for buyers, their gift baskets are filled with goodies, items, and wine from South Australia. You get the best of what the region offers with many products all in one basket.
However, they don't have any fancy packaging or a bright ribbon but it's really the thought that counts. Besides, you can write your message at checkout so that the gift still has a personal touch.
Adelaide Better Baskets delivers to homes, businesses, and hospitals across Adelaide metropolitan areas and other cities. Same-day delivery is available provided that you place your order early in the day.
Therefore, if you want to get superb value for money, excellent goodies, and reliable customer service, Adelaide Better Baskets is a great gift store choice!
Same-day delivery available
Accepts Visa, Mastercard, and PayPal
Gives great value for money
Gift baskets don't have fancy packaging or a ribbon
Doesn't ship Australia-wide
Doesn't accept an American Express credit card
Customer Reviews
Buyers seemed to be very satisfied with the store's affordable prices, excellent variety of products, and reliable service. Not to mention, they mentioned that the basket treats were very delicious!
Katharine wrote her opinion of the gift she received:
"I'm eating like a Princess today, thanks to the food from Adelaide Better Baskets. It's local and hand picked for divine quality and deliciousness. When I win the lottery I'll order myself a basket from here every week!!"
Also, Jess wrote this feedback:
"Superior customer service, answered many of my questions and was more than happy to customize the basket to suit my needs. Gift basket was excellent and great value for money. Overall, very well presented and very professional service."
3) SendaBasket

PRODUCTS
Flower arrangements
Gift baskets
Collectables
STARTING PRICE
$10
WEBSITE
https://www.sendabasketsa.com.au/
ADDRESS
10 Duthy Street Unley, Adelaide, SA, Australia 5061
CONTACT DETAILS
Phone: 08 8272 6777
Fax: 08 8272 3243
Email:

[email protected]

SOCIAL MEDIA
Facebook
OPERATING HOURS
Monday – Friday: 9.00 AM – 5.00 PM
Saturday: 9.00 AM – 1.00 PM
Sunday: closed
Sendabasket was formed by two women who travelled to Canada and had an inspired idea to set up this business. This gift store opened its doors in 1976 and has since developed a great reputation among clients in Australia.
However, it seems that they haven't fully adapted to the market as they don't have an online gift shop yet. For now, though, they take orders through call and online, in which you have to fill out the form on their website.
The gift store offers gift baskets, gourmet hampers, flower posies and arrangements. Recently, they've also added an eclectic mix of vintage and home decoration items, from which you can buy one for yourself or others.
Your gift can be personalised according to your wants and budget with any of their available stock. You can discuss your bespoke ideas with their creative and dexterous team by calling their hotline.
The gift will be nicely wrapped in cellophane and have a lovely hand-tied ribbon. Of course, it will come with your special message for the recipient!
Although their delivery fees are rather pricey compared to those of other shops, they make up for it for their top-quality services. They also have a hot weather policy wherein they could replace a product in the basket to assure its freshness and quality.
At any rate, you may want to pop by at their shop in Duthy Street. The store looks amazing and has better selections like antiques and furniture than what you can see on their website.
Another of the best gift delivery shops in Adelaide, Sendabasket has fresh and sweet-smelling flowers, bespoke gift baskets, and old-school customer service, and affordable prices!
Affordable gifts and flowers
Same-day delivery service available
Hot weather policy
Pricey delivery fees (from $18)
No online gift store
Customer Reviews
Clients mostly said that the shop had fabulous bouquets, gift baskets, and great prices. They also said that the people were very kind and personable who helped them create the perfect gift.
One client from Portabello Hair wrote this:
"Justine is just wonderful! We have been using SendaBasket for many years as we have regular gift basket arrangements. We have never been disappointed not even once! Love your work."
Also, here's Tracy's review of the gift delivery shop:
"This is a wonderful shop not only with beautiful flower arrangements at affordable prices but also has vintage and retro homewares and gifts. Justine is so friendly and professional with inovative ideas for amazing gift baskets. I would highly recommend Send a Basket Unley."
4) The Gift Specialist

PRODUCTS
Balloons
Bestsellers
Chocolate bouquets
Father's Day
Flowers
Food and alcohol
For her
For him
Fruit & nibbles
Kids
Lindt collection
Mother's Day
New baby
Ray White nibbles
SA gourmet
Teenager
Thinking of you
STARTING PRICE
$3
WEBSITE
https://thegiftspecialist.com.au
ADDRESS
150 Unley Road, Unley, Adelaide, SA 5061, Australia
CONTACT DETAILS
(08) 8373 6812


[email protected]

SOCIAL MEDIA
Facebook, Twitter, Instagram, Pinterest
OPERATING HOURS
Monday – Friday: 9.00 AM – 4.00 PM
Saturday: 9.30 AM – 12.30 PM
Sunday: closed
Adelaide-owned company The Gift Specialist started in 2003 and provides an extensive range of gift hamper and gift products. These include their famous baby nappy cakes, gourmet hampers, food and wine sets, chocolate bouquets, flowers, Lindt chocolates, pamper hampers, romantic gifts, and more.
Their products come from South Australian producers and have excellent quality and taste. Moreover, they are dedicated to leaving the environment better through their 3R business practice of reducing, reusing, and recycling.
Hence, when you buy a gift from them, you're not only supporting local businesses but you're leaving less carbon footprint as well, leaving less waste to end up in the dreaded landfills.
Their online store is designed to give clients ease and convenience when shopping for the perfect gift. As you order, you can add 'finishing touches' to your chosen gift without having to navigate to another page.
You can sign up for their newsletter to get a last-minute special discount so you don't have to pay as much. They also have competitive rates so that you get more value out of your purchase.
But this company has a flaw too and it's that they only deliver to SA postcodes. So if you're sending a gift hamper to a recipient living in other parts of Australia, you can try their sister gift stores of either The Hamper Specialist or The Nappy Cake Specialist.
Despite that, they deliver on the same day in Adelaide—and later too than other gift shops that we listed. For this, you should order before 1.30 PM on weekdays and 12.00 PM on Saturdays.
To make someone smile and pave the way for good times to be enjoyed, this company can help you do just that through their captivating gifts!
Same-day delivery in Adelaide
Budget-friendly rates
Special promos and offers available
Only delivers gifts around South Australia
Customer Reviews
The Gift Specialist received positive comments from clients who praised their wonderful, bespoke gift hampers, easy-ordering process, and punctual delivery.
Here's a comment left by Frank on Google:
"I ordered a gift basket for Valentine's Day, the delivery was very prompt and my girlfriend was very pleased. I would definitely use them again. Highly recommend!!"
Furthermore, check out what Luke said of them:
"The gift baskets are great and available for any occasion. The service is also outstanding and they will either find you the perfect basket or make one up if they don't have one on hand that suits. Delivery is really easy and it's a nice change from sending flowers, I also think it's more appreciated."
5) BoxSAlicious

PRODUCTS
Gift hampers

Bestsellers
Birthday
Easter
Father's Day
Get well
Mother's Day
New baby
New home
Valentine's Day
Wedding and engagement
STARTING PRICE
$35
WEBSITE
https://www.giftbasketsadelaide.com.au/
ADDRESS
Glynburn Rd Erindale, SA, Australia 5066
CONTACT DETAILS
+61 402 051 368


[email protected]

SOCIAL MEDIA
Facebook, Instagram
OPERATING HOURS
Monday – Friday: 9.00 AM – 5.00 PM
Saturday & Sunday: closed
Hoping to get your gift as fast as possible? No worries because BoxSAlicious offers express deliveries which can reach your recipient within 4 hours of your order—pretty swift, huh?
The shop doesn't just ship around Adelaide but also to outer metro areas, country areas, between the states, and all across Australia. Note that same-day delivery service is only available for addresses within a 20km radius in the City of Adelaide.
By the way, you'd have to pay a higher but fair delivery charge with them. It will be worth it since the product will get to you or the special person quickly.
Hinted by their name, BoxSAlicious, the company offers gourmet hampers with delicacies and treats provided by producers in South Australia. They said that they intended their products to come from SA since these are truly world-class.
Whether you're gifting a friend with a new baby born, someone recovering in the hospital, your mum on an ordinary day, or maybe your dad who loves to have a glass of wine while watching sports, you can depend on this gift store to put together a personalised gift hamper for them.
And if you're planning to order in bulk to give away for a corporate event? No problem, they can accommodate you and give you a special price too.
Moreover, you could also sign up for their newsletter to get special offers and discounts which will help bring down your gift delivery cost.
Same-day and express deliveries available
Delivers Australia-wide
Offers bulk purchase discounts
Special offers available
Higher delivery fees (from $15)
Doesn't deliver on the weekends
Customer Reviews
Gift-givers said their staff was helpful and friendly, assisting them to ensure they had a great experience. Also, they described the gift hampers as gorgeous and well-packaged.
Find out what Holly wrote of the gift delivery service:
"The gift boxes arrived safe and sound last week (Wed) and we have a great big bunch of staff very grateful – thank you so much for arranging these and getting them to us so beautifully and promptly.


You do wonderful work.
Many thanks again."
Plus, Christine wrote this:
"This company is sooo helpful I mucked up my order date and they went above and beyond to help to get it there on time. Thank you so much heather."
6) SA Boutique Boxes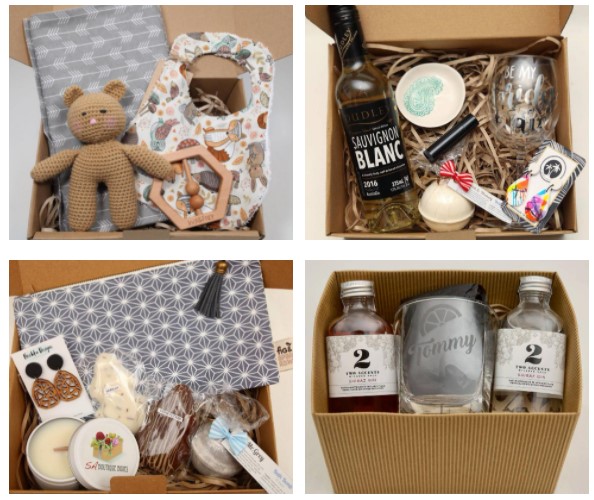 What caught our attention with SA Boutique Boxes is that their hampers and gift boxes are filled with only quality SA made and manufactured products. So when you buy gift boxes from them, you would know that you are supporting SA businesses.
Aside from this, we think they have almost all the products anyone can think of gifting. From shampoo bars and conditioners, cards, sweets to numerous gift boxes and hampers, they got you.
Another great factor about them is that all of their wrapping papers are made from 80% recycled paper and their logos are printed with eco-friendly inks as well. When it comes to their boxes, it is from 100% recycled card stock plus their paper straw is made from unbleached recycled paper.
Unfortunately, they do not split ship and for every order, it will be packed all together. So if you are planning to send gifts to multiple people, you must make separate orders.
Accepts personalized orders
Standard small box shipping has a flat rate of $10
Express shipping at $15
Strictly an online shop; no physical store
Customer Reviews
Here are a few reviews from their Facebook page:
"lovely, high quality products and excellent service, great to know all of the merchandise is South Australian made!"
"Helpful, accommodating, 5 star customer service plus their range online is just amazing! thank you so much for helping me create the perfect box in a short amount of time! cannot wait to use again!"
7) Flowers By Marisa

Flowers by Marisa is committed to offering only the finest floral arrangements and gifts, backed by service that is friendly and prompt. What makes them stand out from the crowd is how their professional staff is dedicated to making each client's experience special.
What we love about them is that their flowers are of high quality and valued hand-picked directly from their growers. Another reason is they can deliver flowers both locally and internationally.
One more thing that we like about them is aside from flowers, they also have gift baskets, soft toys, and balloons. Adding this to your chosen flowers can really make the day of your loved ones.
Regarding the payment options, they accept PayPal, Visa, MasterCard, Diner's Club Card and American Express, and After Pay Zip pay. They also cash for orders placed in-store.
Wide range of products
Professional team members are the ones who arrange the flowers
Can deliver to numerous areas
Some complaints about rude staff
Customer Reviews
Here are a some reviews from their Facebook page:
"My sister from Sydney organised flowers for my birthday. The arrangement I received absolutely blew me away. Stunning variety, colours, artful design and just magnificent! Made me feel very special. I love them."
"I misunderstood what I had ordered and Marisa sorted it out for me. It's great to know that there are still people willing to help out thanks for the great service ⭐️⭐️⭐️⭐️⭐️"
8) Unveiling SA

Unveiling SA is a gifting shop that offers a wide variety of gifting options to choose from wherein you can easily customize each of their luxury gift boxes. They have a wide selection of high-quality products you can choose from that will surely spark your creativity and help you in cooking up the amazing gift box for your recipient.
You can easily customize, select and schedule each of their gift boxes, and be assured that the quality of each product will not fall short of your expectations. They are composed of a team that is dedicated and committed to crafting the perfect gift box for you and for whatever purpose you might need it.
They also help let you have a stress-free and convenient time with them whilst enjoying choosing from the wide selection of products without having to worry about your budget and time. They are highly commended for the thoughtful touches they put on every gift box they curate and highly aesthetic products afterward.
We recommend this company for your gifting solutions due to the hassle-free and easy transaction but also a superb team who will help and guide you throughout the whole process.
Locally sourced products
Highly customizable boxes
Accommodating and prompt customer service
Exact address is unavailable
9) Floral Atelier

PRODUCTS
Best hampers for Her
New Baby hampers
Sympathy flowers and gifts

Gifts
Fresh flowers
Premium MOET Champagne
Australian Wine
Freshly baked Classic Eclers
Premium Peppermint Grove Gifts
STARTING PRICE
$20
WEBSITE
https://floralatelier.com.au/
Hampers: https://floralatelier.com.au/collections/hampers
ADDRESS
Floral Atelier, 628 Lower North East Rd, Campbelltown, Adelaide, South Australia, 5074 Australia
CONTACT DETAILS
+61444501983
Whatsapp, phone, sms


[email protected]

SOCIAL MEDIA
Instagram: floralatelier_
Facebook: Floral Atelier
OPERATING HOURS
Monday – Friday: 10:00 AM – 5:00 PM
Saturday: 09:00 AM – 2:00 PM
Sunday: Closed

Open on Public Holidays with extended business hours.
Make sure to follow Google Map for updated business hours.
Floral Atelier made it to our list simply because they have one of the most elegant flower arrangements and hampers perfect for any occasion. Whether you're looking for a birthday or get-well-soon present, you'll find something fitting that your recipient will appreciate in this shop.
We noticed that their range of products has different price points, making them a great option for those with limited budgets too. Apart from their pre-curated flower arrangements and hampers, you also have the option to customize your chosen product by adding chocolates and other goodies.
You can head over to their humble shop at Campbelltown to get a closer look at their selection of flowers and gifts if you happen to be nearby. Otherwise, you can have your present delivered to your recipient straight away.
While their business hours are relatively short on weekends, their delivery services are available throughout the week, even on public holidays.
Over expectation
Best Quality
Best Customer Service
Send a photo of the product before delivery
Expertise advice to suits your needs 
Every order is special
Online and offline shopping
Elegant and classic 
South Australia and Adelaide only 
10) POSY & FLUTE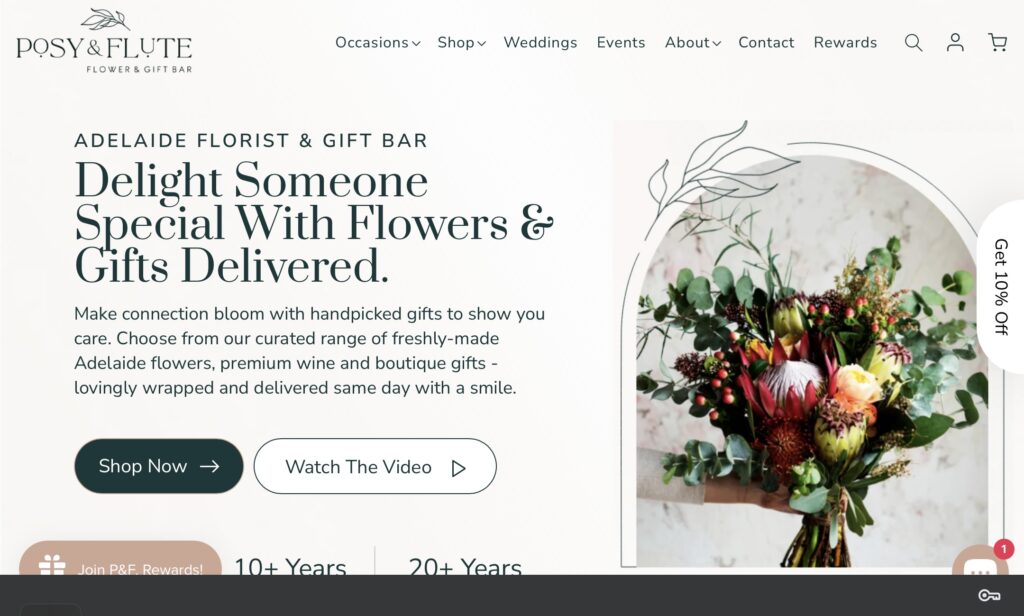 PRODUCTS
Bouquets and floral baskets
STARTING PRICE
$39.00
WEBSITE
https://posyandflute.com.au/
ADDRESS
Adelaide, Australia
CONTACT DETAILS
0404305234
SOCIAL MEDIA
Instagram
OPERATING HOURS
Monday – Friday: 9.00 AM – 5.00 PM
Saturday – Sunday: Closed
Posy & Flute is an absolute delight! Our experience with this gift delivery company was nothing short of spectacular. From start to finish, they had us singing praises.
Efficiency is their middle name. Posy & Flute ensured that our order arrived right on time, even for those last-minute gifts. Their commitment to punctuality is as impeccable as a well-arranged bouquet.
Quality is their forte. The gifts were exquisite, a true testament to their commitment to excellence. It's as if they handpicked every rose and curated every gift item with our recipient in mind.
When it comes to cost, Posy & Flute strikes the perfect balance. Their pricing is competitive, and the value we received for our investment was beyond satisfying. It's like a fine wine at a reasonable price.
But what truly sets Posy & Flute apart is their personal touch. Our recipient felt cherished, and we felt like we'd made the best choice. Their attention to detail is like a symphony of care and thoughtfulness.
Our experience with Posy & Flute was nothing short of magical. Every interaction with them was filled with charm and grace, making us feel like we were their most valued customers. They have the rare gift of turning a simple gift delivery into an extraordinary experience.
Exceptional Gift Quality
Reliable and Efficient Delivery
Competitive Pricing
Personalized and Thoughtful Service
Customer Reviews
"Posy & Flute exceeded my expectations! The gift I ordered arrived right on time, and the quality of the items was top-notch. It made me look like a gift-giving superstar, and the recipient was absolutely thrilled."
"I can't say enough good things about Posy & Flute. Their customer service is unmatched – they go above and beyond to ensure a personalized experience. Plus, their pricing is reasonable, making it a go-to choice for all my gifting needs."
11) 4UGIFTS

4UGIFTS is a company that provides clients with a variety of gifting options and services that is ideal and flexible just for any occasion. They are also local and gladly offer clients a good selection of local brands and items that support small businesses.
We like that clients get to have comprehensive options when it comes to branding and personalization options so they can better fit their gifting needs and purposes.
Furthermore, their service is steadfast and prompt so clients can expect their orders within a few days of ordering along with equally fast customer response.
Though note that their personalization and custom-made gifts have a minimum of gift orders before they can meet the requirements.
Overall, with their stellar customization options, local and unique local item selections, and speedy delivery times, we highly recommend them to clients in the area to consider them as an option for their gifting needs.
Comprehensive gifting options
Prompt customer service
Accommodates customization options
Customer Reviews
Here are some reviews from their clients:
"Thank you – thank you so much!!! We received the pens yesterday and they look stunning! Very happy and chuffed."
"Many thanks, we received the gifts and they came out beautifully. It has been a great pleasure dealing with you. "
FAQs about the Top Gift Delivery Services in Adelaide
---
And there you have it for the top gift delivery shops in Adelaide. If you need a thoughtful gift that ships on the same day, you can order from them online!
Has everything been clear so far? If you have any questions or comments, please let us know by messaging us and we'll get right back to you.
If you're sending a great gift to someone in Perth, we have you sorted as well. For this, you can browse our selection of the best companies for gift delivery in Perth!