Don't know how to find great gift selections with affordable prices and delivery fees? Well, you can now relax as we already narrowed down your options, giving you some of the local shops known for having the best gift delivery in Sydney!
But how can you find out which among our selected stores matches your gift ideas and estimated budget? Let's go find out as we list down the prices and rates offered by each shop.
How Much Does Gift Delivery Cost in Sydney
Sometimes, figuring out which gift to buy is easy – but once we consider the overall costs, that's when it gets a bit tricky.  Especially, when you've already found the perfect gift and the cost goes over your allotted savings.
Therefore, we compared the price ranges to help you search for the right shop that fits your budget. Take note that the delivery fees usually depend on the size of your gift and delivery location as well.
---
Best Gift Delivery in Sydney
Now that you have an idea of what price ranges to expect, let's now see which one has the gift selections you've been looking for. We picked the stores that either had a huge range of gift collections or limited but special custom-made items.
Whether you want it to be simple or fancy, you'll surely love their creative and unique set of gifts!
1.   A Little Luxury

For those who prefer a modern-styled gift set, A Little Luxury is the place to be! Be it a gourmet, beverage, pamper, or essentials set, they have it all!
This shop has a whole range of hampers filled with premium products and designed with simple yet classic gift packaging.
When it comes to their food hampers, you can find a variety of delicious treats like locally made snacks, sweets, BBQ sets, and many more. Each hamper has a food theme including a BBQ party, feast, banquets, etc.
They also have an impressive collection of beverage hampers combined with sweet delights. Every gift set has premium handpicked wines, champagnes, and beers from different countries.
You can also purchase a particular drink as a gift on its own with a matching set of glasses.
Pamper gift boxes that include an indulgent line of luxurious self-care products are also part of their catalogue. This collection offers bath and body items from both Australian and international brands.
If you like to add a more personal touch to your gift, you can also pick from their memorable giftware collection.
Each item has been carefully selected to help you express a certain sentiment or come up with a unique gifting idea. This includes figurative sculptures, art hearts and angels, books, mugs and tea, glassware, and so much more.
If you already thought of certain items to include, you can opt for a customised gift hamper. They provide multiple customisation options where you can add a printed ribbon or personally engraved plaque.
However, if you're not sure what items to include, gift vouchers would be a perfect choice. These can be used to purchase anything at the shop, any value from $20 to $1,000 as well as used along with other valid promotional codes, making everything more affordable.
Aside from these, they provide a convenient and flexible corporate gift buying service with great deals! Each corporate hamper contains gourmet food and wine and other gift varieties, presented in locally made pinewood boxes to show the beauty of Australian-made products.
When it comes to their delivery options, they use a delivery network with the leading courier services in Australia, providing you fast and reliable services.
Customer Reviews
A Little Luxury has gained positive feedback from the customers due to the easy ordering process and on-time delivery service. Customers also mentioned the quality hampers filled with delightful contents.
They even shared that there's a hamper for every occasion or sentiment, one of the reasons why the shop is known for having some of the best gift delivery in Sydney.
Rebecca Grant posted this review:
"We regularly (monthly) use A Little Luxury for both business & personal gifts. So far we have found gifts for birthdays, retirement, new baby & an engagement.
The website is easy to navigate, reasonably priced & offers a good variety of products. When one of the products we ordered was unavailable at dispatch, A Little Luxury contacted me immediately via email to offer alternate comparable products & the gift was dispatched the same day. Recipients have advised that the gifts are well presented on arrival.
Overall, very convenient & reliable."
2.   Feel Better Box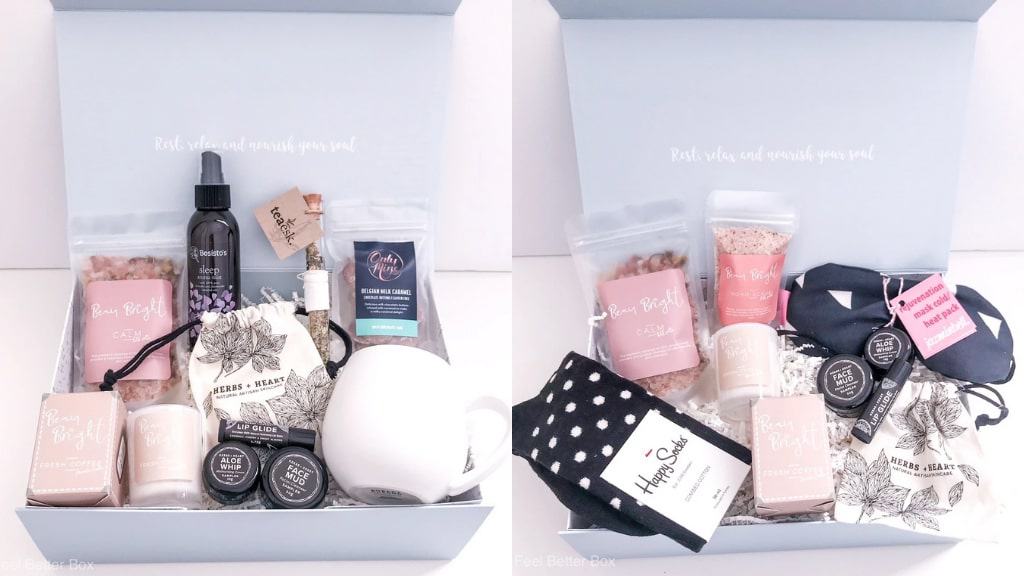 If you liked the pamper gift collection from the previous shop, then you'll also enjoy the care gift packages offered by Feel Better Box. Their gift sets are mainly made for someone going through a rough time or for you as a reward for your hard work.
Compared to most shops that offer the usual self-care hampers, they go deeper into details to help take care of one's health. For instance, they have recovery care packages, hospital hampers, sympathy hampers, cold and flu survival boxes, pregnancy care packages, and many more.
Most of the best-sellers are gift boxes with a theme of sending warmth and comfort. This is why the locals keep on coming back to this shop.
If you want to show how much you value the well-being of your clients, employees, or colleagues, they have tailored corporate gift boxes, containing thoughtful healthcare items.
If you've already decided on a certain gift set but would love to include more items, you can also customise your own care package. You can choose among body lotions, slipper socks, snacks and sweets, books, soft toys, pillows, and many more.
If you need your order to be delivered on the same day, this shop might not be the right pick for you. This is because their same-day delivery service is only available in Melbourne.
However, they use the Express Post service for every order. With this kind of delivery service, you can be sure that your gift will arrive quickly and on time.            
Also, take note that they have a list of specific postcodes displayed on their site. Before placing your order, be sure to check first if your delivery location is included on their list to avoid possible issues during delivery.
Customer Reviews
Customers were impressed with the beautiful presentation of gift boxes and quality products that came from trusted brands. They also shared how the gift sets have truly become an easy way for them to send their love and support.
This is why many have recommended the shop for having one of the best gift delivery in Sydney. Chris Harley wrote this review:
"I have ordered several care packages from Feel Better Box as pick-me-ups for friends or family who are sick or going through a hard time. They are always very well received and clearly a lot of thought goes into the creation of these packages. Excellent service would highly recommend!"
3.   Chocogram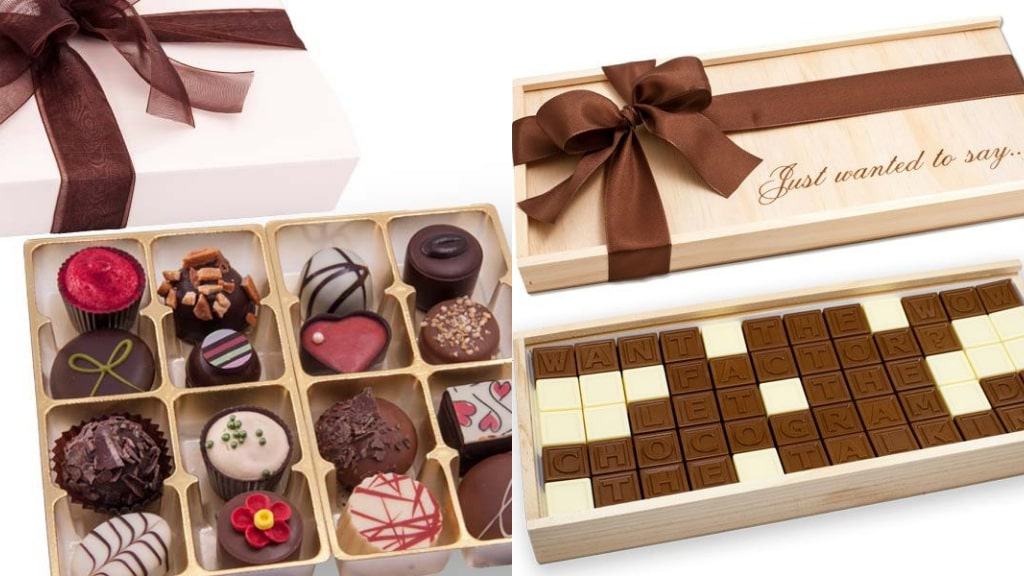 Whichever occasion or mood, there's nothing better than having your favourite chocolate delights to brighten up your day! Chocogram has a large range of handmade chocolates that you can also customise with messages, prints, and more gift items!
This shop is famous for making unique, artistic, and tasty gift selections. In their catalogue, you can see various chocolate types shaped into lovely images like flowers, stars, hearts, butterflies, and more.
You can also create your own chocolate box and load it with your choice of fine chocolates topped with fresh fillings. This would be great for the chocolate enthusiasts out there who want to share their favourite sweets with their loved ones.
Apart from the usual dark, white, and milk chocolate choices, they also have dairy-free and vegan chocolates for a healthier alternative.
The gift sets come in either hampers, baskets, bouquets, or boxes. Their exquisite chocolate gift sets are also suitable for seasonal occasions and corporate events.
Unlike the previous shop, they have a same-day delivery service available to all Sydney locations that are listed on their site. Just make sure to order before 3 PM and see if your delivery area is covered on the list.
For those who have allergies to certain ingredients, it's advisable to consult with the staff before ordering. Though they use gluten-free chocolates and have vegan selections, it's still better to directly ask them about your concerns.
Customer Reviews
Chocogram has earned praise because of the delicious treats, classic packaging, prompt delivery, and attentive staff. Carmelina Accurso shared this experience:
"I ordered my interstate goddaughter her Easter present on Thursday and she received it the following day.  It was beautifully presented.  It made my day to watch the video of her delight with the gift and with unwrapping it.  Service was excellent and Jan was a pleasure to talk to when ringing about an issue I was having ordering online."
4.   Perfect Little Bundles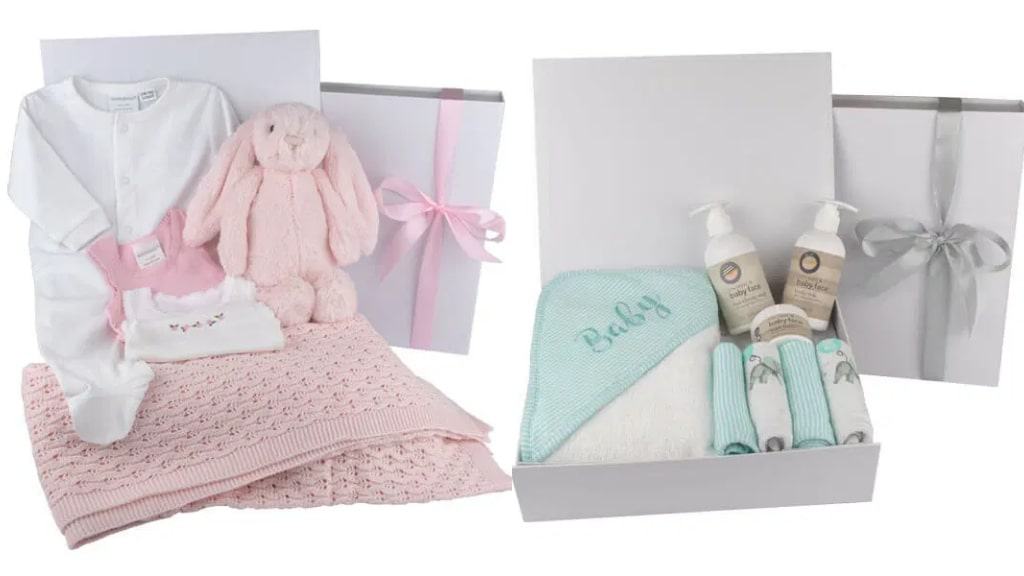 Celebrating motherhood and welcoming newborns aren't seasonal occasions and they don't often happen in one's life. That's why Perfect Little Bundles has created splendid baby gift collections to make these moments more memorable.
You can either choose between gift hampers and nappy cakes, separate gift items, or custom-made hampers. Each hamper consists of must-have baby items like swaddles, wrap blankets, towel bibs, teethers, and so much more.
The packaging for all hampers is made with high-quality details like magnetic closing lids, crisp white tissues surrounding the contents, satin ribbon, and a gift tag with a personal message to complete the presentation.
Similar to the previous shop, they also offer same-day delivery but only for orders made before Noon. Check their delivery schedule with estimated transit times to know when you can expect your order to arrive.
Customer Reviews
Many customers mentioned the outstanding package quality and efficient delivery services of Perfect Little Bundles. They said that they enjoyed the whole gift sets filled with thoughtful items that are also essential for daily life.
Jo Hewson left this feedback:
"I received the most beautiful nappy cake for a friend today. It is stunning and she will love it. Thank you so much PLB for making it so easy! Great customer service, prompt responses and helpful assistance! Would highly recommend it! I will definitely be back in the future!"
5.   Aimee Provence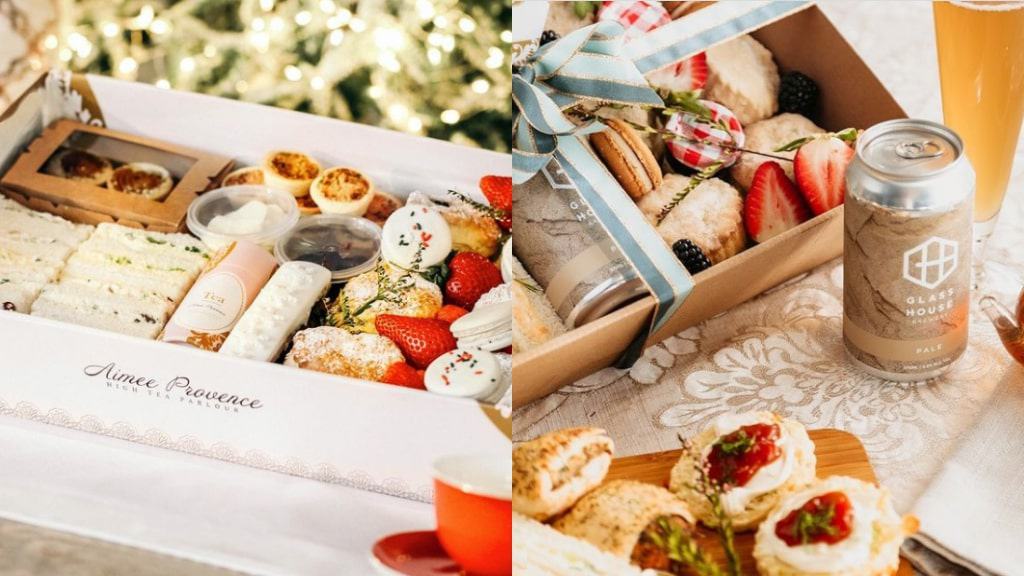 A nice cup of tea will always be a good treat after a long day at work or when you're just chilling at home. If you think so too, then you must see the luxurious gift hampers of Aimee Provence, featuring sumptuous organic teas that are rich in different flavours.
You'll love their speciality fruit and herbal teas with selected blends from their renowned Buderim tea room.
They also have luxe high tea hampers for those who love Afternoon Tea as well as vegan and gluten-free hampers filled with healthy treats.
They also make finger sandwiches, quiches, cream and jam, and other mini pastries. Aside from their tea sets, they have savoury desserts like macarons, cookies, scones, chocolate truffles, and more.
You can also add other special gift items like glass teapots and champagne flutes to make it more special.
Their gifting ideas are suitable for certain occasions like birthdays, weddings, anniversaries, and Mother's Day.
Customer Reviews
Customers loved the exceptional afternoon tea hampers and food selections. They mostly mentioned the elegant teas and tasty combination of snacks and sweets.
Ellen Henderson Mains wrote this review:
"Fantastic customer service, follow up and delivery 10/10. I ordered the gentleman's hamper for my husband's Birthday weekend and it was absolutely sensational from presentation to taste . I would highly recommend them to anyone looking for something special and unique."
6.   iGift Hampers

iGift Hampers is a gifting company that specializes in delivering themed gift hampers for all your gifting needs for all sorts of occasions, milestones, holidays, and events. They offer a wide range of gourmet gift hampers that can be given to any recipient of your choice may it be your friends, clients, or even colleagues in order to convey various messages such as sympathy, appreciation, and more.
If you would like a gift hamper that is all-Australian then this is the gift box company for you, as all their brands are made from Australia and ensureed that it is of only high-quality products. They capitalize on the idea of healthier gift hampers by including fresh fruits into the mix of gifts instead of candies and other sweets which is a good choice if you want to wish your recipient good health.
They are compromised of a dedicated and committed team who will eagerly accommodate you and help you have an enjoyable and fun experience ordering the perfect gift hamper for your recipient. The staff strives to create and package only the best and most presentable gift hampers for you that are filled with not only delicious treats but also full of health benefits and promote health in general.
We recommend this gifting company whether you are outside or a local in Australia as they have accommodated clients looking for gourmet fruit hampers who are delivering to Australian locals.
Customer Reviews
Here are some reviews from their clients:
"I ordered a plant as a housewarming gift for a friend. The entire experience was excellent. From the ease of ordering to the delivery updates and to the condition of the plant when it arrived. I will definitely recommend this company
"
"The recipient was happy with their fruit cand champagne hamper. Delivery was great, site was easy to manage. Very happy with this service."
7.   Squidinki

Squidinki is a brand founded by Max Mendez and Kerry Findlay. What makes them stand out from other shops is that they apply their extensive experience in design and branding to their products.
With this, the design of their products became even more unique and cannot be found anywhere else.
Squidinki is brought to life by illustrator Max Mendez. Inspired by the humour Max sees in everyday life, and a desire to spend life sketching it, Squidinki was born.
Max's witty and humorous hand drawn illustrations are sold both as limited edition artwork and featured on everyday products with the hope of bringing a chuckle to your day.
The best thing we love about them is how extensive the range of their items is. From simple cards, scarves, and aprons to tote bags, canvas prints, porcelain mugs, they definitely got you covered.
The fact is that no matter what the occasion is, you can get a gift from their shop! With their easy website interface, you will find the perfect gift for your loved one easily.
And take note that in comparison to other companies, their gift hampers are packed into natural recycled gift boxes with shredded paper.
Customer Reviews
Here are some reviews from their previous customers:
"Visited the Squidinki shop & pop up gallery today and Kerry & Max were so helpful. Max's sense of humour comes out in the unique designs. So many great gift ideas. Definitely recommend a visit."
";Beautiful small shop. Had the pleasure of meeting the owner/ artist who was very sweet. Highly recommend stopping by the shop or ordering their goods online."
8.   Sydney Gift Boxes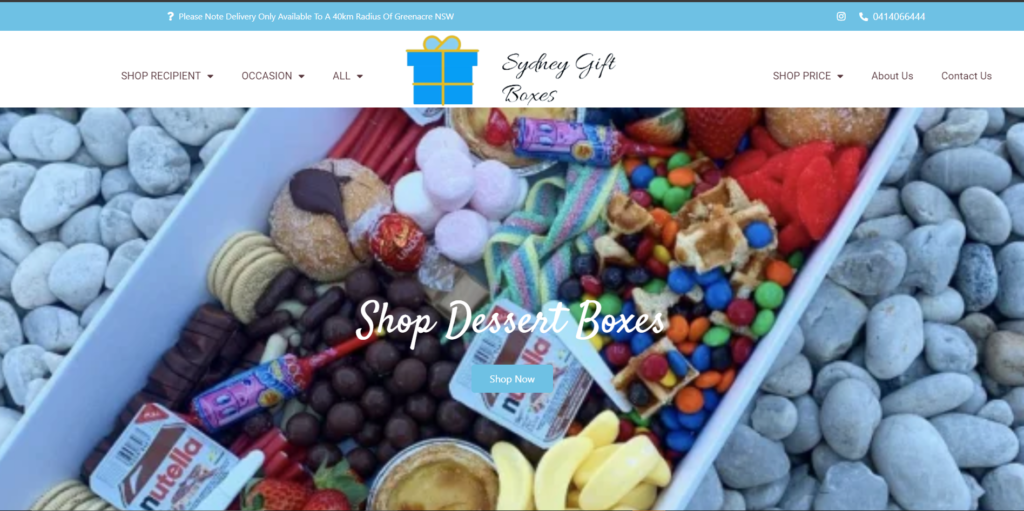 Sydney Gift Boxes offers a wide variety of gift boxes, whether you want to say Happy Birthday, Congratulations on your new job or Engagement, Sorry, or Would you be my maid of honor? While they have a comprehensive offerings list that can fit almost any occasion, they can also customize based on your preference of contents.
Their offerings are perfect for your sweet tooth. From the landing page alone, you can see what to expect from the contents of gift boxes from this shop.
But even with this, what we like particularly about Sydney Gift Boxes is that it also offers a wide variety of alternatives based on dietary considerations. They have gluten-free, lactose-free, halal, and vegan offerings, too.
9.   Stardust Flowers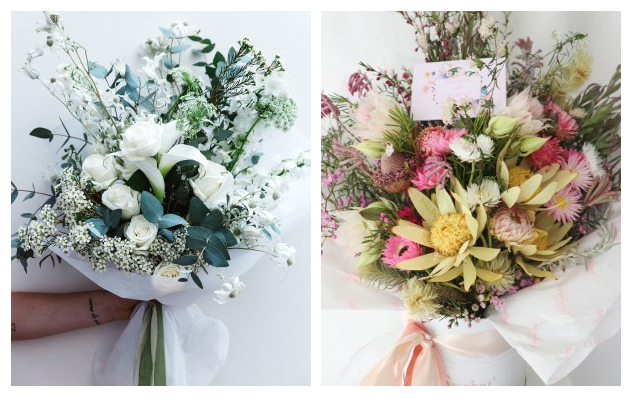 Stardust Flowers is a flower shop that sources seasonal and local flowers for your daily or occasional flower arrangement needs. They craft these stunning flower arrangements in their sunlit private studio in Rushcutters Bay so you can be assured that your flower arrangements are treated and handled with utmost care.
They offer contactless delivery all over the Sydney area with a starting fee of $5 for their local area which is highly recommended considering today's health situation and need for contactless transactions. Furthermore, they incorporate in all of their services their respect and gratitude to the elders and people within their vicinity and their culture and connections with the natural resources around them.
Their website also offers a feature called flower care where you can easily look up and be guided on how to care for your flowers so that they can last longer and so that you can enjoy the flower arrangements from them more as well. Furthermore, they also have a comprehensive update system wherein you will receive email updates to advise you to track your flower delivery better.
We recommend this shop for your florist needs since rest assured that all the flowers that they use for your arrangements are fresh and available for all days of the week for your daily flower satisfaction.
10.   Plant Gifts Sydney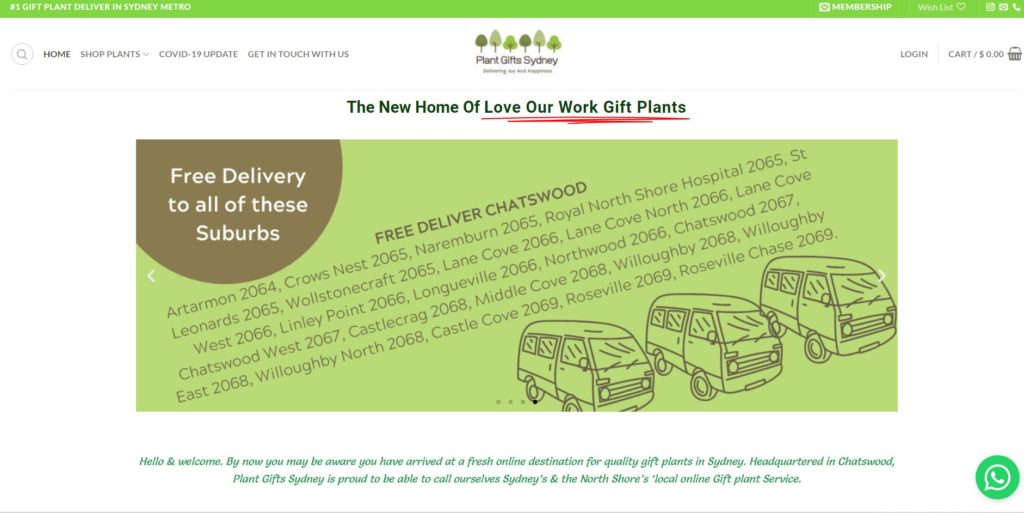 Plant Gifts Sydney IS delivering plants across Sydney with same day delivery, no matter what time of the day it is! They are also happy to deliver to your office or workplace if you're running late for work, or if you just can't bear to part with your beloved at home.
Their team of stylish plant gurus has years of experience and know-how in selecting and delivering beautiful plants that will make any recipient happy. Plus, they offer a wide range of options including succulents and cacti, herbs and flowers, and everything in between!
They have been in the gift business for quite some time, and they've gradually grown more and more popular as their service becomes more reliable.
We can recommend them because when you work with them, you can can expect your plant gifts to be delivered on time as long as they place an order at least two days before the event date. However, the only exception is if you request for same-day delivery which, of course, will cost you extra money.
Pros
Cons
Same-day delivery has an added cost
No physical store
11. SnowBabiez
PRODUCTS

WEBSITE

PRICE RANGE

$25 – $150

DELIVERY FEE

Varies between each state, but will be calculated on a flat rate regardless if you are in metro or rural areas.

Shipping cost will also depends on how big the nappy cakes are.

ADDRESS

415 Liverpool Rd, Ashfield NSW 2131, Australia

SOCIAL MEDIA

CONTACT DETAILS

+61 424 198 513

OPERATING HOURS

Monday to Thursday: 8 AM – 8 PM

Friday, Saturday & Sunday: CLOSED
Having a baby definitely brings joy to anyone's family and what a great way to celebrate it is to have a baby shower. It's an avenue for friends and families of a mum-to-be to get together and anticipate the baby's arrival.
Let's admit it, there are times that it is hard for us to choose on what gift to bring on occasions like this as we don't want to go there empty handed.
Even first time parents will feel overwhelmed by the amount of things they need to get and have it be prepared before the new member of their family arrives.
Of course, we would like to make our mum-to-be to feel appreciated on the gift that we will be giving to them. Good thing we have SnowBabiez to help us with our decision making.
May it be for a boy, for a girl or for a gender neutral gift, they have it. We are impressed on their wide range of selections of unique gifts for an affordable price. 
They have infant nappies, wipes, socks, waterproof bib, onesies, bodysuit, wash clothes, blankets and towels in the hamper or in a hot air balloon range. They also have unique, tier nappy and money nappy cakes. 
These products can be delivered to you right on your doorstep, at the hospital or even on the location where the baby shower is so that it won't be a hassle for you.
Compared to others, we are touch how SnowBabiez are handson when it comes to their clients and products for they will see to it that from the giver and to the recipient of the gift are well taken cared of.
Customer Reviews
Here are some reviews from their clients on their Facebook page:
"I ordered a baby hamper from New Zealand for my cousin with their new baby girl. Wanted to add additional gifts for the new parents as well and Monica was so accommodating and helpful. Very prompt with her replies. She put the hampers together so beautifully. Also personally delivered these hampers. You are awesome! Highly recommend SnowBabiez
" – Jo Lee
"I have no words to describe how satisfied I am! What a gorgeous looking present!! Cannot wait to give it to my friend
Delivery was on time also. Thanks so much will definitely order again when I need!!" – Aline Mahfuz Werlang
12. Thankly
PRODUCTS

Different kinds of gifts

WEBSITE

PRICE RANGE

Gifts: $15 – $160

Cards: $10.80

DELIVERY FEE

Express delivery Australia-wide

 

$8.95 flat rate express delivery & card included free with every gift.

 

Free Delivery on orders over $50.

 

Delivery on business days only (Monday-Friday)

ADDRESS

Paddington New South Wales 2021 Australia

SOCIAL MEDIA

CONTACT DETAILS

OPERATING HOURS

Monday to Friday: 9:00 AM – 4:30 PM 

Saturday & Sunday: CLOSED
We often overlook gratitude whenever we feel stress and even during the hustle and bustle of our daily lives just for us to make our ends meet.
Taking a few moments to stop and show a small gesture of thanks goes a long way and can have a profound impact on someone's day. 
This can be something of material value but it does not always need to be, a thoughtful and personal show of gratitude can be worth its weight in gold.
That is why we are glad that we were able to find Thankly. It is an online store that stepped up the way of gift giving.
Through their efforts, they have done their research and looked all over the country to find those one-of-a-kind, hard-to-find gifts that people love to receive. 
Being their client, you would be able to put your control, your touch on your gifts. 
From choosing the perfect gift from their wide range of selections such as Chandon Brut Exceptional Sparkling Wine, Love Bath Crystal Tea Bags or Saltylicious Bath Bomb Duo to name a few, to personalizing it by adding a handwritten card with the design and handwritten style of your choice, and then having it delivered overnight to surprise that special someone you are grateful of.
Customer Reviews
Here are some reviews form their clients on Google and their Facebook page:
"Thankly is one of my secret weapons! I used to send gifts to my clients myself, which took a LOT of time as a small business owner but was an aspect I wasn't willing to sacrifice, I love my clients! Then I discovered Thankly and got a whole lot of time back and my clients are consistently wowed by their packages. I don't know what I'd do without Thankly. Their communication is always brilliant and I love that they text me a photo of every single package before it's sent out. Thankly is a game changer." – Sophie Baker
"Great unboxing experience, high-quality gifts you don't see in every store, very nicely hand-written cards. I've always left a great impression when I've used Thankly." – Alan Jones
"I absolutely adore Thankly. I have been using them since they launched for both personal and business gifting and always get SO many compliments on their packaging, and unique gifts + hand written card!
The Thankly team has also bent over backwards to help us customise our corporate gifting – they ensure the packaging is on brand, use custom company stickers and products and allow me so much flexibility in how, when and what is delivered each time! Their support team is amazing and always on the ball – I couldn't rate them higher!"  – Erin Evans
13.   OZ Flower Delivery

OZ Flower Delivery is a florist that provides a wide variety of fresh flowers for clients who want to add a floral touch to important events in their lives. They are one of the most well-known local florists in the area, and they can handle deliveries throughout Australia as well as same-day delivery in Adelaide.
Clients can enjoy a convenient buying experience with them that is 100% secure and free of hidden charges thanks to a choice of accepted payment methods.
We also enjoy how clients can simply modify their orders and even include a written letter with their purchase for a more thoughtful approach to their floral arrangement.
Unfortunately, they do not now provide gift hampers, but instead offer add-ons that come with the flowers that customers purchase at fair and practical prices.
Overall, we believe that their services would be great for clients searching for flowers that communicate how they feel through giving, given their varied selection of designer arrangements and traditional flowers.
14. The Hamper Collective Australia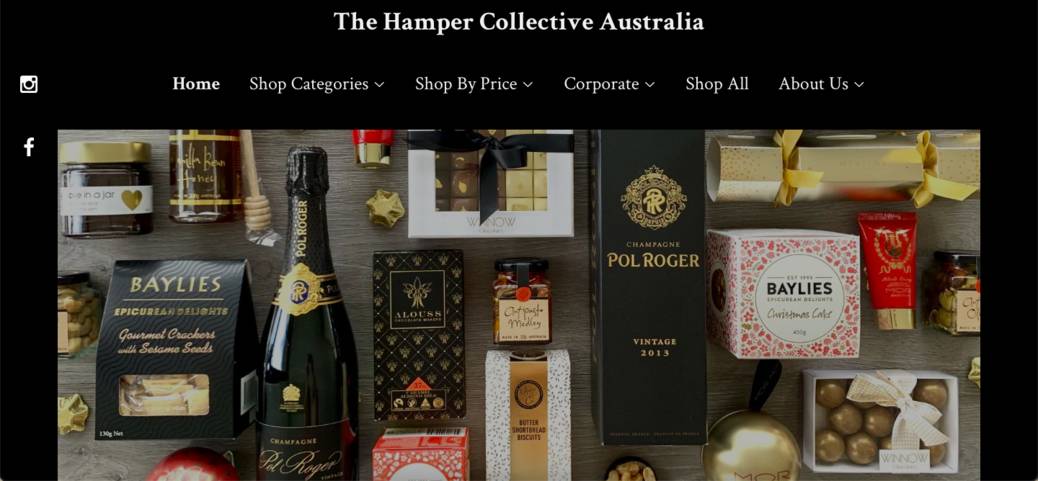 As a store that specializes in gifting, The Hamper Collective Australia is one of your best options if you'd like to send someone a gift. 
What's great about them is they have a very extensive list of gift options to choose from. Whatever the occasion or reason, they have something for you. 
If you do find something you want but would like to tweak it and make it a little more personal, you can customise it to suit your needs. Alternatively, you can customise an entire gift hamper. 
They make use of the items with the finest quality, placed in high quality reusable gift boxes, and topped with a hand-tied bow. Anyone would be ecstatic to receive something like this! 
Don't worry about the delivery fees because they offer free standard delivery Australia-wide for all their gift hampers. 
We can't find much reason for you not to consider them and that's why we've added them to this list. 
15. The Flower Crew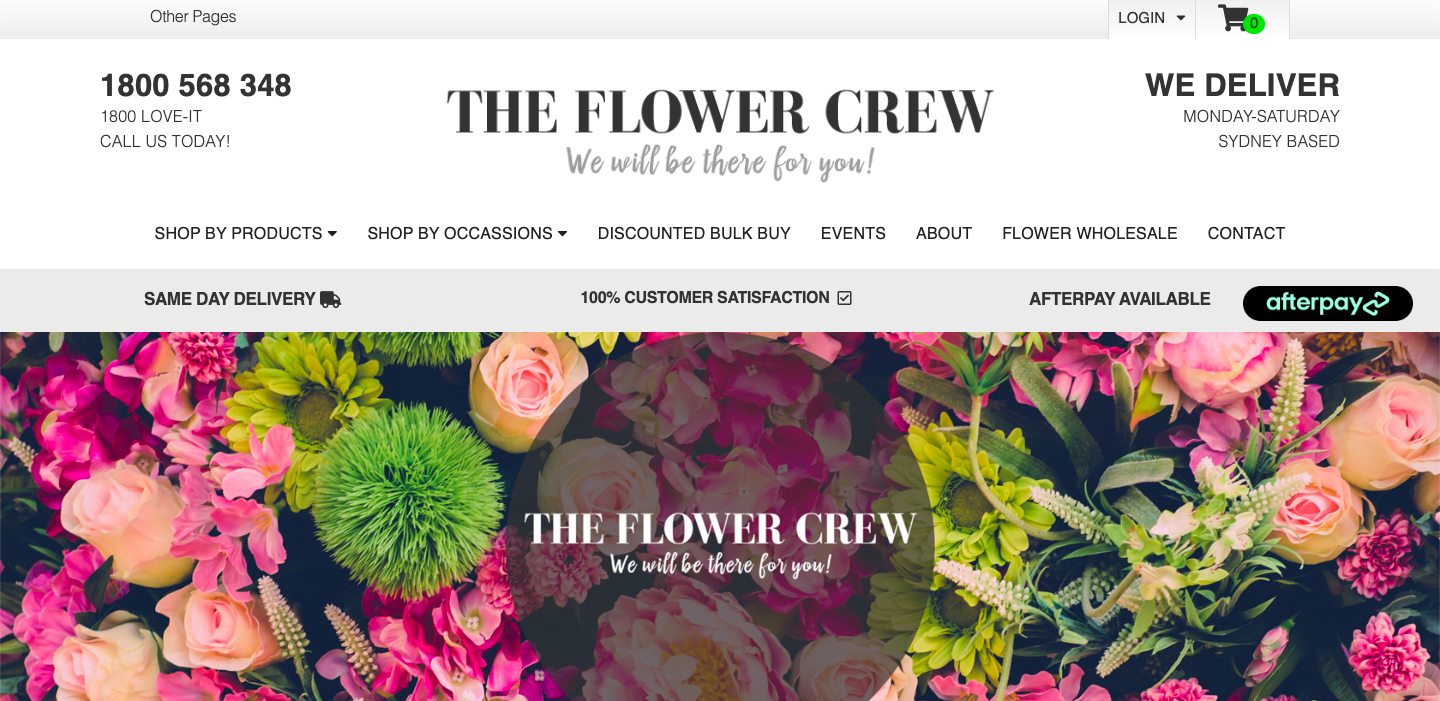 Giving flowers is a classic way to send love to the people we care about. It may seem cliché to others, but we all have to agree that it never gets old. This is why we're recommending The Flower Crew!
First of all, they have the most beautiful flower arrangements. We love them so much that we're hoping we could receive some from them as well!
What we also like about their store is that they offer more than just flowers. You can find hampers, chocolates, balloons, teddies and greeting cards too. 
We like that they added these other products because it can allow people to add something more to the flowers they'll be sending. 
We think that their same day delivery option also gives them an edge. If something unexpected comes up and you suddenly want to send flowers, you can count on The Flower Crew to get that delivered for you. 
Of course we won't be recommending them if they also didn't have great service. We think that they have excellent communication and always go above and beyond with their products and service. 
16. Kent Street Cellars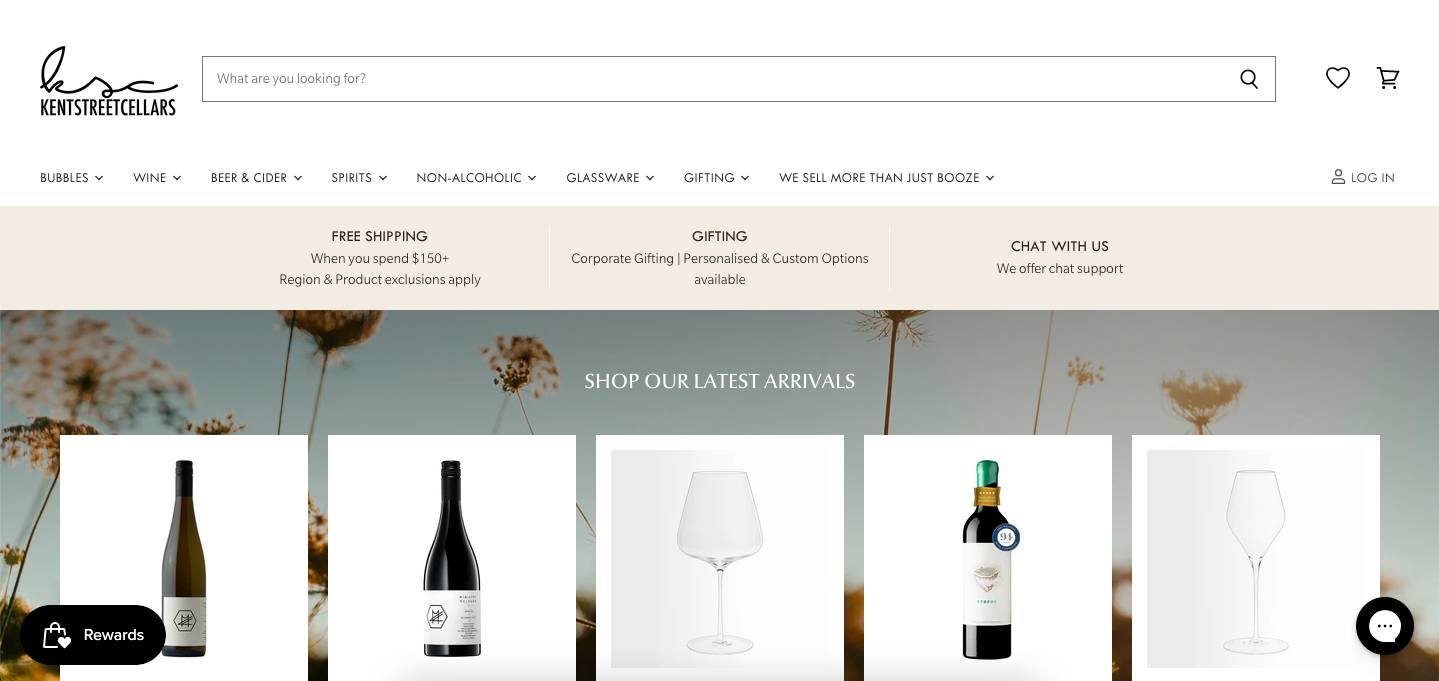 Kent Street Cellars is the one to go to if you'd like to gift alcohol.
What we like about them is their extensive list of products that you can choose from. They have most types of alcohol that are perfect for gifting. 
Their menu includes bubbles, wine, beer and cider, and even non-alcoholic drinks like soft drinks and mixers. 
We also think the other products they sell are great additions to their product list. They also have gift hampers, homewares, barwares, games, books, and more!
We think that this is perfect a perfect alternative if you would like to stray away from the usual flowers, chocolates and balloons for gifts!
17. Flower Lane & Co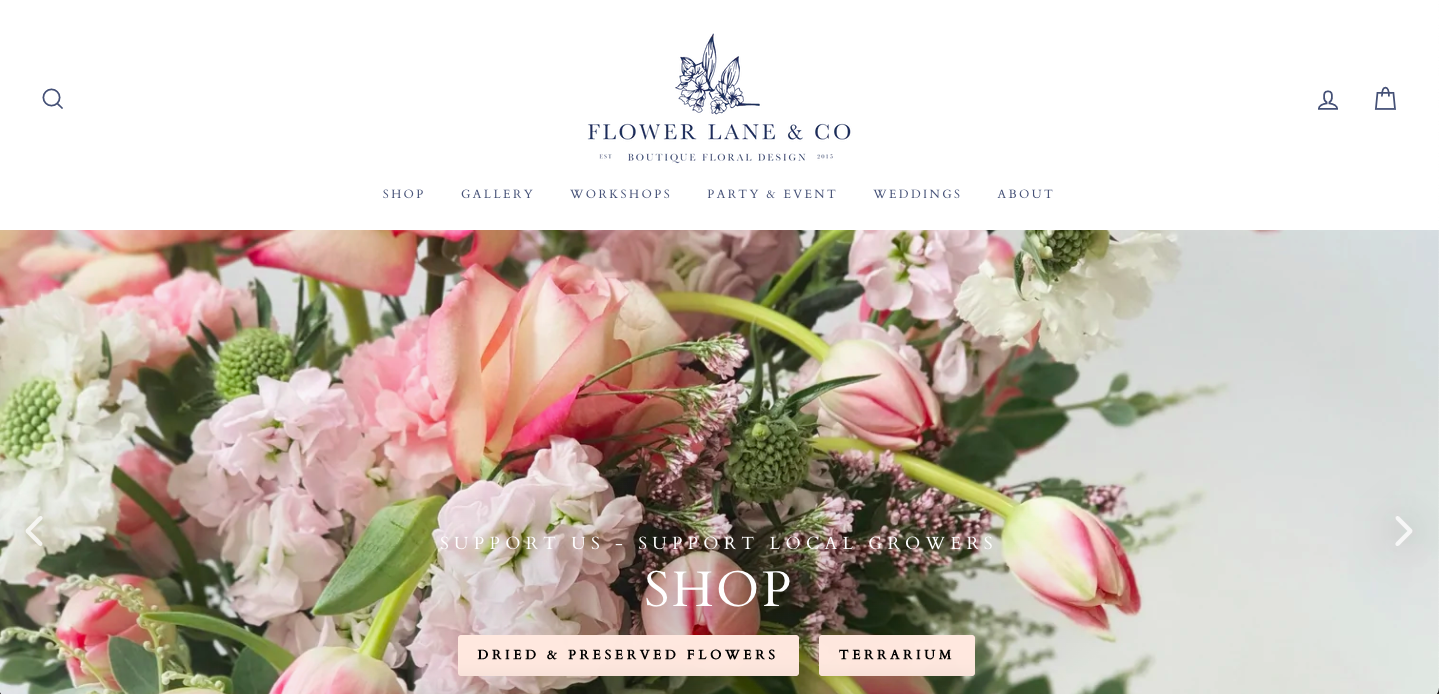 Flower Lane & Co is a boutique floral design shop established in 2015, and we think this is a great place to purchase flowers from!
What we love about this shop is how beautiful their designs are.
Whether it be fresh flowers, dried and preserved flowers, terrariums or their hampers, you're guaranteed high quality designs. 
Everyone we know that has received a gift from this shop were in love with it! 
We also like the same day delivery option they have. It makes it so easy for us to show our love to the people we care about whenever we feel like it. 
What's more is they deliver to more than 300 suburbs across Greater Sydney, so high chances are they can deliver wherever you want them to as long as it's in the vicinity!
18.  Caring Canary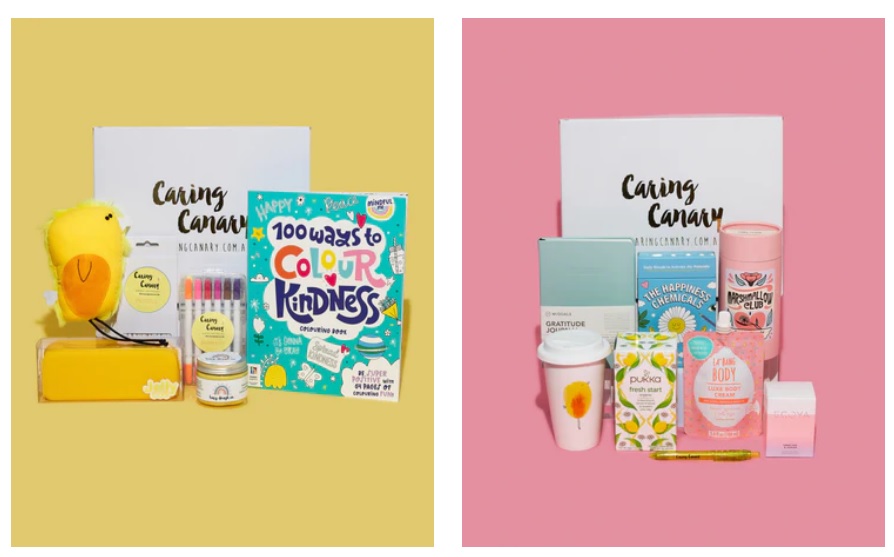 Caring Canary is a gifting shop that offers clients bespoke care packages that are ideal for all individuals and occasions to offer a unique and heartfelt gift-giving process that clients can connect with in every purchase.
We find their packages unique and of top-notch quality since their team makes sure that all products are from brands that they have repeatedly tried, researched, and tested.
Furthermore, their packaging involves sustainable and organic products and materials so clients can be sure that upon disposal – the packaging used won't be harmful to the environment.
Though we find their selection for various occasions to be quite limited though clients can reach out to them should they have a customized package in mind.
Overall, with a secure shipping approach, outstanding care packages, and excellent customer service, we strongly recommend them to clients in the area looking for a wonderful experience sending gifts to people who matter to them.
Customer Reviews
Here are some reviews from their clients:
"My business uses Caring Canary to send plush & stunning gift hampers to our clients. The service provided and the quality of the items is always exceptional! I highly recommend sending gifts for both corporate and personal purposes through Caring Canary. Myself and clients are all delighted. They go above and beyond to ensure a wonderful, user-friendly experience."
"Absolutely loved using Caring Canary for a gift recently! Excellent customer service and speedy delivery and the most beautiful packed gifts. Will use them again!"
19.  Lilliana Home & Gifts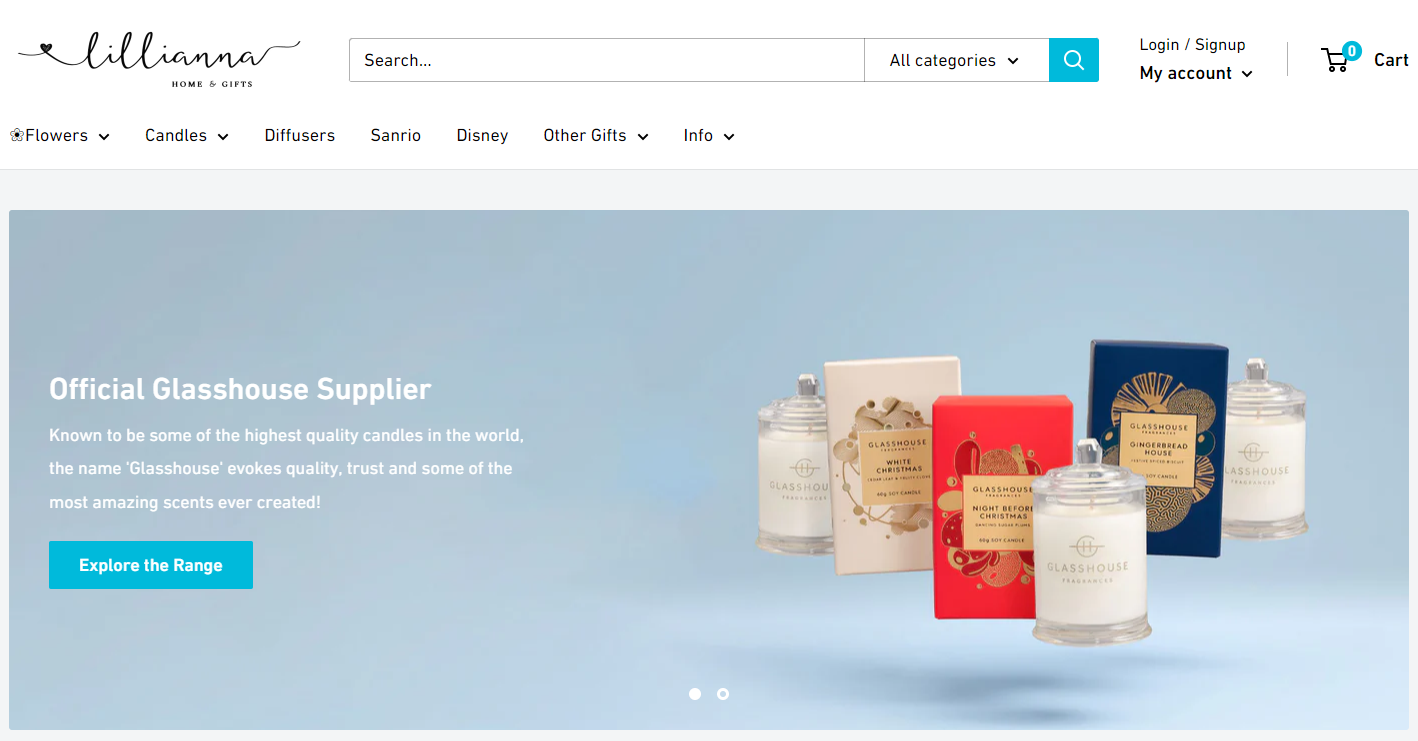 PRODUCTS
Flowers, Candles, Diffusers, Perfume, Cups, Hot Water Bottles, Eye Pillows, Heat Packs
WEBSITE
https://lillianna.com.au
PRICE RANGE
$16.95-$199.95
DELIVERY FEE
$8.95 for orders under $100
ADDRESS
2/4 steam mill lane, Haymarket, NSW, 2000
SOCIAL MEDIA
Facebook, Instagram
CONTACT DETAILS
0487117707 / 0487118888 / [email protected]
OPERATING HOURS
Monday – Friday: 12PM – 9PM
Saturday: 12PM -10PM
Sunday: 12PM -9PM
Flowers & Gifts By Sahana Sydney is a florist shop that provides clients with flower selections and arrangements especially crafted for all types of occasions and purposes in the area.
From bloom boxes to preserved flower arrangements, their diverse experience in the field ensures clients that each product delivered is of stellar quality both in terms of its aesthetic appeal and freshness and product characteristics itself.
Furthermore, we like that they also a diverse range of other gifts to accompany and further complement the flower arrangements that they offer through various gift hampers such as cupcakes and subsequent hampers.
Note though that they only ship Australia-wide to which international clients may need to inquire further for more information when it comes to ordering from them.
Overall, with their experienced and multidisciplinary team of florists employed, budget-friendly and comprehensive flower arrangements offered, and assistive customer service, we highly recommend interested clients to check them out.
Customer Reviews
Here are some reviews from their clients:
"Thank you so much Vaish and BySahana team for my beautiful wedding florals !! I was beyond happy with how everything turned out on the day. Vaish really took the time to talk through exactly how I envisaged my wedding and was extremely helpful in talking through what options I had and what she could do for me. The colours are exactly how I wanted them. She also communicated very well with my wedding coordinator and celebrant and worked with them in order to make my life easier and to ensure the day was absolutely perfect. Thank you again Vaish and BySahana team."
"Bysahanna are masters of their Art. The vision, knowledge and commitment to perfection were above my wildest dreams. Our wedding flowers were divine, exactly as I'd pictured in my head and communicated to Vaish. Thank you for understanding my wishes and delivering my dream. Highly recommend for any occasion. Jay Johnston 😊🙏 …"
21. Sweet Arrivals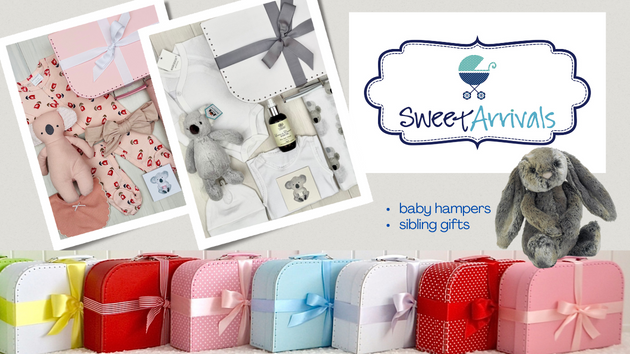 Our experience with Sweet Arrivals has been nothing short of impressive. From their exceptional services to the sheer convenience they offer, this gift delivery company has certainly earned its reputation as a top-tier choice.
When it comes to services, Sweet Arrivals leaves no room for disappointment. Their selection of gifts is as diverse as it is delightful.
What sets them apart, however, is their attention to detail. Each gift is meticulously curated and beautifully presented, ensuring it arrives as a memorable token of thoughtfulness.
Convenience is the name of the game in today's fast-paced world, and Sweet Arrivals delivers on this front with finesse.
Ordering is a breeze through their user-friendly website, and our packages arrived right on schedule, even in the busiest of holiday seasons.
Their tracking system offers real-time updates, leaving no room for uncertainty. It's the kind of service that makes you wonder how you managed without it.
Sweet Arrivals has built a reputation for excellence, and it's well-deserved. Countless positive testimonials from satisfied customers speak volumes about their commitment to quality.
They've consistently maintained high standards in both their product offerings and customer service. This level of trustworthiness is a rare find in the world of gift delivery.
Moreover, they run an ongoing 10% discount to all corporate customers if they get in contact with Sweet Arrivals. First time customers get a 10% discount code for their next order.
While quality and convenience often come at a premium, Sweet Arrivals manages to strike a remarkable balance.
Their pricing is competitive without compromising on the quality of their products. It's an investment in the joy and appreciation that your thoughtful gesture will bring.
However, they don't offer promos at the present. We advise checking their website for other affordable deals.
Highlights
Quality selection
Exceptional sonvenience
Stellar reputation
Competitive pricing
22. Beaut Gift Co.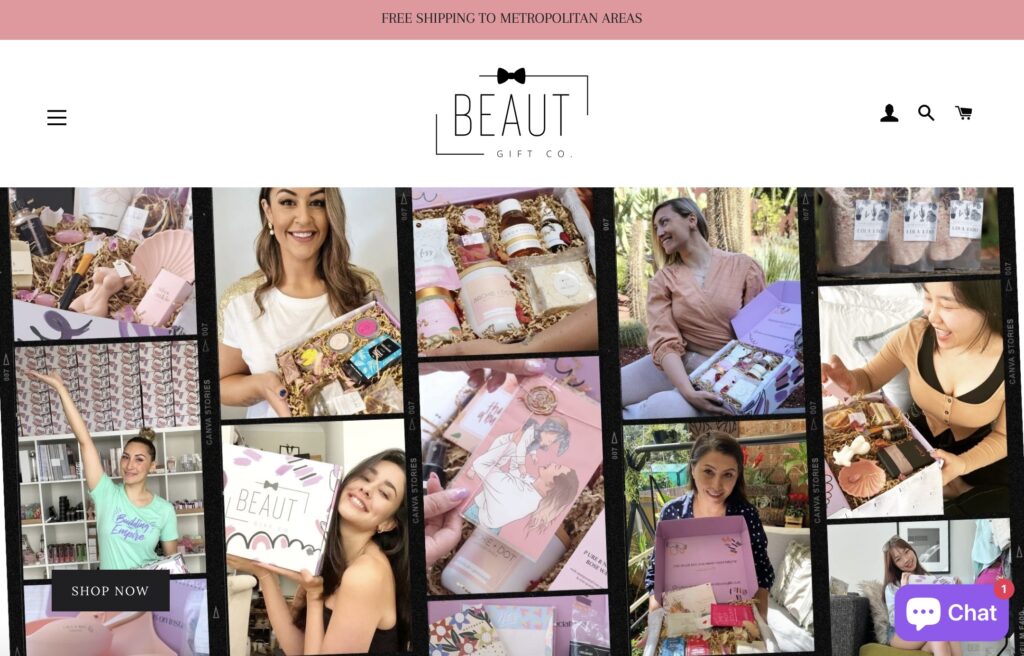 Beaut Gift Co. has left an indelible impression on us with their exceptional services, offering a dazzling blend of convenience, sterling reputation, and affordability. As a gift delivery company, they've set the bar impossibly high.
In the realm of convenience, Beaut Gift Co. reigns supreme.
Our experience was seamless from start to finish, as their user-friendly website made ordering a breeze. Whether you're a tech wizard or a digital dilettante, our journey was characterized by sheer ease and accessibility.
Reputation matters, and Beaut Gift Co. stands tall with an unwavering reputation for excellence.
Like a well-preserved antique, their track record is a testament to their commitment to quality and customer satisfaction. Our trust in their name was well-placed, and they delivered on their lofty promises.
When it comes to cost, Beaut Gift Co. manages to strike a harmonious balance between opulence and affordability.
The gift options they offer are akin to treasures waiting to be discovered, yet they won't break the bank. Our budget remained intact, leaving us pleasantly surprised by the tremendous value we received.
The true beauty of Beaut Gift Co. lies in their commitment to making moments special.
The personalized touch they add to each delivery makes every recipient feel like royalty. It's not just about sending a gift; it's about creating memories that last a lifetime.
Delivery times are crucial in the gift-giving world, and Beaut Gift Co. knows this.
Our packages arrived punctually, adding an element of surprise and delight to the occasion. They don't just meet expectations; they exceed them with impeccable timing.
However, they can get busy during peak days. We advise booking their service ahead of time.
23. Two Streets Over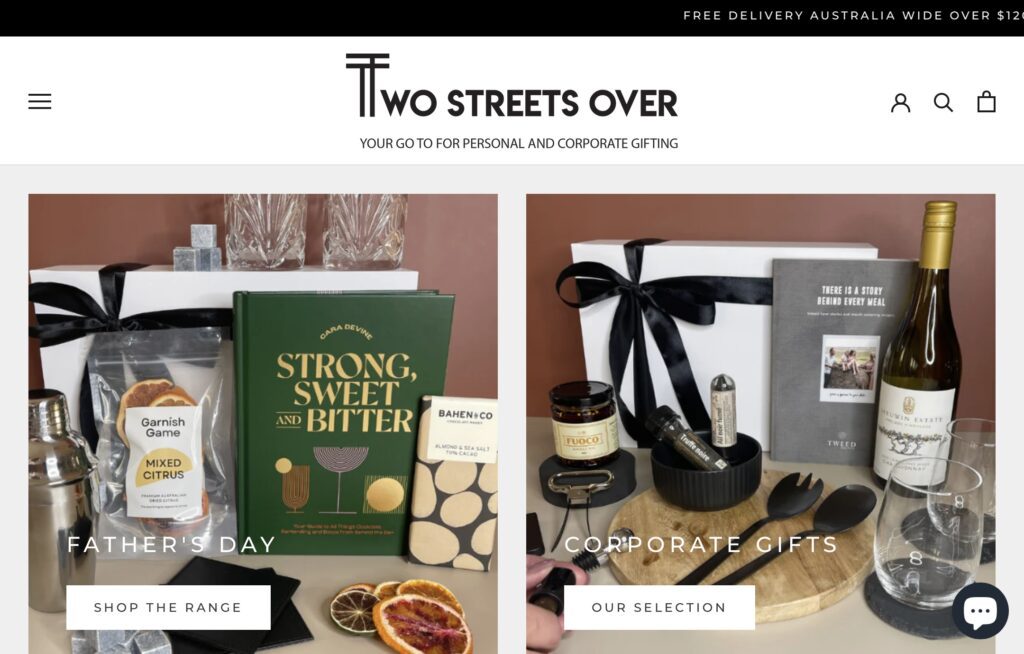 Two Streets Over is nothing short of a gift-giving revelation. Our experience with this gift delivery company has been a revelation in convenience and reliability.
When it comes to service, Two Streets Over sets the gold standard.
Their website is a user-friendly haven, allowing us to effortlessly browse through a plethora of thoughtful gift options. From birthdays to anniversaries, they have us covered.
Their commitment to punctuality is commendable.
Our gifts have always arrived precisely when promised, leaving us and the recipients impressed. The personalized touch they add to each delivery is a testament to their dedication.
Reputation matters, and Two Streets Over has built an impeccable one.
We've heard nothing but glowing reviews from friends and family who've also experienced their top-notch service. It's reassuring to know we're not alone in our admiration.
Cost-conscious consumers will appreciate the affordability of Two Streets Over's offerings.
While they provide an exceptional service, they do so without breaking the bank. It's a rare blend of quality and affordability that we wholeheartedly endorse.
Unfortunately, they don't offer promos yet. We suggest checking their website for other affordable deals.
---
There you go! Have you already decided which gift item you'd like to buy? Tell us all about i