If a close friend or relative is celebrating their birthday or having a big event soon, you might want to surprise them with something special.
There is a myriad of things you can find online at varying price ranges. So, given this, where do you even start?
That's why we've come up with this list of the very best gift delivery shops in Malaysia. Many of them have lovely and affordable flowers, gift baskets, and personalization options.
But feel free to also check out our roundup of the top florists in Singapore if you're gifting a parent, colleague, or niece there.
Disclaimer: This article may contain links from affiliates. If you use these links to buy something we may earn a commission. While we have not tested out the products of every single shop on this list, this selection is based on our research using a 10-point checklist. You can read about our selection system here.
Best Shops for Gift Delivery in Malaysia
1. Eska Creative Gifting

Shop link: https://www.eskacreative.com/
Specialty: Sweet gifts for all occasions
Price: RM80 and above
Delivery fee: Free within KL and PJ areas
Payment methods: Credit card or online transfer
No matter what occasion it is—be it an anniversary, birthday, new birth, or Valentine's Day—Eska Creative Gifting can help you find the right gift for someone you love and care for.
At this store, they offer individual or bundled flowers, chocolates, perfumes, bears, balloons, and wine and champagne. They can be personalized with a greeting or message based on your request.
It's wonderful that their chosen items are well-made so the recipient can enjoy them all the more. They also offer quick and free same-day delivery within Kuala Lumpur and Petaling Jaya.
Offers same-day delivery
Do nationwide delivery within Peninsular Malaysia
Affordable rates
Gives coupon discounts
Guarantees client's satisfaction
Accepts bank transfers
Closed on Sundays and public holidays
Delivery slots are sometimes limited
2. Happy Bunch

Shop link: https://www.happybunch.com.my/
Specialty: Classic bouquets and simple gift boxes
Price: RM59 – RM109
Delivery fee: Free in select Klang Valley areas
Payment methods: Credit card, debit card, local online bank transfer, and e-wallets such as GrabPay and Boost.
Happy Bunch intends to spread happiness to its customers through presents. It specializes in classic flower arrangements and simple gift boxes that cost lightly.
We love their never-gets-old Freya bunch. It consists of crimson and light pink gerberas, Ruscus, and wheat, perfectly wrapped in burlap and tied in twine.
Also, if you're looking for something special for your mum, you might want to get their My Guiding Light gift box. This is a small gift filled with love with branded dark almond chocolates, a scented candle, and a body scrub.
Free and same-day flower delivery within key Klang Valley areas
Delivers nationwide
Live chat support
Several payment modes
Closed on Sundays and public holidays
Doesn't accept COD
Complaints about their gift and after-sales service
3 Little Diary

Shop link: https://www.littlediary.com.my/
Specialty: Complete baby hampers
Price: RM89-RM1888
Delivery fee: RM20 – RM150 within Klang Valley, but courier delivery is free for purchases above RM99
Payment methods: Accepts bank transfer payment , Credit Card, QR pay , TouchnGo, Grabpay.
If you're sending a gift to a parent with a new baby, you can easily pick up one from Little Diary. They offer baby hampers or boxes with various fine products to suit a baby boy, girl, or twins!
Among their products are cute self-feeding sets, Fisher-Price glowing seahorses, toddler clothes, bedding sets, spa kits, and post-natal care sets. These can help the mum and make taking care of the kid a lot easier and more fun!
Same-day hamper delivery by driver for KL/Selangor area
Free courier shipping for purchases above RM99
Safe and durable baby products
Accepts bank transfer payments
Excellent customer service
Ship by courier service may take slightly longer, depending on courier service schedule.
4 HEVA Gifts

Shop link: https://hevagifts.com.my/
Specialty: Delectable chocolate bouquets
Price: RM79 – RM1,199
Delivery fee: From free (within KL, Petaling, and Puchong)
Payment methods: Visa, Mastercard, Amex, Discover, PayPal, and bank transfer
Flowers are gorgeous and chocolates are sweet. For one spectacular gift, why not just put both of them together?
Chocolate bouquets are the specialty of HEVA Gifts, though they sell flowers and chocolates separately, in addition to cakes, cupcakes, and balloons.
That said, their prices are slightly more expensive than those of other gift shops. Also, they don't seem to give any seasonal or promo discounts to compensate for that.
Free delivery in certain areas
Can deliver all week within KL, Selangor, and Putrajay
Live chat support
Multiple payment options
Relatively pricey products
Doesn't sell gift boxes
5. Bloom.com.my

Shop link: https://www.bloom.com.my/
Specialty: Fresh and beautiful blooms
Price: RM58 – RM128
Delivery fee: From free
Payment methods: Visa, Mastercard, Amex, PayPal, Western Union, FPX, and bank transfer
For fresh and fragrant flowers delivered promptly, or even in just three hours, we highly recommend buying from Bloom.com.my.
You get a super lovely bouquet with them that's colorful and exciting. Take, for instance, their Flowers Bunch 21 (as shown above), which has pink roses, baby's breath, and a cute unicorn on top of it that also lights up!
Other than flowers, the shop offers soap, balloons, and cakes to complete your flower gift. They craft blooms for any occasion and accept a wide range of payments, making it easy to order from them.
Free and express delivery available
Has an array of gifts
Economical rates
Accepts a wide range of payments
Flower designs aren't that elaborate
Complaints about flowers and customer service
6. Pure Seed Florist and Gift

Shop link: https://pureseed.com.my/
Specialty: Lavish flower designs
Price: RM69 – RM1,999
Delivery fee: From free – RM120
Payment methods: Visa, Mastercard, PayPal, FPX, Web Cash, MEPS Cash, and bank transfer
Pure Seed is a Kuala Lumpur-based florist headed by Lee Pure. Her style is lavish and artistic, presenting flowers in different mediums like hatboxes, wrappers, vases, baskets, and gift bundles.
Even so, her flowers are priced fairly, and they can give you great value in terms of flower design and quantity. In fact, they give customers new signup discounts and loyalty points too.
Furthermore, you can avail of free delivery within Kuala Lumpur. However, shipping outside of this city will incur a delivery charge depending on the recipient's postcode.
Same-day flower delivery
Gives loyalty points
Sells artificial flowers
Offers signup discounts
Lots of payment methods
Higher rates than other florists
Doesn't take Amex payments
7. Pods & Petals Giftlab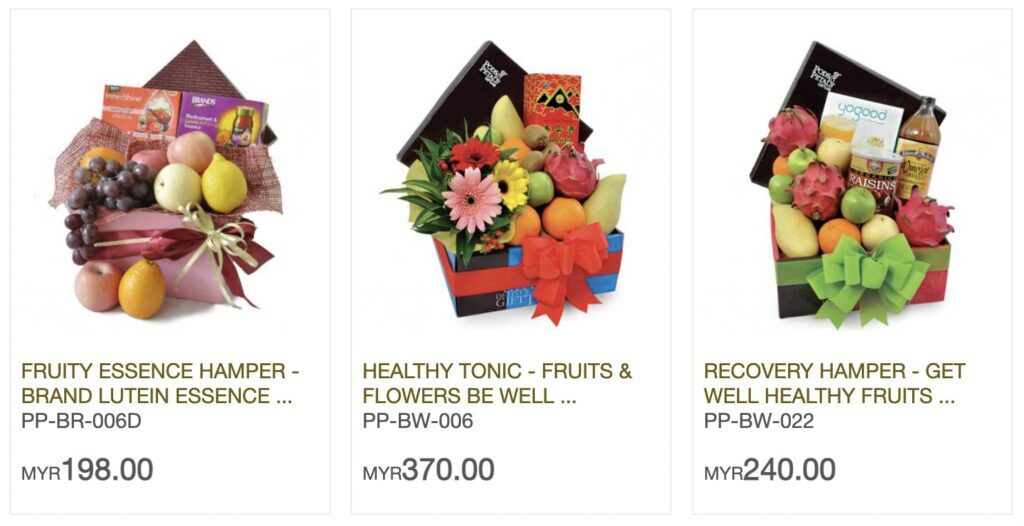 Shop link: https://www.giftlab.com.my/
Specialty: Nicely presented fruit and food hampers
Price: RM40 – RM2,000
Delivery fee: Free delivery within Klang Valley
Payment methods: Cash, bank transfer, most credit cards including Visa, Mastercard, and Amex, and Paypal
Pods & Petals Giftlab is an online gift delivery service located in Petaling Jaya. It offers flowers, orchids, cakes, food hampers, baby gifts, and a lot more.
They have a very large selection of items that can help you with your buying decision. One of the unique things about them is they have halal and vegan cakes and food hampers.
Apart from that, their expert staff can wrap and prepare a gift exactly as you want it, but you would have to ring them for this. And best of all, they deliver until midnight all through the week.
Grand selection of flowers and gifts
Gives you customization options
Same-day delivery service
Delivers throughout the week
Offers vegetarian and halal hampers
No live chat support
Complaints about their customer service
8. Lilac Florist & Gift Shop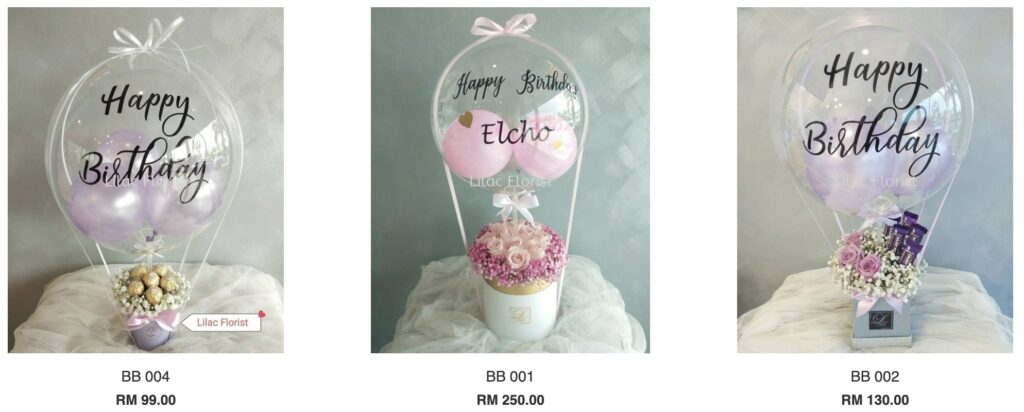 Shop link: https://www.lilacflorist.com.my/
Specialty: Sunny flower arrangements
Price: RM89 – RM899
Delivery fee: Calculated at checkout
Payment methods: Visa, Mastercard, bank transfer, FPX, Boost, Grab, 7-eleven, and Touch 'n Go
With Lilac Florist's creative and romantic floral designs, you can make your spouse or friend smile from the heart—even if you can't personally see it.
They can set different pretty flower petals in a heart-shaped case, tie hatbox flowers onto a balloon encasing two smaller balloons, make a pastel money bouquet, or create a bouquet as a table centerpiece.
Plus, don't worry about the flowers' condition, as they're guaranteed to be fresh and beautiful. Otherwise, they'll take the ensemble back and give you an improved version or an altogether new one.
Creative flower designs
Fresh flower guarantee
Can offer monthly promos
Lots of payment modes
Closed on Tuesdays
Doesn't accept PayPal and Amex card payments
Complaints about customer service
9. Giftr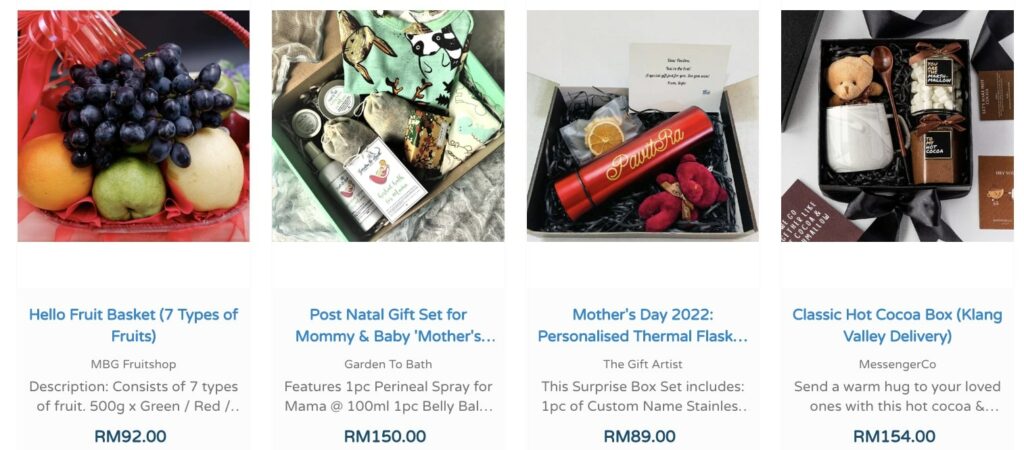 Shop link: https://giftr.my/
Specialty: All sorts of gifts for everyone
Price: RM49.90 – RM520
Delivery fee: Calculated at checkout
Payment methods: Amex, Discover, Mastercard, Visa, PayPal, FPX, Grab, Boost, Touch 'n Go, bank transfer, and Shopee Pay
Giftr is a one-stop gift shop founded to accommodate people's gifting needs for any occasion and gesture.
For this reason, you may not need to look elsewhere. It offers a slew of branded items from food to Polaroid cameras, including flowers, wine hampers, and customized coffee mugs.
It has garnered favorable reviews from many customers, which is why we added them to this list. Same-day delivery is very much available and ordering online is SSL-secure and hassle-free.
Same-day gift delivery
Uses branded items
SSL-secure site
Lots of payment modes
Custom services offered
Closed on weekends
Complaints about product being different from that shown online
10. Granny Doris

Shop link: https://grannydoris.my/
Specialty: Birthday cakes and flowers
Price: RM39 – RM499
Delivery fee: Calculated at checkout
Payment methods: Visa, Mastercard, Grab Pay, Boost, Touch 'n Go, FPX, and bank transfer
There's a homely appeal to the name Granny Doris. Granny Doris offers nice and presentable gifts for many occasions including Mother's Day, Raya, baby showers, and most especially, birthdays.
Our suggestion for gifting your mum on Mother's Day, her birthday, or any time you want to show your appreciation—is their Roses & Cake Bundle. It looks spongy and delicious, and also, you can take your pick from several divine flavors online.
For Raya, the festival of the breaking of the fast, you might want to give a Muslim friend the Joyful Aidilfitri gift box. They can be delighted with its tasty snacks like pineapple cookies, mixed nuts, dried fruit and veggies, and Ajwa dates.
Same-day gift delivery
Specializes in artisan cakes
Custom options at checkout
Gives promo codes, live chat support
Delivers only to KL and Selangor for now
Delivery slots can fill in fast
Doesn't accept PayPal and Amex payments
11. Wonder Balloons Malaysia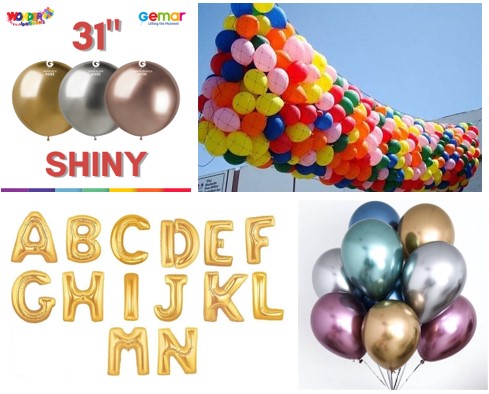 Shop link: https://www.balloonshopmalaysia.com/
Specialty: Balloons
Price: RM1 – RM375
Delivery fee: Calculated at checkout
Payment methods: Will be seen once checking out
Wonder Balloons Malaysia is a one-stop-shop for all of your balloon needs.
Unlike other shops no this list, they mainly focus on balloons. Thus, them having a pretty extensive range of baloon products.
What's great about them is that they do not only sell those boring and easy-to-pop types of balloons. Aside from selling balloons, they also do balloon decoration and event services.
So if you have a birthday party coming up, why not consider their service and make the party more extravagant!
With their balloons on your occasion, it will sure be a memorable one.
Wide range of balloon products
Do balloon decoration and event services
Payment methods are not easily seen
Only sells balloons
12. MeTime Art Malaysia

Shop link: https://www.metimeart.com/
Specialty: Quality DIY kits
Price: RM8 and above
Delivery fee: From RM7
Payment methods:
MeTime Art Malaysia is a shop that provides clients with various DIY kits to help clients unwind through the use of a creative outlet and activities but also that they can better nurture their passion and explore the arts.
Past clients have commended them and their products for their quality and inclusive nature that not only engages individuals of all talent levels in the area but also that each product is of stellar quality as well.
Furthermore, their staff is also knowledgeable and helpful when it comes to assisting clients through the whole procedure and also ensuring that their orders will be with them in a secure manner.
Note though that should the event happen a client intends to return or exchange their received product, this may be done within 7 days and is subject to the availability of the product as well.
Overall, with their accommodating staff both online and on their physical stores, excellently sourced and versatile DIY kits, we highly recommend them to clients in the area looking for artistic kits to check them out.
Provides clients with durable DIY kits
Assistive and responsive customer service
Convenient ordering and shipping procedures
Slightly long delivery times for exchanged products
Only ships to Malaysia and Singapore
13. Nice Day Flower & Gifts

Shop link: https://www.nicedayshoppe.my/
Specialty: Flowers and Gifts
Price: RM2.90 and above
Delivery fee: Information here
Payment methods: Credit Card & eWallet (Via e-GHL.com)
Invoice / Cheque / Offline Bank Transfer
Nice Day Flower & Gifts is a unique and charming gift shop that can be found in the heart of Grorgetown Penang.
We like that they offer a wide range of gifts that we're sure will cater to any occasion as well as any taste. In short, they have something for everyone.
Their shop is filled with all sorts of gifts and trinkets, from handmade flower bouquets to artisanal soaps and candles.
What we like with their shop is how they source their products from local artisans and support fair trade practices to give back at the same time.
They can ship your orders quickly and they can deliver anywhere in Malaysia. We especially like their same-day delivery option!
Wide range of gifts
Locally sourced products
Quick delivery
Same day delivery available
14. The Tea Republic

Shop link: https://ttr.com.my/
Specialty: Tea Selections for all ocassions
Price: RM3.00 and above
Delivery fee: Depends on delivery destination
Payment methods: MasterCard, VISA, PayPal
The Tea Republic is a shop that provides clients with an exemplary selection of tea products that is ideal for all types of purposes and occasions. Established back in 2010, they have since then been providing clients with bespoke tea items in the area.
We like that they have an exemplary array of tea types along with resources available readily available on their website to provide clients with the relevant information in purchasing their intended tea or perhaps trying something new.
Furthermore, their gifting services are also highly customizable wherein clients can request gift wrapping, dedications, and scheduled deliveries among others readily on their website.
Note though that in requesting or availing of such services, these might incur additional fees on top of the item prices already availed of by the client.
Nonetheless, with their responsive and professional team of experts knowledgeable of the field, a wide variety of tea selections, and steadfast delivery services, we highly recommend the to clients in the area looking for such item selections.
Diverse range of tea selections for all purposes
Accommodating and knowledgeable personnel
Responsive customer service
Corporate orders may entail more paperwork
15. Ezy Fresh Bite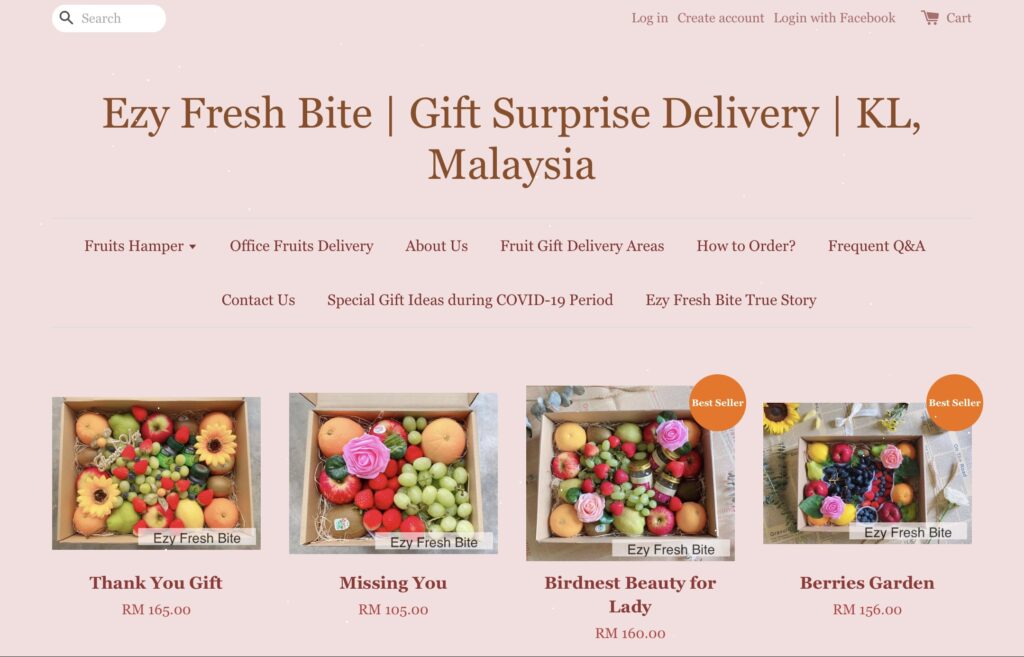 Shop link: https://ezyfreshbite.com/
Specialty: Fruit baskets for all occasions
Price: RM88.00 and above
Delivery fee: Depends on delivery destination
Payment methods: MasterCard, VISA, PayPal
At Ezy Fresh Bite, we were met with an impeccable fusion of services that left us fruitfully impressed.
Their commitment to quality starts with handpicked, premium fruits that arrive as nature's gems, delighting both the eyes and taste buds.
The precise attention to detail in arranging these bounties reflects a genuine passion for delivering nothing less than the extraordinary.
Our journey with Ezy Fresh Bite was a symphony of convenience, a harmonious blend of modern efficiency and traditional generosity.
With a seamless online platform, ordering became a breeze, and the array of thoughtfully curated gift baskets ensured there was an option for every occasion.
The rhythm of convenience played on as their timely delivery danced to the tunes of our expectations, leaving no room for disappointment.
A reputation, once earned, becomes an emblem of trust, and Ezy Fresh Bite wears it proudly. With a track record that reads like a masterpiece, their name has become synonymous with reliability.
Countless satisfied customers sing their praises, and we join this chorus, having experienced firsthand the flawlessness that their reputation promises.
While quality and convenience are often synonymous with exorbitant costs, Ezy Fresh Bite defies this norm with a pricing strategy that is refreshingly reasonable.
In a world where extravagance is often mistaken for excellence, their commitment to affordability without compromising on excellence is a breath of fresh air.
Our wallets remained content, even as our senses reveled in the opulence of their offerings.
However, they can get busy during peak seasons. We recommend booking ahead of time.
Premium handpicked fruits
Seamless online ordering
Impeccable reputation
Affordable pricing
16. Make Hay, Sunshine!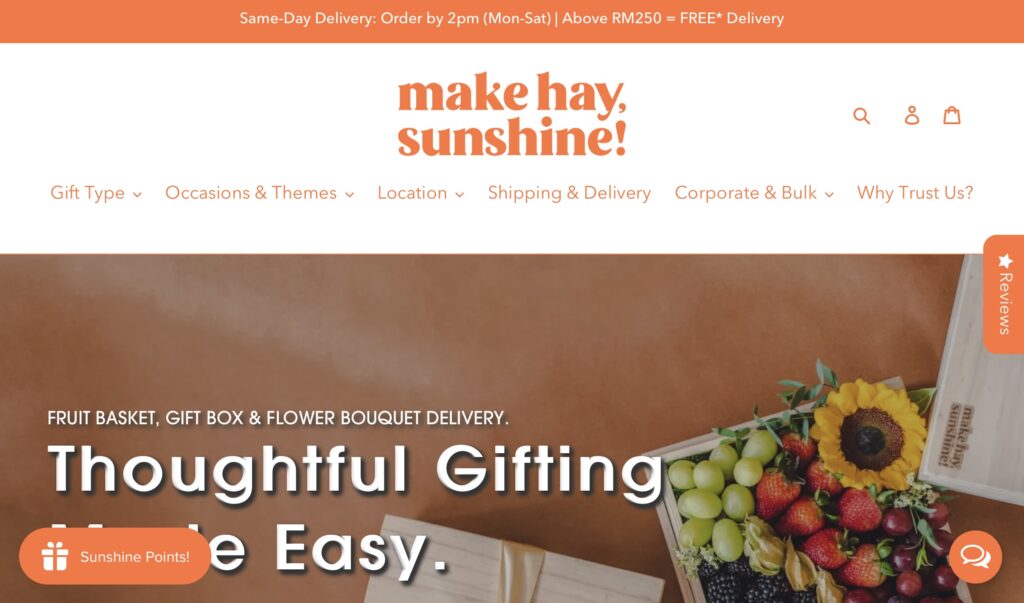 Shop link: https://makehaysunshine.com/
Specialty: Fruit baskets and flower bouquets
Price: RM100.00 and above
Delivery fee: Depends on delivery destination
Payment methods: MasterCard, VISA, PayPal
At Make Hay, Sunshine!, they unveil a world where every petal, every berry, and every gift exudes an aura of perfection.
From the instant we stepped into their emporium of botanical marvels, we were transported into a realm where nature's splendor and human craftsmanship meld seamlessly.
The services at Make Hay, Sunshine! are an embodiment of opulence intertwined with ease.
The symphony of colors and fragrances enveloped us as their expert florists meticulously craft bespoke arrangements that narrate tales of elegance.
They curate gifts that transcend mere objects, captivating the senses and leaving lasting impressions on fortunate recipients.
Convenience, they assured us, reigns supreme in their dominion.
Their digital haven empowered us to bestow nature's wonders upon our loved ones with a few taps, which thoroughly impressed us.
Seamless online ordering and prompt deliveries also ensured our gestures of affection are met with timely splendor, whether across the city or beyond.
As guardians of an immaculate reputation, Make Hay, Sunshine! stands as an emblem of trust. Their lineage of satisfied patrons attests to their unwavering commitment to quality.
Each blossom tells a story of their dedication to preserving the essence of nature's marvels, evoking smiles that reverberate through hearts.
However, they don't offer discounts at the present. We suggest checking their website for other affordable deals.
Exquisite floral arrangements that mesmerize
Seamless online orders and prompt deliveries
Impeccable reputation nurtured over time
No discounts at the present
17. Messengerco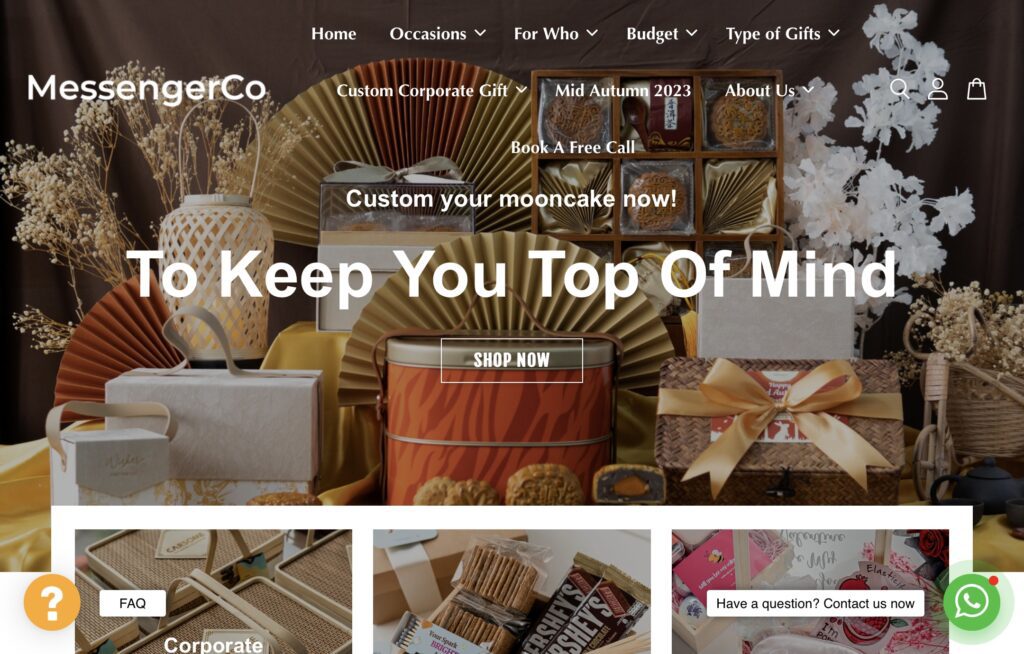 Shop link: https://www.messengerco.gift/
Specialty: Custom corporate gift
Price: RM40.00 and above
Delivery fee: Depends on delivery destination
Payment methods: MasterCard, VISA, PayPal
At Messengerco we found ourselves immersed in a realm of impeccable elegance and convenience.
Our journey began with their excellent services that elevated gift shopping to an art form. The staff's attentive demeanor and extensive knowledge transformed our search for the perfect gift into a delightful voyage of discovery.
Navigating the vast selection of treasures at Messengerco was a breeze, thanks to their thoughtfully designed layout and intuitive organization.
Our every desire seemed anticipated as we effortlessly explored their curated aisles, each corner revealing a new gem waiting to be unearthed.
Messengerco's reputation precedes them, and rightfully so. The resplendent tales we'd heard were not only confirmed but surpassed.
A testament to their commitment to excellence, Messengerco has earned its place as the epitome of a distinguished gift emporium. Our experience was a testament to their legacy.
The crown jewel of our encounter was the seamless harmony between luxury and convenience.
We were greeted with a comprehensive array of services that catered to our every whim.
From bespoke wrapping that turned each gift into a masterpiece to personalized recommendations that showcased an intimate understanding of both their products and our preferences, they gave us quality gifts.
While some might expect such regal treatment to come at an exorbitant cost, Messengerco defies expectations.
Their pricing remained surprisingly reasonable, ensuring indulgence and practicality can coexist harmoniously. Our wallets remained unburdened even as our hearts were enriched by the opulence of their offerings.
However, they don't offer discounts at the present. We suggest checking their website for other affordable gifts.
Impeccable customer service
Curated selection of treasures
Distinguished reputation
Exceptional value for luxury
18. The Everyday Men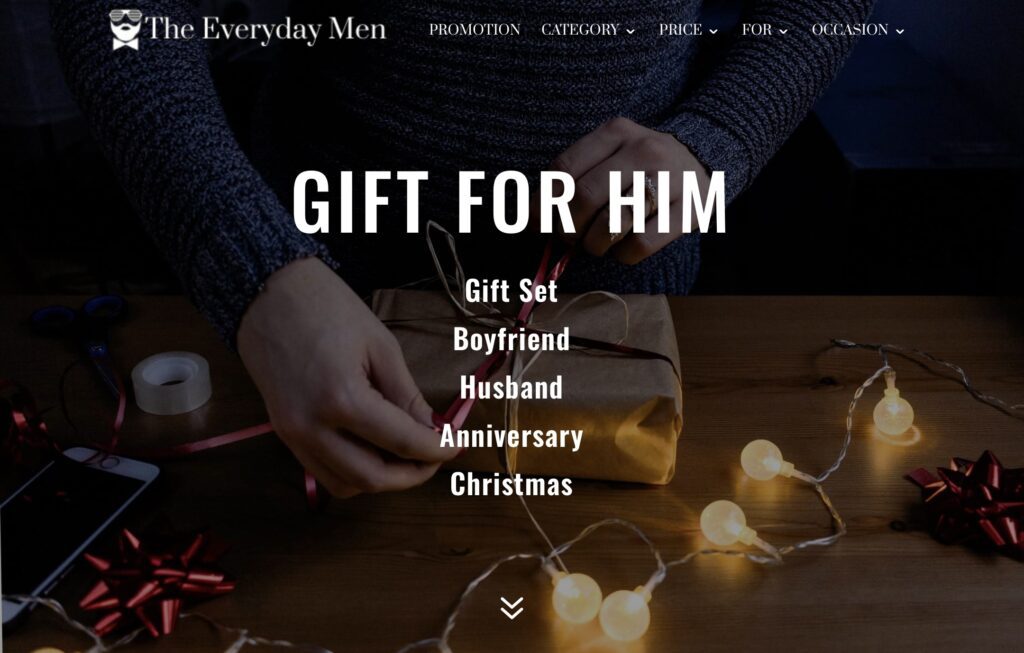 Shop link: https://theeveryday.men/
Specialty: Gift set, accessories, and personal care gifts for men
Price: RM66.00 and above
Delivery fee: Depends on delivery destination
Payment methods: MasterCard, VISA, PayPal
At The Everyday Men, we've found a gifting oasis where convenience reigns supreme.
Their impeccable delivery services ensure that every heartfelt gesture reaches its destination promptly. With a few clicks, we were able to orchestrate delightful surprises that left recipients in awe.
Our experience with The Everyday Men was nothing short of exceptional.
Their reputation as a premier gift shop delivery company is well-deserved. From delicate trinkets to elaborate arrangements, their commitment to delivering smiles is unmatched.
We found comfort in their reliability, knowing that our sentiments were entrusted to capable hands.
Convenience is at the heart of The Everyday Men's philosophy. Their user-friendly platform offered an effortless browsing experience, making gift selection a joyous task.
We appreciated the diverse range of options catering to every occasion and taste. It's a one-stop-shop where thoughtful tokens of appreciation come to life.
While exceptional service is their forte, The Everyday Men ensures cost-effectiveness remains a cornerstone.
Their transparent pricing structure allowed us to craft memorable moments without breaking the bank. The value we received far outweighed the expenditure, affirming our decision to choose them time and again.
Beyond the tangible, The Everyday Men crafts intangible moments that etch memories for a lifetime.
Their seamless fusion of services, convenience, reputation, and cost-efficiency makes them a formidable player in the gifting realm. When the ordinary just won't do, trust The Everyday Men to transform the mundane into the extraordinary.
Unfortunately, they can get very busy sometimes. We advise calling them first to set an appointment instead of just showing up at their doors.
Swift and reliable
Diverse and thoughtful
Credible and renowned
Cost-effective and opulent
19. Summer Pots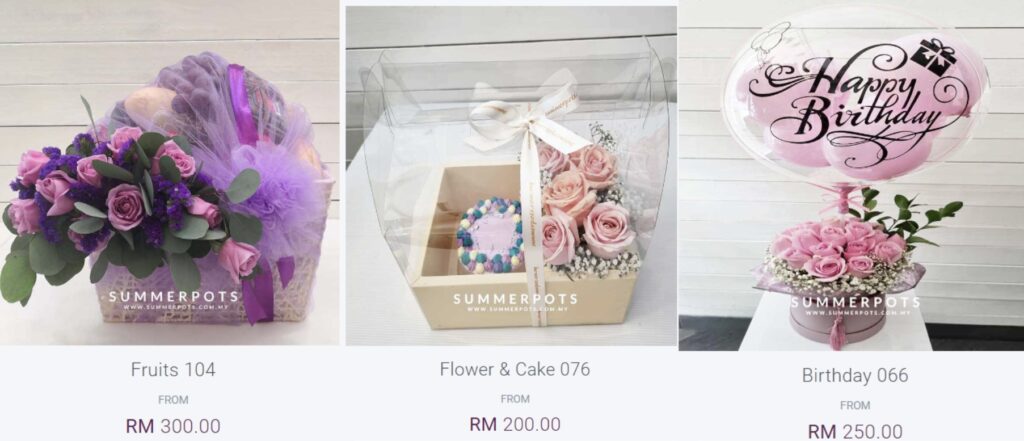 Shop link: https://www.summerpots.com.my/
Specialty: Cake and floral arrangements
Price: RM80.00 and above
Payment methods: MasterCard, VISA, and Online Banking
Delivery fee: Depends on delivery destination
Summer Pots, the gift delivery company, left us impressed with their services.
In a world where convenience is king, Summer Pots reigns supreme. Their user-friendly website and app made ordering a breeze.
No more endless browsing; just a few clicks, and voila! Our gifts were on their way.
Reputation matters, and Summer Pots has earned its stripes.
The company's stellar track record for on-time deliveries and quality products is a testament to their commitment to excellence. When they say "trust us," you know it's well-placed.
We appreciate value for money, and Summer Pots delivers. Competitive pricing without compromising on quality—it's like getting a cherry on top of your gift.
Our wallets and recipients both smiled.
Their customer service is a breath of fresh air. Quick responses, friendly staff, and a genuine desire to make your experience exceptional.
You're not just another order number; you're their cherished customer.
Customization is the name of the game, and Summer Pots aces it. From gourmet baskets to personalized trinkets, they offer a wide range of options.
It's like having your own personal gift concierge.
The variety of gift choices is staggering. Birthdays, anniversaries, or just because—they've got something for every occasion.
Our dilemma? Picking just one from their tempting selection.
Presentation matters, and Summer Pots gets it right. Our gifts arrived impeccably wrapped and ready to delight. It's the little things that make a big difference.
However, they don't currently offer any promo. We advise checking their website for other affordable deals.
Swift and reliable
Diverse and thoughtful
Seamless convenience
20. Souly
| | |
| --- | --- |
| SHOP LINK | souly.com.my |
| SPECIALTY | Ready-to-ship items |
| PRICE | RM30 above |
| DELIVERY FEE | Free for 10km radius within Bukit Jalil and selected areas within Klang Valley only |
| PAYMENT METHODS | Contact shop for more details |
When it comes to made-to-order and ready-to-ship presents, Souly is your one-stop store. They realize the significance of gifting and receiving since it is not just about the gift but also about the care and attention one provides to their loved ones.
They manufacture gifts for various sorts of people and specialize in crafting gifts of happiness. Whether you're a coffee addict, a gym junkie, a bride-to-be at a wedding, or a work dinner guest, there's always a unique present created just for you, for any occasion.
What we like about them is that you can choose and create the ideal present, one that will make you and your loved ones thankful for both large and small things alike. This is great for people who are not sure what presents to get to show how much you care and how much you adore someone.
They put an emphasis on design and creativity, but a present that speaks to their spirit is more than just that. They carefully choose and customize the little details, from gift-opening to make-up, to create an experience that is warmed by love and care.
Provides both ready to ship and made-to-order products
Affordable rates
Provides free shipping